Portuguese GP 2020
OCTOBER 26, 2020
Race Analysis - Record Run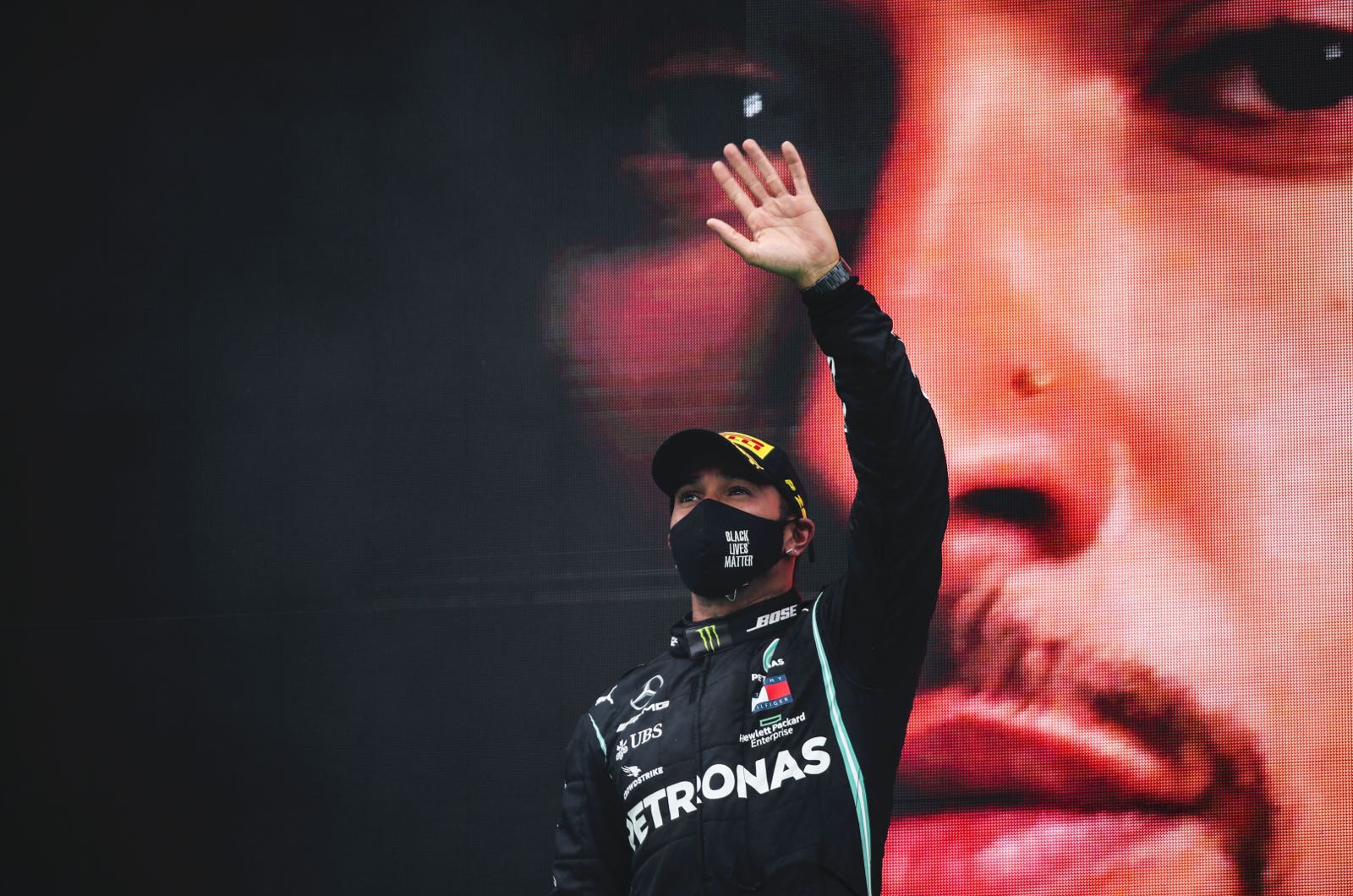 © Mercedes-Benz Grand Prix Ltd.
By Dan Knutson
Lewis Hamilton's victory in Portugal gave him the all-time record 92 Formula 1 wins. Here is how his run for the record unfolded.
MEDIUMS
Hamilton and his Mercedes teammate Valtteri Bottas used Pirelli's medium compound slicks to set their fastest lap times in Qualifying 2. Therefore they would start the race on those tires.
POLE
Hamilton snatched the pole from Bottas in the last moments of qualifying.
MAX
Max Verstappen put his Red Bull third on the grid.
ROUNDED
Charles Leclerc (Ferrari), Sergio Perez (Racing Point), Alexander Albon (Red Bull), Carlos Sainz (McLaren) and Lando Norris (McLaren) rounded out the top eight on the grid.
INITIAL
Hamilton took the initial lead while Bottas dropped to third behind Verstappen. But Hamilton and Verstappen made mistakes, so Bottas led the end of lap 1. There was some light rain falling.
SURGED
Sainz surged up to second place on lap 1.
STRUGGLING
Bottas and Hamilton were struggling to get their medium tires turned on, especially because the track was damp, but Sainz was flying on his soft Pirellis that gave better grip. Sainz went into first on lap 2.
LEAD
When those mediums did start to work, Bottas took the lead from Sainz at the start of lap 6. Hamilton took second from Sainz at the start of lap 7.
"There was actually quite a bit of rain in the first laps," Bottas said, "so that's why the warm up was really poor, especially us being on the medium tire, the warm-up was quite a bit weaker than the guys with the soft tire, so I think I managed to make the most out of it with the medium tires in the first few laps but yes, it was tricky."
SIXTH
Sainz eventually finished sixth.
"I was very happy with the start and the first laps in the rain and the mixed conditions, managing to get up to P1 and leading the race for a few laps" he said. "It was good fun and I always enjoy those tricky conditions. I knew as soon as the track dried that it was going to be impossible to maintain the lead."
TRICKY
"The wind direction was very, very tricky," Hamilton said. "Lots of crosswinds, headwinds and tailwinds and there were some positions that you could utilize to your favor and others that kind-of get in the way."
STRETCHED
Bottas had stretched his lead over Hamilton to 1.9 seconds by lap 11 of 66.
REELED
But Hamilton reeled him back in and the gap was down to 0.3 of a second on lap 19.
START
Hamilton overtook Bottas on the start of lap 20.
AWAY
Hamilton steadily pulled away from his teammate.
WORKING WELL
Once they were switched on, the medium tires were working much better than the softs. While the drivers on the soft tires had to start pitting, Bottas and Hamilton stayed out until the end of laps 41 and 40 respectively.
SWITCHED
Both Mercedes drivers switched to the hard compound tires, so they never had to deal with the inferior soft compound rubber.
ONWARDS
And Hamilton went onwards to victory number 92.
PAIN
"It's an incredibly physical sport but," Hamilton said. "I had a cramp in my right calf and I had to lift quite often down the straight because it was about to pull. Pretty painful, but I had to get through it because it is what it is and you can't lift the whole lap."
GAP
Verstappen finished third.
"The soft tire wasn't working so well today," he said, "but once we pitted and went onto the medium tires we had good pace and it was quite ok. Of course by then already the gap to Mercedes was so big so we couldn't really do anything but we can still be happy with another podium."
PROGRESS
Leclerc wound up fourth.
"We had a strong race and we are seeing some progress," he said, "which is very encouraging for the whole team and for me personally. We worked very hard on our race pace and finally we have had a weekend with both a decent qualifying and a good race, so I am very pleased."
PHENOMENAL
Hamilton credited the Mercedes team for his successes.
"I knew that we would win championships," he said. "Did I think we would win as many as we have? No. Did I think we would win this many races? Of course not. But it is a phenomenal time for us and the great thing is that it's not just me that is living with the history, it's the whole team. I think everyone acknowledges and realizes how much they are part of it."