Monaco GP 2022
MAY 29, 2022
Sunday Team Quotes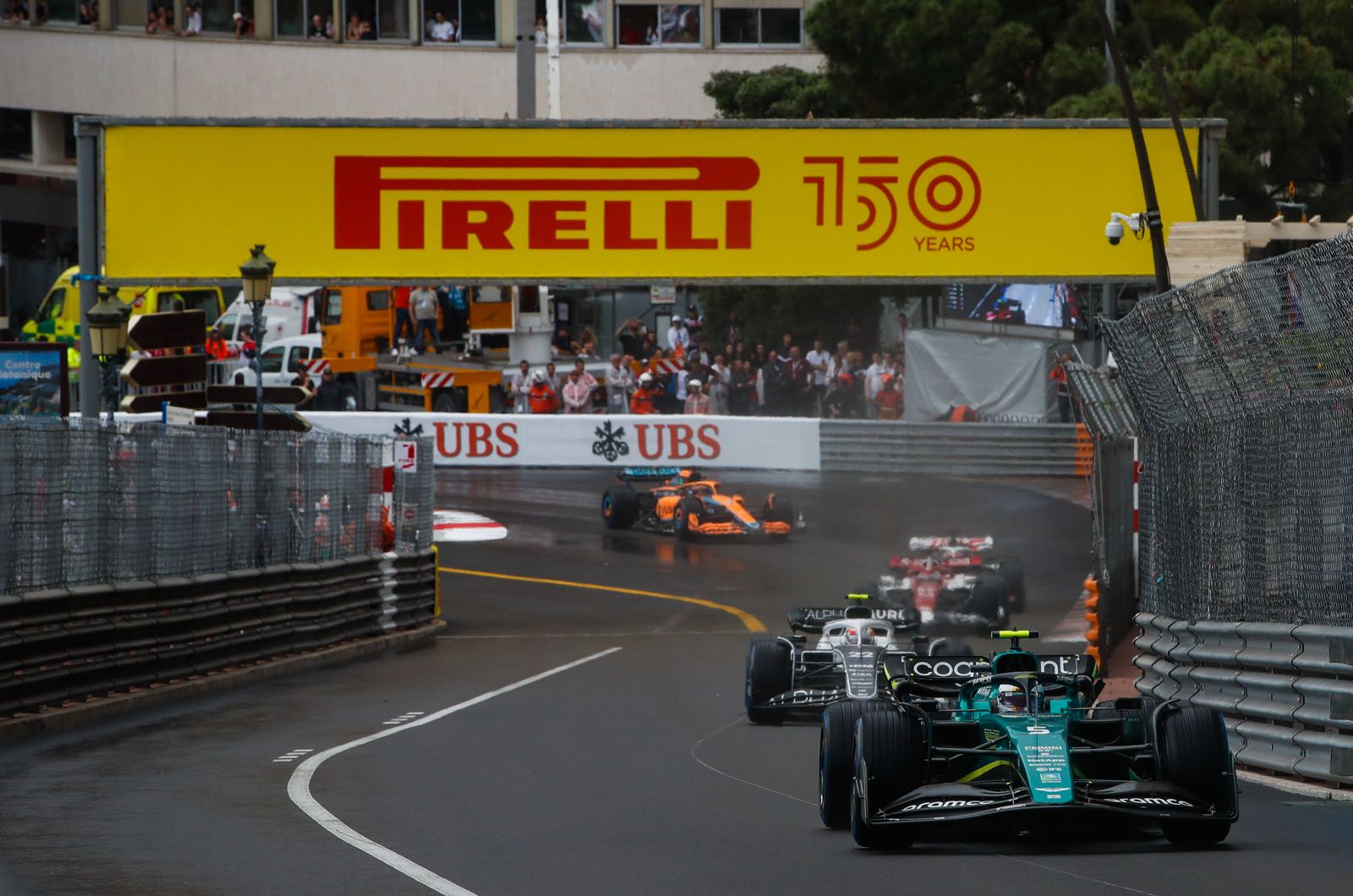 © ASton Martin Racing
Mercedes-AMG Petronas F1 Team
George Russell (5th): "That was a tough afternoon out there, very physical with the bumpy ride of the car, and a long afternoon across a range of conditions. It was tricky in the wet, holding onto the wet tyres for as long as possible, then I had a nice dice with Lando after the stops - and some strong pace on the hard tyre. It was tough on the medium in the second part of the race, with a lot of graining towards the end, but P5 is still a decent result. We encountered some of the limitations of our car at this track, but we've learned a lot and can put that to good use in the coming weeks to take another step forward. Overall, it's a decent result and I'm confident that we've got stronger days ahead of us."
Lewis Hamilton (8th): "That was one of those days in Monaco - stuck behind other cars for most of the race and, in the end, just cruising but not able to overtake. I was glad when the rain came because that usually creates opportunities, unfortunately it didn't play out that way and we couldn't get past Ocon when I was running on the intermediates. It's been a tough weekend and I've had some unlucky situations, like the red flag in qualifying, so I'm looking forward now to turning the page and heading to Baku. It's a different kind of track, even though there are some similarities to the slow corners here in Monaco, but hopefully we can move forward and show a better level of performance like we saw in Barcelona."
Toto Wolff, Team Principal: "That was the usual chaotic race in Monaco - and once again, a lesson that we need to look at this circuit layout, so people can't drive round five seconds off the pace in a procession. This is a fantastic venue and spectacle - but it would be great if the racing could be at the same level. With the length of the race, and the delays and interruptions, it felt more like an NFL game than a Grand Prix - but I'm not sure that much else could have been done. We need to give the race directors credit for managing a difficult situation; the rain at the beginning was torrential, then there was an issue with the connectivity for the TV broadcast which meant we couldn't get going. When we finally did, it was a strong afternoon for George - and a really frustrating one for Lewis. There were the laps stuck with Esteban, who got penalised for the collision, then the slow pace from Alonso, without which Lewis could have been racing Lando and George. It was another reminder that track position is everything here - and that we are the third team on the road. We have learned some important lessons about the car this weekend, and that learning will be the basis of rebuilding our performance to fight again at the front of the field."
Andrew Shovlin: "It's been a frustrating weekend for the team and drivers, we weren't anywhere near quick enough on one lap but even in the race we didn't have enough pace. George did a good job to take P5 from Lando on the dry transition and also to hold him behind at the end of the race; luckily, he was only there for one lap. Lewis had a tough time sandwiched between the Alpines for most of the race - we just couldn't find a way of putting him in free air without him needing to overtake which is near impossible. It also seemed that the cold conditions were making life quite difficult for the tyres and both our cars dropped off towards the end of the race. We've clearly got work to do ahead of Baku as there are a lot of similarities between the cornering sections and this track has highlighted our weaknesses."
Oracle Red Bull Racing
Sergio Perez (1st): "It was really hard for me to think straight after the race, I was full of adrenaline and so much energy going through the race. Once I heard my national anthem on the podium here it hit me, it is a dream come true for any driver in the world to tick that box in Monaco and I can just be extremely happy. We were quick all weekend, we kept our heads down and knew today with the right strategy we could make things happen. This win was for my mum and all my family, she was very sick last week so I had very good motivation going into this race to get her a victory. It's been an incredible day, I am super happy for the whole Team and I hope my country are proud too. You don't win Monaco many times in your life so the first one is very special."
Max Verstappen (3rd): "First of all congratulations to Checo, he did an incredible job today. As a Team we did a really great job, we managed a good strategy. Of course finishing third for me is not ideal but I wasn't able to improve my lap time yesterday so that's just how it goes. In the heat of the battle and with the hectic start, we stayed calm as a Team, we made good decisions. The strategy paid off with Checo winning so that was the biggest positive of the day. I'm really proud of the Team effort this weekend and to get two cars onto the podium."
Christian Horner, Sporting Director: "It has been an amazing day for us and an amazing day for Checo, he's been on it all weekend so it's a well deserved victory. The teamwork and for both of our drivers to pick off a Ferrari was fantastic. Checo is doing a great job this year, in Jeddah he had that amazing pole and the time delta between him and Max has been a lot closer this year. To win this race is a deserved victory. Max hasn't quite had the car where he wanted this weekend, but he's pleased with that result, he's beaten Charles and kept his championship lead which was the goal. Through great teamwork from the drivers, on the pit wall, in the garage and back in Milton Keynes we optimised our performance this weekend, so we are very happy."
Scuderia Ferrari
Carlos Sainz (2nd): "It was a tough race but overall I cannot be too disappointed. We made the right call to go from wet tyres to slicks but unfortunately a lapped car in my out-lap cost me too much time and we missed the opportunity to take the lead. After my pit stop I rejoined right behind Perez and that was it. Overtaking here is extremely challenging and with some wet patches off the racing line it was even more difficult today. It is a tough one to digest, because the win was there for the taking, but I gave it my all out there and we'll come back stronger as a team for the next double header."
Charles Leclerc (4th): "I'm disappointed to have lost this win and it's a tough one to take, especially at home. It will be important to understand exactly what happened to make sure that this doesn't happen again. In the first pit stop, we went from extreme wets to Intermediates, and got undercut by Perez. Three laps later, I stopped again, behind Carlos, and lost two more positions. It's just impossible to overtake in Monaco without taking huge risks, so I stayed put to bring home as many points as possible and I guess that fourth is the best we could do under these circumstances. Mistakes happen, unfortunately today we made too many. I love my team and I am sure that we will come back stronger."
Mattia Binotto, Team Principal: "When you start with your two cars on the front row and you don't win, it means something went wrong from our side. I think we made a few poor decisions and we paid the price. I am sorry for Charles, because it's his home race, so it was particularly important for him, as indeed it was for all of us. There were other elements that affected today's result, such as the traffic that both our drivers encountered when they rejoined the track after their pit stops, a factor that probably cost Carlos the win. Mistakes can happen, but it's important to learn from them and take it as an opportunity to improve. Over the next few days, we will analyse this race in detail, as part of our preparation for the upcoming back-to-back races in Azerbaijan and Canada."
McLaren F1 Team
Lando Norris (6th): "It was a good day for me. We lost out to the Mercedes in the first pit-stops which was a close call, but you win some, you lose some, and in this case today we just lost out. I think the team did a really good job, I had a competitive car and it was an enjoyable race; it's impossible to describe what it's like to drive an F1 car around Monaco in the rain – it's very tough. We have a lot of things to review now as a team to try to do better for next time, but we still got some decent points and it was nice to get the fastest lap towards the end as well, so I'm satisfied with the weekend. I look forward to the next race in Baku."
Daniel Ricciardo (13th): "We knew today was going to be tough, obviously being Monaco, results are heavily based on qualifying so yesterday really shaped the weekend. I think when we saw the rain come that was quite a surprise, just how quickly and heavy it came. We thought maybe there was some opportunity there – but yeah, obviously everyone kind of ended up filling into similar strategies. In any case, we ultimately just weren't quick enough this weekend. So not much more to say. It was cool having a full crowd back. The atmosphere here was fun. I would have loved to have put a bit more of a show on- but that wraps up the weekend."
Andreas Seidl, Team Principal: "We're leaving Monaco with P6 and the fastest lap for Lando. Nine points is more than our competitors for P4 in the Constructors' Championship managed, which makes this a very positive outcome. Lando showed strong pace all weekend. In the rapidly changing conditions we had a 50:50 call which just didn't work-out for us and he lost a position – but he didn't put a foot wrong today in challenging conditions. For Daniel, starting in P14, we were hoping for opportunities to come our way, but nothing did and we could only make up one position to finish P13. Such is the nature of racing in Monaco. Overall, it's been very encouraging to see the pace we've had in the car all weekend. It's been a very long, very hot two weeks on the road for this double-header. My thanks to the entire team, trackside and back at the factory, together with our colleagues at Mercedes HPP, for the great effort. We get a weekend off now, before setting out on our next double-header. We'll rest, reset and get ready to go again"
BWT Alpine F1 Team
Fernando Alonso (7th): "It was a very difficult race today with the conditions, so we can be pleased with a seventh-place finish and more points added to the championship. It was a tricky race to manage with difficult choices on strategy at times, but we did everything well as a team and it was all well managed. At the wheel, it was not easy, and I had to be careful at times not to make any mistake to make sure we brought the car home in the points. On the dry stints, because of what we learned on Friday, we had to be careful on the tyres, especially for me after the second-red flag. We held on to seventh comfortably, so I'm pretty pleased with today's job."
Esteban Ocon (12th): "Today's result is tough to swallow, and I'm frustrated that we leave Monaco without scoring points. Inside the car it felt like a racing incident with Lewis [Hamilton], especially at a track like Monaco where any overtake attempt is likely to involve some contact. The team has worked so hard all weekend, especially in finding the gains between Friday and Saturday, and we now leave without scoring deserved double points. We'll have to move forward and I'm looking to put it right in Baku where we race next."
Laurent Rossi, CEO Alpine: "Today's Monaco Grand Prix was very eventful and it's always good when you come out of those races with strong points in the bag. As a team, we were expecting it to be a challenging weekend at a circuit with so many slow-speed corners, which does not tend to suit our car. We've had to dig deep all weekend to make improvements between Friday and Saturday, which not only helped us this weekend, but also bodes well for the future where we can take forward this knowledge in adapting our car to all types of tracks. Both drivers drove good races today to cross the line in seventh and ninth, respectively, which is probably where we deserved to be in today's race. Esteban's time penalty is a tough one as it was probably 50-50, so we won't dwell too much on it and we'll keep our heads down and look ahead to the next one. I'd like to thank everyone at the team for their hard work after a very busy two weeks across Spain and Monaco. We'll take some rest this week before refocusing ourselves for Azerbaijan and Canada next time out where we're hungry to add two lots of double points."
Scuderia AlphaTauri
Pierre Gasly (11th): "We started 17th and finished 11th, so considering Monaco and the track layout, I think we can be happy with this today. When I saw the rain on the grid I had a massive smile on my face, as I knew it was our opportunity to try something different and to hopefully move forward. We took some risks today, I called for Inters on lap one as we had nothing to lose. We managed to pass some cars, as the pace was there, and I must say from inside the cockpit this was really exciting. It was obviously tricky, sliding all over the place, but it was really fun, you were driving on the limit and that's what Formula One is all about! We were fast in all the practice sessions, and even in the race today, so it's a shame to be finishing just outside the points, as I think we deserved to be up there this weekend."
Yuki Tsunoda (17th): "It's been a frustrating day, I didn't have a good start and was P16 before the red flag, I need to go away and look at what happened there. The pace of the car was ok in the race, we gambled a bit on the Medium tyre for the restart and unfortunately that strategy didn't pay off today."
Jody Egginton, Technical Director: "It was an eventful race today. The rain shower at the start of the race was obviously a big disturbance, but it was also a good opportunity for us with Pierre to get him moving forward. We had an aggressive strategy and got him onto the Inters early on, which worked quite well, whilst a lot of other runners stayed on the full wets and wanted to make that work until they could cross over to a dry compound. Looking at Pierre's pace, we took a similar decision for Yuki and put him onto the Inters too, although he struggled slightly to make it work as well. We then moved both drivers onto the Hards, in theory this would've taken us to the end of the race, had there not been a red flag. Following that, we basically held position until the end of the race. After Ocon's penalty we've come away just outside of the points, we lost some time to Vettel during the pit stop, so unfortunately that has cost us. We had a good recovery race today with Pierre but the main lesson for this weekend is that we need to have a tidier Saturday in order to make the most of the opportunities we have on Sunday."
Aston Martin Aramco Cognizant F1 Team
Sebastian Vettel (10th): "Today was a race in which anything could happen, but actually it was quite a clean and straightforward race for me. We managed to pick up a point, which was a good effort because it is always difficult to make progress at Monaco, especially with only one dry line. Given the way the race developed, I do not think we could have finished any higher. It was a real struggle on the Wet tyres in the early laps so that is why we went to the Intermediate as soon as we could. We learned more about the car, too, optimising the set-up with the new parts we introduced recently. All these steps are taking us in a good direction for the races to come."
Lance Stroll (14th): "I knew it would be a struggle to score points when starting so far back and it was always going to be a tricky race in the wet weather, but there are positives to take. We made the right call by switching to the Intermediate tyres early on because it was clearly the best compound. Overtaking is difficult at Monaco, so getting past [Yuki] Tsunoda at Rascasse was a pleasing move and showed that the car is becoming more competitive - especially considering the slower-speed corners here. On the whole, the race gave us plenty of opportunities to continue learning about the car's recent developments. I am confident we will be able to develop the car for both the slower and faster circuits in the near future."
Mike Krack, Chief Operating Officer: "On paper you could describe our performance in the 2022 Monaco Grand Prix as follows: Sebastian lost one place from his P9 qualifying position to finish 10th in the race, and Lance gained four places from his P18 qualifying position to finish 14th in the race. The truth was much more complex, since rain played havoc with everyone's plans and the result was an incident-packed, time-limited race in which the weather was the key until the dry-track restart after the lap-30 red flag. Thereafter, Sebastian drove well to manage tyre wear, and was able to stay well within 5.0sec of [Esteban] Ocon, thereby converting his P11 on-track finishing position to P10 after Ocon's 5.0sec penalty had been applied: a hard-earned World Championship point for us. Lance also did his best in difficult circumstances, but overtaking is practically impossible here so points were always going to be out of reach for him today."
Williams Racing
Nicholas Latifi (15th): "Wet conditions are always tricky and even more so on a street track like Monaco! It was a very challenging race and after pitting early on, we were detached from the back of the pack but we did have good pace on the intermediate tyre to catch the field back up. The last stint on the medium tyre proved quite tricky as I didn't feel completely comfortable with the balance. However, we managed to bring it home, which isn't easy in these conditions, and also picked up two places from the guys we were racing around which is a positive."
Alexander Albon (DNF, Mechanical): "It was a tricky day out there and a bit of a scruffy performance from my side, too. The conditions meant that getting the brakes in the right window was really challenging, especially with all the variation that a drying track brings and the red flags. The car felt good whenever we had clean air though and I did feel competitive at points, so there are some positives to take away from today. Unfortunately, towards the end of the race I had an issue with the car which meant I had to retire. I think it's probably a weekend to forget for us, but that's how it goes sometimes."
Dave Robson, Senior Race Engineer: "It was a long race today with the delayed start and then a red flag interruption. With Alex we opted to play the long game on the Full Wet tyres and run it until the track was ready for slicks. We timed the transition pretty well and he found some good pace on Prime until he went straight on at T1 and then punctured the tyre. His pace on the Option after the red flag was again strong, but as he was now out of position, he couldn't make any places. We retired the car when Alex reported some unexpected bouncing on the straights. Nicholas damaged his front wing early in the race, which forced an early switch to Intermediates and set his race back. Although he made some progress later in the race and battled well with Zhou and Tsunoda, P15 was the best that we could achieve today. It was a tough race, but we learnt quite a lot about the FW44 this weekend, some of which will be relevant to the next race in Baku."
Alfa Romeo F1 Team ORLEN
Valtteri Bottas (9th): "It's been a pretty long race, but we can be happy we made our opportunities count as a team. It was really easy to make mistakes out there and I am glad we didn't: gaining positions in Monaco is never easy, so to end up in the points from P12 on the grid means it wasn't a bad day. We made the right strategic calls, which was a challenge as it was not easy to choose which tyres to pick at any time. We took some calculated risks and they paid off."
Guanyu Zhou (16th): "It was a challenging Sunday, but I think we achieved the maximum we could get. Part of the race was just about surviving, defending hard in the wet – especially when we had to keep going on the wet tyres on a drying track to make our strategy work. It was a good experience to race here in these conditions, my only scare was when I had a snap fighting Tsunoda, but I saved it. The Monaco experience as a whole was tough, but I didn't do any mistakes and I was matching the pace of the cars in the midfield, so I can be satisfied about that."
Frédéric Vasseur, Team Principal: "The conditions out there were treacherous and to bring home two cars is the primary objective, and we achieved it. We knew that, after a difficult Saturday, scoring would have required a really good race are we were able to deliver one. We chose an aggressive strategy that would allow us to make up some positions, and we were able to gain ground with both cars. The two points Valtteri scored allow us to keep fifth place in the constructors' championship and they're a good return for the weekend."
Haas F1 Team
Mick Schumacher (DNF, Accident): "I'm feeling alright, it's very annoying. In terms of pace, we were definitely there and it's just a matter of keeping it on track – unfortunately I wasn't able to do that. The pace felt strong and it felt like we were able to attack and push. Unfortunately, I went a bit too wide, probably about 10 centimeters at the end, and that's enough to lose all grip that you thought you had and the result is what happened."
Kevin Magnussen (DNF, Power Unit): "We had power unit issue of some sort, so we had to retire the car – there was nothing we could do about that sadly. I really thought our pace in the race was good considering we were on a full wet on a dry line, I had been able to keep Gasly behind until our issue and I was closing on Bottas. It would have been really exciting around the pit stops to see what could have happened. It's unfortunate with no points today even though I think we had the car to do it, we knew we could fight."
Guenther Steiner, Team Principal: "It was a disappointing day today. Kevin's car was really fast, we were just waiting for our opportunity to pass Bottas at the pit stop, either under or over cutting to get by him and chase the field. He could easily follow him. He then had an issue with a water leak on his ERS system. With Mick we obviously saw what happened. It's not very satisfactory having a big crash again. We need to see how we move forward from here."