Monaco GP 2022
MAY 28, 2022
Saturday Team Quotes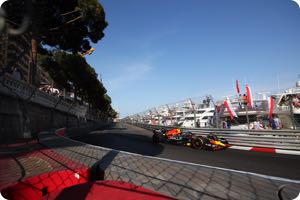 Mercedes-AMG Petronas F1 Team
George Russell (6th, 1:12.112): "The ride of the car has been our biggest limitation all weekend and while P6 is not a result to be celebrating, I think we pretty much maximised it out there with the package we have. The team has worked incredibly hard to give us the most compliant set-up possible, but we saw in Barcelona that our strengths were speed on the straights and the high-speed corners - and there's none of either in Monaco! So looking at it objectively, there's no reason we should be any higher up today. From my point of view, looking to tomorrow I'm thinking: bring on the rain! Nobody knows how the tyres will be in the wet, so we need to keep it out of the wall, be there at the end and roll the dice on strategy if we can."
Lewis Hamilton (8th, 1:12.560): "The red flags cost me my final lap, but I don't think it was going to be much different to how it turned out anyway. In hindsight, I needed to get lap one on the tyres and I didn't, after starting the lap in the wrong engine mode. But Monaco is just like that, and it was an unfortunate session. The car feels pretty bad out there and we're having to take some big risks to get anywhere near the times of the cars in front. We improved the car from yesterday and got a little bit closer, but even with a perfect lap I think we'd still be six tenths off, which is a decent chunk. Now we need to see what the weather does tomorrow and try to make some progress up the field."
Toto Wolff, Team Principal: "That was a typically chaotic Monaco qualifying session, and at the end George got his lap done and Lewis missed out because of the red flags, which maybe cost him a position on the grid tomorrow. But I think George's result shows where the pace of the car is this weekend - Monaco has never been the easiest place for us, and that's been true again this year. The race pace looked stronger than the single lap in practice, but it's hard to make it count here, as we know. But it looks like the weather will mix things up for tomorrow, so let's see how it turns out and whether we can make the most of the opportunities that might come our way."
Andrew Shovlin: "A difficult day for the team and drivers; the car hasn't been easy to work with here and the ride issues that we have suffered from have made it difficult for George and Lewis to have confidence in the car. We tried most things on the tyres and in the end, we were able to switch them on okay with sector one being our best sector. By the middle of the lap though we'd drop off the pace a bit through a mixture of some overheating and the fact that the ride issues cost more in the final two sectors. 6th and 8th are not great places to be from starting tomorrow and while our race pace seemed good on Friday, it's difficult to make use of it if you are in traffic. It's rarely a straightforward race here so there may be some opportunities that come our way with the strategy and the weather forecast looks like it may bring a bit of rain which, with our grid positions, we'd be quite happy for."
Oracle Red Bull Racing
Sergio Perez (3rd, 1:11.629): "I knew the timed lap in Q3 was very important but the outlap was even more so, with people not respecting the delta and so I ended up in the final sector with tyres that were too cold and I nearly lost it in turn one. I was thinking the tyre would pick up grip and warm up but it just didn't and it's a big shame what happened. I was losing lap time in turn eight so I tried to anticipate the corner very early but it just didn't work and while, it is frustrating to end the day like this, we have still qualified in the top three in Monaco. I am very sorry for my Team, it is going to be a long night for them but hopefully we can recover and be back tomorrow. It was just a precautionary check in the medical centre, I am all ok and now I am looking forward to tomorrow. I am on the good side of the grid so I would like to gain one or two positions, it will be tricky but I am up for the fight. It could be a wet track tomorrow so anything can really happen."
Max Verstappen (4th, 1:11.666): "In general my pace this weekend has been a bit of a struggle, I never really found the perfect balance. We were on for a good final lap in Q3, I was pushing to the limit on the last lap until I got to the corner where I hit a little traffic jam! It was very unfortunate as I think we could have done better than fourth, not pole position, because I think that Charles is too far ahead, but I think we could have at least got second place. That's Monaco for you though, it's completely unpredictable and there's always a risk of a red flag when everyone is trying to risk it all. I think I need to do a little rain dance tonight, shake it up a bit for the race tomorrow because in the dry you cannot pass around here."
Christian Horner, Sporting Director: "It was a shame at the end there as both drivers had the ability to improve a little and unfortunately Checo made a small mistake and that had a concertina effect with Max as well, but third and fourth we can still race from there. We'll get the car back and see what the damage is, but this year of course, like engines, you have three gearboxes you can use for the year without a penalty. Naturally Checo is frustrated as he has been on it all weekend and was hoping for me today, and it was also frustrating for Max as that's the second consecutive year he's missed out on a final flying lap. But the race is tomorrow and there could be some rain around, also safety cars, so it will all about positioning in the first corner and I am sure Ferrari will be synchronised, so let's see what happens tomorrow."
Scuderia Ferrari
Charles Leclerc (1st, 1:11.376): "I am very pleased with our overall performance so far this weekend. I felt confident in the car and started pushing a bit more in Q3. The first lap was good. I think that the second was one of the best laps I have ever done in qualifying. It was so much fun to drive and I was really on the limit. I had a lot of oversteer, so the rear was quite loose. Still, I knew that the lap was coming together nicely and that felt particularly good. It's a shame that I couldn't finish it, but this is Monaco and we know that the final attempt is always at risk of yellow or red flags. We secured pole anyway, so I am really happy. Whatever the conditions are tomorrow, we will start from the best place possible and will do everything to finish the weekend as smoothly as it has gone so far."
Carlos Sainz (2nd, 1:11.601): "It was a great build up throughout qualifying today, especially up until Q3 when unfortunately things got a bit messier. On my first attempt I had to overtake both Mercedes during my flying lap and I left a couple of tenths on the table, especially overtaking Hamilton at the swimming pool. However, I was confident for the second attempt until obviously Perez crashed in front of me. I did all I could to react quickly and avoid the crash, but it was too late. Things like this can happen in Monaco and unfortunately I was caught up in it again. Overall, P2 is a decent position to start on Sunday and it's a good day for the team with another front row lock-out and a good opportunity to score solid points tomorrow. Let's race!"
Laurent Mekies, Sporting Director: "We are very pleased with how qualifying went. The Monaco circuit is one of a kind and the fact that, even here the F1-75 was very much on the pace, shows that Maranello has produced a really good car. Congratulations to all the team and the drivers who were excellent. The Monaco weekend is always particularly tricky and Charles and Carlos dealt well with the pressure and the traffic, managing to make the car and tyres work at their best. Once again, Charles produced a superlative performance and, but for the red flag, could have gone even quicker. Right from the start of free practice, Carlos demonstrated that he had a great feeling for the car which allowed him to qualify on the front row, which will be very important for tomorrow. Unfortunately, on his second run in Q3, he spun to avoid Sergio Perez who had crashed just before the tunnel. There's no denying we got a fright seeing the two cars stuck across the track and we hoped the red flags would come out as soon as possible. Fortunately, neither driver was hurt and now we will give the F1-75 a thorough check to ascertain the extent of the damage. We can expect a very long race tomorrow, which could be particularly tricky if it rains. Tonight, we will work on preparing for every eventuality. There are a lot of fans here supporting us and Charles in particular and we want to give them something to cheer about."
McLaren F1 Team
Lando Norris (5th, 1:11.849): "I'm happy with today. I think it was the maximum we could achieve. The car was good all weekend and I think today we showed that we extracted a lot out of the car, and we put in some good laps. It wasn't quite enough to be ahead of the top two teams but good enough to be ahead of everyone else, which is always the next step. So, I'm happy but there is one more job to do tomorrow. The focus is to try and go forward if possible – but it's difficult – so we will try to stay where we are as a minimum and get some good points."
Daniel Ricciardo (14th, 1:12.964): "It's not the result I wanted. I was just trying to get back into the flow of it in FP3, and then we made a few set-up changes for qualifying. Q1 felt a bit more competitive, and I think we did some decent laps. There were a couple of mistakes here and there, but I felt like the pace was in it at the time. And then Q2, when everyone was able to make that step, I struggled to get more out of the car and felt I was at the limit. We'll keep at it and hopefully it rains tomorrow."
Andreas Seidl, Team Principal: "Mixed feelings after the Monaco qualifying for us. Starting the race tomorrow in P5 is a great result of the work the entire team has put into the development of the car with the updated package we brought to Barcelona. Lando felt comfortable around here from the first run onwards yesterday and delivered great laps when required. Unfortunately, Daniel couldn't progress into Q3 and starts the race from P14 tomorrow. Big thank you to his crew for repairing the car overnight after the crash yesterday and having it ready again for FP3 today. The weather forecast could spice up things for tomorrow. Maximum focus now on preparation for the race as we want to be ready with both cars for any opportunities that come our way."
BWT Alpine F1 Team
Fernando Alonso (7th, 1:12.247): "Even though we made a big improvement with the car for today and position-wise it's a good qualifying, we could have been even better. On the first attempt in Q3, I was fifth and with the track evolution I think we could have kept this position for tomorrow. Unfortunately, I locked up under braking for Mirabeau. In Monaco when you lose concentration, even for a second, it can have a big impact, so I apologise to the team. Nevertheless, we need to see tomorrow and if the rain comes as it could be very chaotic, with lots of safety cars and red flags. If it does rain, I'm sure it will be great to watch on TV, but very stressful inside the car!"
Esteban Ocon (10th, 1:13.047): "After three difficult free practice sessions where performance was lacking, it's a great feeling to get to Q3 in Monaco. We knew qualifying was key today, so the focus was always to get the set up right after testing different things over yesterday and today. I do have mixed feelings, though, as I was on for a great final lap before the incident, which stopped the session. Nevertheless, we showed that the pace was there, and we managed to extract it when it mattered, so great job by the team. We've got both cars on the top ten tomorrow and we are most likely expecting some rain, so it's going to be interesting and we know in this sport that anything can happen."
Otmar Szafnauer, Chief Operating Officer: "We're pleased to have both our cars inside the top ten today, especially as we were able to make vast improvements from Friday, through this afternoon's practice session, and into an important qualifying session. There was potential to be even higher up the grid than seventh and tenth, but we weren't able to put together the laps in Q3, which ended early with the red flag. Sometimes it happens like this and we'll review what we can do to ensure we maximise our performance potential at future races. Fernando had a small off with some damage sustained to his car. It's fairly minor especially in comparison to how big crashes can be around Monaco, so the car will be fixed and ready for tomorrow's race. There is some uncertainty in the forecast, which we'll keep an eye on. Rain or dry, though, we've put ourselves in a strong position to score strongly with both cars."
Scuderia AlphaTauri
Yuki Tsunoda (11th, 1:12.797): "I'm disappointed with today. I touched the barriers in Q1 and damaged the front left of the car. The red flag allowed us to get back to the garage, however there was still some damage on the car and that impacted my performance I believe. Unfortunately, this also compromised Pierre's Quali and he was unable to get through Q1 – it's a real shame as I think both cars had the potential to be in Q3 today. I think our best chances of scoring points tomorrow with both cars is to have a wet race, so let's see what happens."
Pierre Gasly (17th, 1:13.660): "I'm extremely frustrated today. We've been fast all weekend up until Quali, so it's disappointing to have thrown this opportunity away. I'm not happy with the strategic calls we made today, and then we left the pitlane too late in Q1 and didn't manage to cross the line before the red light came out. We need to go away and look at everything, as we had the pace to fight for top six and, in the end, we're not starting in the position we deserve to be in."
Jody Egginton, Technical Director: "Until Qualifying, we'd been having a good weekend, the car was working well, the drivers were taking it step-by-step and putting in strong performances. Unfortunately, in Q1 we had a red flag late on, due to Yuki touching a barrier, which meant that everyone came into the pits for one final push lap before the end of the session. The problem was that we were not out close enough to the front of this pack. This meant that we were tight on margin for getting both drivers across the line before the chequered flag and Pierre missed it by one second. At the end of the day, we just needed to get him out slightly earlier. Now, we need to go away and look at why this was, because in a midfield this competitive we can't be throwing away any advantages. We've missed a really good opportunity today to get both cars into the top 10. The drivers and the team definitely deserved that today, and the car was good enough. If you'd asked me before Quali I would've said that I wanted a dry, clean race with both cars coming home in the points, but now I have mixed emotions and might prefer a wet race. However, if Yuki gets a good start tomorrow, he can move up into the points, it's difficult to overtake round here but we'll make sure we're in a position to take every opportunity we can. For Pierre, we need something different to happen and hope we can take advantage of it."
Aston Martin Aramco Cognizant F1 Team
Sebastian Vettel (9th, 1:12.732): "Finishing Q3 in P9 is a good result. It is always important to qualify well in Monaco, so hopefully we can race well from there and make the most of any opportunities to move up the order. The weather is the big question mark, though. If it is wet, it can be a real lottery around this track, but it can also make for a fun and entertaining race. I would be surprised if it was a completely wet race, so we might need to be ready for mixed conditions. Whatever happens, we will target good points tomorrow."
Lance Stroll (18th, 1:13.678): "First of all, I want to say thank you and well done to everyone in the garage for repairing my car after practice. It was a big push to get everything fixed in time for qualifying. Unfortunately, qualifying was frustrating: I went off the track at Turn 13 after taking too much of the kerb and my lap was over. It is a shame because I was four tenths up on my best time up to that point. The car has potential, so it is disappointing to qualify 18th."
Mike Krack, Chief Operating Officer: "Mixed feelings for us today: Lance was on a good lap in Q1 when he went slightly off-line on the entry to the Swimming Pool and thereby lost the opportunity to progress through to Q2. As a result he will line up in P18 for tomorrow's race. Sebastian did a great job to get through to Q3 and he had posted the ninth-fastest Q3 time when the session was stopped owing to the accidents that were blocking the track. Our target for tomorrow is to score solid points."
Williams Racing
Alexander Albon (16th, 1:13.611): "It's a very frustrating result; I feel like we had much more to offer today. It's such a tight window to get the tyres in the right place, and something like a red flag really disrupts our progress as everything cools down. I was happy with the laps that I did put in and the car felt good, so from that perspective it's an even more frustrating day. These street tracks do seem to suit our car, so I think we were all hoping for more, but we'll go again tomorrow and it's possible that the weather may present some opportunities."
Nicholas Latifi (19th, 1:14.403): "In the free practice sessions I was never comfortable with the car balance and only by qualifying did I get what I needed. That meant that I went into qualifying with a different car from FP1, FP2 and FP3, and it was a case of starting again to find the limits of a car. The car was much better in qualifying, and I was discovering a car that I felt had much more potential in and a lot more lap time but at the end, we had the red flag. It's frustrating, I know I need to do better, and we also need to understand these issues with the car and reduce compromising our qualifying."
Dave Robson, Senior Race Engineer: "We managed to improve the car again overnight and Alex particularly was very comfortable in FP3. We had a good plan for Q1 and both drivers had good opportunities on a clear track. The late red flag was very frustrating as it cost us the chance of setting our final lap when the track and tyres were in the best possible state. We led the pack out for the final lap scramble after the flag, but we couldn't get the tyres back into the ideal state and although both drivers improved, it wasn't quite enough to qualify for Q2. It is going to be hard to race from 16th and 19th on the grid, however, with a risk of showers tomorrow, anything may yet happen."
Alfa Romeo F1 Team ORLEN
Valtteri Bottas (12th, 1:12.909): "We did not expect to miss out on Q3, but we turned out to be not as competitive as we expected. Despite missing a session yesterday, I feel I managed to get into a good rhythm: the car was balanced and felt good, the last lap in Q2 was really good as well. I think we probably got as much as we could: we lacked a bit of pace, not in any particular corner but overall. It's disappointing as we thought this would be a strong track for us, but we're still not far off the points: it's going to be a long day tomorrow, with the threat of rain as well, so everything can happen. Hopefully we can put up a good fight and bring home another top ten finish."
Guanyu Zhou (20th, 1:15.606): "It's a very frustrating and disappointing result: the red flag coming out just seconds before I finished my lap meant I was the only one who couldn't set a time with the second set of tyres and, on a street circuit like Monaco, with strong track evolution, I never stood a chance with the first lap. The slow exit from the pitlane of the cars in front of me when we got a green flag again meant I couldn't get another attempt and that was it. It hasn't been the smoothest weekend so far, but I am confident we can get together and figure out a way forward with the team. We're going to put our heads down and do our best for tomorrow's race. The weather could play a part, so we'll go out and try to salvage a good result."
Frédéric Vasseur, Team Principal: "Today's result falls short of our expectations, and our first objective will be to understand the reasons for it. Qualifying was a messy session in which some episodes went against us, but at the same time we were not as competitive as we hoped we would be. Zhou was metres away from setting a really good time in Q1 when the red flag was thrown, invalidating his lap; at the restart, we were bottled behind a queue of cars and that prevented him from having another attempt. Valtteri suffered the same situation, but was able to clear Q1: in Q2, he delivered a good lap, but P12 was the maximum we could achieve. Of course, these are not ideal places to start, especially in Monaco, but it's going to be a long race tomorrow and we'll give everything to move up."
Haas F1 Team
Kevin Magnussen (13th, 1:12.921): "It's been looking good, and the car felt good but it just didn't happen in Q2. I would like some rain from this position as it would be nice to have some spice and a bit more of an eventful race so we can have the chance to come forward. I think the pace is there in the car – fingers crossed for a wet day tomorrow."
Mick Schumacher (15th, 1:13.081): "It's very unfortunate that the group which we were in was very tight together. I think we were like three or fourth tenths off Q3 in that case, so I think if from my side I nailed that second sector, for sure we would've got close to it, but there are those days where it just seems that there's a little bit missing, but it's a lot of fun. We missed a lot of FP1, which meant we were always on the backfoot, but I felt especially for qualifying we didn't move on the set-up and personally for me it felt like it was the right direction and it paid off in the sense that it will definitely help for the race set-up. We'll see where we end up – tomorrow's weather conditions look interesting which can help us make that step into the points."
Guenther Steiner, Team Principal: "Following our FP3 performance we were hoping to get into Q3 with both cars and then a few unfortunate things happened, a few little mistakes on track and we were out in Q2. We know we've got the speed in the car, the drivers are convinced of that and the whole team is convinced. Tomorrow, we will still be fighting, as much as we know it will be very difficult here as there's very little overtaking, but there's a chance of rain and there's always a chance of a red flag at some stage, hopefully not involving us."