Monaco GP 2022
MAY 27, 2022
Friday Team Quotes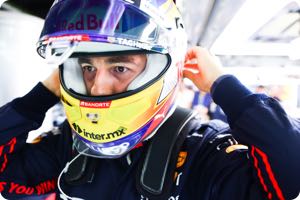 Mercedes-AMG Petronas F1 Team
George Russell (6th, 1:13.406): "It's been a relatively good day I think but it's clear we're not yet where we want to be in terms of performance. Monaco is a very tricky circuit with these cars - they are set up very stiff for the aero to work, so it's not easy to put the car on the limit on a bumpy street circuit like this. You've got to give the circuit a little bit more respect than you normally would, and there are parts of the circuit where we're almost doing a wheelie with both front tyres off the ground! We've got some work to do overnight to see how we can make it a bit easier to drive. At the front, Ferrari are flourishing again - we saw in Imola how good they were over the kerbs, and this is playing to their strength here, too. We now need to get our heads down and see what we can do for tomorrow, so that we're at least best of the rest behind Ferrari and Red Bull."
Lewis Hamilton (12th, 1:14.267): "I was fighting to put a lap together out there today and it's a very different experience to previous years here in Monaco. Back in the day, I remember coming here with lighter and more nimble cars, but they are now a lot heavier, and that changes the driving experience quite a lot. The track's been resurfaced but it's probably the bumpiest circuit I've ever driven - at points, it feels like my eyeballs are coming out of their sockets with the bumps! The car was bouncing quite a lot today on the bumps, not the aerodynamic bouncing like we've had so far this year, but just because we're running it low to the ground and stiff as well, so we're bottoming out quite a lot. We improved the car for FP2, and we've got some studying to do tonight to find the right mix between ultimate performance and a driveable balance. I haven't put my best sectors together yet, and actually the grip feels pretty good when we're pushing. Ultimately, I think we've got the potential to be up there in the mix; maybe not quite on the speed of Ferrari and Red Bull, but I hope we can be ahead of everybody else tomorrow and on Sunday."
Andrew Shovlin: "We're struggling with the ride here and that's preventing us attacking the lap, especially on low fuel. We made a bit of progress between the sessions, but we need to pick through the data and understand whether we can achieve more. The tyres are behaving reasonably well: they are coming in quite easily which is no doubt helped by the hot conditions we have this weekend. We didn't get the most out of the Soft tyre, it was difficult with traffic and Lewis had few occasions where he was blocked so there's more to come but everyone will be finding a bit of time overnight so we'll work to make sure we can move forward. The long run pace was encouraging, at least the consistency was good and seemed to have less degradation than some others but it's Monaco where long run doesn't count for much if you are stuck in a traffic jam. So, plenty for us to work on overnight but if we can make progress on a few of these issues, we should be able to find quite a bit of pace."
Oracle Red Bull Racing
Sergio Perez (3rd, 1:13.035): "It's really nice to be back driving in Monaco, it's always fun out there! It has been a good few session today for us but the long runs were a bit difficult with the traffic, I couldn't do more than two laps consistently. All in all we seem to be lacking a bit compared to the Ferraris, they seem really strong. We will analyse the data and see what we can do but they seem to be very quick today. We were a little surprised by the gap to them today, we were expecting a gap but not such a gap as we've seen today. It means there is plenty of work to do and we will see tomorrow, Q3 is when it matters."
Max Verstappen (4th, 1:13.103): "We tried quite a few different things with our set up today to see how the car is behaving, I was happier with the car in FP1 than in FP2. If we get better balance we can attack the corners a bit more, then of course our lap times will improve. Clearly compared to Ferrari we still need to find more pace, so now it's all about fine tuning and finding a better balance. The track feels different this year with the new cars, the cars are a bit heavier and slower and a bit more bumpy because they are stiffer. It's still very hectic to drive around here and I can't wait for qualifying tomorrow."
Scuderia Ferrari
Charles Leclerc (1st, 1:12.656): "It was great to see so many people around the track today, considering that it is only Friday. It really makes me look forward to the next two days and hopefully we can give our tifosi a good result. We had consistent running and completed a good number of laps. We still have to fine tune the balance but, all in all, it wasn't too bad and we just need to make the usual step from Friday to Saturday now."
Carlos Sainz (2nd, 1:12.700): "An encouraging day after completing our programme and performing well on track. Monaco is always a demanding track, but also a very exciting and fun circuit to push the car. Qualifying will be tight tomorrow by the looks of today, but so far we're happy with the job we've done and the way we've been improving every time we went out on track. Now it's all about the small details and finding the perfect balance for qualifying tomorrow."
McLaren F1 Team
Lando Norris (5th, 1:13.294): "It was a decent day I would say and I'm feeling better. I think the initial feeling in the car was good in terms of it giving me some good confidence. It was a car that I felt like I could push on and find the limit quite quickly, which is a very important thing here in Monaco. We worked our way through our programme, and took it step-by-step, trying to find some small improvements here and there, wherever we could, which was good learning. We need to look at it overnight and put what we learnt into the usual plan for tomorrow but I'm happy with today."
Daniel Ricciardo (20th, No Time): "FP2 was obviously a very short session with a crash on the first lap. We had a decent running earlier in the day, I feel it was a solid FP1, and we obviously just tried to push the car more and try a few things with set-up. I think we ultimately just pushed it a bit too far and I lost the car in the high-speed Swimming Pool. I did my best to catch it but obviously this track is so unforgiving that you can't get away with anything. It is what it is: obviously it's a long night ahead for the mechanics which puts a bit of a downer on the day – but I'm still not going to let it affect us into tomorrow. We know where we went wrong and we'll fix it for tomorrow. Lando's pace looked decent, so we'll hopefully put ourselves back up there, in a good position tomorrow."
Andrea Stella, Racing Director: "Monaco is always a challenge for drivers and for teams and, this year, that challenge seems even greater with a new generation of cars which seem quite temperamental. Lando's sessions today were relatively clean, while Daniel lost most of FP2 with a crash at the Swimming Pool, the causes of which we are still investigating. The most important thing is that Daniel is okay, and the team are now working hard to ensure we are ready to go for FP3. Overall, it seems like the car has decent potential this weekend, and our job this evening is to make sure we can exploit that pace and be competitive in qualifying and the race."
BWT Alpine F1 Team
Fernando Alonso (8th, 1:13.912): "Monaco is always different to other tracks as you need to find confidence in the car. FP1 was a little bit messy for us, but in FP2 we started to dial in my car. There is still more to come as we experienced some inconsistent balance here and there that we need to fix, as well as trying to understand the tyres a bit more for qualifying as getting a good position on the grid is obviously the main subject of the weekend. There's some work to do, but it's always special to drive here with a lot of adrenaline every lap."
Esteban Ocon (18th, 1:15.216): "It's good to be back driving in Monaco and discover the challenges that these new cars bring on such a specific track like this. It's clear there are some improvements we need to make to be where we want to be this weekend with regards to performance. We learned a lot today with different set-ups between the cars and now there is plenty of work to do overnight in order for us to be in a better position for tomorrow. It will be important to get it right as we know how crucial qualifying is in Monaco. There's more to come from me, so I'm looking forward to more practice tomorrow afternoon."
Pat Fry: "The Monaco Grand Prix weekend always presents some unique challenges for the cars, drivers and engineers. Today's practice was certainly a challenging one especially for the new 2022 cars where it's a fine balance in setting up the car in a small optimal window. Fernando was slightly happier with his car today than Esteban, so we have some data to work through there to understand the differences. We, like all teams, have some further learning to do on the tyres on high fuel. Overall, it's not all been plain sailing but we're confident that we can delve through the data and find improvements tomorrow ahead of Qualifying as we know grid position here is often key to a successful weekend."
Scuderia AlphaTauri
Pierre Gasly (7th, 1:13.636): "I'm really happy with my performance this Friday here in Monaco, of course it's always difficult here, but the pace of the car has been there, and we've been near the top of the midfield all day. So far, we've shown a lot of positives; we've managed many clean laps, put everything together and been competitive. I'm not saying I'm feeling 100% happy still, but I'm pretty pleased and we'll try to take another step forward for tomorrow. Qualifying is obviously never easy here, it's a short track, so we'll have to find the right spot, as there are a lot of cars and strong drivers. We've got the pace to be competitive, so we've just got to keep it clean and move through the sessions."
Yuki Tsunoda (10th, 1:14.134): "Today has been quite a difficult day, almost every push lap in both sessions I had traffic, so I didn't get a clean run that I was happy with. On top of that, I made a mistake on the first set of new tyres in FP2 and had a huge flat spot, meaning I had to finish my first stint earlier than planned. Hopefully tomorrow things will be better, but now I know what to expect and everyone is facing the same situation, so I need to focus on myself and the things I need to improve ahead of Qualifying."
Jonathan Eddolls, Chief Race Engineer: "It was a typically intense Friday session here in Monaco, where the target was to keep the car on track as long as possible and give the drivers a stable platform. With this generation of cars there are many unknowns, like the setups required for a street track. For sure they are not easy to drive, but overall the setup we have showed a good potential in both practice sessions. Braking for T1 is always a challenge, especially when trying to warm up the tyres, and Yuki snatched a front tyre early on with the Mediums in FP2, and the vibrations were too big to continue, so he missed a number of laps while we waited to run in sync with the others on the Soft. This meant he was a bit on the backfoot, but was still able to set a good lap time. It's all about Qualifying here, so to have both cars end up inside the top 10 is positive and our task now will be to monitor the changing track conditions tomorrow."
Aston Martin Aramco Cognizant F1 Team
Sebastian Vettel (9th, 1:14.059): "Although I have raced here many times, this circuit feels a lot different in these new cars. The main difference is that the tyres are much bigger so it is more difficult to see the track around you. The cars are also much stiffer and going through the tunnel is not as easy as it used to be. I was lucky to save the car during a mistake at the Swimming Pool, despite my heart rate definitely going up! We tried some new things today, so we need to see what worked well and learn how to fine-tune the set-up more. Tomorrow the key will be making sure we have a clean lap in qualifying, especially during Q1 when the track will be busy."
Lance Stroll (16th, 1:14.623): "It is great to be back in Monaco. Regardless of the car regulations, it is still the same track with the same corners and challenges. Today was a good opportunity to continue understanding the latest car developments and build on our experience in Barcelona. The tyres were overheating a bit in the hot weather, so managing the degradation will be a key part of the race on Sunday. As always, there are still a few things to work on, but I am confident we will make progress before qualifying."
Williams Racing
Alexander Albon (14th, 1:14.486): "It felt good out there today. We were feeling fairly optimistic heading into the FP1 as the track is similar to the Miami circuit which seemed to suit our car's characteristics slightly more, so I'd say that we aren't too far off where we want to be. There are a few corners in the second sector where we should be able to find some more lap time, so that's what we'll be working on tonight. I'm feeling positive; I think we'll be pushing for Q2 tomorrow."
Nicholas Latifi (19th, 1:16.276): "It was very tricky today. I think in general these new generation cars are trickier around here, the ride on the bumps is very harsh and visibility is tricky, meaning that on a few corners here you're sort of guessing where to turn. I'm sure a lot of other people are going through similar things. In terms of the car, we're not quite there with optimising it, but we have a clear direction of where we need to go overnight on my side."
Dave Robson, Senior Race Engineer: "It was good day with no damage to either car and plenty of laps completed by both drivers. Alex was reasonably happy with the car straightaway and we were able to address his minor issues ahead of FP2. Nicholas has struggled a little bit more, but he improved during the day and has a direction to look at overnight. We know that this circuit is tricky and unpredictable and that a lot can change as the weekend progresses. Usually there is an extra day before we return to the track and so it will be interesting to see how conditions are tomorrow. We have made a solid start to the weekend and have given ourselves the best possible chance of making further progress overnight. We will need to keep ahead of the changing track and weather conditions, but if we can do that then we can have a good weekend."
Alfa Romeo F1 Team ORLEN
Valtteri Bottas (13th, 1:14.468): "Not an ideal Friday, but we had a good recovery in FP2. We lost the first session with a power unit failure that took two hours to fix, which is a shame as this really is a track where you need every possible lap to get fully comfortable: you don't get to do too many clean laps either, with all the traffic, to prepare for qualifying, so it will be crucial to have a good FP3. FP2 was effectively my first session of the weekend, so I took it step by step. I know there is a lot of performance still to find, both in myself and with the setup, and I still think we have the potential to be in the top ten tomorrow. The car felt ok and I know we can be in the mix for Q3."
Guanyu Zhou (15th, 1:14.525): "My first day in Monaco was tough but I really enjoyed driving here. You can really feel the speed around these streets: you have to commit fully, leave nothing behind and kiss the walls if you want to get a good time. It's not easy, it's a big challenge and I am still building up to it, but it was fun. We ended up the day with a decent amount of laps, which is especially important as Valtteri missed FP1. I think we have all it takes to make another step forward tonight and come back ready for qualifying."
Haas F1 Team
Kevin Magnussen (11th, 1:14.239): "It's tough. Monaco has become an even greater challenge it seems this year with these cars. It's just all the bumps, many bumps which I didn't know were there, you feel them now. On many of the entries to corners, the car is so twitchy, so if you hit a bump in the wrong way you lose the rear. It's very intense and it's still great. It's very tough out there, it's a small track – we already know that – and it's the same thing every year but you've got to really try hard not to get in people's way because it's very difficult."
Mick Schumacher (17th, 1:14.894): "We had a few issues, especially this morning, so I didn't get to run for most of FP1 unfortunately, so still catching up. Nonetheless we got a good amount of running in during FP2 so it's now a matter of finding out what we need from the car to go quicker. It's definitely different compared to last year, it's a lot bouncier, and the bumps are not filtered so you feel it straight away in your body which has an effect, not only on the car but in terms of driving. The approach will be different, and the overall feel is a bit different compared to last year."
Guenther Steiner, Team Principal: "A solid day for the most part – with the exception of Mick's MGU-K issue in FP1, unfortunately that cost some valuable early laps. The team worked hard between sessions to get him ready and out again in FP2 and he enjoyed a trouble-free second session. The positives are we've got a decent number of laps in, and Kevin, in finishing P11 in FP2, has shown there's pace there in the VF-22. Hopefully we can unlock more from both cars tomorrow. It's critical to get everything set-up for qualifying so we've got to maximize final practice and give ourselves a shot later in the day."