Monaco GP 2021
MAY 20, 2021
Thursday Team Quotes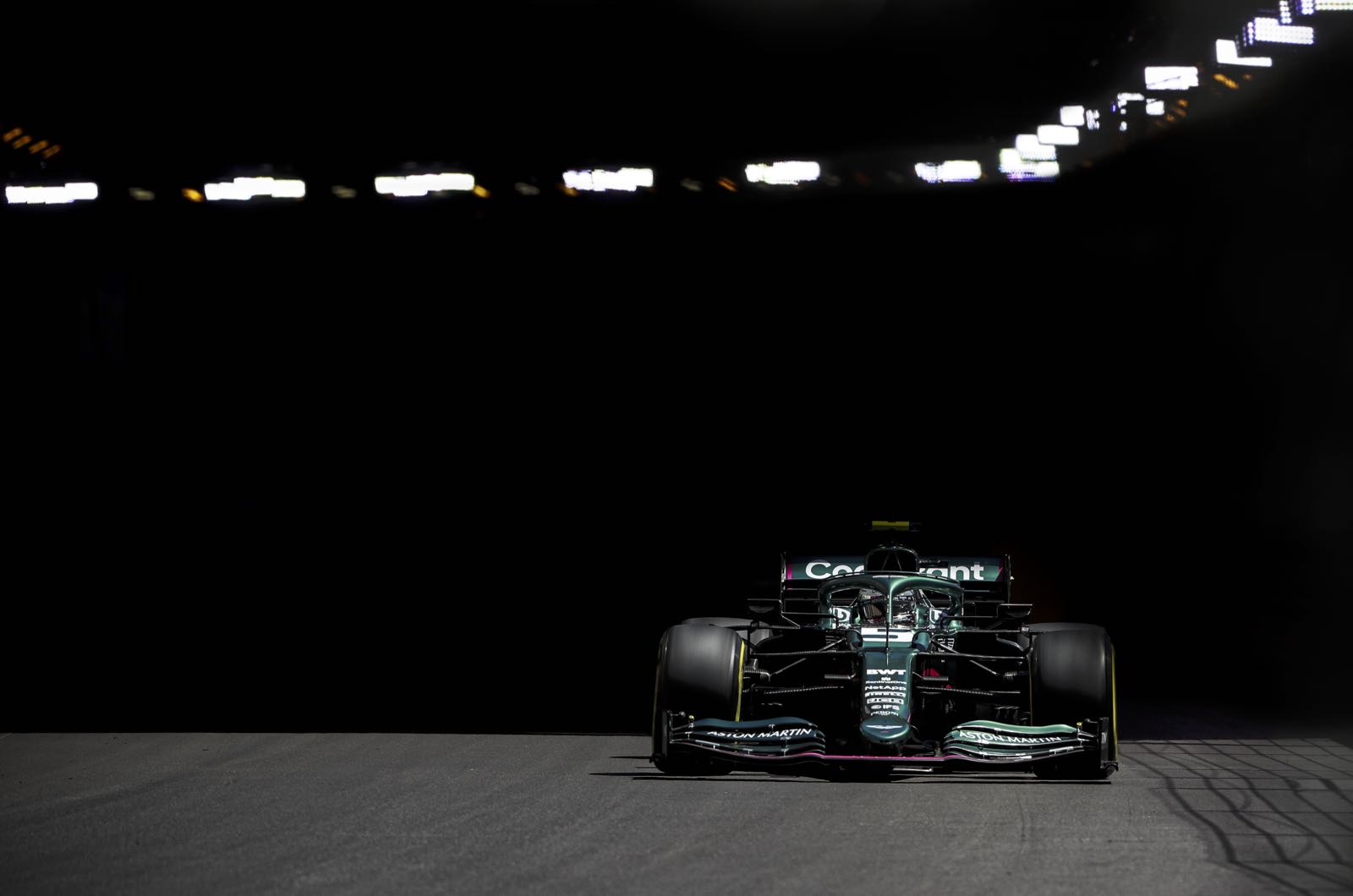 © Aston Martin Racing
Mercedes-AMG Petronas F1 Team
Lewis Hamilton (3rd, 1:12.074): "Everyone loves to drive here - the weather has been great and this track is rapid, absolutely mesmerising, so I've enjoyed today. The Ferraris look really strong, which is great, it means more competition. For me personally, this is a track where you need to walk before you can run but you've got to do that quickly, obviously. The grip on this track is really high this year, they've redone the surface so there's a lot of grip. Whichever track you go to, the car never gives you everything you want immediately, you need to acclimatise. From a driver's point of view, you're experimenting - you've got to dial-in your driving style, figure out where you can and can't push, where you've got to give up some time to get some, and you've got to really work with the car. The car is good, we've made some decent steps with the balance so generally I'm very happy. I've got some changes I'll make this evening as we analyse today and it's going to be close tomorrow, which is exciting."
Valtteri Bottas (5th, 1:12.107): "It's nice to be back on this track after a two-year gap, it's still so tight around here with very little space. It's very demanding and I feel like we still have work to do with the cars - from my side, I'm lacking some front end on this circuit. We've had similar issues at other tracks, mainly in mid-corner but here, it's all slow-speed corners and if you don't have a good feeling at the front, you can lose time easily. Our car also feels quite stiff on the bumps and cambers in the corners which we'll look into. It will be important to turn the tyres on quickly and get them working. Today for the first lap, I couldn't get them to work immediately so we need to work hard on that for tomorrow. Ferrari look quick, as do Red Bull, so it's not only about two teams which will be a lot of fun."
Andrew Shovlin: "For a Monaco Thursday this one has been relatively straightforward. Traffic is always a feature and as expected, the shorter sessions make it hard to do much by way of long runs. That said, we've covered the majority of what we set out to and we have a decent understanding of our limitations and the areas that we need to improve. This season we've learnt to expect Max's company in the battle at the front but it was a surprise to us to see both Ferraris looking so strong; you don't need to scrutinise the timesheets for long to see that their pace is genuine - they could be real contenders for the win. We've got an extra day to work on things tomorrow which is handy as it feels like we need to improve both our single lap and long run performance, but Monaco is all about putting together the entire weekend and today was a pretty decent start."
Red Bull Racing
Max Verstappen (4th, 1:12.081): "It of course feels good to be back out on track in Monaco and although we did quite well in FP1, this afternoon's session was tricky and I would have hoped that we could have been faster. We were too slow in FP2 and we really need to find some pace because everyone has traffic, you have to look to optimum lap times and optimum sectors and we were quite off. I usually feel quite comfortable in the car but that has not come yet this weekend. Luckily, we have a free day tomorrow to look at a few things to improve to make sure qualifying goes well on Saturday."
Sergio Perez (8th, 1:12.708): "It's great to drive in Monaco again after not racing here last year. I'm enjoying it a lot as it's such a fantastic track. We had a very good FP1 and the car was feeling strong, we made a few changes between sessions and I think maybe we took a step backwards but it's hard to really know as I had traffic on my soft tyre run. I think we probably have work to do on our short runs but we have lots of information to look at now ahead of qualifying on Saturday when hopefully we can be in the mix. Even though he missed most of FP1, Charles still managed to end the session fastest so the Ferraris are looking strong but let's see who sits where on Saturday when it counts."
McLaren F1 Team
Lando Norris (6th, 1:12.379): "A decent day, I'm happy. I think we made some good progress between the sessions. It's very tight, as expected, especially to the guys behind, but we also look not far off the guys ahead. We have a chance to capitalise on mistakes that they might make. I feel comfortable in the car but there's definitely some more to unlock going into Saturday, and into qualifying. So, tomorrow we can spend the day looking over the data to see what improvements we can make for the rest of the weekend."
Daniel Ricciardo (15th, 1:13.257): "Back on the streets! It's nice to be back here for sure, it's a good track and I love it. Despite that, today wasn't a great day, we've got some work to do. We've got the evening and all day tomorrow to work it out, but this is why I love Monaco, you get a day off to really get into it, reset, and have a look at where we're missing out. I think by Saturday I'll be all good and we'll figure it out, but today it just felt like a little bit of a stalemate at times. We've got some work to do, but the sun is shining, and we'll get back out there on Saturday and have some fun."
Andrea Stella, Racing Director: "It is a great feeling to be back in Monaco, it's full of history – but it's also a very challenging place to run Formula 1 cars! With these shortened FP1 and FP2 sessions you always feel that you're fighting the clock for the time to test things – and here there's quite a lot to test in terms of set-up and understanding the tyres. Overall, we were able to get through our plan and we're happy with the data we've acquired. There's work to be done tonight and tomorrow to improve the car to make sure we're ready for qualifying which is, of course, always important here."
Aston Martin Cognizant F1 Team
Sebastian Vettel (10th, 1:12.982): "I think everybody is happy to be back here at this special track and it is great to see fans in the grandstands, even though the numbers are still limited. The morning session went well, and I got into a rhythm quickly, but the afternoon was more complicated because I got something in my eye, which was quite uncomfortable and caused my eye to tear up. As usual, it is very close in the midfield, which means getting everything perfect on Saturday afternoon, and being lucky with the traffic, is what matters. I feel happy with the work we did today and if we can get everything together over the weekend, we can hopefully be near the front of the midfield group."
Lance Stroll (13th, 1:13.195): "It is great to be back here in Monaco, especially after the race did not take place last year. I had a lot of fun out there today – building up speed and getting close to the walls. It was very busy on track, with a lot of traffic, and not easy to find free air, which is always a major factor on Saturday and Sunday, too. The sessions went smoothly, giving us lots of information and things to improve before final practice. There is a chance to catch our breath tomorrow with a quiet day, but we still have some engineering meetings to see what ideas we can come up with ahead of qualifying."
Alpine F1 Team
Fernando Alonso (12th, 1:13.175): "It was an intense day as it always is on Thursday in Monaco. I think we did a good job with 64 laps in total, building some confidence in the car, which is very useful, so I'm happy with that. There are a lot of things to analyse as we tried some new updates, but we'll look over it tonight and tomorrow and aim to be strong for qualifying. Traffic management will be difficult, and we saw a snapshot of how tough it is to have a clean lap here in both the morning and afternoon sessions. Managing this well could be key to a good qualifying position on Saturday."
Esteban Ocon (14th, 1:13.199): "Practice day went quite smoothly in terms of doing what we needed to do, which was understanding the car, finding a rhythm and identifying any issues. We didn't figure out everything, but we'll go through and analyse that tonight and also tomorrow on the free day. We'll be working hard to find those tenths we're missing at the moment. There's also a little bit more to come from me in terms of pushing the car to the limit. It was nice to see fans around the circuit today and having their support again. It's definitely feeling like the normality of before, which is good and motivating when we're in the car."
Davide Brivio, Racing Director: "We completed a lot of laps today and can take a good amount of data from both sessions. We tried some minor updates this morning and adjusted things for FP2 where we saw some small improvements. We need to look through all of our data tonight and tomorrow, to see what we can further improve and do it better ahead of qualifying, which we all know is key around Monaco. It will be even more challenging on Saturday, but it's the same for everyone, so we'll focus on putting the cars and drivers in the best shape possible."
Scuderia Ferrari Mission Winnow
Charles Leclerc (1st, 1:11.684): "It was quite a surprise to have the day end so well, after we had a difficult start this morning. It's important to do as many laps as possible, especially here in Monaco, and with the issue we had in FP1 I only completed 4 laps. In FP2, I felt at ease with the car and we may even have a bit of margin there to improve. But we shouldn't get too carried away, because I am convinced that our competitors have more in hand. We have a day of work ahead of us tomorrow, and we will only know where we really stand on Saturday."
Carlos Sainz (2nd, 1:11.796): "It has been a very positive first day for the team here in Monaco, but we know it is only practice. Things can change a lot from Thursday to Saturday at this track, so we will stay focused. Despite being quite happy with the car, we'll keep working hard over the next two days to understand where we can improve. I really missed driving around these streets. I enjoyed myself in both sessions, pushing the car little by little to try to find the limit. Lets' fine-tune everything to put together a strong Saturday!"
Mattia Binotto, Team Principal:
Laurent Mekies, Sporting Director:
Scuderia AlphaTauri Honda
Pierre Gasly (7th, 1:12.498): "It's been a very good day for us. In terms of pace it was great and this morning was a strong way to start here in Monaco – I felt confident in the car and could push hard. This afternoon we finished within the top ten, so we're still pretty pleased with that, but it was a lot harder in the car. Hopefully I can work with the guys over the next day to improve in the areas where we are struggling but generally, we are quite happy with it. Monaco is so unique – in terms of grip and it's also very bumpy – so we need to find out what works best with our package to make it work well around here. We have a good baseline but hopefully we can continue to improve ahead of Qualifying, as we know how crucial it is to Qualify well around these streets."
Yuki Tsunoda (20th, 1:14.829): "Sadly, my second session ended early today – I wasn't pushing too hard into the corner, but I lost grip at the end of the turn and unfortunately tapped the wall. I'm not sure how much this will affect my preparation for the race, obviously a loss of running isn't ideal, but I've got two sets of Softs for Saturday now so it's not the worst case. I just need to prepare more for Saturday and put it altogether when it counts."
Jonathan Eddolls, Chief Race Engineer: "The track started very green for free practice one, which meant there was very low grip. With the compound allocation this weekend we had a hard tyre to essentially use up for our first stint, which allowed us to get a feeling for the track. We then moved to the Softs for more of a performance run, which focussed on giving the drivers as many laps as possible. FP1 went very well, with both drivers building up their confidence lap by lap and putting in a good performance, whilst helping us understand the set-up of the car, which is very difficult here in Monaco. We tried to carry this momentum into FP2 and on Pierre's side he performed well and the pace looked good. Unfortunately, Yuki just clipped the rear in the last sector and this sadly damaged the suspension. Due to the time it takes to fix this part of the car, that was the end of the day for him. It puts him a bit on the back foot ahead of Qualifying, but he's still got another session to go on Saturday morning, so we'll give him the best possible preparation ahead of Qualifying."
Alfa Romeo Racing ORLEN
Antonio Giovinazzi (9th, 1:12.746): "It has been a positive start to our weekend and I am very happy with the work we did today. FP1 was ok and already in FP2 I felt the balance of the car had improved. I am happy with P9 at the end of the day, but it's qualifying when it really matters: we have to keep being on the pace. I think Monaco is such a unique track, hard to compare with anything else, and I think it really suits us: if we can improve a little more ahead of Saturday, we can be confident."
Kimi Raikkonen (11th, 1:13.065): "Today was ok, a straightforward day without big issues. So far, so good, but Saturday is where it matters. We can definitely still improve but so can the others, so we will need to extract all we can for the car and see where that puts us on Saturday. Conditions today were good, but we can't be drawn into making comparisons with other weekends: this track is so unique. It doesn't matter anyways, so long as we're competitive!"
Haas F1 Team
Nikita Mazepin (18th, 1:14.407): "Monaco is just unbelievable to be at, regardless if you're driving or not – it's just something else. It was a very good day today for us. The team has done a fantastic job to come away from a difficult weekend in Barcelona. I had the necessary confidence in the car today that I needed. Surprising to say given the season so-far, but I had so much fun in the car, it actually felt like it was a day off – it was just cool to drive. Looking ahead, there's much less room to let cars by here, and we're under no illusion about being lapped at this race with our current pace. But for today, all was good."
Mick Schumacher (19th, 1:14.416): "I think in general the day went very well – I felt I got comfortable in the car. Obviously, we know what we have to improve, those areas where we know we lost a bit of time. One of the big things here in Monaco is how much traffic you'll encounter on a lap. Unfortunately, we got some on our laps today, but I think in general it's the same for everyone else. On our last run in FP2 we had a small issue but even that I think is just part of the deal in Monaco. There's no room for mistakes, I made a small mistake, and that's what happened. Now I know the limit and how far I can go. I do feel we're making progress as a team. Here in Monaco we'll just keep doing our jobs, go through our routines, and keep on working to be as prepared as we can for qualifying."
Guenther Steiner, Team Principal: "Not a bad day, actually, quite a good day for us. If you look at the times, it doesn't look like it, but we got a lot of running in and the plan worked – with the exception of the little mishap for Mick (Schumacher) at the end of FP2. The guys just worked hard and improved lap by lap. That's what we asked them to do and I think both guys did a good job. Nikita (Mazepin) was happy with his day, it's built up his confidence a little bit. With Mick, it just seemed like he got a bit close to Checo (Perez) and lost a little bit of downforce and just had a quick oversteer which he couldn't recover from. The car is not too badly damaged. We will be ready for Saturday."
Williams Racing
George Russell (16th, 1:13.509): "Firstly, it is amazing to be back on the track in Monaco. It is so thrilling pushing the car to the limit. It is obviously really difficult having 20 cars on the track in the space of an hour for everybody to get clear laps. I think we had a productive day; the car is roughly where we expected it to be. The Alfa Romeo's look really fast, which is something that we did expect on this kind of circuit. We have a long day tomorrow to analyse everything and I am confident we can make some gains for Saturday."
Nicholas Latifi (17th, 1:13.593): "Above all else I really enjoyed today. It is my first time here in a Formula One car as well as my first time driving a street track in these cars. It is a lot faster than I remembered in Formula 2 and you really notice the extra width these cars have. It was a lot of fun; we have some things to work on tonight to improve the balance ahead of Saturday. We had a pretty clean day and got confidence lap by lap, so I am happy with where we are."
Dave Robson, Senior Race Engineer: "We've had a useful and productive day here in Monaco. The circuit has proved challenging, but the car and the drivers have risen to that challenge well. We completed a lot of laps on all three of the Pirelli compounds and suffered no damage or issue. We have a day to go through the data before we return to the track on Saturday for the final free practice session. It has been a solid start to the event and are now in a good position to continue to push the car harder as we progress through the weekend."