Monaco GP 2021
MAY 20, 2021
Thursday Report - Ferraris fast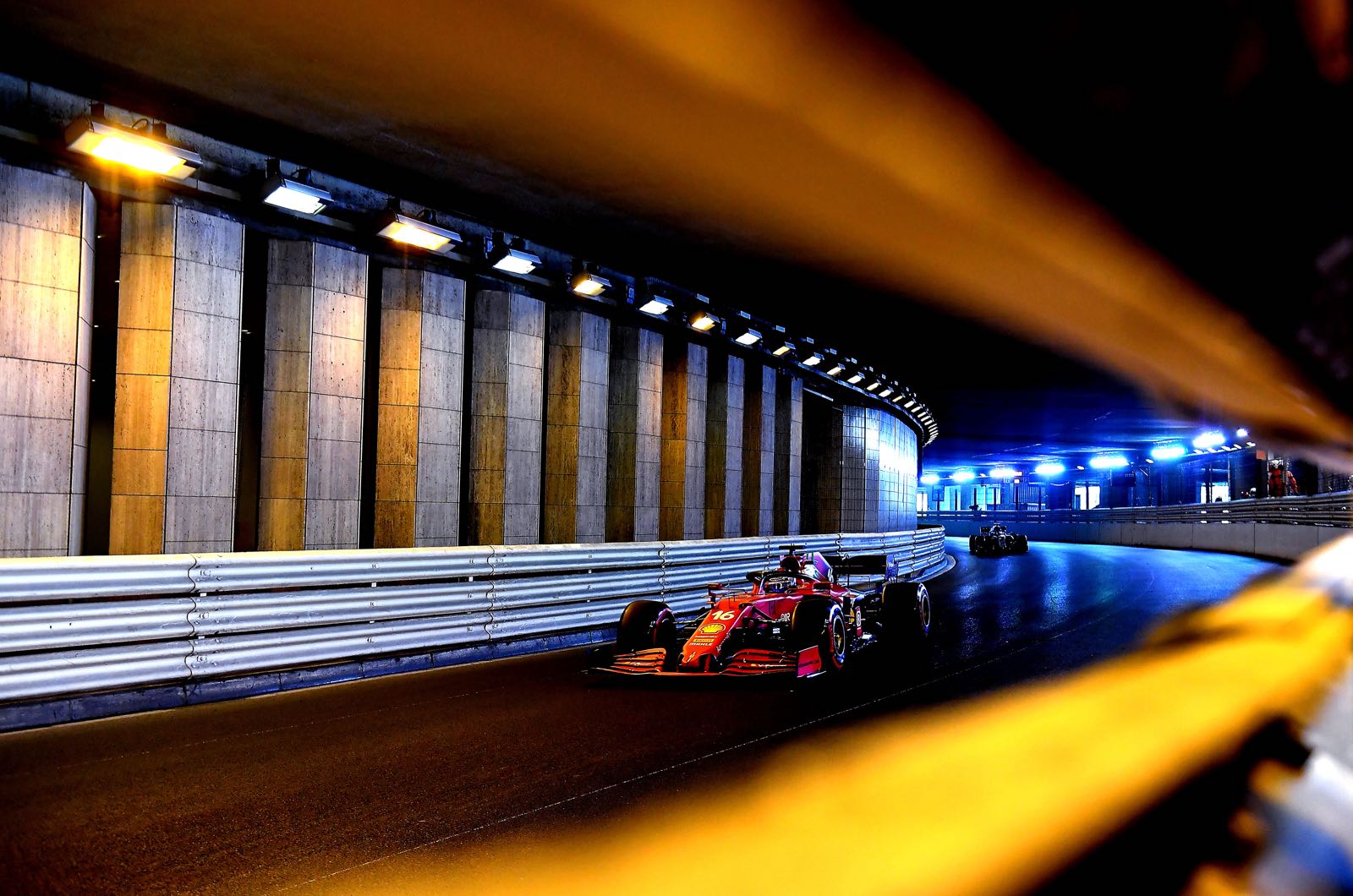 © Ferrari
By Dan Knutson
Red Bull driver Sergio Perez was quickest in Free Practice 1 for the Monaco Grand Prix, but Ferrari drivers Charles Leclerc and Carlos Sainz went even faster and wound up first and second in FP2.
The line-up for the weekend was: Mercedes – Lewis Hamilton and Valtteri Bottas; Red Bull Honda – Max Verstappen and Sergio Perez; McLaren Mercedes – Lando Norris and Daniel Ricciardo; Aston Martin Mercedes – Lance Stroll and Sebastian Vettel; Alpine Renault – Fernando Alonso and Esteban Ocon; Ferrari – Charles Leclerc and Carlos Sainz; AlphaTauri Honda – Yuki Tsunoda and Pierre Gasly; Alfa Romeo Ferrari – Kimi Raikkonen and Antonio Giovinazzi; Haas Ferrari – Nakita Mazepin and Mick Schumacher; Williams Mercedes – George Russell and Nicolas Latifi.
Perez's lap time of 1:12.487 had put him in the number one spot in FP1 ahead of Sainz (1:12.606) and Verstappen (1:12.648). Leclerc, meanwhile, had completed just four laps before his Ferrari was sidelined with gearbox woes. But his car was repaired during the break.
First out in FP2 on the 19-turn 2.073-mile (3.337 km) street circuit were Sainz and Raikkonen.
"It's always great fun to drive on a single lap and just getting out on track is always a big shock in just how fast everything is," Hamilton said. "It's not an actual good race-race, race track.
"As you know, it's all about qualifying here and generally where you qualify is often where you finish. What an incredible place and considering we missed it out for a year, I am grateful to be back."
The ambient temperature at the start of the 60-minute session was 72 degrees Fahrenheit (22 degrees Centigrade) and the track temperature was 122 degrees Fahrenheit (50 degrees Centigrade).
All 20 drivers were soon circulating. Norris took the lead with a 1:15.399, but Sainz beat that at 1:14.977. Verstappen knocked that down to 1:13.961 and then a 1:13.499. Hamilton also posted a 1:13.499.
Ten minutes in, Verstappen improved to 1:13.241 only to have Hamilton turn a 1:12.772. Perez was third and Sainz fourth. Hamilton shaved down to 1:12.569 and Verstappen a 1:12.801.
At the 20 minute mark the order was: Hamilton, Sainz, Verstappen, Bottas, Perez and Leclerc. And now most drivers were in the pits preparing for their next runs.
Most of those runs would be on Pirelli's soft compound slicks. Bottas jumped up to second. Hamilton's lap on the softs was scrappy, so he was second behind Bottas who now had a 1:12.107.
Sainz on softs got a 1:11.796, and Verstappen jumped from fifth to second ahead of Bottas and Hamilton. Leclerc got sixth behind Norris. But then Leclerc got third. There was lots of traffic out there. Hamilton got a clear run that put him second.
Sainz, Hamilton, Verstappen, Leclerc, Bottas, Norris, Gasly and Perez was the order with 20 minutes remaining. Leclerc didn't like that, and he grabbed the lead with a 1:11.684.
The last part of FP2 was devoted to race runs, so the top 10 were: Leclerc, Sainz, Hamilton, Verstappen, Bottas, Norris, Gasly, Perez, Giovinazzi and Vettel.
The session was red flagged with five minutes to go because Schumacher had clipped the barriers coming into Casino and then parked the Haas at the chicane's escape road.