Monaco GP 2021
MAY 24, 2021
Race Analysis - Verstappen's Monaco first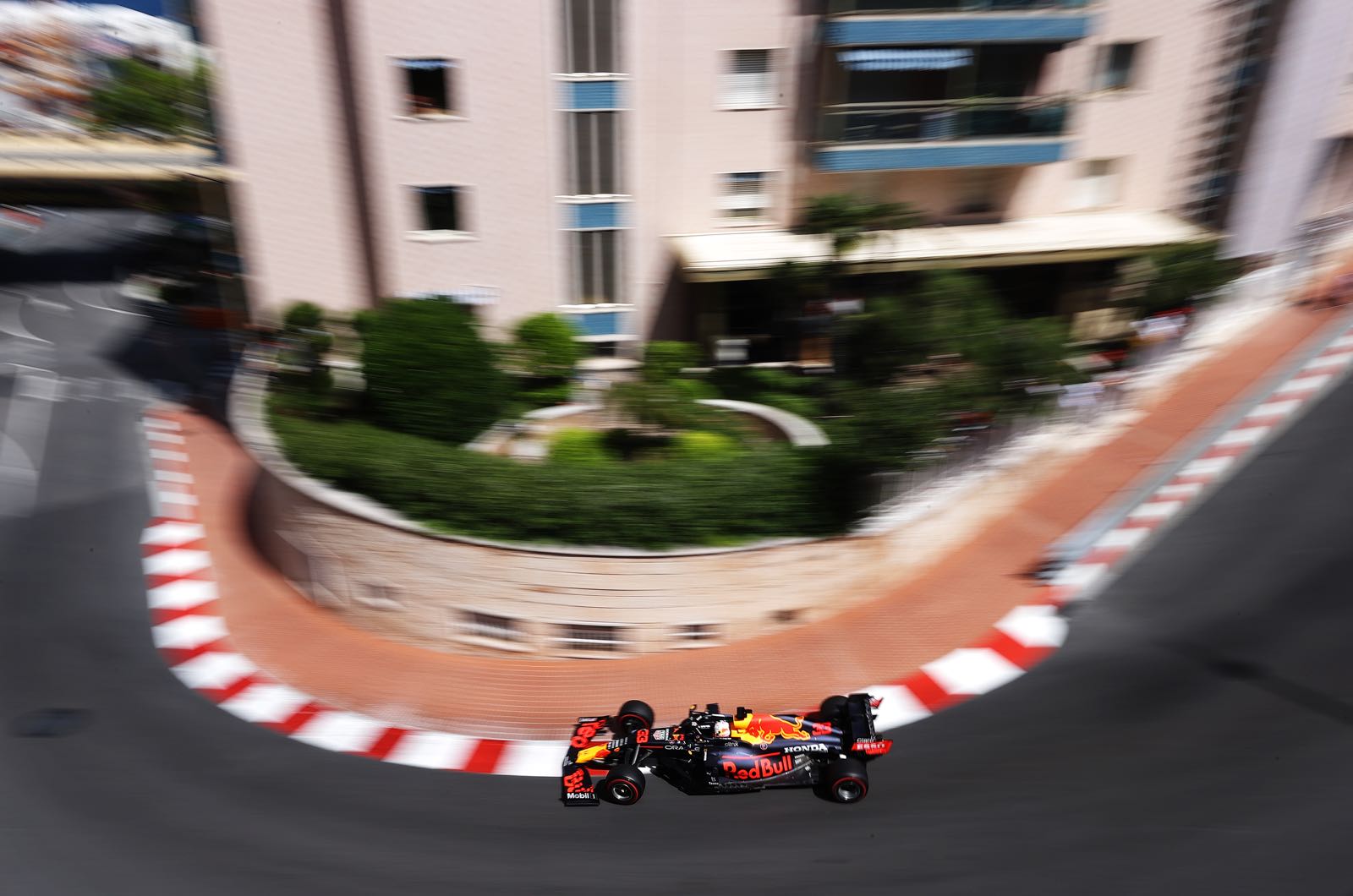 © Red Bull
By Dan Knutson
Red Bull Honda driver Max Verstappen won the Monaco Grand Prix for the first time while some of his main opponents fumbled. Here's what happened.
CRUCIAL
Qualifying well at Monaco is crucial because it is so difficult to overtake in the narrow streets.
CRASH
Charles Leclerc crashed his Ferrari at the swimming pool turns in the final moments of qualifying. That brought out the yellow and red flags.
RUINED
That ruined the last fast laps of Verstappen and Valtteri Bottas (Mercedes) who were both convinced they would have been on pole. It ruined the quick laps of other drivers as well.
18
There were only 18 seconds remaining in the session, so it was not restarted.
POLE
So Leclerc had pole position plus a car that needed a lot of repairs.
GEARBOX
The Ferrari crew closely inspected the gearbox on Leclerc's car. If it needed to be changed he would get a five-place grid penalty. But they decided it was okay.
SECOND
Verstappen qualified second ahead of Bottas, Carlos Sainz (Ferrari), Lando Norris (McLaren), Pierre Gasly (AlphaTauri), Lewis Hamilton (Mercedes), Sebastian Vettel (Aston Martin), Sergio Perez (Red Bull) and Antonio Giovinazzi (Alfa Romeo).
EMPTY
When the cars and drivers formed on the grid the number one grid slot was empty.
PITS
Leclerc's Ferrari was still in the pits after he had done a single warm-up lap. He would not race.
"It was a tough one," he said. "I really felt for the whole team. After what happened in qualifying, the mechanics did an incredible job and gave absolutely everything to get me back on track for the race. Not starting the race was difficult to take, especially at home."
UNDERSTAND
"We need to fully understand what happened," Ferrari boss Mattia Binotto said. "The failure is on the driveshaft into the hub on the left-hand side. So it's not the gearbox problem we had. The gearbox had been inspected yesterday evening, it has been reviewed, and I think the gearbox was okay for the race."
LEAD
Verstappen took the lead at the start of the 78-lap race ahead of Bottas, Sainz, Norris, Gasly and Hamilton.
LED
Verstappen led all 78 laps, not even losing the spot when he made his single pit stop.
"It all looked under control," he said, "but to keep your focus for so many laps is the hardest part because it's easy to relax when you're in the lead and make a mistake, so you have to keep reminding yourself to leave your thoughts on the road and stay focused.
"I think pace-wise, we were always in control because every time someone tried to push me in terms of lap time, we were able to respond and increase the gap."
DISASTER
Bottas' single stop ended in disaster when the crew could not remove the right front wheel nut.
"Our pit stops haven't been our strongest point this year," he said. "There's no one to blame, as a team we just need to be better."
SECOND
Sainz was now second ahead of Norris and Perez. They would finish the race in that order.
FIRST
This was Verstappen's first win in the Monaco Grand Prix, and his first visit to the podium.
DISTANT
Hamilton, usually a Monaco Master, finished a distant seventh.
"We'll be working hard because we need to make sure this doesn't happen again," he said. "There's no reason why we should be performing like this on any weekend with all the experience we have together as a team."
NO SC
Most unusually for Monaco, there was not a single safety car during the race.