Monaco GP 2021
MAY 22, 2021
Qualifying Report - The first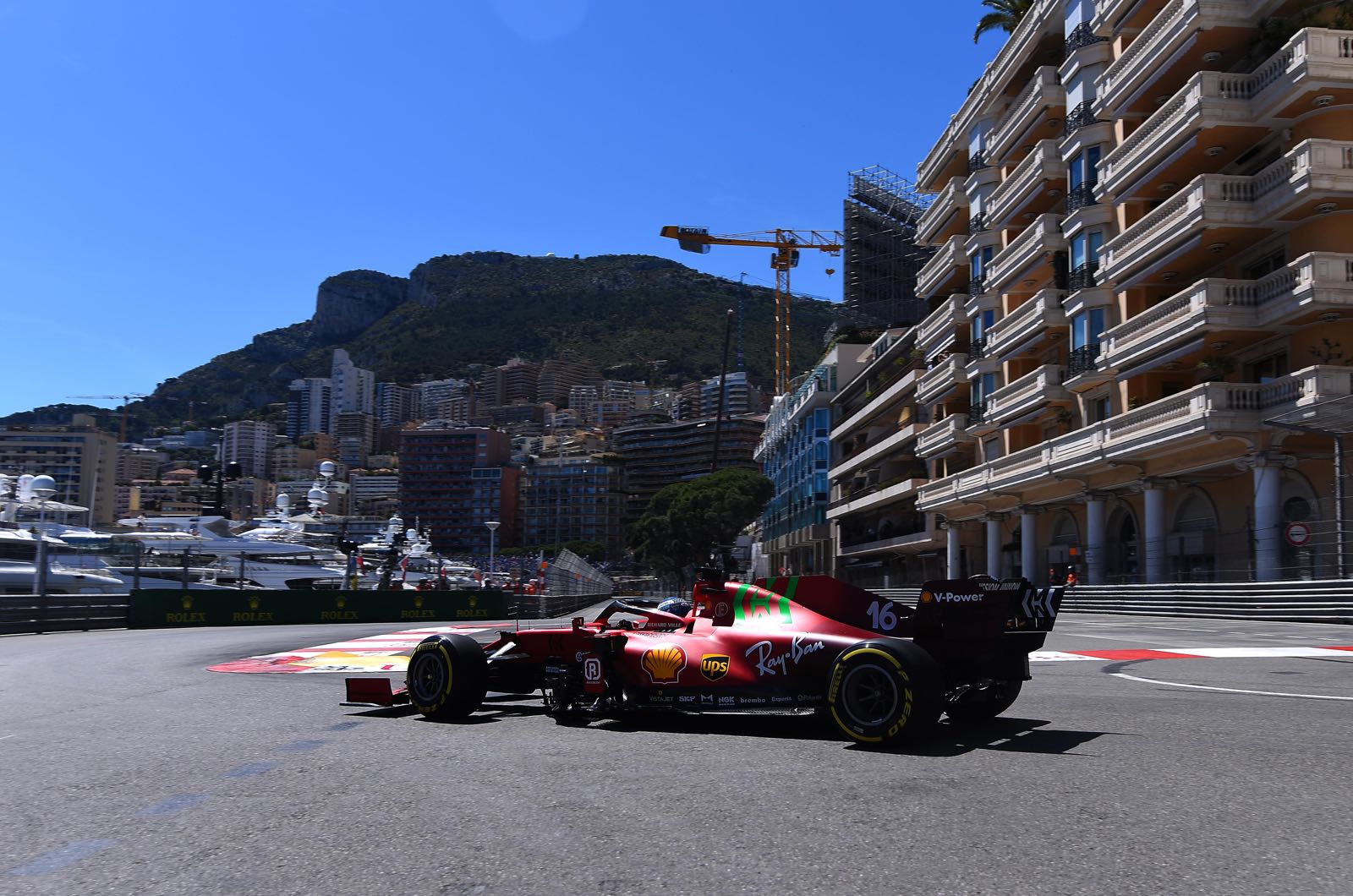 © Ferrari
By Dan Knutson
Charles Leclerc became the first Monaco citizen to qualify in the top spot for his home grand prix in the history of the famous race through the streets of the Principality.
The line-up for the weekend was: Mercedes – Lewis Hamilton and Valtteri Bottas; Red Bull Honda – Max Verstappen and Sergio Perez; McLaren Mercedes – Lando Norris and Daniel Ricciardo; Aston Martin Mercedes – Lance Stroll and Sebastian Vettel; Alpine Renault – Fernando Alonso and Esteban Ocon; Ferrari – Charles Leclerc and Carlos Sainz; AlphaTauri Honda – Yuki Tsunoda and Pierre Gasly; Alfa Romeo Ferrari – Kimi Raikkonen and Antonio Giovinazzi; Haas Ferrari – Nakita Mazepin and Mick Schumacher; Williams Mercedes – George Russell and Nicolas Latifi.
Fastest in FP3 was Verstappen with a time of 1:11.294, as he edged out Sainz and Leclerc.
QUALIFYING 1
Missing from the mix was Schumacher who wrecked his car in a crash in FP3. The other 18 drivers – no Vettel – were soon on track for the frantic 18 minute session.
Sainz set the pace with a lap time of 1:11.341, putting him ahead of Verstappen, Leclerc, Hamilton and Bottas.
As the track ramped up, Norris went best only to be bested by Verstappen who was then topped by Bottas with a time of 1:10.938.
When there were six minutes remaining in Q1, Alonso was 15th and on the cutoff line. Tsunoda was 14th and Ocon was 16th. Hamilton was a distant seventh.
The five drivers who were eliminated at the end of Q1 were: Tsunoda, Alonso, Latifi, Mazepin and Schumacher.
The fastest 15 drivers who moved on to Q2 were: Bottas, Leclerc, Verstappen, Norris, Sainz, Gasly, Hamilton, Perez, Giovinazzi, Ocon, Ricciardo, Raikkonen, Stroll, Russell and Vettel.
QUALIFYING 2
Gasly and Leclerc were the first out for the 15 minute session.
Leclerc clocked a 1:1137, and Sainz beat that at 1:10.806.
Norris was flying and slotted between the two leading Ferraris with nine minutes to go. But then Verstappen went ahead with a time of 1:10.650. Hamilton was back in sixth.
Tenth and on the bubble with three minutes to go was Ricciardo, and Gasly was ninth while Giovinazzi was 11th.
The five drivers who were eliminated at the end of Q2 were: Ocon, Ricciardo, Stroll, Raikkonen and Russell.
The fastest 10 drivers who moved on to Q3 were: Leclerc, Verstappen, Bottas, Sainz, Perez, Norris, Hamilton, Gasly, Vettel and Giovinazzi.
QUALIFYING 3
Q3 lasted 12 minutes. Gasly and Verstappen were the first out.
Verstappen turned a 1:10.576 to take the early lead. But Leclerc beat that at 1:10.346. Bottas took third ahead of Sainz and Gasly halfway through the session.
Hamilton, who had started on the front row in all the previous races this season, was seventh.
The drivers now pitted to make preparations for their final runs. The final minutes were frantic.
But, with 18 seconds to go, the red flags came out when Leclerc crashed into the swimming pool turns. That ruined the fastest laps of Verstappen, Bottas and others.
The top 10 qualifiers were: Leclerc, Verstappen, Bottas, Sainz, Norris, Gasly, Hamilton, Vettel, Perez and Giovinazzi.