Miami GP 2022
MAY 7, 2022
Saturday Team Quotes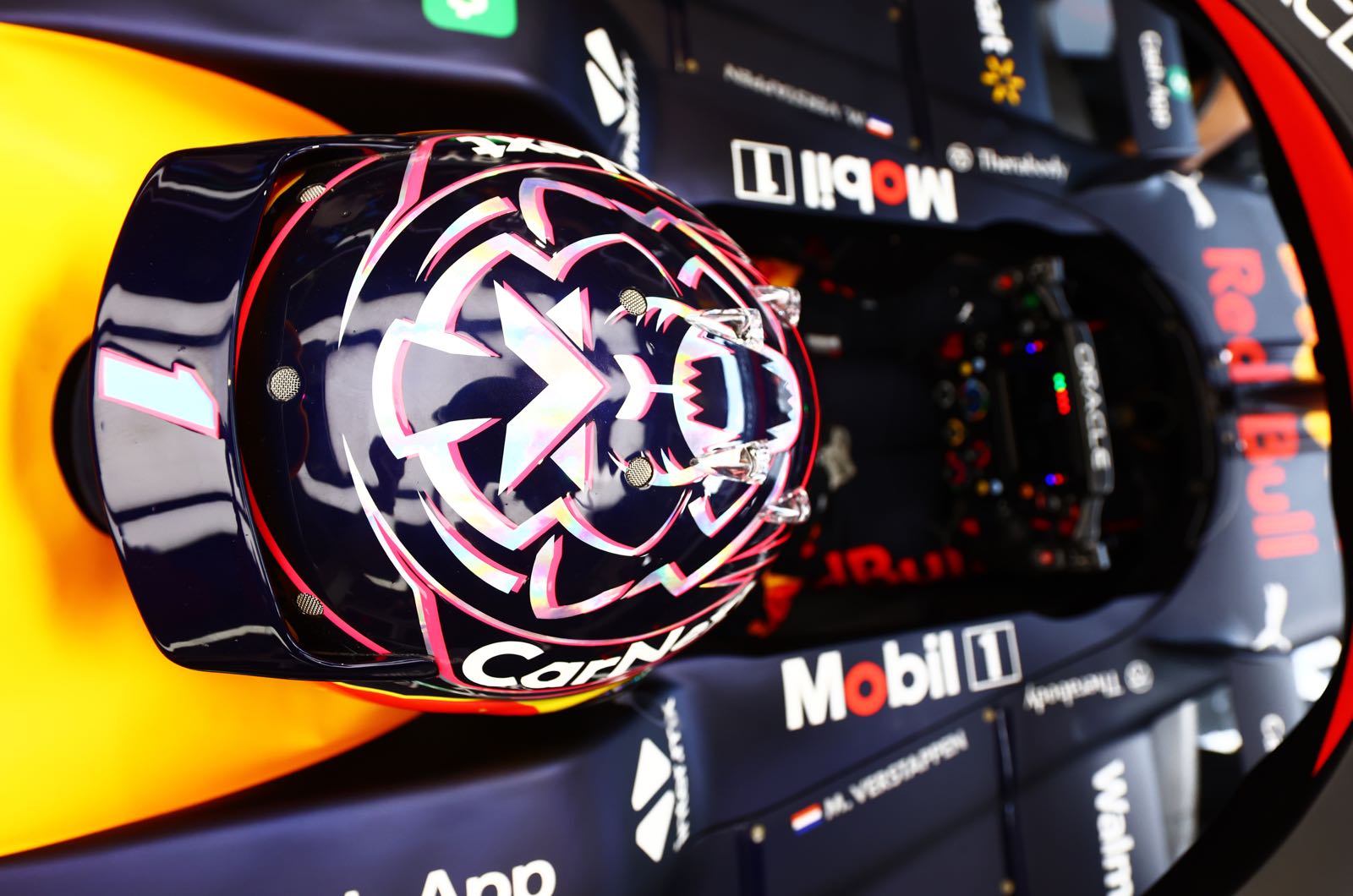 © Red Bull
Mercedes-AMG Petronas F1 Team
Lewis Hamilton (6th, 1:29.625): "Today was a much, much better qualifying session than I've had the last three races so I am grateful for that - I'll take it. We just keep on chipping away and keep working on it. So much amazing work has gone on in the background and everyone is working so hard. Unfortunately, I don't think we are moving forwards at the rate that we would like to, the gap is similar to the beginning of the year. We have just got to keep our heads down, keep focused, keep working, keep tunnelling and eventually we'll get there. It's difficult to say how we'll be on race pace, the car has generally not felt strong this weekend for me but today, once I was able to get the tyres into a better place, it was a little more promising."
George Russell (12th, 1:30.173): "The car was bouncing a lot more today and I just couldn't attack any of the corners as a result. It's a shame because we showed good potential yesterday but it massively went away from us today. We thought we went pretty conservative with set-up in qualifying to avoid the porpoising we experienced in FP3 but it seemed just as bad. The bouncing was going through all the corners, particularly turns 4 and 5, and you just couldn't attack into the braking zone. When you get the car in the window, it's fast and yesterday we looked to be fighting for pole but today is our worst qualifying of the year so it's difficult to make sense of."
Toto Wolff, Team Principal: "Qualifying certainly wasn't satisfying today, P6 and P12 isn't where we should be and not where we thought we would be after a solid Friday yesterday. Although we are seeing glimpses of performance in some sessions, we are still not able to put it all together. We gained good reference points from Friday, we just need to continue to understand and develop but it's clear that we have a painful trajectory to follow at the moment."
Andrew Shovlin: "We've had a couple of tough sessions today given what seemed like legitimate cause for optimism yesterday. For some reason we've lacked rear grip all day and it's made for a very unpredictable car for the drivers. We'd made some changes going into qualifying in an attempt to improve both balance and bouncing but it was still an issue and as soon as the rear started sliding, we'd experience overheating. We now need to make the most of our start positions of sixth and twelfth. We've got very little long-run data from yesterday due to the red flags but that's the same for all teams. If it's as hot as it was today, then degradation and overheating will be significant. That can create opportunities in the strategy but ultimately the big factors will be race pace and whether it's possible to overtake."
Oracle Red Bull Racing
Max Verstappen (3rd, 1:28.991): "Overall, I was pleased with qualifying today, we are still trying to learn the track and trying to find a decent balance in the car. To be that competitive in qualifying was a big surprise, this is not an easy track to learn. Of course, we want to be on pole but I think we've done a really good job considering where we were yesterday. It's always going to be tricky and it's hard to push to the limits when you don't know the track overly well. I think we have a good chance tomorrow as we have a good top speed and the car is handling quite well so I'm looking forward to it. It's quite slippery outside the racing line, it almost feels like gravel, maybe I need to call my dad and ask for some rally advice."
Sergio Perez (4th, 1:29.036): "We didn't have a very straightforward qualifying, we had a poor Q3 run one, which put us on the back foot a bit. My second lap was much better, but I just didn't get the perfect sector two and that was the main problem for me. Only a couple of hundreds would have put me P2 so you will always be disappointed with such a gap because a little improvement and you are P2 rather than P4. There is a long race ahead of us tomorrow and anything can happen, my race pace looks good so beating the Ferraris is possible if we have a better strategy than them. It will be an interesting race tomorrow with the tyre choice and what happens there. Today wasn't ideal but I am looking forward to a strong Sunday."
Christian Horner, Sporting Director: "It was all about those fine margins today. It was looking positive for us after the first run, but then a small mistake for Max at turn four and that was it for him, and then Checo's first sector wasn't good for him, so we start from the second row tomorrow. Ferrari have done a very good job today so credit to them. Max has been on the back foot today, he's down on laps on the other guys and still learning about the track so it's a good recovery from him. We know both our cars have good straight-line speed and the DRS could be pretty powerful here tomorrow, and with all the support races the breaking zones should open up a bit, so there are a couple of places where we should be able to overtake. Strategy and pitstops will be crucial, as no one has really been able to do any long runs, it should be a fascinating contest tomorrow."
Scuderia Ferrari
Charles Leclerc (1st, 1:28.796): "It feels really good to come here and put everything together on such a difficult track. Although I was not very happy with turns 1-2-3, it was a good lap and I'm really glad to have secured pole. I feel at ease with the car. It feels great to drive and really makes you think of how to extract its full potential. Tomorrow will be a tight race and it is good to have Carlos by my side. The pace is there for both our cars and hopefully we can keep our positions until the end to bring home a strong result for our team."
Carlos Sainz (2nd, 1:28.986): "I'm pretty happy with my qualifying. It was a strong comeback after yesterday and I managed to improve run after run, to finally fight for pole up until the very last corner. I had fun out there, pushing the car, and we are in a good position for tomorrow. This track has proven to be very tricky and starting from the front row will help for sure. We will do everything to maximise the potential for the race, as there are a lot of factors to take into account. Congrats to the entire team and to Charles for a well executed session."
Laurent Mekies, Sporting Director: "We are very pleased with this result. It was also important in terms of morale, for the team here at the track and for everyone working back in Maranello, after what happened in Imola. Qualifying took place in conditions very different to anything we have seen so far this season and on a unique track, at which we were able to demonstrate the effectiveness of our package. Nevertheless, it's clear we are in for a very close fight with our main rivals. Our drivers did a simply amazing job today. Charles produced yet another of his breathtaking laps, while Carlos came back from a difficult Friday, working hard and demonstrating real determination, which saw him get very close to his team-mate's time so as to line up right behind him. It's nice to be on the front row but we still have a lot of work to do tonight. Tomorrow's race could be the hottest of the season and we have seen how tricky this track and its surface can be, so it will be very important to prepare every last detail for the race, starting with how to manage the tyres. This evening, we will work with our colleagues back in Maranello to ensure we get everything out of the car. The start will be very important and we will be up against very tough opponents, who are capable of giving us a hard time in terms of top speed. I predict a great battle."
McLaren F1 Team
Lando Norris (8th, 1:29.750): "I'm happy with that. I think we're in a decent position, and I don't think we could have achieved much more. The car wasn't quite where we wanted to be, and I don't feel like I got everything out of it, which made it a difficult session to drive, but I think today was tricky for everyone. I made a mistake on my final lap which, by the looks of it, cost me a couple of positions. So, I'm not the happiest, but it could have been a lot worse."
Daniel Ricciardo (14th, 1:30.310): "The session started good in Q1. I think we made some good improvements to the car. So, that was certainly better, and I felt like we were just able to get into it quickly. At the time I thought we were relatively quite strong, so yeah, it felt good. In Q2 it started, unfortunately, to unravel a bit. The first run we lost a lot of time through the second sector, so there were a couple of things which we were looking to address for the second run. But then we had an issue in the garage starting the car which delayed us getting out at the right time. This compromised the out-lap, and then it was all just too compromised from there. It was unfortunate and cost us Q3, and that was that. We'll hopefully get a bit better run tomorrow with a bit more fortune going our way and keep it going in a good way. Today, it was a bit unfortunate."
Andreas Seidl, Team Principal: "A mixed qualifying session for us today. I think on Lando's side we maximised what we had to finish P8. Unfortunately, on Daniel's car we had an issue causing a delayed engine start for the final run of Q2. He was forced to do a very fast out-lap which compromised his final shot and didn't allow him a chance of progressing into Q3, for which we can only apologise. The focus now switches to the race tomorrow. It's going to be very long and very hot. This circuit is not straightforward: it offers opportunities and hazards in equal measure and we're looking forward to an exciting, intriguing inaugural Miami Grand Prix."
BWT Alpine F1 Team
Fernando Alonso (11th, 1:30.160): "The car felt good today, so it's disappointing to be starting tomorrow's race in eleventh. In Q2 I encountered traffic on my final lap with Carlos [Sainz] in Turn 11, and by Turn 16, I'd lost about five tenths of a second, so my lap was ruined. We had fitted a used set for the first run in Q2 and saved the new tyres for this second attempt. However, this loss of time made it impossible to progress to Q3, which is again unfortunate for us. I think we could have been fifth or sixth today, but we're not. Let's see tomorrow, as that is when the points are available this weekend."
Esteban Ocon (20th, No Time): "I can only apologise to the team for today as it's never a good feeling when you crash. The whole team has been working so hard to have the car in a good place, so it's disappointing not to be able to see the true potential in Qualifying. It was a big hit, so I was a bit shaken but thankfully I'm fine. We'll have to look into what can be done to make the barriers safer as Carlos was also quite shaken up after an almost identical crash yesterday. As always, safety has to be the priority. For now, we'll focus on getting the car back up and running and debriefing the day before going out there tomorrow with nothing to lose and everything to gain."
Otmar Szafnauer, Chief Operating Officer: "It's a disappointing Qualifying session today, especially as we have so much pace in the car, which we were not able to truly show. The result is not an accurate reflection of our actual performance as Fernando should really be inside the top ten, at the very least, with his lap in Q2 absolutely compromised by traffic. I'm not sure what Carlos [Sainz] was doing but Fernando was on a fast lap, while he was on track driving slowly and, ultimately, this cost Fernando time. It was unfortunate for Esteban to crash in Practice, especially in a place where there's a solid barrier. It was a hard hit, and the chassis was irreparable with not enough time between the sessions to make the required chassis change. While today we feel frustrated, tomorrow is a new day, and we will fight again."
Scuderia AlphaTauri
Pierre Gasly (7th, 1:29.690): "I'm extremely happy, that's our best Quali of the year and it's great to do it here in Miami. I didn't feel great in the car this morning and struggled quite a bit, so we weren't too sure where we would Qualify today, but when it matters we put it altogether and made it to P7. It's really tight between the midfield, just a few tenths here and there, but we're in a good starting position for tomorrow and that's going to really count on this circuit. It's a new track, which brings with it a lot of unknowns, we don't have much data on degradation for our tyre strategy and even don't know if there will be many opportunities to overtake, but I think it'll be a fun race."
Yuki Tsunoda (9th, 1:29.932): "I'm happy with my Qualifying performance today. We were aiming for Q3 but were expecting it to be really tricky, as I struggled a lot at the start of the weekend, so I think it's been a good comeback today and we definitely maximised the performance of the car in Qualifying. Tomorrow is of course where it counts and I'm really looking forward to it. It's going to be really hot, which will make things difficult, but we'll look to attack during the race and aim to finish with the car in the points."
Jody Egginton, Technical Director: "It was a very tight Qualifying today, but both drivers put good sessions together and we were rewarded with both cars making it to Q3, securing good grid positions for tomorrow's race. The garage workload has been quite high today, but the mechanics have been fantastic in ensuring this has not reduced track time, so this result is also a good return for their hard work. The next challenge is to turn these strong starting positions into points, which is the focus from this point on. We are quite sure it's going to be an interesting race and a close battle in the midfield."
Aston Martin Aramco Cognizant F1 Team
Lance Stroll (10th, 1:30.676): "I think we can be happy about our performance today. In Q2 I produced a good lap to advance to Q3, but a part of me is disappointed that my lap [in Q3] did not come together in the final sector. But from P10 we should be in a good position to fight for points tomorrow. With a new race, there are always a lot of unknown factors at play and there are bound to be opportunities. I have to say, though, after so much excitement in the build-up to this race, I am totally ready to go racing."
Sebastian Vettel (13th, 1:30.214): "I think we had more pace in the car today so I am disappointed to exit qualifying in Q2. I had a small wobble in the final sector during my final attempt which, looking at the timings, cost me a place in Q3. The car seems to be performing well here, but tomorrow is when it counts, and I hope we can be up there scoring some points."
Mike Krack, Chief Operating Officer: "It is great that Formula One is here in Miami, and we are pleased to have had a good qualifying session today. Lance drove a nice lap in Q2 to get through to Q3, but he was then unable to improve and will therefore start tomorrow's race from P10. Following our double points finish at Imola, I think it is fair to say that we have made some progress with the issues affecting our car here in Miami. Seb also showed decent pace, but he made an error at the chicane on his fastest lap in Q2 and he was therefore unable to progress through to Q3. Nonetheless, we look forward to tomorrow and a long, hot race. We will be aiming to score points."
Williams Racing
Alexander Albon (18th, 1:31.266): "Today was frustrating and a little confusing. We were missing something in Qualifying and struggled to find the performance that we had in the earlier practice sessions. As we've seen already this season, the tyres are incredibly sensitive and, combined with the heat here, it's making finding grip very tricky. We'll have a look through the data tonight and come back stronger tomorrow for the race."
Nicholas Latifi (19th, 1:31.325): "We're obviously not where we want to be as a team but I think, from where I came from in FP1, I'm pretty happy with Qualifying. There's been quite a big gap all weekend, and I've been struggling to get the feeling that I needed, so I think we've made the right changes from FP1 onwards to get as good a feeling as we felt. It's still not perfect and I think there was still some time to gain but with the differences in the cars right now, and the faster parts on Alex's car, I was satisfied to end up where I ended up."
Dave Robson, Senior Race Engineer: "Our week has been very up and down since FP1 and the behaviour of the tyres in the heat has been confusing, which has led to some big swings in pace and balance. On both cars we struggled to get the tyres in a good window and hold them there for a complete lap. Alex's best sectors were good enough to challenge the two cars ahead and if we had got everything perfect for one lap, then he could have challenged for Q2. Nicholas drove well today and built momentum over the two sessions and was able to push Alex very hard in Q1. Given that some of the better parts were only available for Alex this weekend, Nicholas's pace was impressive, and this hopefully sets him up for a strong race tomorrow."
Alfa Romeo F1 Team ORLEN
Valtteri Bottas (5th, 1:29.475): "I am really pleased about today's performance. It was a great recovery from yesterday, when we didn't have an easy day. A big thanks to the whole team, they delivered when called to the task of rebuilding the car. Today we had a big job to do: we had a good FP3, we had a clear direction for our set-up and the car was really quick. It was down to me, then, to find a good rhythm and by Q3 I had definitely found it. I really enjoyed the last lap of Q3! Coming into the weekend, we saw some signs of what we could do so I am not surprised we're up here, but of course I am pleased all things turned out well – it's just a shame Zhou didn't make it during Q1, when I nearly dropped out as well. Now we're in our best prospected scenario, behind the Ferrari and Red Bulls: we know that, realistically, fighting them will be difficult, but this is racing so you never know what is going to happen. We just need to focus on our race and, if there are opportunities, take them. Tomorrow will be a challenge, it will be hot for the car, the tyres and the driver – a hot and sweaty race. We have a good race car so we can fight to be in front of the midfield: a top five finish has to be our minimum target."
Guanyu Zhou (17th, 1:31.020): "It's frustrating to miss out on Q2 for the first time. We could only do one push lap at the end, when the track was improving: we were out of phase and when I got to turn 17 on my final lap, there was a whole group of cars stopped in front of me, so I had to give up on my lap. Otherwise, I think I could have been into Q2 today as well. Tomorrow will be a challenge, overtaking won't be the easiest but it's a track where it's easy to make mistakes, so we need to be ready for any opportunity. We'll try to move as far forward as possible, we have a good car and we will do our best."
Frédéric Vasseur, Team Principal: "Having a car lining up fifth on the grid, just behind the two dominant forces of the championship, is always a brilliant result. Valtteri delivered a really good lap when it counted and he can be rightly proud of this effort, but this is a result for the whole team: for the crew that rebuilt a good car after yesterday's crash, for the engineers that maximised the only practice session they had, and for all our colleagues back at base who gave us the tools to fight for a third-row start. Unfortunately, we weren't able to celebrate a good result with two cars: Zhou was forced to abandon his fastest lap as he ran into a group of nearly stationary cars at the end of his lap, and that meant he had to bow out in Q1. We will have a big job ahead of us tomorrow, but we are confident we can make up some ground, especially around here as the race will be unpredictable. As for Valtteri, we'll need to deliver a good first lap and a clean race, and we'll fancy our chances to come home with a strong result."
Haas F1 Team
Mick Schumacher (15th, 1:30.423): "It was unfortunate as we had the hope of getting into Q3, I just think we weren't there in terms of pace. Still, I'm happy overall as we made the right calls at the right time, we just didn't manage to improve on the new tires. The track seems to be quite difficult and challenging in many ways so mistakes will happen, but as long as they don't happen to us, that's good."
Kevin Magnussen (16th, 1:30.975): "It's going to be a crazy race tomorrow and hopefully we can fight back. The car is good, but we had no radio so that meant we couldn't communicate between myself and the team – we only did one long run in Q1 instead of two short ones. Anyway, points are tomorrow, and we'll see what we can do with strategy, we've got good pace and I'm still optimistic."
Guenther Steiner, Team Principal: "After a good FP3 today, we didn't turn that into a good qualifying – we ended up P15 and P16 for various reasons. For Kevin, his radio didn't work, so we had an issue there because we had a plan in place but we couldn't execute it because we couldn't talk to him. With Mick, we got into Q2 but we didn't put a lap together. Tomorrow, we start 15th and 16th and hopefully we can make something out of it because the car was not too bad on the long run on Friday. Let's wait for tomorrow and see what we can do."