Miami GP 2022
MAY 6, 2022
Friday Team Quotes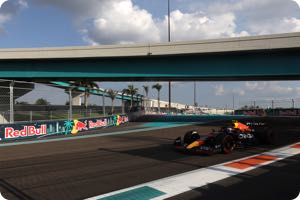 Mercedes-AMG Petronas F1 Team
George Russell (1st, 1:29.938): "We always knew that the warm conditions here in Miami would suit our car better - we've suffered with getting temperature in the tyres at previous races so that's a big factor here. The car is running well but it's only Friday, we're not getting carried away. It's probably been the most productive Friday we've had this season in terms of learning. We know that the porpoising will always be there but maybe it's working at a lower range compared to where we were previously. You generally have races that go in your favour and some that go against you - Imola obviously wasn't a strong circuit for us but from what we've seen so far, the car seems to work well around Miami. It's a unique circuit, I was a bit unsure how I would take to the slow-speed tight section underneath the bridge, it's a bit of a head-banger through there, but for the rest, they've done an amazing job - undulating in sections, with high-speed corners, I think it's great for the fans."
Lewis Hamilton (4th, 1:30.179): "Today is just practice and everyone is doing something different, not showing their true pace, so we won't get carried away. The car feels similar to me but we seem to be quicker and we've obviously improved in places. We still have the bouncing so we haven't cured it but bit by bit, we're improving the car. The race is going to be tough, particularly with the tyres overheating and it's very hot for the drivers, I've already lost a couple of kilos today. The heat reminds me a little bit of driving in Malaysia - Kuala Lumpar is still number one in terms of the heat, then Singapore, and now here in Miami. There are positive elements to take from today, George looked great out there and the team are trying a lot of different things with our cars, so we'll converge and hopefully take another step forward tomorrow."
Andrew Shovlin: "A busy but encouraging day, a few red flags interrupted our programme but we managed to get through most of the work. We had a few aerodynamic updates to try here which we are still assessing but overall, we look to have made some progress. In terms of set-up, we had some comparisons that we have been running throughout the day across the cars and initial results look interesting. We'll do a bit more analysis before deciding what we carry into tomorrow. There's plenty for us to improve with the car balance, tyre overheating is also quite an issue, and the sessions around the middle of the day are very hot so keeping the rear tyre temperatures under control is a challenge. Those will be our main areas of focus to try and improve. There will also be chunks to find working on single lap balance and also the ride, there are a couple of notable bumps here that unsettle the car, but overall it's a solid start, especially compared to our recent Fridays."
Oracle Red Bull Racing
Sergio Perez (3rd, 1:30.150): "It's been a difficult day for every driver today. I think it was a very messy session this afternoon, in total I did one medium lap and two soft laps. On the high fuel there was nothing we could do because of all the red flags and the time we lost. We are basically going blind into the race and I think most people are in the same boat as us. For qualifying we have more of an idea, but things can change very quickly with the weather around here. There isn't much grip off the racing line on this track and it feels very gravely out there too, it is a shame because I think racing will be hard due to that. Saying that, I think it is going to be an interesting race because all of us don't know exactly where we are."
Max Verstappen (19th, No Time): "It was not a good day for us, we wanted to get out there and learn the track and get fully up to speed but things didn't go to plan. We just had some hydraulic issues, as soon as I went out I couldn't really steer and also my breaks were on fire, so there were a few problems. We don't have a huge amount of information and data for my car which could prove difficult for qualifying and the race but we will do our best. Of course, I will try to catch up tomorrow, we will work very hard as a Team to overcome the issues and hopefully we will be in a good place come qualifying tomorrow."
Scuderia Ferrari
Charles Leclerc (2nd, 1:30.044): "It was a good day. We focused on building up our pace little by little and learned quite a bit about this new track. It is challenging and really nice to drive, with my favourite part being the one from turn 11 to turn 16 in the second sector. Things went smoothly on our side and we tested everything we planned to. It looks like everyone is close together, which should make for an exciting weekend. The asphalt will spice things up. There is very high grip on the racing line and very low grip off it, which will make it difficult to overtake. It is also rather aggressive on tyres, so it will be important to manage them well throughout the race."
Carlos Sainz (11th, 1:30.964): "Obviously not the best way to start the weekend after a costly snap ended our Friday early. Still, I feel the car was competitive and I have confidence in our performance. It's pointless to dwell on today, so we'll put our full focus on tomorrow and the race. The extra work for the mechanics is the worst part, so I'll definitely speak to them and the rest of the team. I look forward to tomorrow."
McLaren F1 Team
Lando Norris (6th, 1:30.535): "A reasonable day, if a bit tricky. There's a few challenges for us to overcome. First of all, the ambient temperatures are tough. The track grip is quite low when you leave the racing line, and it's quite bumpy in places, so it's a difficult track because of that. But despite that, we made some good progress throughout the day. Hopefully we can make another step into tomorrow and gain even more. It looks very close, between everyone, from the front to the back. Everyone is much closer than they have been lately, which is tough, but hopefully we can just squeeze a bit more performance. I think every little bit of time can be the difference between a few positions. It's going to be a tight qualifying, so every little thing we can get out of the car into tomorrow will be helpful."
Daniel Ricciardo (12th, 1:31.208): "It's cool to be on a new track, although it was challenging as the surface is quite unique and different. It's not the easiest to get into as just going off-line, you lose so much grip. I like the first sector, that's cool, but the real tight stuff in the middle, I think is just a bit too tight for how big the cars are now. Overall, we've got to work on a few things tonight; just the usual things for a new track, trying to discover and learn, and just try to find a sweet spot for tomorrow."
Andrea Stella, Racing Director: "This race weekend in Miami is really interesting, and not only because of the new location and new track. There's lots we need to understand and optimise in order to get a good result. The asphalt seems to have some interesting features, and the tyre behaviour is not that obvious. The hot conditions also pose some challenges for set-up, and we need to be on top of those. We have some work to do, understanding the data we have collected today. We'll do that overnight in order to be as prepared as possible for tomorrow. We're expecting a relatively eventful race on Sunday and we need to be ready for whatever opportunities that presents."
BWT Alpine F1 Team
Fernando Alonso (5th, 1:30.372): "It was a good day for us, learning the circuit and moving forward from the simulator laps to the real track. There are always some differences, so today was all about understanding everything quickly. It's an interesting track to drive and I think we had a clean Friday. There is a lot of data to analyse now, and you can see that there is a lot more to come for everybody. We need to keep fine tuning the car; we look fast again this weekend and I think we are in a good position – I am optimistic."
Esteban Ocon (9th, 1:30.861): "After waiting so long for this race weekend and with all the hype, it's finally great to be able to be on track and experiencing it all for real. For us, it was a good day of learning on what is a brand-new track for everyone. We had a first taste of how the car would behave with the simulator work we did beforehand but, of course, with new data, we can now start to confirm and look deeper into some of the discussion points. The car seems competitive and moving in the right direction, which is good news, but it is tomorrow and Sunday that counts. There's more to come."
Alan Permane, Sporting Director: "It's great to be here in Miami and experiencing the buzz around the place that Formula 1 brings to the city. The organisers have done a very good job in building an impressive circuit with some fantastic facilities, which has brought a really cool vibe to the event. In terms of the on-track performance, we've had two solid sessions with both cars, albeit with some interruptions throughout with various red flags. We have focused on improving our race pace, so today, our focus was based around some experiments to better understand and ultimately better our long run pace. With both drivers inside the top ten and Fernando in fifth, it shows our single lap pace is still strong. It's difficult to have a clear picture on long runs due to the red flags in Free Practice 2, so there's a little more work to do there. Other than that, it's been a good day and we're all looking forward to taking on the rest of the weekend."
Scuderia AlphaTauri
Pierre Gasly (7th, 1:30.547): "The track is really cool here, it's different to what we're used to with all the varying corners, but so far I've really enjoyed it. It's pretty challenging to drive, as it's really hot and there's also a lot of sliding, but it's fun. The real-life laps times are pretty close to what we were seeing on the sim, it also feels pretty similar to what we were expecting, so we've come into the event well prepared. I think looking at today's sessions we're sitting right on the edge of the top 10, so hopefully we'll make it through to Q3 in Quali tomorrow. We'll work hard tonight, as I'm still not fully happy with the car, and hopefully find some more performance ahead of tomorrow."
Yuki Tsunoda (13th, 1:31.260): "The track here is quite special, I really like it, especially Sector 2. I've never driven corners like turn 11 and 16 in a F1 car before and it's super fun. We're still learning lots about the circuit, it was more slippery out there than I was expecting and if you even go off the racing line with just one tyre you lose a huge amount of grip, as we saw with a few cars today. Currently, I'm struggling here a little bit compared to the last few circuits, but I just need to take it step by step and build up the pace. I'm still not fully happy with the balance of the car yet, but we'll work hard tonight and look to put it all together tomorrow for Quali."
Jonathan Eddolls, Chief Race Engineer: "Coming to a brand-new circuit there's always a lot of work to cover during the Friday sessions, so we came here with quite a comprehensive test plan to capture the data to prepare for Quali and the race. The new tarmac is quite standout relative to other circuits, due to the roughness, so there was some learning to complete to understand how the tyres interact with it, especially at the high track temperatures in excess of 50°C - the hottest of the season so far. In FP1 the track evolution was high, as expected, and Yuki wasn't able to set a clean lap on his Softs early in the session, but we knew there was more to come. Given the very long straights, all cars run a lower downforce level here, which made car handling in the corners more of a challenge than at the previous events. We made several changes to the car for FP2 and these improved the balance. Pierre was able to set a very good lap to end up in P7, whereas for Yuki he didn't have a car that had the balance he wanted and needed for this track, so we will work hard on analysing the data from today and continue to improve it for tomorrow. Due to the Red Flag the high fuel runs were cut short, this means all teams will be lacking race tyre data so the learning will continue in the race!"
Aston Martin Aramco Cognizant F1 Team
Sebastian Vettel (14th, 1:31.393): "I think we have made a good start to the weekend, but I feel that there is still room to tweak our car and adapt to the track. It is a tricky circuit and most of the corners are blind, which makes it difficult in terms of navigating traffic. This will likely be an important factor in qualifying, especially in Q1 when you need to find space. The red flags today disrupted some of our running, but we adapted as best we could because you want to get as many laps as possible on a new circuit. There is still pace on the table and if we can make some progress overnight we can hopefully edge closer to the top 10 tomorrow."
Lance Stroll (16th, 1:31.631): "Going to a new venue is always fun and they have created an interesting track here in Miami that offers a good driving challenge. Turns Four to Seven are a fun sequence of corners and allow you to attack. The sessions were disrupted with a few red flags, which is never ideal when you are learning a new track, but we did what we could. The energy around this weekend has been awesome so far and I am excited for qualifying tomorrow when dealing with traffic on a busy track will be especially challenging."
Williams Racing
Alexander Albon (17th, 1:31.710): "I think today has been our best Friday of the season so far. It may not look like it, especially as my final runs in FP2 were a bit scrappy and we didn't get a representative lap in, but I'm happy with how the car is feeling and performing. We'll do a bit more fine tuning tonight now that we have some data from the practice sessions, and hopefully things will be looking positive heading into FP3 and Qualifying tomorrow."
Nicholas Latifi (18th, 1:32.913): "It was an interesting first day here in Miami. It was nice to finally get out on track and experience the circuit in real life. It is a tricky and technical layout, especially the slower section around Turns 13 to 16. We are definitely going to be fine tuning our approach overnight to try to find some more lap time in that section in particular. The other challenge we faced today was the heat; it's very hot here and that will make it difficult for both us as drivers and the tyres across the weekend. Overall though, I think it's been a great event for the sport so far and hopefully we will have more of the same over the next two days."
Dave Robson, Senior Race Engineer: "It has been a slightly frustrating day with several disruptions in each session. As a result, we haven't collected as much information as we would've liked. However, we made a positive start in FP1 and immediately found a good setup direction with Alex. As the track improved in FP2, the car balance shifted a little and we will need to make some minor adjustments to the setup overnight to stay ahead of the rapidly evolving track. Alex's main performance run in FP2 was hampered by some traffic and he couldn't extract quite as much from the car and tyres as he had done in FP1. However, we don't expect this to be an issue tomorrow and we are looking forward to a competitive Q1 session. Nicholas wasn't quite as happy with his car balance today but with some time to work on it tonight, he can find a good improvement tomorrow. He stopped on track at the end of FP2 when he lost drive. We are still investigating the issue but don't think that it is serious, and we don't expect it to affect the rest of his weekend."
Alfa Romeo F1 Team ORLEN
Guanyu Zhou (8th, 1:30.860): "I am pretty happy with how the day has gone, especially with the progress we have made between FP1 and FP2. It was quite tricky out there: it's fun to go to new tracks, but of course the surface is always an issue at the beginning of the weekend. It was very, very slippery, we do expect it to evolve a lot, but we have to find out exactly how much tomorrow. I quite enjoyed driving here today, it was a challenge but it was interesting. For me, especially with Valtteri not being able to do FP2, it was key to get as many laps in as possible to get as much data as we could: in that regard, we did well and we have enough to work with to prepare for qualifying. My objective for tomorrow is not changing: I want to keep progressing, make it to Q2 and then do the best I can to see how far high I can get."
Valtteri Bottas (20th, No Time): "It's annoying to miss out on most of the day, but there is still a long way to go in this weekend. Unfortunately, I went slightly on the dirtier part of the track and lost the rear, and when that happens you cannot catch the car back. We damaged the exhaust and the turbo and it was impossible to get the car fixed in time for FP2. It means we need to really maximise the last hour of practice tomorrow: thankfully, the team has made good progress with Zhou and it seems the set-up direction we have taken, with the changes the team made on his car for FP2, is the right one. For what I could experience, the track is good fun: it's technical and challenging, but nice to drive, and the twisty section towards the end is definitely difficult to get right. I think they did a good job in designing a track that should offer good overtaking opportunities, so hopefully the racing will be fun. The focus for me, however, is to catch up on the time we lost today."
Haas F1 Team
Kevin Magnussen (10th, 1:30.921): "It's been an interesting day with a new track, trying to learn it quickly and get the balance dialed-in as quickly as possible. The track is changing so much because it's brand new so it's going to be interesting. The fast sections I'm happy with and that's not normally what we think our strength is, so let's see if we can try and improve the low-speed parts tomorrow. Hopefully we'll stay in the top 10 – we'll make some changes – but so will everyone else, so we'll see."
Mick Schumacher (15th, 1:31.587): "The tight section is tight, that's for sure, and the straights are very long so it's an interesting, different mix. It seems that the run-offs are dirty so once you go off it definitely punishes you, so it's just a matter of putting everything together and still trying to find some set-up options so that we're in a good position. Lots learned, lots to learn still, so I'm looking forward to tomorrow."
Guenther Steiner, Team Principal: "An interesting session on a new race track with a lot of things to learn. I think we can still improve but all in all, I'm pretty happy with what we gained today in knowledge. I don't think we're in a bad place so again in FP3, we'll make some progress and get ready for qualifying."