Mexican GP 2022
OCTOBER 29, 2022
Saturday Team Quotes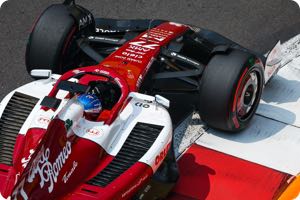 Mercedes-AMG Petronas F1 Team
George Russell (2nd, 1:18.079): "It feels like the team deserved more today - the car has been great this weekend and it's a testament to the hard work that has been going in for so long. At this high altitude, drag is less of a factor for us on the straights, and the update we brought to Austin is performing well. We saw last week with Lewis what the car was capable of, and this weekend, it felt like pole position was there for us. I'm kicking myself about the final run, but at the end of the day, there are no points for qualifying and I'm excited to be back on the front row. We will be going for it in the race and our long runs looked decent yesterday, so I'm excited to go racing and see what we've got."
Lewis Hamilton (3rd, 1:18.084): "I'm proud of the team - this is the best qualifying we've had all year. It just shows that you can never give up, and that perseverance is the way forward, so a big thank you to everybody here and back at the factory. In terms of the laps, they were pretty closely matched, but obviously when the first one is deleted, you have to make sure the second is completely clean. There was still more performance in it but it's great to be so close to the Red Bull cars after we have been chasing them each weekend this year. So, we will just keep pushing, and I'm pretty happy starting from P3. It's a long way down to Turn One..."
Toto Wolff, Team Principal: "We had a mega car today in FP3, as we saw from the lap times in that session, but then conditions changed a bit and it really closed up at the front. All the way through the session, we couldn't really match Verstappen in the stadium section, but George's lap was zero to him on the final run until the lock up at Turn 12. Still, those are good starting positions for tomorrow - and there will be opportunity in the race. We brought our final upgrade to Austin, which is working well, and we have been at our best in high downforce configuration this year - so slowly but surely, we are creeping back to the front."
Andrew Shovlin: "After the final practice this morning it looked like we might be in the fight for pole; in the end, the gap at the end to Max was a bit bigger than we had hoped for. We were very close on pace to him into the final sector but couldn't quite match him there in the hotter afternoon conditions. Overall, though, we can take encouragement from the way the car is working with the recent updates. Our long runs had looked competitive yesterday and we do tend to race a bit better than we qualify, so there is still everything to play for tomorrow. We're lacking a little bit of a straightline speed to the Red Bulls so having both lined up behind Max may be no bad thing."
Oracle Red Bull Racing
Max Verstappen (1st, 1:17.775): "To be on pole here is amazing. It was a tricky start to qualifying as the track was a bit warmer than FP3, I didn't expect to be on pole here. Around this track it's hard to nail a lap and we've been struggling to find a good balance in the car. After practice we made quite a few adjustments and we got into a better rhythm. Looking ahead to tomorrow, it's a long run into to turn one so we need a good start, I think we have a quick car and that's what is most important. It's incredible to see the passion of all the fans here, it will be good to have Checo up there with me tomorrow, I hope we can have a fun race with a lot of action."
Sergio Perez (4th, 1:18.128): "To be on pole here is amazing. It was a tricky start to qualifying as the track was a bit warmer than FP3, I didn't expect to be on pole here. Around this track it's hard to nail a lap and we've been struggling to find a good balance in the car. After practice we made quite a few adjustments and we got into a better rhythm. Looking ahead to tomorrow, it's a long run into to turn one so we need a good start, I think we have a quick car and that's what is most important. It's incredible to see the passion of all the fans here, it will be good to have Checo up there with me tomorrow, I hope we can have a fun race with a lot of action."
Christian Horner, Sporting Director: "After an incredibly tight three qualifying sessions, it was a remarkable final lap from Max. To be the only car to dip into the 1:17's and achieve pole position by over 0.3 of a second is another fantastic drive. 2nd and 4th on the grid were covered by just under half a tenth and that sets us up for a thrilling race tomorrow. It's a long run down to turn 1, providing plenty of opportunity for the drivers. The crowd will no doubt also play a factor, particularly for Checo, they have been fantastic today and with his start on the 2nd row, we look forward to seeing what tomorrow brings."
Scuderia Ferrari
Carlos Sainz (5th, 1:18.351): "It was a difficult qualifying. Riding the kerbs was very tricky for us, especially in the first two sectors, which meant it was challenging to put together the perfect lap. I tried everything out there today to get a better result but couldn't make it. Nonetheless, the weekend is not over and we will fight hard all the way to the chequered flag."
Charles Leclerc (7th, 1:18.555): "We had a tough qualifying, losing quite a bit of time down the straights and not having a great feeling in terms of drivability. We need to investigate the reasons for this, so that we can improve and challenge our competitors tomorrow."
Laurent Mekies, Sporting Director: "It was a tight qualifying today. This season, we've got used to being higher up the grid, but today we had to settle for 5th and 7th. It's probably fair to say that we were not totally satisfied with the behaviour of our cars on this track, and that there are perhaps a few things we still need to crack around here to be more competitive. That being said, we think the potential is there. The gaps were relatively small and at some stage in Q2 it felt like we could be in the fight for better positions, but as it turned out we will start behind our competitors tomorrow. It's a long and tough race here, we have seen many cars struggling more than usual with a lot of sliding and it could be a race full of surprises with hopefully some opportunities for us to bring home plenty of points. We focus tonight on trying to understand how to extract a bit more from the package we have here, and we will try our best to be in the fight tomorrow."
McLaren F1 Team
Lando Norris (8th, 1:18.721): "I'm very happy, it was a good day today and I'm pleased with P8. I did a very good lap in Q3 to put us ahead of both the Alpines, which is the best we could do in the conditions. We're too far off the teams ahead, but that's usual, so I'm happy because we've given ourselves a good chance going into tomorrow's race. It's a long run down to Turn One, many things can happen. We'll switch our concentration to the race and focus on having a clean start, getting away, getting our heads down and having a clean race from then on."
Daniel Ricciardo (11th, 1:19.325): "I think it was certainly promising in some areas and we had decent pace. The first run in Q2 was decent. There were a few places to improve – a couple of corners in the middle sector - but I felt like it was definitely achievable. On the second run, though, we just came out in loads of traffic and the out-lap was compromised: it was just too slow and so the brakes weren't in and tyres weren't in. We needed to prepare better for that, and it ultimately cost us. I think things still look encouraging for tomorrow. We should have some pace, but I would have loved to have shown a bit more and got into Q3 today."
Andreas Seidl, Team Principal: "Given how tricky a session it was, we're happy with P8 and P11 in qualifying today at the Autódromo Hermanos Rodríguez. Lando maximised pretty much everything with a strong lap at the end to finish P8 and we're also very pleased with Daniel's performance for P11. He's felt a lot more comfortable this weekend and he's starting in a good position to fight for points. Unfortunately, his last shot in Q2 was compromised by hitting heavy traffic in the last sector of the out lap, which didn't allow for optimum preparation. We're expecting a challenging and tense race tomorrow, as it always is here on this high altitude, low grip track. Reliability will also play an important role but with the choices we've made for the car, we feel well prepared for the battle. We're expecting to give these magnificent fans an exciting Mexico City Grand Prix to enjoy."
BWT Alpine F1 Team
Fernando Alonso (9th, 1:18.939): "It was a little bit more difficult than expected today but we are still quite pleased to be in ninth position on the grid for tomorrow's race. It's good we are on the clean side of the grid and just behind Lando [Norris]. In general, I didn't feel that fast and struggled with the balance of the car. I was tenth in Q2 and so I think ninth was potentially our maximum today. With the unique temperatures and altitude of this race, we can't take anything for granted. That's the same for everyone this weekend and we'll do our best to take points at the chequered flag."
Esteban Ocon (10th, 1:19.010): "It's a good team Qualifying result with both Fernando and I inside the top ten, which is always our minimum goal. We did well to maximise the potential of the car today even though I think there was a bit of performance left on the table in Q3 after a solid Q1 and Q2. Nevertheless, it's all very close, we're in the mix for points, and we know tomorrow will be a fight. We'll need to be at our best as a team to come out with good points from the race. I know we'll be ready for all possibilities."
Alan Permane, Sporting Director: "On the face of it, we feel we could have done marginally better than ninth and tenth in Qualifying. That said, we can draw on the positives as both cars are back in Q3 and, importantly, we're well placed for our championship battle. Esteban showed good improvements from Free Practice 3 from earlier today to put himself into Q3, recovering well from last weekend's disappointment. We decided to run Fernando in the middle of the session in Q3 on a clear track and I think that worked out quite well for him. Tomorrow's race will certainly be challenging, as it always is at this circuit, as it's tough on the brakes, power unit and cooling systems. First we need to see the chequered flag and we'll count on our strong race pace from both drivers to consolidate our championship position."
Scuderia AlphaTauri
Yuki Tsunoda (13th, 1:19.589): "It's a bit of a shame that we didn't make it through to Q3 today. If you look at the pace in the practice sessions it was really strong, so I think we should've been up there. The track position on our final push lap in Q2 wasn't great, which meant I couldn't get the car up to temperature and it compromised the lap. We need to make the most of any opportunity we can tomorrow and look towards the points."
Pierre Gasly (14th, 1:19.672): "We started the weekend really well yesterday, but since FP3 we've started to struggle a lot, sliding all over the place. Normally we're able to find solutions ahead of Quali, but we haven't been able to this time. I was pretty happy with my final lap this afternoon, but unfortunately the pace just wasn't there. We'll need to try something tomorrow, it's a tricky track here and our long-run pace is looking stronger, so for sure there's an opportunity in the race to make our way forward."
Claudio Balestri, Chief Engineer, Vehicle Performance: "Yesterday the FP2 session was dedicated to tyre testing, for this reason we decided to complete some runs this morning to better understand the tyre degradation on the current compounds, whilst at the same time we have tried to optimise our cars for Qualifying. On Yuki's car we showed a good level of performance, however on Pierre's we found more difficulties and it wasn't an easy session for that side of the garage. Before Quali we tried to optimise our performance, with the usual fine tuning on the setup on Yuki's car, whereas on Pierre's we decided to replace some parts and we also tried a different strategy to optimise the tyre preparation. We were able to get through to Q2 with both cars without any particular issue, but then in the next session we didn't have the level of performance to enter the top 10, with both Yuki and Pierre completing similar lap times to qualify respectively in P13 and P14. Now we focus the attention on the race. We know in Mexico that altitude is a real challenge for all the car's systems, so tomorrow we will try to do our best to maximise the possibilities available to get some points."
Aston Martin Aramco Cognizant F1 Team
Sebastian Vettel (17th, 1:20.419): "Things did not look very promising in FP3 this morning, but we hoped we could take a step forward for qualifying. But that was not the case: we struggled for grip and overall balance – the car would not behave in certain corners. I know from past experience that the podium here is incredible – but that is a long shot right now. But who knows? I am always hopeful that we can do something special in the race tomorrow."
Lance Stroll (18th, 1:20.520): "We have really struggled for grip and balance here, which is why we are down the order this weekend. We have tried several things yesterday and today, but it has not turned our fortunes around. From our starting position, it is going to be a challenge to get into the points tomorrow. However, it is a long race, we perform better in those conditions, and we know that anything can happen."
Mike Krack, Chief Operating Officer: "It has been a bit of a struggle for us all weekend, and qualifying today was no exception. Both Lance and Sebastian complained of a lack of overall grip; no matter what changes we made to the car we just did not seem to be able to improve the overall balance and provide our drivers with a car that gave them confidence. With the margins around here so tight, lacking just a few tenths makes a big difference. Today, unfortunately, we were on the wrong side of that fight – but we know our car performs better in race conditions; this Grand Prix is often unpredictable, and both drivers will give it everything to fight for points tomorrow."
Williams Racing
Alexander Albon (19th, 1:20.859): "The car felt okay and I was feeling good in FP3 but the track was hotter in Q1 and had lost a lot of grip compared to FP3. I think it would have been hard to get into Q2 today, however our lap was looking like it could have got us through. We were on the edge today and on the final lap, with the same corner speed as the lap before, I got massive oversteer; it's really tricky to drive these cars on the edge, especially for us. Tomorrow will be interesting as you think it would be easy to overtake here but it's actually quite difficult and there's some cars here that are faster than we expected."
Nicholas Latifi (20th, 1:21.167): "Today's been tricky. We knew coming into the weekend that this would be a difficult track for us. It seemed more positive before qualifying, so it's a bit of a surprise not being able to make a step up in the session. We had some issues on the second set of tyres which didn't help as I could've improved my lap time by a few tenths. In the end, we were struggling out there for grip."
Dave Robson, Senior Race Engineer: "We made some good progress overnight and went into qualifying expecting to be able to get at least one car into Q2. The track was hotter than it had been in FP3, which changed the tyre behaviour a little and slowed the track in the early stages of Q1. However, we adapted to this and Alex was looking strong on his final lap in Q1 until he had a big moment at T7, which ruined his lap. Nicholas struggled more today having been happy yesterday. It's not clear why he was unable to find a step forwards today and we are continuing to look into it. We are not starting the Grand Prix as far forward as we had hoped, however, tomorrow will be a race of attrition as well as pace and we will be looking to move forwards and fighting until the chequered flag."
Alfa Romeo F1 Team ORLEN
Valtteri Bottas (6th, 1:18.401): "We had a really good qualifying, on top of a weekend in which we have consistently been in the top ten. It's a good result ahead of tomorrow and I'm personally pleased with having delivered the best lap of the whole weekend when it mattered, at the end of Q3. The car was good from the get-go, all we needed was to refine the setup to extract even more performance; the track layout did help, with slow-speed corners that really work well for us. I'm optimistic for tomorrow: we need points for our battle in the championship and we're in an excellent position to have a good fight. It's F1, so everything can happen, but we're up there and that's what matters today."
Guanyu Zhou (12th, 1:19.476): "In terms of today's qualifying, I feel I did the best I could: in the end, I was very close to getting into Q3 again, being just two tenths off. I struggled the whole weekend so far and it hasn't been easy to have a smooth, trouble-free session, especially on a track that is not among the easiest ones to drive. Sector one has been the toughest one for me to face today, so to get this close to Q3 with my final lap was a positive: I tried and eventually I didn't make it, but at least this time I feel there was nothing left out there. It's great to see Valtteri being so fast today, and overall, the progress both cars have been making. The gap for the top ten is quite close, and I think we will be in a good position for fighting for points tomorrow, so let's see how it goes."
Frédéric Vasseur, Team Principal: "Today was a very good day, we did our job really well – but the challenge is to finish the job tomorrow. It's our best Saturday result since Miami, nearly six months ago, and it shows that everyone in the team is still pushing hard to finish the season on a high. We made the most of the upgrades we brought in the last couple of races and we gave ourselves a good chance for tomorrow. Zhou also had a good qualifying, missing out on Q3 by a small margin: still, this is his best qualifying since the summer break and he'll have a good opportunity to add some points to his tally in the race. Now we have to focus on tomorrow: doing our best job, both on track, on the pitwall and in the garage, to bring home a good result."
Haas F1 Team
Kevin Magnussen (15th, 1:19.833): "We've obviously had a bit of a tough weekend with FP1 and then with the test tires which you have to use in FP2, so I got very little running, but I actually think we were alright considering everything. We changed the front wing, rear wing and floor from FP3 to qualifying but the aero balance changed completely and we were completely off so we had to correct it, but we got through to Q2 which was good. This qualifying didn't matter as much because of the five-place grid penalty, so we'll start near the back but let's see what we're able to do."
Mick Schumacher (16th, 1:20.419): "My first lap got deleted which was enough for P7 at the time, so it would've been fine to get into Q2. The pace is there, and we couldn't quite use it today as the track limits were the main factor. It's unfortunate because we were on for a good qualifying which would've made tomorrow a lot easier, but we've managed in the past to go from the back to the front so I'm hopeful."
Guenther Steiner, Team Principal: "The good thing is that for the first time we made it into Q2 in Mexico. Now, with the penalty, Kevin needs to start from P19 which is not fantastic, but I think Mick showed what the car is capable of in his second run in Q1, on his first lap. He had a time that would've put him comfortably into the top 10. He was off the track limits, which didn't give him an advantage, but you know, we were over it and you get your time deleted. On his second lap, on the same set of tires, he couldn't recover because the tire wasn't there anymore. It's disappointing to end up like this but for tomorrow I think the car has got good pace in it and hopefully we can make some positions up like we did in Austin."