Mexican GP 2021
NOVEMBER 9, 2021
Race Analysis - Crash and win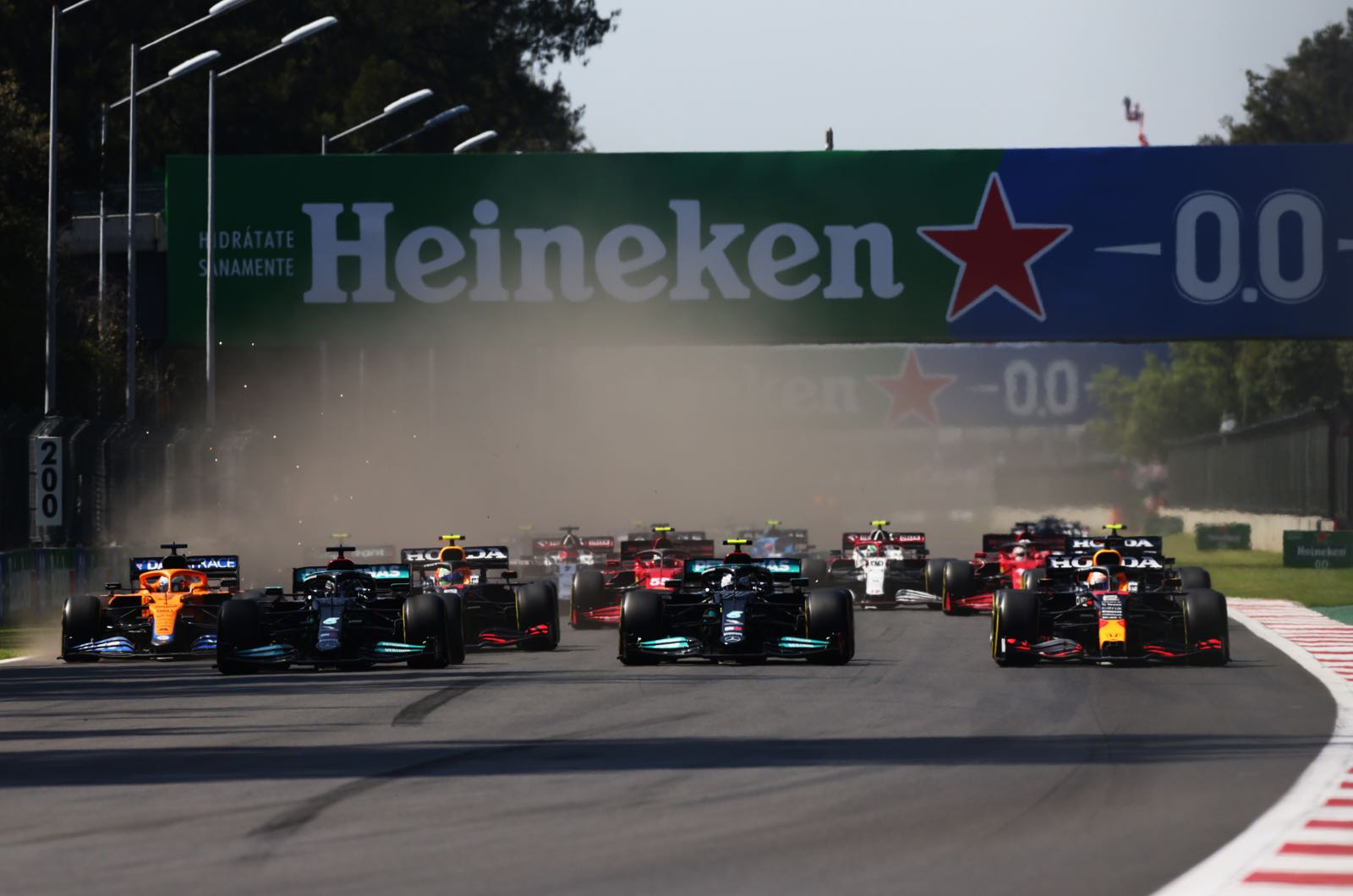 © Red Bull
By Dan Knutson
MAX IN MEX
Max Verstappen easily beat Lewis Hamilton to win in Mexico. This is how his win unfolded.
19
Valtteri Bottas qualified on pole for the 19th time in his F1 career.
LOCKOUT
Lewis Hamilton qualified second, giving Mercedes its first front row lockout of the season.
RED RUN
Red Bull drivers Verstappen and Sergio Perez filled the second row of the grid.
ROUNDED
Pierre Gasly (AlphaTauri)m Carlos Sainz (Ferrari), Daniel Ricciardo (McLaren), Charles Leclerc (Ferrari), Sebastian Vettel (Aston Martin) and Kimi Raikkonen (Alfa Romeo) rounded out the top 10.
A LONG DRAG
It's a long drag down to the first turn, and Verstappen won the drag race as he swept outside of Hamilton to take the lead.
TAGGED
Ricciardo tagged Bottas, ruining both their races.
"The first lap incident was about as painful as they get because your race is pretty much over from the start," said Ricciardo who wound up 12th. "I was in a tricky position because I know that if I didn't go for it, someone else would have, and I'd probably have been swamped by other cars. At the end of the day, I think it's just a lap one incident. The start was good and those first few hundred meters were looking positive. I think we were potentially in P4, and in a split-second it changes.
UNLUCKY
"It was an unlucky day for me today," said Bottas who would finish 15th. "As I turned into Turn 1, I got hit from behind and spun me around - then I was stuck in traffic and couldn't make progress. I was giving it everything but it was hard running in traffic because I was overheating the brakes and engine, so I couldn't get past the McLaren in front."
IMPORTANT
"I knew the start was very important today," Verstappen said. "We were three wide at one point and I was on the more ideal race line so I could brake later and get into the lead. After that I could do my own thing, the pace was very good today so I could just keep building and creating a gap, the pit stops were seamless and the car was good throughout the race which was crucial today."
LED
Verstappen led until he pitted at the end of lap 33.
PEREZ
Perez led laps 34 to 39 and then pitted, which dropped him to third behind Verstappen and Hamilton.
CONCERN
Hamilton could not close the gap on Verstappen, so his main concern was keeping Perez at bay.
"That Red Bull was faster than we were this weekend and there's nothing we could really do about it," Hamilton said. "I gave it absolutely everything and obviously a great fight with Sergio at the end but I'm grateful I could still at least get a second-place finish.
"It was easy enough to hold on - I've been in that situation many times before - but it shows how fast their car was when Sergio was that close behind me and able to follow that closely."
FIRST
Perez, third, was the first Mexican driver to finish on the podium in his home grand prix.
"This is a great result for my country," he said. "I really wanted more but unfortunately we didn't get that. It was so messy in turn one so to avoid an incident there was critical and then I wanted second place, but we didn't get the chance because it is just so difficult to overtake around here. I was really close to getting Lewis but the Mercedes are so quick on the straight lines so I didn't get an opportunity to go for it but I gave my best."
140,000
Over 140,000 fans attended the race.
"I could feel the fans' energy when I was going through the stadium sector and I was thinking about how many people were here for me," Perez said. "I could actually hear the crowd when I was driving!"