Mexican GP 2019
OCTOBER 27, 2019
Race Analysis - The unexpected surprise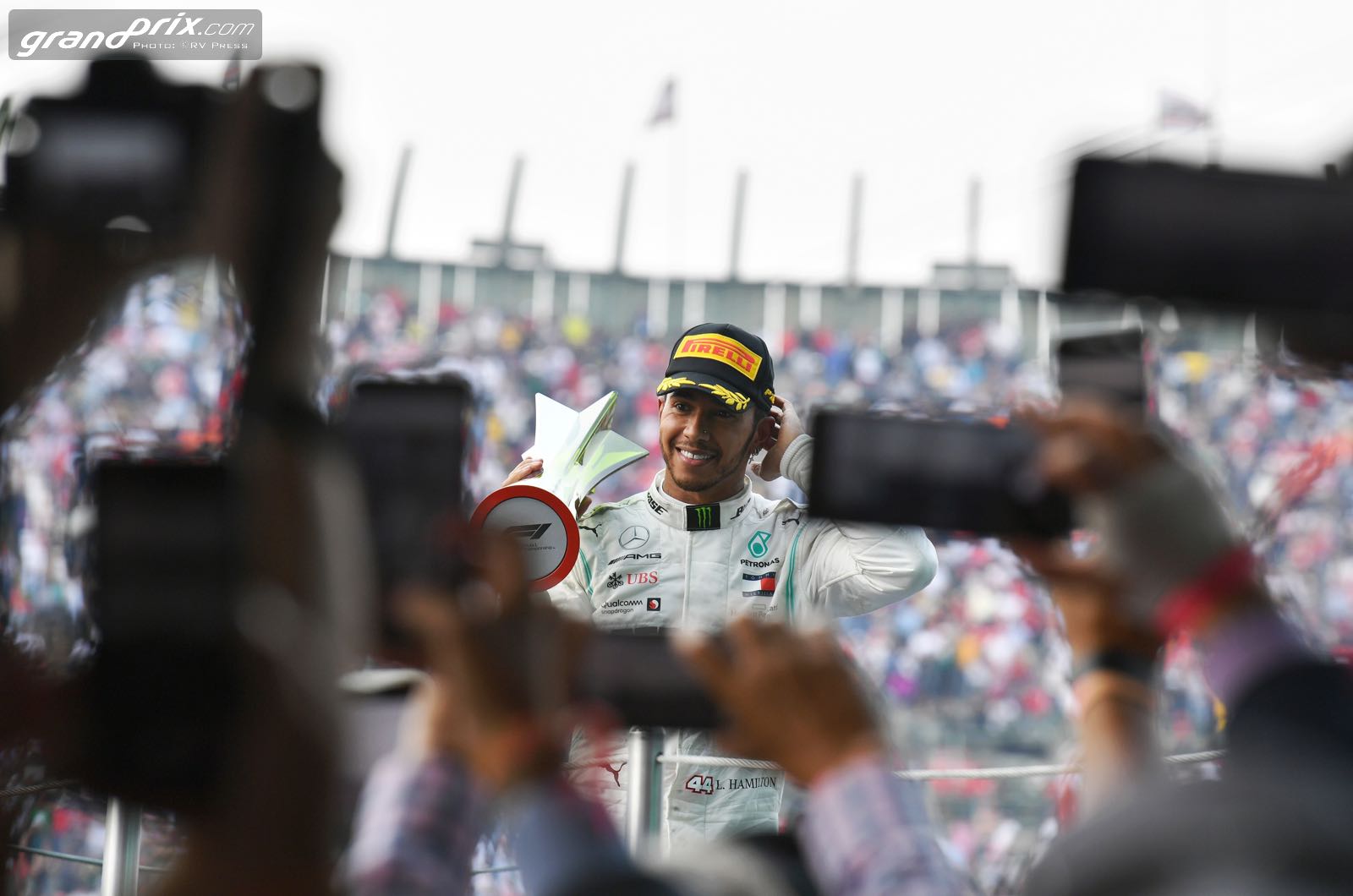 © RV Press
By Dan Knutson in Mexico City
Given the speed displayed by Ferrari and Red Bull in practice and qualifying, Lewis Hamilton and Mercedes didn't expect to win the Mexican Grand Prix. Here is how their unexpected victory unfolded.
SEEING YELLOW
Max Verstappen did not see the yellow flags when Valtteri Bottas crashed in the final turn in the final seconds of qualifying. Verstappen's provisional pole was taken away, and officials dropped him to fourth on the grid.
7Up
So Ferrari driver Charles Leclerc started from the pole for the seventh time in his F1 career.
NEXT UP
Next up on the grid were Sebastian Vettel (Ferrari), Hamilton, Verstappen, Alex Albon (Red Bull) and Bottas (Mercedes).
SELLOUT
It was a sellout crowd at the Autódromo Hermanos Rodríguez.
LONG HAUL
It's a long haul from the starting grid down to the first turn, and there was plenty of jostling for position at the beginning of the 71-lap race.
ON THE LINE
"I actually got a really good start and was pulling up to Charles," Hamilton said. "And Seb's coming across, coming across, coming across and I'm thinking: I'm on the white line, I don't have any further to go.
"And he just keeps coming, and I had to avoid crashing with him, go on the grass, and avoid his wheels as well otherwise it could have caused a big collision for him."
HAIR RAISING
"Then I was surrounded by a bunch of cars, braked into Turn 1 and all of a sudden Max is alongside." Hamilton said. "If you've seen races before I always leave Max a lot of space. It's the smartest thing you can do. But there wasn't a lot of space to give. Then I nearly took (Vettel) out. My back end came out and went straight on the grass. It was hair raising."
MAXED OUT VIEW
"I had a good start," Verstappen said after eventually finishing sixth, "and I think Lewis got pushed onto the grass by a Ferrari so he lost some momentum. He came back around the outside at Turn 1 and then into Turn 2 he went very deep to defend and I had to go onto the grass to avoid him.
"The race was still on until I overtook Valtteri and he clipped my rear tire which gave me a puncture and I had to do a whole lap to get back to the pits. After that I was forced to do a one stop which was very slow as I did 66 laps on the hard tire.
"The result is a shame as the pace was good and the car was good but to come back to sixth was actually not a bad result if you look at everything that went on."
ONE OR TWO
Would it be better to pit once or twice for Pirelli tires?
OPTED
Leclerc led laps 1 to 14 and then Ferrari opted to have him pit, thus putting him on a two-stop strategy.
STAYED OUT
Ferrari wanted Vettel to pit as well, but he stayed out, and he led from laps 15 to 37 before making his solitary stop. Leclerc led as 38 to 43 before making his second stop.
MEANWHILE
Meanwhile Hamilton had pitted on lap 23 and Bottas on lap 36.
44 ON 44
Hamilton in car 44 took over first place on lap 44 after Leclerc pitted, and he went on to lead the rest of the way to win for the tenth time this season.
THE UNEXPECTED SURPRISE
"Today was a surprise," Hamilton "We've really struggled here for quite some time, and we came into this weekend expecting it to be very difficult. We really thought we would be on the back foot, but we kept our heads down, we kept working hard and it all came together in the end. I had a massive chunk of my floor missing, so the rear end was moving a lot and I had to really change the dynamic of how I was driving. I don't know how I managed to keep it going, but I did."
NOT BELIEVING
Vettel wound up second.
"We didn't get is so wrong today," he said. "It was simply a case of not believing that the hard tires could last so long, considering how early in the race Lewis pitted. He took a risk and it paid off. For our part, we tried both strategies; two stops for Charles and one for me and the final result proves that both of them were good."
EXTENDED
Bottas went from sixth to third.
"I had a difficult start, but after that I had a very strong race," he said. "I looked after the tires and managed to extend the first stint quite a bit, which opened up a few opportunities. I was trying to put some pressure on Sebastian, but ultimately, I don't think the margin between him and me was enough to overtake."
COMMITTED
Leclerc wound up fourth.
"Starting a race from pole and not finishing first is always disappointing," he said. "The beginning of the race went well, and I managed to stay in the lead for the first stint. Wanting to cover off Alex (Albon), we pitted early and committed to a two-stop strategy.
After my first stop the race was very tricky: my second stint was difficult and any time I approached a car ahead I struggled with overheating and couldn't overtake."
FOUR FOR SIX
Hamilton needs to score just four more points in the final three races of the season to wrap up his sixth drivers' world championship.