Mexican GP 2019
OCTOBER 26, 2019
Practice 3 Report - The frantic dozen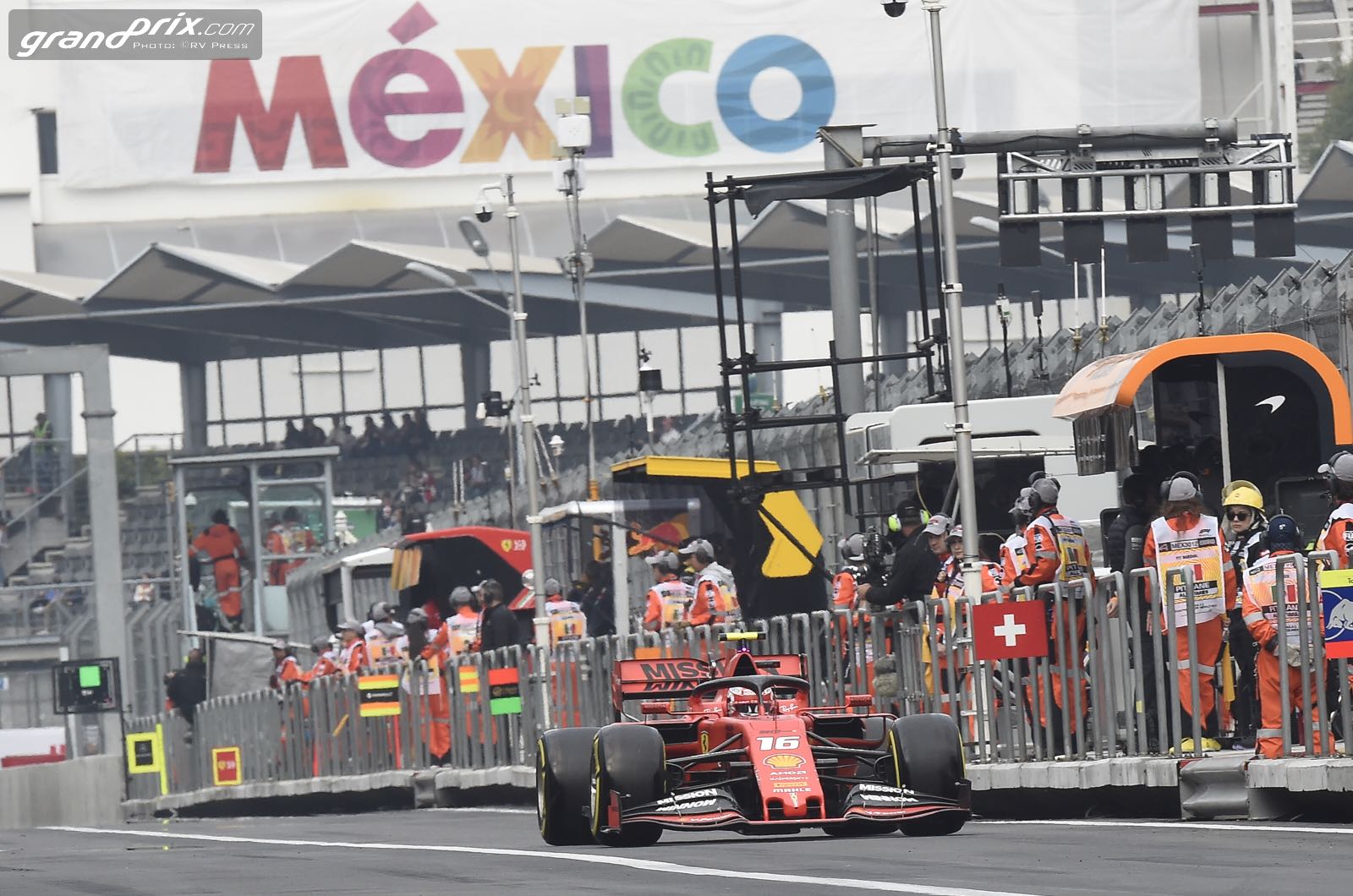 © RV Press
By Dan Knutson in Mexico City
The track was damp for much of Free Practice 3 for the Mexican Grand Prix. It only dried off for the final dozen minutes during which the drivers frantically pounded around. Ferrari teammates Charles Leclerc and Sebastian Vettel ended up on top of the times.
The line-up for the weekend was: Mercedes – Lewis Hamilton and Valtteri Bottas; Ferrari – Vettel and Leclerc; Red Bull TAG Heuer – Max Verstappen and Alexander Albon; Renault – Daniel Ricciardo and Nico Hulkenberg; Haas Ferrari – Romain Grosjean and Kevin Magnussen; McLaren Renault – Carlos Sainz and Lando Norris; Racing Point Mercedes – Sergio Perez and Lance Stroll; Alfa Romeo Ferrari – Kimi Raikkonen and Antonio Giovinazzi; Toro Rosso Honda – Daniil Kvyat and Pierre Gasly; Williams Mercedes – George Russell and Robert Kubica.
Vettel was fastest on Friday with a time of 1:16.607.
"We don't look that bad, but I don't have the full picture yet," he said after FP2. "There are still some areas where we can improve tomorrow in terms of the general balance and the feeling I have with the car."
As at the start of FP1 on Friday, the track was damp from overnight rains at the start of FP3 on Saturday. So the drivers went out on Pirelli's intermediate rain tires.
"It takes the track a while to dry because there is not much wind and the temperature is quite cool," Ricciardo said. "So it is very damp, and it is quite a smooth surface so the water sits on top, and it doesn't evaporate very quickly."
The ambient temperature at the start of the 60-minute session was 59 degrees Fahrenheit (15 degrees Centigrade) and the track temperature was 68 degrees Fahrenheit (20 degrees Centigrade).
Only Verstappen and Albon clocked times in the early going – 1:28.711 and 1:27.463 respectively. A few other drivers – Hamilton, Albon and Bottas – joined in as Verstappen moved into the lead with a 1:26.118.
It's not going to be slicks any time soon," Russell said after his install lap. Indeed, the track was still damp enough that Raikkonen and Stroll the only ones out there at the one-third mark. The rest of the drivers waited for the track to dry off some more.
Halfway through FP3 only seven drivers had clocked times and the order was: Verstappen, Hamilton, Albon, Bottas, Grosjean, Raikkonen and Leclerc. And all 20 of the drivers were in their garages at that point.
All this down time was okay with Renault as the mechanics repaired cooling problems on both cars.
Finally, with under 20 minutes remaining, there was some movement in some of the garages as some of the drivers prepared to go back out. The first of that group was Bottas, but he was still on the intermediates. After one lap he pitted and changed to a set of Pirelli's medium compound slicks.
Raikkonen was now out there on the soft compound tires, and he posted a 1:21.673 to take the lead with 14 minutes to go.
More drivers were on track now in the final 12 minutes which were to be frantic ones indeed. Bottas grabbed first with a 1:19.101. Vettel sliced that down to a 1:17.744. Albon beat Vettel.
Behind Albon the order changed and changed again. With six minutes remaining Verstappen's 1:16.903 put him out front. Two minutes later it was Sainz' turn with his own 1:16.638.
Next in front was Bottas at 1:16.259. Leclerc posted a 1:16.145. Vettel failed to beat that and took second place. In the final minute of the frantic dozen everybody was on track except the two Renault drivers. And so the top 10 at the end of FP3 were: Leclerc, Vettel, Bottas, Hamilton. Sainz, Verstappen, Gasly, Albon, Norris and Perez.