Mexican GP 2019
OCTOBER 25, 2019
Practice 2 Report - A good omen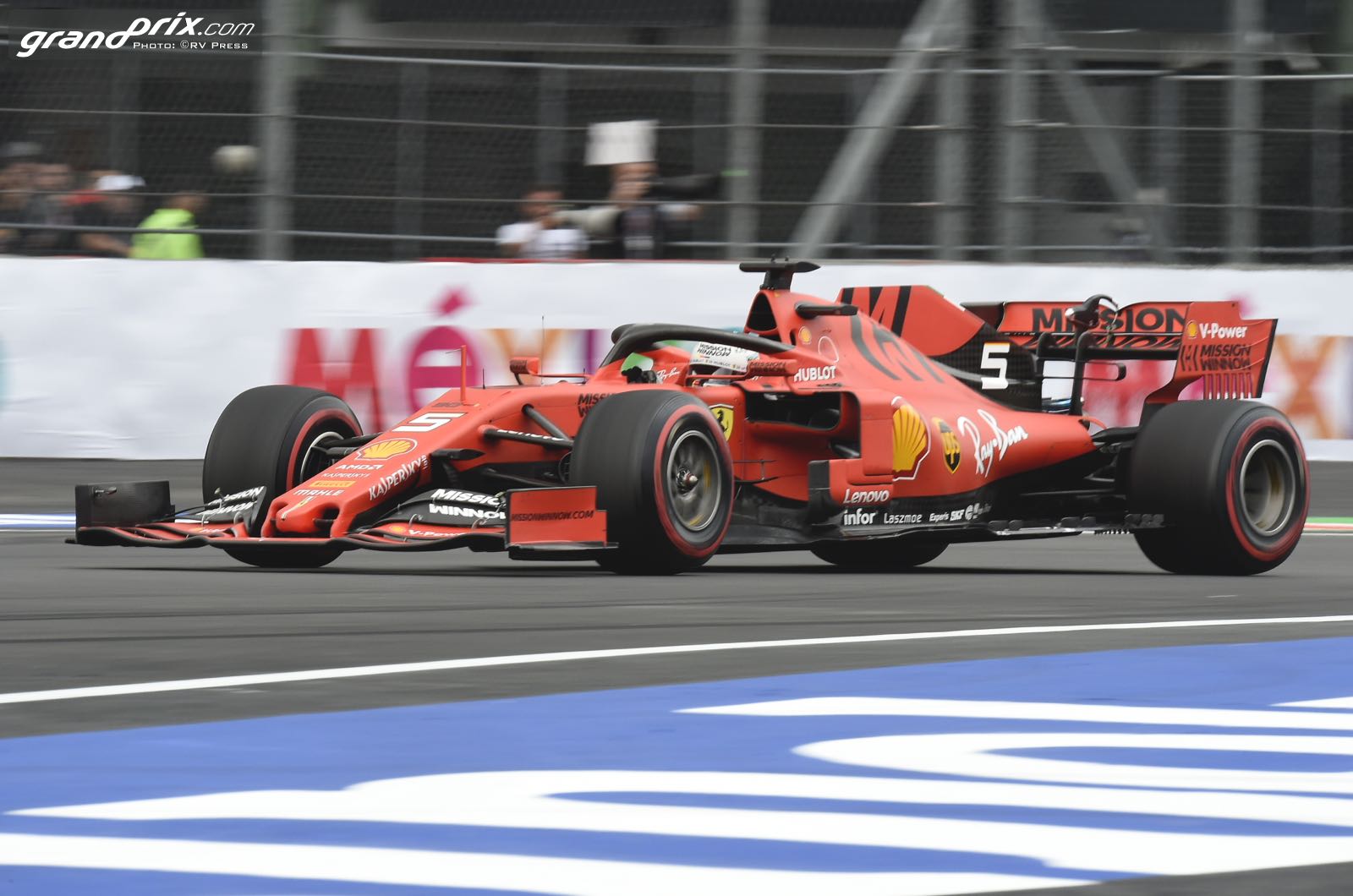 © RV Press
By Dan Knutson in Mexico City
Ferrari has only won the Mexican Grand Prix twice – in 1970 and 1990. While lap times in Friday's practice sessions aren't all that representative, that fact that Sebastian Vettel topped Free Practice 2 was a good omen for Ferrari taking the victory in Sunday's race.
The line-up for the weekend was: Mercedes – Lewis Hamilton and Valtteri Bottas; Ferrari – Vettel and Charles Leclerc; Red Bull TAG Heuer – Max Verstappen and Alexander Albon; Renault – Daniel Ricciardo and Nico Hulkenberg; Haas Ferrari – Romain Grosjean and Kevin Magnussen; McLaren Renault – Carlos Sainz and Lando Norris; Racing Point Mercedes – Sergio Perez and Lance Stroll; Alfa Romeo Ferrari – Kimi Raikkonen and Antonio Giovinazzi; Toro Rosso Honda – Daniil Kvyat and Pierre Gasly; Williams Mercedes – George Russell and Robert Kubica.
Hamilton went quickest in FP1 with a time of 1:17.327.
The fans were more concerned with their hero Perez, who was 17th in FP1.
"The race in Mexico is a hugely important weekend for me," Perez said. "It's my home race and I always feel very proud to see Formula 1 back in Mexico. We've just had the notice that the race contract has been extended for another three years, which is great news for the sport and for Mexico. Everybody tells me how much they love the race – my colleagues, the media and the fans. It's our chance to show everybody the Mexican way of life and how much we love sports."
Giovinazzi, Raikkonen and Russell were the first out on track.
The ambient temperature at the start of the 90-minute session was 68 degrees Fahrenheit (20 degrees Centigrade) and the track temperature was 95 degrees Fahrenheit (35 degrees Centigrade).
Vettel set the early mark with a time of 1:18.697 on the medium tires. Teammate Leclerc, on the same compound, slid ahead with a 1:18.183. But Vettel responded with a 1:17.760. Then Leclerc spun while braking for Turn 1, but didn't hit anything.
Albon was not so fortunate when he spun into the barriers at Turn 8 and brought out the red flags 15 minutes into FP2. The Red Bull suffered damage to the right front of the car.
The order at this time was Vettel, Leclerc, Verstappen, Sainz, Norris, Raikkonen, Bottas, Gasly, Magnussen and Ricciardo.
It took a while to get the car taken away, and so there were 62 minutes left when the session was restarted.
Bottas had a spin at Turn 12 and continued. Next, Gasly took over second place with his lap of 1:18.003.
But it was Verstappen's next lap that garnered the attention as it was an identical to Vettel's recent 1:17.960, so they were one/two with Vettel ahead because he had posted the time first.
Leclerc, on the soft Pirelli compound slicks, turned his own set of numbers as his new lap of 1:17.072 was 0.888 of a second faster than Vettel and Verstappen.
But the lap times continued to fall as Vettel retook the lead with a 1:16.607. Other drivers were doing their own fast laps on the Pirelli soft tires. Just before the midpoint of FP2 the order was: Vettel, Leclerc, Verstappen, Gasly, Hamilton, Sainz, Perez, Ricciardo, Bottas and Raikkonen.
Then Verstappen improved to a 1:16.722 to claim second place. The soft compound slicks were showing a tendency to overheat if the drivers attempted to get a second fast lap out of them.
The order in the top 10 continued to shift, but the top three remained as Vettel, Verstappen and Leclerc. Behind them came Bottas, Hamilton, Kvyat, Gasly, Sainz, Hulkenberg and Stroll with 35 minutes remaining.
In the last 30 minutes the teams were into their long runs, so the only change in the top 10 was Norris displacing Stroll. Perez wound up in 12th place, one spot behind teammate Stroll.