Mexican GP 2018
OCTOBER 27, 2018
Qualifying Report - Denied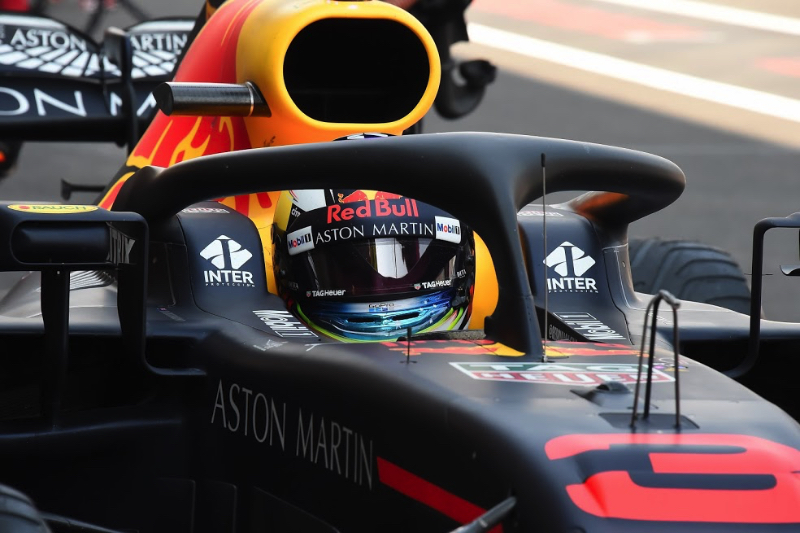 © RV Press
By Dan Knutson
Daniel Ricciardo took the pole for the Mexican Grand Prix and denied his Red Bull teammate Max Verstappen from getting a record. Verstappen could have become the youngest ever Formula 1 driver to win a pole at age 21 years and 27 days. So Sebastian still holds the record at 21 years and 73 days when he earned the pole for the 2008 Italian Grand Prix.
The line-up for the weekend was: Mercedes – Lewis Hamilton and Valtteri Bottas; Ferrari – Vettel and Kimi Raikkonen; Red Bull TAG Heuer – Ricciardo and Verstappen; Racing Point Force India Mercedes – Sergio Perez and Esteban Ocon; Williams Mercedes –Lance Stroll and Sergey Sirotkin; Renault – Nico Hulkenberg and Carlos Sainz; Toro Rosso Honda – Brendon Hartley and Pierre Gasly; Haas Ferrari – Romain Grosjean and Kevin Magnussen; McLaren Renault – Fernando Alonso and Stoffel Vandoorne; Sauber Ferrari – Marcus Ericsson and Charles Leclerc.
Toro Rosso had reverted to an old spec Honda engine in Gasly's car, so he would start at the back of the grid. Grosjean had been handed a three-place grid penalty for causing a first lap collision in the United States Grand Prix.
Pirelli's slick compounds for the weekend were the super soft, ultra soft and hyper soft.
Verstappen was fastest in the practice session earlier in the day with a time of 1:16.284.
QUALIFYING 1
The ambient temperature at the start of qualifying was 64 degrees Fahrenheit (18 degrees Centigrade) and the track temperature was 77 degrees Fahrenheit (25 degrees Centigrade). There was a 40 percent chance of rain.
Gasly was first on track in Q1 which lasted 18 minutes.
Vettel punched in the early fast mark with a record time of 1:16.089. That put him ahead of Raikkonen, Hamilton and Bottas.
Halfway through the session Ricciardo posted a 1:15.866, and Verstappen beat that with his 1:15.756. Vandoorne was 15th and on the cutoff line.
Having been out on the ultra soft tires, the Mercedes drivers switched to the hyper soft and Bottas moved into the lead with a time of 1:15.580, just 0.093 of second quicker than Hamilton.
It got very busy in the final three minutes. Grosjean was 15th and on the bubble with Ericsson 14th and Vandoorne 16th.
The five drivers who were eliminated at the end of Q1 were: Grosjean, Vandoorne, Magnussen, Stroll and Sirotkin.
The fastest 15 drivers who moved on to Q2 were: Bottas, Hamilton, Verstappen, Ricciardo, Vettel, Perez, Ocon, Raikkonen, Hulkenberg, Ericsson, Sainz, Gasly, Alonso and Leclerc.
QUALIFYING 2
The question for this session was which drivers would try to set their best times on the ultra soft Pirellis because then they could use those to start the race if they qualified in the top 10. The ultra soft tires would give them a longer range before their first pit stops in the race compared to the hyper softs.
The answer was all six Mercedes, Red Bull and Ferrari drivers.
Hamilton turned a 1:15.644. Verstappen beat that with his 1:15.640. Vettel was third ahead of Ricciardo, Bottas, Raikkonen, Hulkenberg and Sainz.
Ericsson was tenth with Hartley 11th and Leclerc ninth with five minutes remaining.
Once again it got very busy in the last couple of minutes.
When it was over, the five drivers who were eliminated at the end of Q2 were: Ocon, Alonso, Perez, Hartley, and Gasly.
The fastest 10 drivers who moved on to Q3 were: Verstappen, Hamilton, Vettel, Ricciardo, Raikkonen, Hulkenberg, Sainz, Leclerc and Ericsson.
QUALIFYING 3
Q3 lasted 12 minutes. All the drivers were on the hyper soft tires for this session.
The Ferraris were first out followed by the Mercedes drivers and then the Renault pair.
Vettel took the lead with a 1:14.970. Hamilton was 0.052 of a second slower. Then Verstappen grabbed first with a 1:14.785.
So after the first runs the order was Verstappen, Vettel, Hamilton, Ricciardo, Bottas, Raikkonen, Leclerc, Hulkenberg, Sainz and Ericsson.
It all came down to the final run on the final set of new tires. Raikkonen got out first. Verstappen and Hamilton were last out.
Ricciardo slammed in a lap of 1:14.759, which was 0.026 of a second quicker than Verstappen. Hamilton was third ahead of Vettel, Bottas, Raikkonen, Hulkenberg, Sainz, Leclerc and Ericsson.