Mexican GP 2017
OCTOBER 30, 2017
Race Analysis - The Crunch: How a crunching moment made Hamilton champion and Verstappen a winner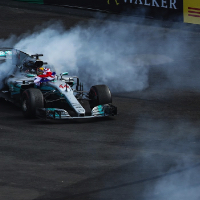 By Dan Knutson in Mexico City
Lewis Hamilton clinched his fourth world championship due to the circumstances created by a crunching moment with rival Sebastian Vettel just after the start that also insured that Max Verstappen would go on to win the race. Here's how it happened.
50 OF THE BEST
Ferrari driver Vettel needed to finish second or better in the race to keep his championship hopes alive. The best place to start that endeavor was from pole position - the 50th of his Formula 1 career. Verstappen (Red Bull) and Hamilton (Mercedes) qualified second and third.
NO SING ALONG
The last time Vettel was on pole and Verstappen was alongside him on the grid was in Singapore. They collided just after the start. They didn't sing along to the same hymnbook in Mexico as they both got away cleanly.
LONG RUN
It's a long run from the start line to Turn 1 at the Autodromo Hermanos Rodriguez. That created the opportunity for Vettel, Verstappen and Hamilton to get side by side.
AHEAD
Verstappen emerged ahead of the group as they raced through the first turns, going around Vettel on the outside of Turn 1.
WAIT FOR IT
Vettel and Hamilton hadn't collided at the start, but didn't have to wait long as Vettel tagged Verstappen with his front wing coming out of Turn 1.
WORSE TO COME
Hamilton slid into second place, but then Vettel hit him, the front wing of the Ferrari crumpling against the right rear tire of the Mercedes as they exited Turn 3.
THE PIT OF CHAMPIONS
The two world champions headed for the pits for new tires and new noses. That put them at the back of the pack.
NO ACTION NECESSARY
"Did he hit me deliberately?" Hamilton asked of Vettel. No. The stewards examined the evidence and declared that "no action" was necessary.
BYE BYE MAX
Verstappen now had a clear lead over Valtteri Bottas (Mercedes) and Esteban Ocon (Force India). They and the rest of the drivers could say good bye to Max as he sailed away to lead all 71 laps and win for the third time in his career.
"I was confident that the car was going to be good," he said, "because just looking at the long-run pace, it was very easy for us to do quick lap times. We just had to make sure the balance of the car was correct to be able to sustain that."
WHAT REALLY MATTERS
Before the start there was a minute's silence to honor the victims of the Mexico City earthquakes in September. The fans also honored the victims, the rescue workers and Mexico with a show of solidarity on lap 19.
WORRYING FAILURES
A number of drivers with Renault power units, including Verstappen's teammate Daniel Ricciardo, had problems during the race. That was a worry to Verstappen who turned down his Renault engine to conserve it.
CHAMPION LAPPED
Hamilton was so far behind and having difficulty getting through traffic, and Verstappen was moving along nicely in the lead. Verstappen lapped Hamilton on lap 21.
MAMA MIA!
Vettel did everything he could to get up to second place. But he hit the wall when he moved into fourth and Ferrari team told him that teammate Kimi Raikkonen, in third, was 23 seconds ahead.
"Mama mia!" Vettel exclaimed. "That's a little bit too much."
HANGING ABOUT
Hamilton wasn't hanging about either. Early on he had trouble getting past slower cars, but then he got into the groove as he climbed from 20th to ninth. That last spot came only after a fierce fight with McLaren driver Fernando Alonso.
CRUISING
Out front, Verstappen had everything under control. "I was cruising," he said afterwards.
CAN'T KEEP UP
Bottas spent the whole race in second place.
"It was quite straightforward after the incident after Turn 2, 3. I managed to get away with it and was in P2," he said. "We tried to keep up with Max but we couldn't. At some point we had to manage the brakes with the temperatures a little bit, same with the engine, so lost a bit of time with that."
A LONELY THIRD
Raikkonen dropped from fifth to ninth on the first lap but worked his way back to a lonely third.
"The initial start was not too bad," he said, "but then the cars in front formed like one lane, and I go to the left side of it and got zero tow and the cars behind me got a tow. I lost many places in the first two corners and then obviously had to wait because the cars in front of us stopped, and then I had enough speed to jump them, but we were so far behind there was nothing we could do."
DISAPPOINTED
"It's disappointing obviously, but it's not that important, what we have done today," Vettel said. "What's more important is what Lewis has done. He's done a superb job all year around and deserves to win the title, so congratulations to him and it's not about anybody else today. It's about him. It's his day."
NO MAN'S LAND
So Hamilton wrapped up his fourth world championship from behind rather than by racing out front.
"I try not to leave any stone unturned," he said. "That's really the philosophy the whole team has had. As a driver really, trying to always raise the bar. Today was the most unusual...being 40 seconds behind is horrible, it's like being in No Man's Land, but you just have to keep thinking forwards to the future. I had no idea what was going to happen in the championship. I was just thinking about getting further up and catching and getting involved in the race."
THE ELITE FIVE
No matter how he did it, Hamilton is now a four-time world champion. That puts him in the elite company of the other drivers who have won four or more crowns: Vettel, Alain Prost, Juan Manuel Fangio and Michael Schumacher.