Mexican GP 2017
OCTOBER 28, 2017
Qualifying Report - Vettel turns 50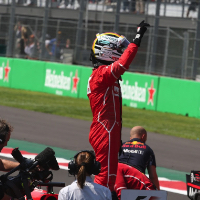 By Dan Knutson in Mexico City
Max Verstappen was fast in practice and the initial qualifying runs for the Mexican Grand Prix, but when it counted Sebastian Vettel rammed in a quick lap to earn the 50th pole position of his Formula 1 career.
The lineup for the weekend was: Mercedes - Lewis Hamilton and Valtteri Bottas; Red Bull TAG Heuer - Daniel Ricciardo and Verstappen; Ferrari - Vettel and Kimi Raikkonen; Force India Mercedes - Sergio Perez and Esteban Ocon; Williams Mercedes - Felipe Massa and Lance Stroll; McLaren Honda - Fernando Alonso and Stoffel Vandoorne; Renault - Nico Hulkenberg and Carlos Sainz; Toro Rosso Renault - Brendon Hartley and Pierre Gasly and; Haas Ferrari - Romain Grosjean and Kevin Magnussen; Sauber Ferrari - Marcus Ericsson and Pascal Wehrlein.
QUALIFYING 1
The ambient temperature at the start of qualifying was 68 degrees Fahrenheit (20 degrees Centigrade) and the track temperature was 109 degrees Fahrenheit (43 degrees Centigrade).
Missing from the action was Gasly. His Toro Rosso had broken down early in FP3, and it could not be repaired in time for qualifying.
Verstappen had been the fastest of the weekend so far, with a time of 1:17.113 set in FP3 using the ultra soft Pirellis. The super soft and soft compounds were also available.
There was a mix of super soft and ultra soft tires on the cars as the drivers went out for their initial runs in the 18-minute session.
Vettel, in the supers, started things off with a 1:18.045. Hamilton and Bottas, on the ultras, beat that with their 1:17.518 and 1:17.578 respectively.
Halfway through the session the top six were Hamilton, Bottas, Verstappen, Vettel, Raikkonen and Perez. Vandoorne was 15th and on the bubble with Wehrlein 14th and Magnussen 16th. It didn't stay that way long as Alonso popped up to fifth.
With five minutes to go, Wehrlein was 15th, Hartley 14th and Grosjean 16th.
While the faster drivers had nothing to worry about, some of those further down the order had one final go.
The five drivers who were eliminated at the end of Q1 were: Ericsson, Wehrlein, Magnussen, Grosjean and Gasly.
The fastest 15 drivers who moved on to Q2 were: Hamilton, Bottas, Verstappen, Vettel, Alonso, Perez, Raikkonen, Ricciardo, Hulkenberg, Ocon, Sainz, Massa, Vandoorne, Hartley and Stroll.
QUALIFYING 2
Q2 lasted 15 minutes. Vandoorne was out first, followed by the Mercedes drivers. Ultra soft tires were on call.
Bottas did a 1:17.161 while Hamilton had a slow lap. Vettel beat that with a 1:17.058. Hamilton then came around to stop the clocks at 1:17.035.
Hartley, meanwhile, pulled to a stop on track at Turn 6 with smoke coming from the back of the car. "No power," he radioed.
Now Verstappen was on his ultra run, and did a lap in 1:16.524.
That made the order Verstappen, Hamilton, Vettel, Bottas, Raikkonen and Ricciardo.
Five drivers had yet to do a run, so all would be decided in the final few minutes about who would make the cut to Q3.
The McLaren drivers, who would both have engine grid penalties, did not go out at all in Q2.
The five drivers who were eliminated at the end of Q2 were: Massa, Stroll, Hartley, Alonso and Vandoorne.
The fastest 10 drivers who moved on to Q3 were: Verstappen, Vettel, Hamilton, Bottas, Raikkonen, Ricciardo, Sainz, Hulkenberg, Ocon and Perez.
QUALIFYING 3
As in Q2, everybody used the ultra soft tires for Q3 which lasted 12 minutes.
Hamilton turned in a 1:16.934. Vettel a 1:16.833. Verstappen a 1:16.574.
So the order was that in reverse, followed by Ricciardo, Ocon, Sainz, Perez, Raikkonen and Hulkenberg. Bottas had aborted his lap.
It all came down to the final three minutes. Verstappen went out first and did a slow lap. Vettel was quick, turning a 1:16.488 to take the pole. Verstappen and Ricciardo failed to improve.
So Vettel earned his 50th pole. Verstappen ended up second ahead of Hamilton, Bottas, Raikkonen, Ocon, Ricciardo, Hulkenberg, Sainz and Perez.