Mexican GP 2017
OCTOBER 28, 2017
Practice 3 Report - Max Record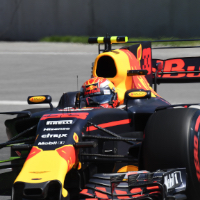 By Dan Knutson in Mexico City
Max Verstappen set a new albeit unofficial lap record at the Autodromo Hermanos Rodriguez when he clocked time of 1:17.113 in his Red Bull. He narrowly beat out Lewis Hamilton who was 0.075 of a second slower I his Mercedes.
The lineup for the weekend was: Mercedes - Hamilton and Valtteri Bottas; Red Bull TAG Heuer - Daniel Ricciardo and Verstappen; Ferrari - Sebastian Vettel and Kimi Raikkonen; Force India Mercedes - Sergio Perez and Esteban Ocon; Williams Mercedes - Felipe Massa and Lance Stroll; McLaren Honda - Fernando Alonso and Stoffel Vandoorne; Renault - Nico Hulkenberg and Carlos Sainz; Toro Rosso Renault - Pierre Gasly and Brendon Hartley; Haas Ferrari - Romain Grosjean and Kevin Magnussen; Sauber Ferrari - Marcus Ericsson and Pascal Wehrlein.
Ricciardo set the fastest time on Friday, a 1:17.801 on the ultra soft Pirelli tires. The other compounds available were the super soft and soft slicks.
"I still feel we can improve a bit," he said after FP2, "and we know Mercedes always find more on a Saturday when it counts. I think we still need to find a few tenths to stay in the fight, but we will work on that tonight. It's nice not having to change much on the car because we don't seem too far off.
"It's always tricky here with the low grip and it's very easy to make mistakes which you could see today with all the spins."
Wehrlein and Ericsson were the first out in FP3 on a cool, sunny morning.
The ambient temperature at the start of the 60-minute session was 55 degrees Fahrenheit (13 degrees Centigrade) and the track temperature was 79 degrees Fahrenheit (26 degrees Centigrade). There was zero percent chance of rain.
Gasly was in trouble early as he went off at Turn 13 and stopped.
"Engine problem," he radioed, adding that he had lost power. The team gave him a set of instructions to try an restart the engine to no avail.
This created an extended yellow flag zone in the area so most drivers stayed in the pits until the car was removed by the marshals.
Raikkonen set the early pace with a lap of 1:18.925 on the super soft tires.
Meanwhile, 15 minutes into the session, the Red Bull and Mercedes drivers had yet to do a lap. When they did get going, Hamilton used the ultras to clock a 1:18.081. Verstappen, on the super softs, was just 0.133 of a second slower.
But then Bottas, using the ultras, eclipsed them both with his time of 1:17.963 followed by a 1:17.681 and a 1:17.537. A series of new (unofficial) track records. Hamilton improved to a 1:17.954 and then a 1:17.835.
Verstappen, Vettel, Sainz and Perez rounded out the top six.
The session has nearly half over before Ricciardo finally made an appearance. He did a series of laps on the super soft Pirellis and soon moved up to fourth place.
Some 20 minutes remained when the drivers began doing their qualifying simulations on the ultra soft tires. Vettel climbed to first with a 1:17.230, beating Bottas; 1:17.496. Raikkonen moved into third.
Then Verstappen had his first run on the ultras and posted a 1:17.223. Ricciardo's ultra lap yielded a 1:17.361 while Verstappen improved to a 1:17.113.
The order with 13 minutes remaining was Verstappen, Vettel, Bottas, Ricciardo, Raikkonen, Hamilton, Ocon and Sainz. Moments later Hamilton moved into second with a 1:17.188.
Verstappen remained the fastest as the session wound down. The final order of the top 10 was: Verstappen, Hamilton, Vettel, Bottas, Ricciardo, Raikkonen, Perez, Ocon, Sainz and Hulkenberg.