Mexican GP 2017
OCTOBER 27, 2017
Practice 2 Report - Fast Man Dan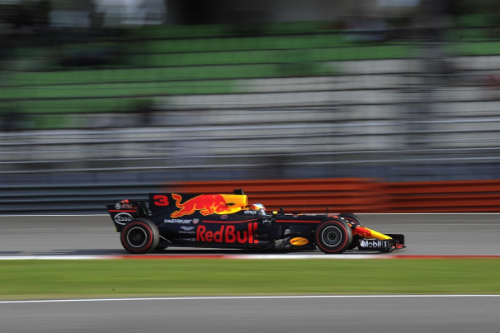 © RV Press
By Dan Knutson in Mexico City
Daniel Ricciardo clocked the fastest lap time in Free Practice 2 for the Mexican Grand Prix, edging out Mercedes driver Lewis Hamilton and his own Red Bull teammate Max Verstappen.
The lineup for the weekend was: Mercedes - Lewis Hamilton and Valtteri Bottas; Red Bull TAG Heuer - Daniel Ricciardo and Max Verstappen; Ferrari - Sebastian Vettel and Kimi Raikkonen; Force India Mercedes - Sergio Perez and Esteban Ocon; Williams Mercedes - Felipe Massa and Lance Stroll; McLaren Honda - Fernando Alonso and Stoffel Vandoorne; Renault - Nico Hulkenberg and Carlos Sainz; Toro Rosso Renault - Pierre Gasly and Brendon Hartley; Haas Ferrari - Romain Grosjean and Kevin Magnussen; Sauber Ferrari - Marcus Ericsson and Pascal Wehrlein.
Bottas went quickest in FP1, clocking a 1:17.824 on Pirelli's ultra soft slicks. The other two compounds available were the super soft and soft.
The Red Bull and Ferrari drivers only used the super soft tires in FP1, so it remained to be seen what pace they had on the ultra softs.
Vandoorne had missed most of FP1 because the engine needed to be changed on his McLaren, but he was first out in FP2.
The ambient temperature at the start of the 90-minute session was 72 degrees Fahrenheit (22 degrees Centigrade) and the track temperature was 115 degrees Fahrenheit (46 degrees Centigrade).
Very early on, Grosjean had a lurid slide coming out of the final turn. Bits of car and tire flew off as his left rear tire delaminated. And the session was red flagged so the track could be cleaned.
One hour and 16 minutes of FP2 remained when the session was restarted. Vandoorne's woes were not over as his car stopped at pit exit with a loose wheel.
Next, Hamilton spun coming out of Turn 11. He got going without hitting anything.
Verstappen became the first to get below 1:19 with his lap of 1:18.808 on the soft tires.
Raikkonen, also on the softs, was 0.097 of a second slower. His Ferrari teammate radioed that something had burst, and he was told to come slowly back to the pits.
"I think it might be the extinguisher," he radioed. It was and it soaked his racing suit.
More spins: this time Sainz in Turn 3 and Stroll in Turn 5.
Just before the one-third point of FP2 Ricciardo used the softs to get down to a 1:18.769. The order was now Ricciardo, Verstappen, Raikkonen, Alonso, Bottas and Vettel. Hamilton had yet to set a time as the team checked over his car after that spin.
Now on the move, Hamilton clocked a 1:18.077 on the ultras. He then lowered that to 1:17.932. That was 0.210 of a second faster than Raikkonen on the same rubber.
Just before the halfway mark, Ricciardo shot to the top with a 1:17.801 on the ultra soft tires.
Others were doing their ultra runs now, including Vettel who went third behind Ricciardo and Hamilton with a time of 1:18.051. But not for long as Verstappen pushed Vettel down to fourth.
Now, with 40 minutes remaining and most drivers have done their quick runs, the order was Ricciardo, Hamilton, Verstappen, Vettel, Raikkonen, Bottas, Perez, Hulkenberg, Alonso and Sainz.
As the drivers commenced to do their long runs on full fuel loads, and the top six remained unchanged. But there was some shuffling further back, and so the top 10 at the end of FP2 were: Fast Man Dan Ricciardo, Hamilton, Verstappen, Vettel, Raikkonen, Bottas, Alonso, Perez, Hulkenberg and Ocon.