Mexican GP 2017
OCTOBER 27, 2017
Practice 1 Report - Slippery start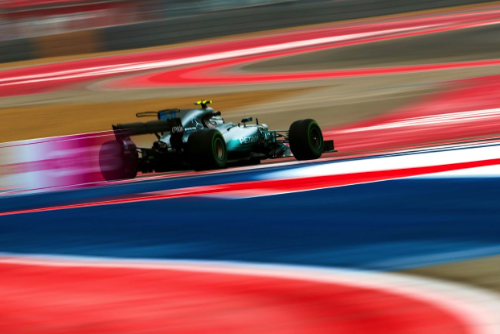 © RV Press
By Dan Knutson in Mexico City
The rarely used Autodromo Hermanos Rodriguez was slippery and dusty as Free Practice 1 for the Mexican Grand Prix got underway. The session ended with Valtteri Bottas on top of the times while his Mercedes teammate Lewis Hamilton, who did not get in a clean fast lap, wound up second.
The lineup for the weekend was: Mercedes - Hamilton and Bottas; Red Bull TAG Heuer - Daniel Ricciardo and Max Verstappen; Ferrari - Sebastian Vettel and Kimi Raikkonen; Force India Mercedes - Sergio Perez and Esteban Ocon; Williams Mercedes - Felipe Massa and Lance Stroll; McLaren Honda - Fernando Alonso and Stoffel Vandoorne; Renault - Nico Hulkenberg and Carlos Sainz; Toro Rosso Renault -Pierre Gasly and Brendon Hartley; Haas Ferrari - Romain Grosjean and Kevin Magnussen; Sauber Ferrari - Marcus Ericsson and Pascal Wehrlein.
Daniil Kvyat was once again put on the sidelines as Toro Rosso went with Hartley and Gasly for the Mexican round.
Other driver changes, albeit for FP1 only, were Alfonso Celis in Ocon's Force India; Charles Leclerc in Ericsson's Sauber; Sean Gelael in Gasly's Toro Rosso and Antonio Giovinazzi in Grosjean's Haas.
Alonso and Ricciardo were first out on the 2.674-mile (4.304 km) 17-turn Autodromo Hermanos Rodriguez.
"The track is quite fun to drive and being on those long straights is special," local hero Perez said. "Because of the altitude, even though you're running high wings, you still achieve very high speeds and it's really hard to stop the car under braking - in that sense it feels like a bit like Monza.
"I am lucky I get to race in my country in front of my fans. Their support means so much to me and it's inspiring to see fans waving the Mexican flag in every grandstand. I really want to give them a special result to celebrate."
The ambient temperature at the start of the 90-minute session was 61 degrees Fahrenheit (16 degrees Centigrade) and the track temperature was 82 degrees Fahrenheit (28 degrees Centigrade).
Pirelli's slick tire compounds for the weekend were: ultra, super soft and soft.
The drivers were content to do install laps on the slippery circuit, and it was not until 15 minutes into the session that someone - Giovinazzi - did some flying laps.
A couple more drivers eventually headed out, including Bottas who clocked a 1:21.212 followed by a 1:20.354 on the super softs.
Hamilton won the pole last year with a time of 1:18.704.
The track started to get busy 25 minutes into FP1, and Hamilton got down to a 1:19.815 using the super soft tires. Bottas beat that with a 1:19.614. Vettel got up to third with his 1:19.892.
Now everyone but Vandoorne was circulating, and Hamilton lowered his PB to 1:19.373 and while Bottas improved to a 1:19.410. Verstappen was not third at 1:19.551 on the soft tires.
Newcomer Hartley went off and stopped at Turn 4 when his engine stopped. He soon got going again.
As the track got cleaned up the drivers started to go faster. Vettel grabbed first at 1:19.041 followed by a 1:18.824 using the super soft Pirellis.
At the 40 minute break the top 10 were: Vettel, Bottas, Verstappen, Hamilton, Raikkonen, Perez, Ricciardo, Massa, Alonso and Sainz.
Bottas was the only driver on track when the action resumed. He had a set of the ultra softs fitted as he turned a 1:17.824. That was one second faster than Vettel's time on the super softs.
Vandoorne was done for the session as his McLaren required yet another Honda engine change.
Hamilton's somewhat messy ultra run put him second with a 1:18.290.
Just before the one-hour mark, Raikkonen spun at Turn 7, and then the red flags came out as Celis spun on the slippery track and crashed at Turn 16.
The top 10 were: Bottas, Hamilton, Verstappen, Ricciardo, Vettel, Raikkonen, Alonso, Hulkenberg, Sainz and Perez. While the Mercedes drivers had used the ultras, the Ferrari and Red Bull drivers had so far only used the super soft tires.
After an eight-minute stoppage the session restarted with 23 minutes remaining.
Most drivers were soon back in action. While Bottas remained fastest with Hamilton second, there was some reshuffling further down in the top 10. The final order was Bottas, Hamilton, Verstappen, Ricciardo, Vettel, Raikkonen, Perez, Alonso, Massa and Hulkenberg.