Mexican GP 2016
OCTOBER 30, 2016
Race Notes -Hamilton wins in Mexico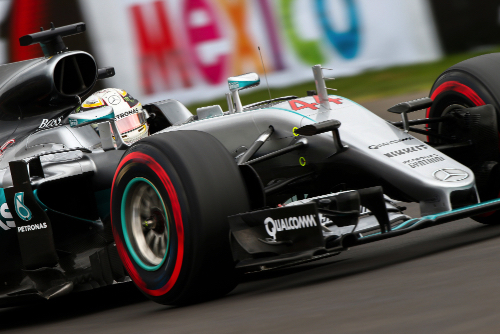 © Active Pictures
By Mark Karp
Lewis Hamilton won the Mexican Grand Prix today over his team mate Nico Rosberg in second, 8.3 seconds behind
Max Verstappen finished third on track, but is handed a five-second penalty after the finish, and drop two positions.
Sebastian Vettel finishes third in his Ferrari in the final standing, and takes his place on the podium.
The win is Hamilton™s 51st career win, tying him with Alain Prost at second most wins on the all-time list, now only behind Michael Schumacher with 91 career wins. It is Hamilton™s eighth win of the season. Mercedes GP becomes the first team to ever take 17 wins in a season.
Hamilton closes Rosberg™s world championship lead to 19 points with two more races remaining.
Daniel Ricciardo (20.8s) in the Red Bull finished in fourth place, his team mate Max Verstappen, after his 5-second penalty at the finish ended classified fifth, 21.3s behind, followed by Kimi Raikkonen (49.3s) in the second Ferrari in sixth, Nico Hulkenberg (58.8s) in the Force India-Mercedes in seventh, Valtteri Bottas (65.6s) in the Williams-Mercedes was eighth, his team mate Felipe Massa (76.2s) was ninth and Sergio Perez (76.7s) in the second Force India finished in the final points position.
Before the start, there was some talk that showers might be possible before the end of the grand prix, but at the start the weather looks good.
If Hamilton finishes in 10th place or lower, and Rosberg wins, he can clinch the drivers championship today.
Hamilton starts on pole with his team mate Rosberg alongside in the front row - both starting on soft tyres. Verstappen and Ricciardo start on row two, starting on super soft tyres and hoping to get a jump on the Mercedes GP drivers ahead of them. Hulkenberg in the Force India and Raikkonen in the Ferrari starting on row three. Vettel and Bottas start on row four and Massa and Carlos Sainz round out the top ten. The Ferrari™s also will start of soft tyres, the rest of the top ten on super softs.
The drivers starting on soft tyres are expecting to make one stop - those starting on super soft tyres are expected to stop twice. Nasr is the only driver to start on medium tyres.
Romain Grosjean will start his Haas from the pitlane.
At the appointed time, the grid came around the formation lap and lined up for the start - the lights went out and the race began with polesitter Hamilton takes the lead, but locks up in the first corner and cuts the first corner followed by Rosberg - who touches Verstappen but continues but stays in the lead. Marcus Ericsson and Pascal Wehrlein make contact. The virtual safety car is deployed.
The cars come around and the safety car is deployed. Vettel reports to the team that he thinks he has a punctured tyre - but doesn™t pit. Ricciardo pits for medium tyres
At lap 3 the race resumes with Hamilton leading Rosberg, Verstappen, Hulkenberg, Raikkonen, Massa, Bottas and Vettel.
Vettel passes Bottas into the first corner.
Sainz reports that his gearbox is failing.
On lap 5 Kevin Magnussen passes Jenson Button for 12th. Magnussen is battling with Fernando Alonso for 11th.
Hamilton sets fastest lap and has a two second lead over Rosberg.
On lap 7 Ricciardo passes Esteban Gutierrez for 14th place.
On lap 9 Ricciardo passes Button for 13th. Ricciardo then passes Magnussen for 12th place.
At lap 10 Hamilton leads Rosberg by 3.3 seconds, followed by Verstappen (5.0s), Hulkenberg (6.9s), Raikkonen (8.0s), Massa (11.2s), Vettel (12.0s), Bottas (14.5s), Perez (15.5s) and Sainz (21.1s) in tenth place.
Alonso and Sainz are being investigated for making contact.
On lap 12 Grosjean pits and switches to medium tyres.
The nexr lap Verstappen pits from third place and changes to medium tyres, and rejoins in 11th.
Vettel chases Massa for fifth place, Bottas and Perez following them closely.
Vettel tells Ferrari, œhe™s stupid, he™s slowing himself down by fighting so hard.
On lap 15 Hulkenberg pits from fourth for medium tyres. Massa is also in for medium tyres.
Sainz has been handed a 5-second penalty for forcing Alonso off track.
On lap 17 leader Hamilton, with a 5.7s advantage pits for medium tyres and rejoins in fourth.
On lap 19 Hamilton sets fast lap at 1m22.993 seconds. Bottas pits for medium tyres.
On lap 20 Rosberg pits from the lead for medium tyres in rejoins behind Hamilton and in front of the Red Bulls.
Raikkonen pits as well for medium tyres. Vettel leads by 2,6 seconds, but is yet to pit.
On lap 22 Ricciardo lets Verstappen by for fourth place.
Mecedes tells Rosberg that they only got half the front wing adjustment than they planeed to make, and that has a little bit more front wing.
Bottas, Massa and Perez all battle for eighth place.
On lap 25 Perez makes a move on Massa in the first corner, but cannot make it stick.
At lap 25 Vettel leads Hamilton by 4.1 seconds, followed by Rosberg (9.2s), Verstappen (12.4s), Ricciardo (14.7s), Raikkonen (20.2s), Hulkenberg (24.6s), Bottas (36.5s), Massa (40.2s) and Perez (41.3s) in tenth place.
Perez reports to the team that he thinks he pitted too late and is now trapped behind the two Williams.
Perez continues to chase Massa for ninth place.
On lap 32 Vettel finally pits from the lead and switches to medium tyres - presumably he will try to run to the finish, rejoining behind Raikkonen in sixth place.
Verstappen has closed to 1.5 seconds behind Rosberg.
At lap 35 Hamilton leads Rosberg by 4.3 seconds, followed by Verstappen (5.6s), Ricciardo (10.0s), Raikkonen (15.8s), Vettel (18.3s), Hulkenberg (25.8s), Bottas (37.8s), Massa (44.3s), and Perez (45.5s) in tenth place.
Red Bull tells Verstappen œmake sure you keep it clean behind Rosberg for now - you never know what might happen later.
Bottas sets the fastest ever speed trap figure in an F1 race at 372.5 kmh.
Mercedes tells Hamilton that the track temps are dropping and everybody™s lap times are improving.
On lap 40 Perez tries another attempt to pass Massa, but is unable to.
On lap 42 Rosberg sets fast lap at 1m22.792s.
On lap 45 Raikkonen pits from fifth for another set of medium tyres - he rejoins in seventh.
On lap 47 Raikkonen sets fast lap at 1m22.512s. Alonso pits for soft tyres.
Verstappen closes to 0.5 seconds behind Rosberg in second place.
Rosberg locks his brakes, and Verstappen pounces the next corner diving down the inside of Rosberg but overdoes it and slides wide - Rosberg retaking the position.
On lap 51 Ricciardo pits from fourth and switches to soft tyres and rejoins in seventh.
Daniil Kvyat passes Gutierrez on the outside for 18th place.
On lap 52 Ricciardo sets fast lap at 1m22.252 seconds. Ricciardo sets another on the next lap at 1m21.134 seconds.
Verstappen runs over a bit of bodywork on the track, but continues.
On lap 54 Ricciardo sets another fast lap at 1m22.911
Kvyat is handed a 5-second penalty for his pass on Gutierrez.
At lap 55 Hamilton leads Rosberg by 7.1 seconds, followed by Verstappen (10.0s), Vettel (16.4s), Ricciardo (28.4s), Hulkenberg (38.5s), Raikkonen (39.0s), Bottas (53.3s), Massa (63.4s) and Perez (64.8s) in tenth place.
Vettel, while passing backmarkers tells Ferrari, œwhat™s wrong? Get out of the way - easy.
Raikkonen chases Hulkenberg for sixth place.
Button passes Jolyon Palmer for 12th place.
Vettel closes to 2.5 seconds behind Verstappen in third.
At lap 65 Hamilton continues to lead his team mate Rosberg by 9.1 seconds, followed by Verstappen (13.2s), Vettel (14.2s), Ricciardo (19.2s), Hulkenberg (45.3s), Raikkonen (45.9s), Bottas (58.9s), Massa (70.9s) and Perez (72.7s) in tenth place.
Alonso chases Palmer in 13th place.
Raikkonen goes side-by-side with Hulkebberg and Hulkenberg spins.
Vettel closes on Verstappen, Verstappen locks up his brakes and runs over the inside of the corner but stays out front. Vettel says that he has to give up to spot to the Ferrari.
Ricciardo closes on the back of Vettel. The stewards say they will investigate after the race. Ricciardo attempts a pass on Vettel, the two touching, but Vettel continues in front.
At the chequered flag Hamilton wins, followed by Rosberg, Verstappen, Vettel and Ricciardo.
After the race Verstappen is handed a 5-second penalty, and drops from third place to fifth - Vettel taking the final podium position.