Mexican GP 2015
NOVEMBER 1, 2015
Sunday Team Quotes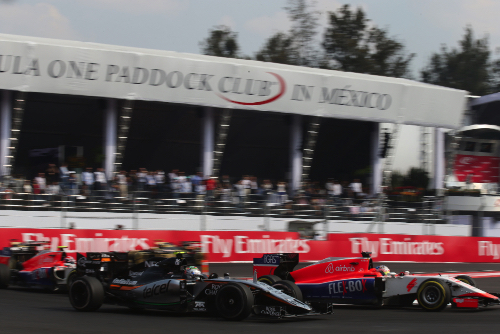 © Active Pictures
Mercedes GP
Nico Rosberg (1st): "That was the best podium of my life! Thousands and thousands of people singing your name after winning on a great track... it's unbelievable! In that moment you feel like a rock star on stage and I enjoyed every second. Thank you so much to all the Mexican fans who made my win here so special. And thanks also to Bernie and the organisers who worked hard to set up this amazing event. It was a perfect weekend for me. I had a good Qualifying and was able to control the race from the front, responding each time Lewis came closer. It was tricky because there was really no grip on the rears - especially after the Safety Car, with cold tyres. But in the end I felt comfortable. The performance this weekend is down to great teamwork with my engineers, as we found a great setup for the special conditions here, so a big thank you to them. Now I look forward to the race in Brazil. Its always great to come with a win to the next race, so hopefully I can carry this form to Interlagos."
Lewis Hamilton (2nd): "Today was a pretty good race. I actually really enjoyed it and had a lot of fun. I was pushing so hard, giving absolutely everything that I had, and I think I had more pace than Nico. But, unfortunately, you can't really follow another car here. The closer and closer you get it's like two negative poles of a pair of magnets repelling each other, so there was nothing I could do. I knew I needed a good start to get the run on Nico into Turn One. But I had hardly any tow and, from there, he made no mistakes. When it came to the pit stops, there was no real stress. At the time, I just didn't agree with the decision to pit a second time, that's all. The team takes these decisions and I abide by them but I initially wasn't sure on this one. As it turned out, there was then a Safety Car anyway. I have full confidence in these guys and we still got the 1-2 as a team, so that's positive. I have to say, it's been the best week and the best crowd I've ever seen here in Mexico. There are so many people with so much energy and so much excitement for the sport here. All the other countries we go to need to make a big effort to keep up with these guys. Next stop Brazil and I've never won there, so that's the goal in two weeks."
Paddy Lowe: "First of all, I want to congratulate the entire team on the excellent preparations for this weekend, and especially the team at Brixworth who responded to the challenges of this high-altitude circuit exceptionally well - as we can see from the number of Mercedes-powered cars in the top 10. The same goes for our technical partners at PETRONAS, too, who met the unique challenges of Mexico City head on and delivered a perfect performance. These are difficult conditions to simulate in the lab and our engineers did a great job to anticipate the circuit's demands. From the team's perspective, this wasn't a simple race. We went into it with lots of unknowns and plenty of parts of the car right on the limit, especially in terms of brake cooling. We had to manage the temperatures throughout to ensure that they stayed within limits and we didn't get into a situation of runaway brake wear - but great communication between the engineers and drivers meant we could do that. Tyre behaviour was also an unknown and, after the first stint, it was clear that the wear levels were higher than we had predicted on Friday. After completing the first stint, we had no rubber left on one of Lewis' tyres, and a much longer stint to complete on the prime. With a clear pit-stop gap to the cars behind, we therefore switched to a two-stop strategy because the planned stint length on the prime tyre would have been too marginal for comfort. Then the Safety Car came out anyway and took the matter out of our hands, as we would have stopped both cars had we not already just done so. Overall, it's extremely satisfying to come to a new circuit and take a strong 1-2 finish. Congratulations to Nico on a flawless weekend and to Lewis for a combative drive. But congratulations most of all to the organisers and fans, who created a feeling something like it must feel to win the World Cup as we stood in front of the podium. It was proof that Formula One is in great shape."
Toto Wolff, Mercedes Motorsport Director: "What a fantastic weekend here in Mexico and an incredible atmosphere on the podium, probably the best I've ever seen, after a breathless race. Our boys just always keep pushing each other to new achievements. If one of them gets written off, he bounces back even stronger the next weekend, and that's what Nico did today. It was an unbelievable weekend: he had the fire in his belly after Austin and, from the first lap, he was right on it. He did a perfect job this afternoon. But Lewis didn't make life easy for him at all: he was right there all day, waiting for a slip that never came, and took a strong P2 finish. Of course, the main focus of interest was around the decision to convert our one-stop strategy to a two-stopper. From our side, it was a simple precaution: after the first stint on the option tyre, we had seen higher than expected wear levels and one of Lewis' tyres was even down to 0% rubber. The stint we were trying to do with the prime was already on the limit, and with that information in hand and a pit-stop gap to spare to the next car, it was the low-risk option to stop both cars again. Lewis obviously had a few questions about that and that's totally normal - race drivers have emotions and if they didn't focus on winning every time, they wouldn't be the talents they are. But we have the overview on the pit wall and Lewis followed the instruction to pit. After that, the Safety Car came out and made the matter academic: we would have pitted both cars for fresh tyres anyway. But it was Nico's day today: he didn't put a foot wrong all weekend and fully deserved his win."
Red Bull-Renault
Daniil Kvyat (4th): "As a team I think today we did a perfect job, scoring solid points from a solid race. The podium was very close and we were fighting until the end, but on the restart after the safety car we didn't have enough pace on the straight and Williams went full bananas, so Bottas passed me quite easily. It was a shame about not getting on the podium, I thought we had it and we deserved it today, and maybe without the safety car we would have, but that's racing and we have to accept it. The race was still fantastic though; good racing, good controlled laps and I'm happy with how all 71 laps went. We've been very strong this weekend and the track has suited us quite well. I think this weekend showed we can be champions if we get back on the path. I believe in this team, I believe in us and I believe in our future."
Daniel Ricciardo (5th): "It was a bit of a frustrating race. During the first stint with the options we weren't really quick enough. With the prime I thought I had really good pace, but once I caught the Williams I couldn't pass them. We lost a lot of time there and in hindsight, when the Safety Car came out, I would have liked to put the primes on as I felt I was a lot more competitive with them than with the options. Maybe it would have given us a better chance of getting to the podium. I wouldn't say we were all that quick today, but to get both cars in the top 5 is okay. Sure we both want more but we'll see what happens in Brazil. The whole weekend has been awesome and this Grand Prix has set the bar even higher. The stadium is great and the fans are awesome. It's nice to come to a new place, especially when it puts on a show like this. The Drivers' Parade was awesome too. I had goose bumps. It was very exciting to see so many fans cheering for us. As for the incident with Sebastian, I was on the inside and he took the apex, so I had nowhere else to go."
Christian Horner, Sporting Director: "It was a great shame for Dany to miss out on a podium finish today. He had done everything right. Unfortunately, the Safety Car, which came out in the closing stages of the race bunched up the field and, given the straight line speed advantage of the Williams over our cars, it effectively gave Bottas a free pass to get in front of Dany. Nevertheless, fourth and fifth means we pick up a respectable number of points. Both drivers drove well, we had a good strategy and the pit crew performed well, with the whole team giving their maximum today. Unfortunately it wasn't quite enough. This whole event has been fantastic, with a great atmosphere in the grandstands and in the paddock and the organisers are to be congratulated for successfully bringing Formula One back to Mexico."
Matthieu Dubois, Renault: "We are pretty pleased to finish this very technically challenging weekend with both cars finishing in respectable positions. The altitude made our lives very complicated from a turbine and cooling point of view, and all the work before and during the weekend demonstrated once again the robustness of the PU, even when operated right on and sometimes even beyond its limits. It is a bit sour that the safety car cost us a podium, which looked to be in our grasp for most of the race, but we have only bad luck to blame for this. We are now looking forward to Brazil were we can put on another good showing."
Williams-Mercedes
Valtteri Bottas (3rd): "I'm very pleased with the result today. Every decision from the team on strategy was right, so I'm really delighted with what we achieved as a team. It feels so good, after so much bad luck recently and so much hard work, to get the reward. It was a great feeling on the podium, that was very special. Regarding the incident with one of the Ferraris, it was unlucky that it was me and him again but of course I didn't want it to end up like that."
Felipe Massa (6th): "It was a very positive race for the team, to have a good fight with Red Bull and come out with a podium is encouraging on a track that suits them better than it does us. From my perspective it wasn't the best race, I struggled with the rear tyres in the second stint and lost one position because of it. After the safety car I didn't have the best run, and as a result didn't get the chance to pass the cars ahead. I am a little disappointed, but as a team we can be really proud of the performance."
Rob Smedley, Head of Performance Engineering: "Overall, it was a positive day. The team equipped itself very well to deal with a new track. In terms of altitude, it's quite a change from other tracks but we didn't let it affect us. The Red Bulls were very strong around here so to outscore them is pleasing. We have missed a few podiums over the last few races, so to be back up there is great. We made good strategic calls, both drivers drove exceptionally well and the team as a complete unit operated very well."
Ferrari
Sebastian Vettel (DNF, Accident): "Today I had a bad start, and obviously after the contact with Daniel I was very angry, but in the end I think no one is to blame. He clearly could not avoid hitting me being too fast for the line he had chosen, but these things happen. That's racing, even if of course it's painful if it happens in the first corner and you have to drive all the way back. So the race was pretty much lost at that time. I was hoping for a safety car earlier on, but it didn't happen. I tried to catch up, but the two mistakes didn't help. The last one obviously ended my race and I am not proud of it. The car in general was good, we were quick, the pace was promising and we were very close to Mercedes, probably we hadn't been that close for a while. I tried everything to force it and come back. And trying too hard is probably the right explanation for my mistake."
Kimi Raikkonen (DNF, Brakes): "About the accident with Bottas, there are always two different ways to look at things, everybody can have their own view, but to be honest I did not expect a much different end result. It's racing in the end, but I think I was expecting that it probably might happen after Russia. Has he done it on purpose? I don't know, you can decide yourselves, it doesn't change the final outcome right now and it's not going to change anything for me for the future. Obviously we had a pretty poor weekend, we were a bit unlucky on many things, and it's not the nicest feeling for all of us, but we are still a strong team. It was an unlucky situation for both me and Sebastian, but that's how it goes sometimes. As a team, we haven't lost anything, we just had a pretty difficult weekend and I'm sure we can be back in the next two races, trying to finish the season strongly."
Maurizio Arrivabene, Team Principal: "Over the course of this season we had already managed to touch the sky. This time we reached the bottom. But today's race was a lesson of humility that we must put to good use and that will further bind the team together and strengthen the character of everybody. I had already seen yesterday how this team can react to difficulties, having had to replace both engine and gearbox in so little time. Today, we are not blaming anybody: we are a team, we win and lose together. I regret the result as we had a really good pace in the race, but that's racing, you can always have a bad day. This does not change our targets for the season, as Seb can still catch Rosberg in the point standings and Kimi can do the same with Bottas."
McLaren-Honda
Jenson Button (14th): "The Mexican fans should feel very proud of themselves - they've been amazing out there all weekend. By contrast, I don't have many positive things to say about my race. The other cars were significantly quicker than us in a straight line. On the plus side, though, compared with the middle-of-the-pack cars, we were quicker in the final sector of the lap. They came past us on the straight, but then we caught them back up in the final corners. To be fair, however, I think we lost more power compared with the other teams on this high-altitude circuit."
Fernando Alonso (DNF, MGU-H rotational sensor): "We had an MGU-H rotation speed problem - it was something we spotted last night, and unfortunately confirmed it this morning. We didn't have enough time to replace it, so we were left with two options: to race or not to race. We went for the first option, and tried to do as much as we could, out of respect for the amazing fans here in Mexico. I really wanted to go to the grid, take the start, and then just see what happened. It was only one lap, but, even so, I enjoyed it. At least we tried; it's always best to try than to give up. It's been a two long weeks away from home, with zero points scored. It's been hugely rewarding to witness the crowds here in Mexico City though - they've been one of the best crowds of the season, brilliant all weekend. Now, we need to put this experience behind us and look ahead to the final two races of the season."
Eric Boullier, Racing Director: "Sadly, we knew before today's race had even begun that Fernando almost certainly wouldn't be able to finish it. Our problem was that the rotational sensor inside the MGU-H on his car had become unstable yesterday evening. It was therefore always going to be unlikely that he would be able to complete many laps this afternoon, but he vehemently wanted to try to do so because he's an out-and-out racer and because he was extremely keen to put on a good show for the spectators. We wholeheartedly supported that aspiration, of course, but unfortunately his race lasted but a single lap. Jenson finished the race, by contrast, which was positive. What wasn't so positive is that he did so in 14th place. As we've said throughout the weekend, this circuit doesn't suit our car's performance envelope, so we were never going to be able to trouble the scorers here. Having said that, there are silver linings to today's cloud. On the twisty bits Jenson reported that he was able to stay with many of the faster cars as they lapped him, and our data bears that out. So we're making progress, and we remain steadfast in our ambition to improve. Honda shares that determination, 100 percent. Finally, I want to pay tribute to the organisers, who have put on a superb event here in Mexico City. The circuit is an astute recreation of an oft-lauded classic, updated with both safety and spectacle in mind, and today it hosted a grand epreuve worthy of the name. Veritably, the Autodromo Hermanos Rodriguez is an excellent addition to the Formula 1 calendar, and, to the hordes of enthusiastic local fans who packed its grandstands to the rafters today, I hereby say: we're sorry we offered you neither thrills nor spills, but next year we'll be in the mix, mark my words."
Yasuhisa Arai, Honda: "The return to the Mexican GP after 23 years was a bittersweet weekend for us. I would first and foremost like to thank all of the team for getting Fernando's car to the grid today. Yesterday evening we discovered his car had an unnervingly unstable MGU-H rotational sensor. The whole team agreed that we wanted to race, so, despite the risk, we took the decision to send the car to the grid. As usual, Fernando had a good start, but the afflicted sensor immediately went into fail mode, therefore we had to retire the car. Jenson had a difficult weekend, but gave his all in every session. In addition, we must say thank-you to Fernando for running solidly throughout the weekend, making the set-up of both cars possible for the race. For Brazil, we will first fully analyse what has happened with the sensor issues this weekend, and then prepare for the race ahead."
Force India-Mercedes
Nico Hulkenberg (7th): "It was a good race, although I was quite lonely for most of it. We couldn't have gotten any more from it so I feel very happy with the result. The Safety Car ended up playing into my hands, which is the little bit of luck you always need to get a good result, but our pace was strong and we were able to hold our own. I am really happy about this performance and finally getting back in the points after a bit of a difficult period for me. It was a very clean race from my part, with no mistakes and no problems. It took a lot of management as the temperatures were high and we had to look after the brakes as well, so from that perspective it was a very demanding race. The atmosphere today was one of the best I have ever experienced and the drivers' parade was something very special. The event was great and the fans have been so welcoming - I feel I have been adopted as a Mexican now! Today's result is important for our championship battle so it's a great day for everyone in the team."
Sergio Perez (8th): "What a week this has been here in Mexico! The atmosphere has been amazing and there were so many special moments. The race today was probably one of the most difficult of my career because I was very unlucky with the timing of the safety car, which really didn't help my one-stop strategy. We chose not to pit when it came out because we thought there was a chance to jump Nico [Hulkenberg] and Felipe [Massa], but in reality that didn't happen. Then the team told me that the cars behind had all pitted and fitted new tyres, so I was a bit worried because I knew the final fifteen laps would be very difficult. To stay ahead of them and finish in eighth place is probably one of my best performances in Formula One and I'm very happy I could score points in front of my home crowd. I am very lucky to have this huge support from my country and I will remember this weekend forever. I think everybody has enjoyed the energy of the crowd and this must surely be one of the most popular races on the calendar now."
Dr. Vijay Mallya, Team Principal: "As a team I think we performed extremely well today. Up until the safety car we had worked hard to get Checo and Nico in a competitive position, and we made the right decisions when the safety car appeared. Nico was on course for a two-stop strategy so the safety car played nicely into his hands, but Checo was unlucky as it compromised his one-stop race plan. Even so, he made the one-stop strategy work and did a fantastic job of protecting the tyres and holding on to a well-deserved eighth place. It was important to score well with both cars today and it means we've extended our advantage over the teams behind us to strengthen our hold on fifth place. I'm proud of the strong results we are securing in this final part of the season and look forward to more of the same in Brazil and Abu Dhabi."
Toro Rosso-Renault
Max Verstappen (9th): "I had a good start and to be running in P6 during my first stint was great, but we had some heating issues, which definitely cost us a lot of lap time unfortunately. But we need to focus on the positives, I think P9 is the best we could do today and I'm happy to have scored some more points, closing the gap to Lotus a bit more. The atmosphere here has been amazing during all of the weekend - the fans here are really into racing and are so enthusiastic, it's just amazing to see!"
Carlos Sainz (13th): "We were quite fast today in the first two stints of the race. We committed to a two-stop strategy and it was going well, even though we were having to manage the brakes and engine quite a bit during the whole race. When the Safety Car came out, we pitted for another set of Soft tyres for my last stint but, all of a sudden and I don't know why, we lost a lot of time per lap and started to go backwards. It's a shame, because we were actually quite quick before that, overtaking our rivals like the two Force India's, but the characteristics of this circuit made the race very tricky today. I have to say that I'm amazed with the Mexican fans and the big crowds here at the track throughout the whole weekend. They definitely give you an extra push, it's really great and it's just what Formula 1 needs!"
Franz Tost, Team Principal: "First of all I'd like to congratulate the organisers of this Grand Prix here in Mexico, because it's a fantastic and beautiful venue and all the grandstands were full all weekend. The atmosphere is also great and I think they would've deserved a bit more of an interesting race. From our side, we showed an average performance because we had to slow down the cars to keep the temperatures under control, which meant that we lost performance. The drivers did a good job. Max finished in ninth position and I think this was, under these conditions, the maximum we could do. Carlos had some vibrations at the end of the race, therefore he couldn't push as normal or score any points. We were able to close the gap to Lotus by one point and they are now six points ahead of us with two races to go. Because of the long straight, the race in Brazil won't be an easy one for us, while Abu Dhabi maybe suits us a bit better. Nevertheless, we will push very hard to prepare ourselves in the best possible way to fight for that P6 in the Championship."
Cedrik Staudohar, Renault: "That felt like a very long race! Due to the unique challenges of this circuit, we were on the edge with all the temperatures and it was very difficult to manage, but we coped with everything well and saw the chequered flag with both drivers, and Max in the points. At a new track, which is also very difficult, we can see that as a positive."
Lotus-Renault
Romain Grosjean (10th): "It was great to see so many people here today; they are huge F1 fans and so knowledgeable. It was a pleasure to race in front of them, especially in the awesome stadium area where everyone was so passionate. It's good to score, even if it was only one point! It was a long race and not easy as there was a lot to manage. The car was good on medium tyres, less so on softs. The safety car meant it was too risky not to come in and that meant finishing the race on the soft compound. This weekend was all about finding the grip and the track was definitely improving massively throughout the race. I think next year will be even more fun to drive once the grip has improved."
Pastor Maldonado (11th): "Our race was pretty good and it was great to cross the finish line to so many cheers and still pushing hard to pass Romain, though I would have preferred to be in front! I expected to struggle more with the brakes today, but everything was under control, so I'm disappointed not to be in the points after what was a strong race from us. I made a good start, but we lost time at the first pit stop. It was pretty tough at the end trying to overtake; I was a few tenths faster than Romain but it is tough to pass here. I missed a braking point at turn 12 late on, but my battle to beat him was lost in through traffic in the pits."
Alan Permane, Chief Race Engineer: "That was quite a straight-forward race for us to mark our return to Mexico. The circuit is very impressive and presents unique challenges from an engineering perspective. Both drivers drove strongly and intelligently and were very evenly matched throughout the race. Pastor lost time on his first pit stop from other traffic in the pit lane otherwise the finishing positions would likely be reversed, but he and Romain raced cleanly at every turn."
Federico Gastaldi, Deputy Team Principal: "What a fantastic return for Formula 1 to Mexico. We saw a fast-paced and exciting race today where both our drivers were amazingly closely matched, showing they are both giving their all. The Autodromo Hermanos Rodr  guez is a wonderful venue and we received a superb response from all the fans. Everyone in the team continues to show their fighting spirit with just two races left this season."
Marussia-Ferrari
Alexander Rossi (15th): "I got a great start and a good run down to the first corner. I was pleased to keep three world champions behind me for a time, however brief. Things started out well, but a few laps in I was really struggling with the car on those tyres, so I was losing a very worrying amount of time. Thankfully, the next two stints - on the Prime, then back on the Option - were much better and I was really happy to be back in the fight. I was substantially quicker than the other car, so I closed the gap pretty quickly and was able to retake the place ahead. So 25% of the race was difficult, but the other 75% was fantastic and more than made up for it. A couple of boxes ticked - finishing ahead and getting both cars to the finish here after a good race-long battle. The Mexico Grand Prix will definitely go down as one of my favourite races now. The crowd have been sensational and the race result is the icing on the cake. Off to Brazil now; I can't wait."
Will Stevens (16th): "I'm pretty disappointed with how the race ended for me, after running ahead of Alex for 46 laps of the race. I had a really good car at the start but we switched strategy from a two-stopper to a single stop, which wasn't good for me as I have been really happy with the car on the Option tyre all weekend but I've really struggled with the Prime. A long second stint on the Medium just didn't work out. Alex and I had a great scrap today and although the end result wasn't what I'd hoped for, I've had a much improved weekend after a couple of more disappointing races prior to this. I love Mexico and it was a great weekend; I can't wait to come back. For now though, my thoughts are focused on the final two races."
John Booth, Team Principal: "From my vantage point on the pit wall, our race today was every bit as exciting as the one between Nico and Lewis. Will and Alexander had a fierce but fair battle today. Ultimately Alexander triumphed, but it could easily have been the other way around. It was also thrilling right up until the last lap, when Alexander set his fastest lap of the race. As a team we've performed well all weekend, but today's pit work was particularly commendable as the crew managed the challenge of a double pit stop under the safety car flawlessly. The Mexican crowd were incredible and I'm delighted that Formula One has found another exciting destination; we have all enjoyed our visit here this weekend. I hope the next two races in Brazil and Abu Dhabi will be as fascinating as this one."
Sauber-Ferrari
Marcus Ericsson (12th): "Overall it was a decent race after a rather difficult weekend. We were aiming for points, which did not work out with P12. However, I am satisfied with my performance and also with the strategy we chose. Throughout the whole race stint I had issues with the brakes, as they were overheating. It was a challenge to manage them, which compromised our performance. We will learn from that and focus on the next race weekend in Brazil."
Felipe Nasr (DNF, Brakes): "It was a tough race. I was not able to finish the race due to brake issues. I did my best to manage them, but they got to a critical point. I had to stop the car in Turn 13. It is a shame, not only for myself, but also for the team as we all loose together. We need to find a solution for this issue."
Monisha Kaltenborn, Team Principal: "We knew that the race would be difficult. As expected, the brakes were the major challenge. Both drivers did their best, but, unfortunately, Felipe was not able to finish the race, whereas Marcus managed the situation well. However, his performance remains unrewarded finishing in 12th."