Mexican GP 2015
NOVEMBER 2, 2015
Race Report - Rosberg's Mexican Fiesta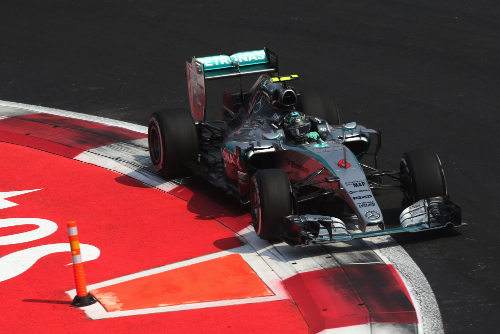 © Active Pictures
BY DAN KNUTSON IN MEXICO CITY
Nico Rosberg's Sunday afternoon in Mexico City turned into a fiesta as he beat Mercedes teammate Lewis Hamilton in a straight fight and won the first Mexican Grand Prix in 23 years.
Rosberg started from the pole and was in command the whole 71 laps except for the two rounds of pit stops when Hamilton led for three laps on each occasion.
"Great race, great battle with Lewis, he drove really well," Rosberg said after his fourth win of the year and his first since the Austrian Grand Prix in June. "Just really, really happy to get the win and this is really the best podium of the year, what a place to do it."
The only tricky moment came when Mercedes insisted that both drivers make a second stop for Pirelli's medium compound when the original plan was to stop just once.
"I didn't want to come in because I was really comfortable at the time," Rosberg said. "I had a good gap to Lewis so it sort of reset things a little bit, going on another set of tires so I wasn't too happy with that but I understand that it was the better thing to do especially in light of the safety car that came out because it was important to have fresher tires at that point in time. I'm happy I was able to control the race. The only moment that was a bit difficult was on the restart with the cold tires - but it was okay."
Tire behavior was also an unknown, said Mercedes tech boss Paddy Lowe.
"After the first stint, it was clear that the wear levels were higher than we had predicted on Friday," Lowe explained. "After completing the first stint, we had no rubber left on one of Lewis' tires, and a much longer stint to complete on the prime. With a clear pit stop gap to the cars behind, we therefore switched to a two-stop strategy because the planned stint length on the prime tire would have been too marginal for comfort. Then the Safety Car came out anyway and took the matter out of our hands, as we would have stopped both cars had we not already just done so."
Hamilton was in second place and in secondhand dirty air and thus could not close in on Rosberg.
"I was pushing the whole way," Hamilton said. "It's just that you can't follow. Soon as I'd get four, five, a few car lengths behind, just to lose the aero, and he had perfect aero so it was impossible to get close enough but I had good pace but as soon as you get closer and closer and closer you lose all your downforce."
None of the other drivers could get near the Mercedes drivers. Valtteri Bottas joined them on the podium after finishing third in his Williams and after surviving a crash with Ferrari driver Kimi Raikkonen.
"From the start, the first corners were quite tricky but I managed to gain some places as well as further places during the race," said Bottas. "There was the contact with Kimi. We had a contact in Russia but this was just unlucky that we got together again. I was trying to overtake him in Turn 4/5 and there was just no room when I was inside into Turn 5 and then we collided which is a shame because it didn't have to end up like that but for me, I had no space to go."
Raikkonen disagreed.
"About the accident with Bottas, there are always two different ways to look at things," he said. "Everybody can have their own view, but to be honest I did not expect a much different end result. It's racing in the end, but I think I was expecting that it probably might happen after Russia. Has he done it on purpose? I don't know, you can decide yourselves, it doesn't change the final outcome right now and it's not going to change anything for me for the future."
Raikkonen was out of the race after doing 21 of the 71 laps. His teammate Sebastian Vettel crashed out on lap 51.
"Today I had a bad start," Vettel said, "and obviously after the contact with Daniel (Ricciardo) I was very angry, but in the end I think no one is to blame. He clearly could not avoid hitting me being too fast for the line he had chosen, but these things happen. That's racing, even if of course it's painful if it happens in the first corner and you have to drive all the way back.
"So the race was pretty much lost at that time. I was hoping for a safety car earlier on, but it didn't happen. I tried to catch up, but the two mistakes didn't help. The last one obviously ended my race and I am not proud of it. The car in general was good, we were quick, the pace was promising and we were very close to Mercedes, probably we hadn't been that close for a while. I tried everything to force it and come back. And trying too hard is probably the right explanation for my mistake."
Daniil Kvyat had his Red Bull up to third place but lost the position to Bottas after the restart when the safety car came in following Vettel's crash.
"The podium was very close and we were fighting until the end," Kvyat, "but on the restart after the safety car we didn't have enough pace on the straight and Williams went full bananas, so Bottas passed me quite easily. It was a shame about not getting on the podium, I thought we had it and we deserved it today, and maybe without the safety car we would have, but that's racing and we have to accept it. The race was still fantastic though; good racing, good controlled laps and I'm happy with how all 71 laps went."
Daniel Ricciardo took fifth in the other Red Bull after that clash with Vettel on the opening lap.
"It was a bit of a frustrating race," Ricciardo said. "During the first stint with the options we weren't really quick enough. With the prime I thought I had really good pace, but once I caught the Williams I couldn't pass them. We lost a lot of time there and in hindsight, when the safety car came out, I would have liked to put the primes on as I felt I was a lot more competitive with them than with the options. Maybe it would have given us a better chance of getting to the podium. I wouldn't say we were all that quick today."
Felipe Massa wound up sixth in his Williams.
"It was a very positive race for the team," Massa said. "To have a good fight with Red Bull and come out with a podium is encouraging on a track that suits them better than it does us. From my perspective it wasn't the best race, I struggled with the rear tires in the second stint and lost one position because of it. After the safety car I didn't have the best run, and as a result didn't get the chance to pass the cars ahead. I am a little disappointed, but as a team we can be really proud of the performance."
Force India teammates Nico Hulkenberg and Sergio Perez rounded out the top eight. The crowd cheered loudly for Perez all weekend.
"What a week this has been here in Mexico!" exclaimed Perez. "The atmosphere has been amazing and there were so many special moments. The race today was probably one of the most difficult of my career because I was very unlucky with the timing of the safety car, which really didn't help my one-stop strategy.
"We chose not to pit when it came out because we thought there was a chance to jump Nico Hulkenberg and Felipe Massa, but in reality that didn't happen. Then the team told me that the cars behind had all pitted and fitted new tires, so I was a bit worried because I knew the final fifteen laps would be very difficult. To stay ahead of them and finish in eighth place is probably one of my best performances in Formula 1 and I'm very happy I could score points in front of my home crowd.
"I am very lucky to have this huge support from my country and I will remember this weekend forever. I think everybody has enjoyed the energy of the crowd and this must surely be one of the most popular races on the calendar now."
American Alexander Rossi finished 15th and beat his Marussia teammate Will Stevens again.
"I got a great start and a good run down to the first corner," Rossi said. "I was pleased to keep three world champions behind me for a time, however brief. Things started out well, but a few laps in I was really struggling with the car on those tires, so I was losing a very worrying amount of time.
"Thankfully, the next two stints - on the prime, then back on the option - were much better and I was really happy to be back in the fight. I was substantially quicker than the other car, so I closed the gap pretty quickly and was able to retake the place ahead. So 25 percent of the race was difficult, but the other 75 percent was fantastic and more than made up for it.
"A couple of boxes ticked - finishing ahead and getting both cars to the finish here after a good race-long battle. The Mexico Grand Prix will definitely go down as one of my favorite races now. The crowd has been sensational and the race result is the icing on the cake."
The attendance was 90,000 fans on Friday, 111,000 on Saturday and 138,450 on Sunday. And they cheered like crazy during the podium ceremony.
"That was the best podium of my life!" said Rosberg. "Thousands and thousands of people singing your name after winning on a great track... it's unbelievable! In that moment you feel like a rock star on stage and I enjoyed every second. Thank you so much to all the Mexican fans who made my win here so special. And thanks also to Bernie and the organizers who worked hard to set up this amazing event. It was a perfect weekend for me."
A perfect weekend to end with a fiesta win.