Malaysiian GP 2011
APRIL 8, 2011
Practice 1 Report - Webber tops FP1 in Malaysia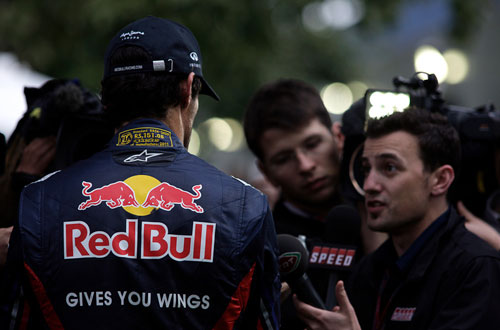 © The Cahier Archive
Mark Webber (1:37.651) appeared to be in a different league to the opposition as he set quickest time in the first session of free practice for Sunday's Malaysian GP, round two of the FIA F1 World Championship.
Closest to the Australian was Lewis Hamilton's Mclaren (1:39.316), with Michael Schumnacher's Mercedes (1:39.791) third quickest. Nico Hulkenberg (1:40.377) took over from Paul Di Resta for FP1 at Force India and ended up fourth quickest.
Pastor Maldonado (1:40.437) who has Sepang experience and likes the circuit was fifth fastest after his disappointing start to the season in Melbourne, with Felipe Massa's Ferrari sixth (1:40.453).
Nick Heidfeld (1:40.525) was quick early on in the session but then suffered a locking brake. Renault team mate Vitaly Petrov also had a strange looking problem when the left front brake/wheel assembly exploded on the entry to Turn 4, limiting the Melbourne podium finisher to just four laps in the session. "We have no idea at the moment," said engineering chief Alain Permane when asked about the problem.
Jermone D'Ambrosio suffered a similar failure in his MaRussia Virgin just before the end of the session, this time losing the right front corner on the approach to Turn 15. Although Malaysia is expected to be the biggest test faced thus far by F1's new tyre supplier Pirelli, it is too early to assume that the problems are tyre related with the teams involved still investigating. Track temperature was not excessive for Malaysia in FP1, in the mid 30s, while the second session can be expected to push 50 degress with ambient of around 33-34 expected.
Rubens Barrichello (1:40.581) was eighth in the second Williams, with Fernando Alonso (1:40.601) and Nico Rosberg (1:40.646) completing the top 10 in the second Mercedes. World champion Sebastian Vettel (1:41.627) did not set a representative time and finished the session in 17th spot.
At Toro Rosso, Daniel Ricciardo (1:40.748) stood in for Sebastian Buemi and set a very similar time to team mate Jaime Alguersuari (1:40.770).
The HRTs did both get out in FP1 this time, with Narain Karthikeyan landing a 2600 Euro fine for speeding in the pitlane...