Malaysian GP 2017
SEPTEMBER 30, 2017
Qualifying Report - The Merc Mystery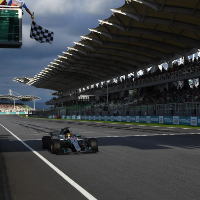 By Dan Knutson in Sepang
The Mercedes team was mystified why its cars were off the pace in Friday's practice for the Malaysian Grand Prix. But the team solved the mystery in time for qualifying as Lewis Hamilton claimed the 70th pole of his F1 career and his fifth in Malaysia.
Merc was helped by the fact that Ferrari driver Sebastian Vettel, quick on Friday, had engine problems on Saturday. Kimi Raikkonen ended up second in the other Ferrari, a mere 0.045 of a second slower than Hamilton.
"We had no idea how it was going to go today," Hamilton said, "but somehow we turned it around."
The lineup for the weekend was: Mercedes - Hamilton and Valtteri Bottas; Red Bull TAG Heuer - Daniel Ricciardo and Max Verstappen; Ferrari - Vettel and Raikkonen; Force India Mercedes - Sergio Perez and Esteban Ocon; Williams Mercedes - Felipe Massa and Lance Stroll; McLaren Honda - Fernando Alonso and Stoffel Vandoorne; Renault - Nico Hulkenberg and Jolyon Palmer; Toro Rosso Renault - Pierre Gasly and Carlos Sainz; Haas Ferrari - Romain Grosjean and Kevin Magnussen; Sauber Ferrari - Marcus Ericsson and Pascal Wehrlein.
QUALIFYING 1
Raikkonen had been best in FP3 earlier in the day with his time of 1:31.880.
Vettel was second quickest, but his Ferrari had an electrical problem late in FP3 so the crew had to install a new engine for qualifying. So the mechanics were rushing to get that job done as the 18-minute Q1 approached. And they did it as he soon headed out onto the track.
The ambient temperature at the start of qualifying was 86 degrees Fahrenheit (30 degrees Centigrade) and the track temperature was 115 degrees Fahrenheit (46 degrees Centigrade).
Pirelli's compounds: medium, soft and super soft.
Most of the front runners were on the softs while the rest chose the super softs.
"I'm limping back," Vettel said as he headed for the pits. "It feels like I have no turbo."
Hamilton was not limping as he went to the front with a lap of 1:31.605 ahead of Verstappen, Bottas, Raikkonen and Ricciardo.
After the first runs, Magnussen was 15th and on the bubble with Stroll 14th and Gasly 16th. Vettel had no lap time.
Vettel did not make it back out, so that was that for the Ferrari driver in qualifying.
The five drivers who were eliminated at the end of Q1 were: Grosjean, Magnussen, Wehrlein, Ericsson and Vettel.
The fastest 15 drivers who moved on to Q2 were: Hamilton, Verstappen, Bottas, Raikkonen, Massa, Ricciardo, Ocon, Gasly, Palmer, Hulkenberg, Sainz, Perez, Vandoorne, Stroll and Alonso.
QUALIFYING 2
For this round the front runners went straight to the super soft Pirelli slicks.
Bottas posted a 1:31.272, which Hamilton immediately beat with a 1:31.009, and Raikkonen with a 1:30.926.
Verstappen then slotted into second with a lap of 1:30.931.
Down at the cut line, Palmer was 10th with Vandoorne 11th and Alonso ninth.
Three minutes remained as the drivers started to head out for that last lap. All but Raikkonen and Verstappen who stayed put.
Bottas grabbed the lead with a 1:30.803. Hamilton could not beat that and ended up fourth.
The five drivers who were eliminated at the end of Q2 were: Massa, Palmer, Stroll, Sainz and Gasly.
The fastest 10 drivers who moved on to Q3 were: Bottas, Raikkonen, Verstappen, Hamilton, Ricciardo, Perez, Ocon, Hulkenberg, Vandoorne and Alonso.
QUALIFYING 3
Could Merc hold of the lone Ferrari in the 12 minutes of Q3? What about Red Bull?
All drivers except Hulkenberg were soon in action, and all were on the super softs as well.
Bottas put in a 1:30.945, and Hamilton slammed that with a 1:30.076. Raikkonen moved into second with a 1:30.308 while Ricciardo claimed third with a 1:30.595 ahead of Verstappen's 1:30.634.
Bottas, Perez, Vandoorne, Alonso and Hulkenberg rounded out the top 10 after the initial runs.
In the final runs, Ricciardo was the first to go. He clocked a 1:30.79. Then Verstappen did a 1:30.541 to take third. Raikkonen got down to a 1:30.121 so remained second to Hamilton who did not improve.
The top 10 qualifiers were: Hamilton, Raikkonen, Verstappen, Ricciardo, Bottas, Ocon, Vandoorne, Hulkenberg, Perez and Alonso.