Malaysian GP 2016
OCTOBER 2, 2016
Sunday Team Quotes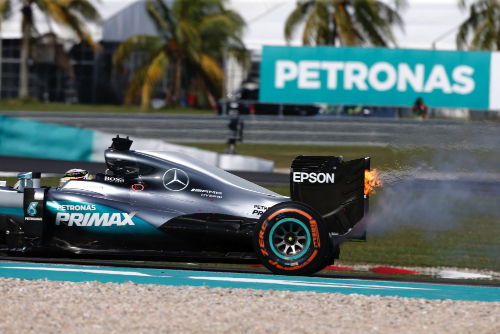 © Active Pictures
Mercedes GP
Nico Rosberg (3rd): "I came here with the will to win and that didn't work out, so I can't say that I am happy. After the first corner, it was looking pretty dark. I thought my race was over and never thought I'd be able to continue. It felt like an uncontrolled four-time World Champion torpedo had hit me! I reported to the pits that it was a pretty hard hit. I was fortunate to be able to fight through the field. But I got the knife between my teeth and went for it. I fought my way through, with some great battles along the way which I really enjoyed, and was pleased to make it back up to the podium. To be honest, I can't believe that I've just been standing up there from last! After the incident with Kimi I was surprised that I got penalized. I had to give it a go at some point and I saw the opportunity, so I went for it. You need to be creative and wherever a chance comes, take it. I thought it was an aggressive move but still okay, to be honest. That's what we race for! But I accept the decision and luckily it didn't have an influence on the result, as we had a better pace than Ferrari. I had to give it everything at the end to eke out that ten second gap but at the same time save the engine, as after Lewis' problem we were a bit hesitant to run it flat out to the end. It must have been a tough day for Lewis. I know how hard these moments are as I also went through a couple of them myself in my career, like in Abu Dhabi in 2014. It feels horrible and I'm sure he will come back strong, he is a fighter. But that brings me back to the approach of just taking things on a race-by-race basis. You just never know what's going to happen next. I'm not going to start thinking any differently. The next race is Suzuka, where I'll get back in the car and try to win again."
Lewis Hamilton (DNF, Engine): "Max (Verstappen) was in my pit window so I was just trying to push him out of it. I think I'd done that, almost. But then, on the straight, I just lost power all of a sudden. You could hear something blew and I obviously had to stop. Honestly, you've got to understand it from my point of view. On one side, we've had the most incredible success these past two years, for which I'm so grateful. These guys work so hard and we're all feeling the pain right now. When you get out of the car - that feeling you have after leading the race and then your car fails - it's pretty hard to say positive things at the time. As I said in the TV interviews, Mercedes have built 43 engines or however many it might be with the extra three I've had, and I have happen to have most of, if not all of, the failures. So, that is definitely tough to take. But I have 100% confidence in these guys. It's my fourth year with them now and the guys in the garage and back at the factories - I have 100% faith in them. I love it here and without them I would not have won these two Championships. While the struggle is real right now and has been all year, I honestly feel that it's a test of my will, my spirit and who I am as a person to get back in and keep fighting it head on. It's not how you fall, it's how you get back up. That applies not just to me but to the guys as well. I saw tears in the eyes of my mechanics so I know that we all bear the pain. But, as I said, it's how we re-group. We have to keep in mind what we've already built. While in the short term it doesn't look good and for the long-term this year it might not be so good, there are still lots of positives. There's still five races to go and if I can perform the way I performed this weekend there's still everything to play for. We will learn. The guys will take the engine back and they'll understand what happened. Every time we've had engine issues they've gone away and found out why. It puts us potentially in a better position to make sure it doesn't happen next year. All I can do is what I've done this weekend. Come correct, be as focused as I can possibly be, put in this kind of performance and pray that the car holds together. I still have faith and hope. That's a powerful thing. It feels a little bit like the man above, or a higher power, is intervening a little bit. But I feel like I've been blessed with the opportunity firstly to be here with so many great people around me, in this great team, to have won these last two Championships with lots and lots of victories and records that I'm breaking time and time again. Whilst it does not feel great right now, I have to be grateful for all of that. If at the end of the year the higher powers don't want me to be Champion after everything I've given towards it, I will have to accept that. As long as I end the year knowing that I've given it everything, done everything I could possibly do and that we've done everything we could possibly do, that's all you can ask for. Don't forget that I'm World Champion. I'll be okay."
Paddy Lowe: "The word is "b*llocks", really. This is one of the more difficult races of the year and we approached the weekend knowing it would be tough to get a top result. And so it transpired. First, there was Nico's incident with Sebastian (Vettel) at the first corner, from which he was fortunate to escape without damage. The challenge then became one of helping him progress back to the front as quickly as possible. The knock-on effect on the pit wall was that losing one car from the battle for the win weakened our ability to defend against two Red Bulls, who would inevitably take a gamble on strategy with one car or the other. Although that turned out to be the case, the pace of our car was incredibly strong, with both Lewis and Nico showing impressive speed and tyre management. Lewis was well on track to secure the win when he had a terminal failure of his engine. We're all absolutely devastated for him. As a team we've worked incredibly hard to improve reliability over the past few years and have succeeded in doing so. Indeed, this was our first race failure of the year. However, one thing we had made a priority was to ensure an equal competition between the drivers in the final phase of the season, with no distortion of the battle through technical problems. Unfortunately, we have failed in that objective today in brutal fashion. Lewis came into the race on top form after his strongest weekend of the year so far. Not just in terms of his qualifying and race performance, but also in terms of the homework he'd put in with the team throughout Friday and during Saturday morning. It feels incredibly unjust that he should suffer this failure at such a moment. While we're deeply disappointed for Lewis, we take our hats off to Nico after a fantastic comeback drive, showing not only strong pace and tyre management but also great race craft. This was no more evident than in the final stint when, after a controversial incident with Kimi, he pulled out enough of a gap to maintain his podium place - despite the 10 second penalty resulting from that incident. Overall, a disappointing result from a weekend which promised so much. We will go away and analyse what happened today, aiming to arrive in Japan prepared to bounce back in the best way we can."
Toto Wolff, Technical Director: "It's hard to know how to sum up a day like today. I just have no words for what happened to Lewis. We feel his pain. This is a mechanical sport, with so much technology, but sometimes you get blindsided by situations with no rational explanation. It's a freaky coincidence as to why he has suffered the majority of the engine problems this year - like the odds of throwing red six times in a row in the casino. But we take a forensic approach to our work in how we build the engines and how we analyse the failures. We always have done and we will do so again. Our guys will get to the bottom of what happened and learn from it. But I don't want to talk about forensics on a day like this - I want to focus on how Lewis responded in the aftermath. We let him down today and we are beating up ourselves about it. And you know, if you're leading the race, about to get back in the Championship lead and then your engine blows up... then every answer is allowed in front of a TV camera. It's completely understandable. But instead of venting frustration, he came back to the garage and shook the hand of every team member; we talked in a small group and we were all really down. Then he stood in front of the team and found the words to lift everybody and help us recover quickly for Japan. This is what the great drivers do, the true Champions, and I must express my respect for how he conducted himself today. For Nico, it was a great recovery drive after what happened in Turn One. You can look at the first corner two ways: he was unlucky to be hit by Sebastian but at the same time lucky the car did not sustain more damage. Then, he did a brilliant recovery drive back to third place with no mistakes. As for the penalty, I don't want it to be our focus and it didn't ultimately cost him any places. But it was a complete nonsense. We all decided that we wanted to see racing and that, if no driver was clearly at fault, then we should let them race. Then you get this. But it's for others to comment and not my main priority right now. The task is to pick ourselves back up for Suzuka. One of the greatest qualities of our group is how we come back from defeat even stronger than before. We will do that again now, in time for Japan next weekend."
Ferrari
Kimi Raikkonen (4th): "Fourth position is not the result we wanted, but today unfortunately we couldn't get more. Overall the car was not too bad and the handling was quite ok, but the pure lap time was not there. We were missing speed and we never had the chance to challenge the cars in front . When Rosberg passed me I suddenly had to turn right to avoid him: I knew he was going to hit me and we both would have probably been out: my rear floor was damaged because of that and Nico got penalized. After that I did my best to keep the ten seconds gap to him, but unfortunately it was not enough to get a better result. Obviously we want to be higher up, but now we have to take what we get. We'll try to improve and push forward to make the car faster and be able to challenge the others.'
Sebastian Vettel (DNF, Accident): "We had a good start, then I was going side by side with Max. We were both battling for position into turn one. Nico in the front was turning in and he obviously decided to pick his line, which is absolutely fair and in his right. At that point with the speed I had I couldn't slow down anymore and I was also pushed by Max to the right. I did my best under braking but I couldn't avoid the impact. It was an unfortunate chain reaction which ruined my race and Nico's one. I can't do more than apologize to Nico, because the accident had nothing to do with him being in front. I think it was different to the case in Spa with Max and Kimi, as Max and I were trying to fight for turn 1, and Nico was trying to do a different thing ahead. I don't have to comment on what Max said afterwards."
Maurizio Arrivabene, Team Principal: "Clearly, this was not the result we had wanted. In a very tactical race like the one we had today, having both cars on track would have been of fundamental importance. So, seeing what had happened to Seb, we planned a very aggressive strategy for Kimi, but then everybody else did the same. It's a pity that some damage affected Kimi's performance today: first, a piece of rubber got stuck in the rear wing profiles, causing the wing to stall and then there was the collision with Rosberg which caused further damage to the bodywork. As for Seb's incident at the start, I talked to him and I'd rather not comment on the stewards' decision."
Williams-Mercedes
Valtteri Bottas (5th): "I think it was a very good day for us. We definitely got everything there was to get from today. The start was good, we were able to make our planned strategy work, which was crucial today to be in front of Force India. We scored some good points. It's a shame that we lost points with Felipe's technical issues, but from my side I'm happy with the race. Let's try and repeat this in Japan."
Felipe Massa (13th): "Well, when it's not your day, it's not your day. Everything happened at once. My throttle wasn't working. The engine was on and I was trying to get it to work, but I couldn't. Then when we went to the garage, we switched it off and on, and it was working again. Then we did the start from the pitlane. At the first virtual safety car I stopped to change to the hard tyres and did two or three laps after that until I got a puncture on my front-left. Maybe I picked up some debris from the track. I would say my race was completely finished from there. The only thing that would have changed it would have been a safety car, but it didn't work out like that. It's a shame, because Valtteri did a great job and it would have been great to get both cars in some good points, but unfortunately that didn't happen."
Rob Smedley, Head of Performance Engineering: "Overall, at least with Valtteri, we were able to show what we can do as a team, which I don't think we maximised yesterday knowing the potential of the car. That's something we can all feel really proud of today. The teamwork and the resolve of everyone since the end of qualifying yesterday has been really good in working out the best strategy for today. It may have looked quite risky on paper, but our strategy with Valtteri was the right thing to do and it worked out well for us. The start was great, the strategic decisions during the safety cars all worked out well, and Valtteri drove a brilliant race. It's just a shame about what happened with Felipe. We've got to look into why the car effectively turned off on the grid and he couldn't get going. He then had a pitlane start. All the bad luck he could have had, he had. Three laps later he picked up a puncture and had to pit again, and that put him out of contention. I think he's driven a great race and showed a lot of mental resolve to get as near to the points as he did towards the end. Overall, as a team, we've worked really well together. Notwithstanding the disappointment of Felipe, it's been a really good Sunday and we collected as many of the points on offer to us as we could. Despite having just one car in the points, we only lost two points to Force India today, leaving us just three adrift of them overall. The next race is a higher efficiency race in just seven days' time in Japan. Our aim there is going to be to maximise what will be a very good car around that track, of that there is no doubt. We need to claw that points deficit back."
Red Bull-Tag Heuer
Daniel Ricciardo (1st): "What a day, I'm feeling a bit emotional and overwhelmed! It's been a long time between drinks! A couple of weeks ago I said we'd win a race this year but to be honest I didn't expect a win to come at this circuit. This is probably the sweatiest race to win and do a shoey, but for me it's not so bad, I felt a bit sorry for the others though having to drink from my shoe, but the crowd was encouraging me! We had an opportunity today that we needed to capitalise on and I was determined to not let it go. We had a good battle with Max, he is a hard racer and we have that in common. We fought hard and aggressive but I think we showed we can push to the limit but still keep it on the track. We had a fair and clean fight and I think we both enjoyed it. My tyres were a little more tired than his but I was going to hold him off as long as I could. When the Virtual Safety Car came out and we both came into the pits for new tyres, that made me a little more comfortable for the last stint. This year has been an awesome year of progression for the team. We started the year a step higher from last year and kept going and getting better, and it really is amazing to win at this circuit. I want to thank the team for making this all possible and I'm very grateful for today. After Monaco I had a lot of mixed emotions and it was a hard one to take but I felt as a team we came through that stronger and better. I want to thank my parents and my sister as well for the support they gave me growing up. I also want to dedicate the win to Jules (Bianchi), I have been waiting for a victory to dedicate to him. My life definitely changed since that incident and I am extremely grateful and appreciative of everything I've got."
Max Verstappen (2nd): "Having both drivers on the top two steps of the podium is a fantastic result for the team. I was really pleased about my start, finally it worked well again and put me right up there into turn one. I was then compromised due to Sebastian's move, I had to avoid his collision with Nico which meant I lost a few places. The time I lost ultimately cost me at the end of the race along with a few unfortunate Virtual Safety Cars, but that is racing. Once I had the hard compound on I was catching guys ahead. The battle with Daniel during the race was great and really good fun. We have a lot of respect for each other so you can see we gave plenty of space but were still able to push hard. I got close to being in the DRS activation zone but my rubber was slightly older and overheating so I just couldn't get within range and attack. The team told us we were free to race as long as we kept it clean, which we did. It is really nice to hear that from the radio. I think we had the race pace and speed to win today but we have to be very happy to settle for a perfect one-two for the team."
Christian Horner, Sporting Director: "An unbelievable day today. To achieve a first and second in the Malaysian Grand Prix is beyond our wildest expectations. The race had an interesting start with a bit of action at the first corner which Sebastian triggered, costing Max particularly quite a bit of time. Thereafter both drivers settled into a rhythm and after the first Virtual Safety Car we decided to take a little bit of a risk with an early stop for Max which put him out of sequence with the other cars. Daniel was going well and by the time they got through the first stop on to the hard tyre it looked like a one-stop might be feasible. The drivers were racing each other firmly but fairly, the only instruction from the team was to keep it clean. We saw some great racing; at one point side by side at turns 5 and 6. Then unfortunately for Lewis his engine let go causing the next virtual safety car, and we took the opportunity to ensure that both drivers could get to the end of the race on a new set of soft tyres. Then it was a straight fight between the two of them to get to the chequered flag, and Daniel had just enough in hand to maintain a margin and complete a Red Bull Racing one-two finish, our first since Brazil 2013. It's a culmination of a great amount of teamwork both trackside and from everyone else back in the factory. It's fantastic for Red Bull and for all of our partners. Our thanks also to all of the hard work that's been put in by the people at Viry in delivering a great package for our TAG Heuer branded engine."
Force India-Mercedes
Sergio Perez (6th): "It was a solid race for us today, but I think we were a bit unlucky with the way the race unfolded. At the start, things looked very positive: I had a good launch, stuck to the inside line and was up to third after turn one. There were some very quick cars behind me and I knew there was no point in fighting too hard and destroying my tyres. The key moment of my race was the first virtual safety car, because it handed a big advantage to those who were able to start on the medium tyres, and dropped me down the order when I pitted. To recover back to sixth place was a good effort and we know that every point will count in the fight to finish fourth in the constructors' championship. I don't think we made any wrong decisions today, but it was just that the circumstances played more against us and into the hands of others."
Nico Hulkenberg (8th): "Finishing eighth is a reasonable result, given the circumstances of the race. It was quite a tough afternoon: I made a very good start, but coming to turn one I had to avoid the accident between Rosberg and Vettel and that cost me two positions. Being stuck behind Jenson [Button] cost me a lot of time in the first two stints and I just couldn't overtake him. Losing the track position so early on made it very difficult to finish higher up, despite the speed we had in the car today. I believe our strategy was the correct one for our race, but it's very hard to overtake here and it just didn't play out in our favour. All in all, we can be happy about putting two cars inside the points; we have increased our advantage a little and it should help us in what is going to be a very interesting end of the season."
Robert Fernley, Deputy Team Principal: "To come away from Malaysia with another 12 points added to our tally represents an excellent effort by the entire team. It was quite an eventful race, with various incidents going on around us, but we managed to stay out of trouble and bring home a solid result. We were a little unfortunate with the timing of the first virtual safety car, but we reacted well and made the correct decisions from the pit wall. The car showed good race pace and both drivers have performed well all weekend. The points scored have given us some more breathing space in the battle for fourth place in the championship, but as today proved it's going to remain a very close fight over the remaining five events."
Renault
Jolyon Palmer (10th): "Point-scorer: It feels good! I'm really happy, I think the whole week has been really positive. The race was really smooth - I wish it was always so straightforward! I was really disappointed with how qualifying went especially as I'd been feeling strong all weekend, so I'm glad the race went really well and we could make up for it today. The car gave me everything I needed, we handled the tyres well and the team did a great job with strategy and pit stops. We got a little bit of a break as well; finally everything came together and we got it home to P10!"
Kevin Magnussen (DNF, Damage): "I was the filling in the sandwich as everyone reacted to the Vettel / Rosberg incident at the start. Everyone braked and went for the inside of the corner which isn't great if you're already at the inside of the corner and have contact from behind pushing you forward. That's motor racing sometimes. We changed the front wing and kept pushing, however the brake cooling was damaged, and the brake temperature kept climbing, so we had to retire. Nevertheless it's been a promising weekend. We continue to extract more pace from the car and we'll be pushing to keep this level of performance. I scored last time out; Jo scored today. Points are what we all want to see."
Fred Vasseur, Team Principal: "Congratulations to Jo for scoring his first point in Formula One. After a disappointing qualifying yesterday he got his head down and delivered a very good race. We ran to an aggressive strategy and Jo did everything required to make this work so a great effort from him and the team today. Kevin was unfortunate to be caught out as the result of an incident ahead on the first lap. Thanks to his strong qualifying, he was well placed for a decent points-scoring position, but there was nothing he could do. Today we saw once more that everyone in the team is pushing in the same direction and we will continue to fight for every point possible for the remaining five races this season."
Toro Rosso-Ferrari
Carlos Sainz (11th): "We were so close to the points! It was quite an eventful race right from the start, which was what we needed. My start was also very stressful, as I was doing a clutch warming when I arrived to the grid and the engine suddenly stopped! I managed to turn it back on and it was just as the lights went out... So my start wasn't great because of this, but I then did a mega job at Turn 1 and overtook five or six cars! From then on we tried to follow the opposite strategy to many others - when the first Virtual Safety Car was deployed we decided to stay out, which was a bit risky, but meant we were fighting for the points positions! In the end, we did a good race and if we didn't end up in the points it's because we just didn't have the pace, not because we didn't try. We will of course keep working and I now look forward to Japan, a race that has become one of my favourites after enjoying it for the first time last year. I also can't wait to meet all those amazing Japanese fans again, they definitely give you an extra boost!"
Daniil Kvyat (14th): "Unfortunately our race was destroyed after some contact on the first lap with another car. My front wing got damaged and, from then on, we really couldn't hope for much. It's frustrating when this happens, but when you start from so back on the grid this is always one of the risks - sometimes you escape, sometimes you don't... It was just one of those races! Luckily the race in Japan is next week, so we can start working hard for it straight away and forget today."
Franz Tost, Team Principal: "First of all, I'd like to congratulate Red Bull Racing for their 1-2 finish here in Sepang, they did a fantastic job! Regarding our race, we simply didn't have the pace during the whole of the weekend, therefore we started from only P15 and P16 on the grid. Unfortunately, Daniil touched Magnussen's Renault at the start, between the first and the second corner. As a result, he had to come in to change his nose and from then onwards his race was more or less lost. Carlos showed a competitive performance. He had a good start and gained many positions during the first lap, climbing from P16 to P11. Later on in the race and before his first pit-stop, he was able to race in P6 and keep this position for quite some time. In the final stages of the race we were simply too slow to stay in this position and ended up only eleventh. Of course, the long straights here didn't help us, but this is how it is. Now we have to be focused on doing a reasonable job in Japan next week."
Sauber-Ferrari
Marcus Ericsson (12th): "I am satisfied with my performance today. I had quite a good start and was able to make up some positions as I had a decent pace throughout the race. We have clearly made progress on the car side, which brings us closer to the midfield. Obviously, we were aiming for points, but we were not close enough today. By the way, my drinking system was not working, so I had to go through the whole race distance without any liquids. That was really tough! For the upcoming race weekends we need to keep up the good work. I am really looking forward to Japan, because it is my favorite track. I cannot wait to get there."
Felipe Nasr (DNF, Brakes): "It was not a good day for me. After the start, in Turn 1 Nico (Rosberg) spun and I had to avoid running into him. I lost some time because of this incident. After that we were able to recover quite well and went for a one stop strategy. Unfortunately, I then had issues with the brake-by-wire system, which forced me to retire. There are still some positives to take from this weekend. Now I am looking ahead to the upcoming race weekend in Suzuka."
Monisha Kaltenborn, Team Principal: "We knew that it was going to be a difficult race. However, the team did a good job. We choose the right strategies and both drivers did their best to get the maximum they could. However, Felipe was unfortunate. That was a solid performance today, which makes us confident about scoring points in the next races."
McLaren-Honda
Fernando Alonso (7th): "It was definitely a very exiting race for us today, with some great battles. Having started from the very back, we recovered some good places at the start - and were lucky not to get caught up in the first-corner accident. I was actually surprised by my position, because I'd already got into the points after just a bunch of laps. At that point, we had some debate over the radio about the strategy - about whether to be aggressive or more conservative. Eventually, we decided to attack and use all the new sets of Option tyres we had left over from qualifying. The final Virtual Safety Car certainly played in our favour, because it allowed us to use the last new set. After this weekend's penalties, we needed some luck - and we got that today!"
Jenson Button (9th): "My race wasn't too bad - but I got so unlucky with the Virtual Safety Car. The cars behind me were on a three-stop and I was on a two-stopper - then, three laps after I pitted, there was a Virtual Safety Car, which meant they were all able to gain 15 seconds on me for free. It's a shame I missed it - but luck has not been on my side for these last few races. I was actually up into fourth position at the start before a couple of cars dragged past me on the opening lap. The two-stopper was the better strategy today, but it's too difficult to make work when there's a VSC; I was looking good for seventh up until that point. Hopefully I'll have a bit more luck in the last five races."
Eric Boullier, Racing Director: "To be looking at two points' finishes after starting one car from last position on the grid is an extremely satisfying result - and a real testament to the progress we're continuing to make at McLaren-Honda. The split-strategy reaped dividends for both Fernando and Jenson, and the pit-crew executed five faultless pit-stops, including a double-shuffle, which is always a stressful moment in any race. Fernando's charge through the field may have been fortuitously assisted by an opportune Virtual Safety Car period, but he was already inside the top 10 before making his final stop. He benefited from our aggressive three-stop strategy, and drove with all his fire and bravado to make up 10 positions on the opening lap alone. Jenson, driving in his 300th grand prix, was no less impressive - but he was desperately unlucky to make his second, and final, pit-stop just a few laps before the Virtual Safety Car handed his rivals a free, and unexpected, stop. To be clear, the two-stop was the fastest option to the chequer, and he was nicely lined up for the rest of the race - until the Virtual Safety Car. That's motor racing, but we all know that Jenson's driving is worthy of greater reward than ninth, and I'm sure that will come his way in these final five races. Now, we look forward to the next grand prix, at Suzuka, Japan, in seven days' time. For Honda, it's the most important and prestigious race of the season, and, buoyed by our result this weekend, we'll be aiming for another good showing next week."
Yusuke Hasegawa, Honda: "I am very happy about the great drives from both drivers today, with many on-track battles. The team also did a great job with a solid strategy that helped us bring both cars home in the points. We battled strongly with Williams and Force India throughout the race, and it was a shame that we couldn't get fully in front, but I think we had very strong race pace, so it's an encouraging result looking ahead to our home grand prix in Suzuka. It was unlucky for Jenson with the Virtual Safety Car and his pit-stop timing, but he drove well and had consistent race pace throughout. Fernando, as usual, had a very good start and a strong charge through the field to finish seventh, another amazing result similar to Spa-Francorchamps. Today's brilliant drives and double points finish are a great motivation for McLaren-Honda."
Manor GP-Mercedes
Pascal Wehrlein (15th): "The first lap was pretty cool. I got a good start and was up to 15th from 21st quite quickly, so that was a lot of fun. Unfortunately, after that, we didn't have the pace to fight as closely as we would we like and gradually we started to drop back. Realistically, I knew yesterday that it would be more of a battle between Esteban and me, which we had, and it was good. It was tough. Very hot in the cockpit and a nice warm drink to keep me going. But it was okay. I think we managed the tyres well; the track temperature was pretty high, but no real problems there. We just didn't have the extra pace to push for something more today."
Rio Haryanto (16th): "It was pretty good, wasn't it? I had some fun with that. The start was excellent and on the Soft tyre on the first stint we could have a good race. Once we pitted onto the hard tyre we started to struggle. We had a decent battle with Ericsson but I couldn't beat my teammate, who was on a different strategy, and the penalties put paid to that anyway. We were definitely better off here and we've made some real progress since Singapore, no doubt about that. So my thanks to the team for a really good job this weekend and let's keep moving forward."
Dave Ryan, Racing Director: "Thanks to the whole team for a really big push since Singapore. The hard work really paid off this weekend and from the inside we can see that we've made a good step forward. Our trackside operation also needed some work to counter the issues we had in recent races and, again, we've made good progress there. I'd like to give particular mention to the pit crew today. It was an area we needed to improve on and we've done just that. Our five stops today were all really controlled, so top job. Last, but far from least, our drivers did a fantastic job today in what is a notoriously challenging race for man and machine. So let's hang onto this momentum and use it to our advantage in Japan."
Haas-Ferrari
Esteban Gutierrez (DNF, Mechanical): "Today we had a fantastic start. It was pretty good up to the first corner when, unfortunately, I got a puncture in my rear-right tire from Kevin (Magnussen) touching behind. I then had to come back to the pits. The floor was damaged and when I went back out on track I was fighting a lot, pushing to make up places, but the car wasn't easy to drive. We had to retire after my second pit stop as we had a mechanical failure. Overall, a pretty disappointing weekend, but we have to keep our focus and keep the rhythm as we head to Japan."
Romain Grosjean (DNF, Brakes): "There was a brake failure. We really don't know what yet, but the pedal just went straight to the floor and I had to avoid the car in front of me. Our data didn't suggest anything beforehand. It's a shame. We did a really good first lap and we were looking at points running inside the top-10. Things just didn't go very well. I was racing with Fernando (Alonso). He had power, so it was very difficult to keep him behind. I was then just trying to follow his pace. The plan was to try to keep the tires alive for quite a while. We just didn't get to that point, though."
Guenther Steiner, Team Principal: "After we saw light at the end of the tunnel yesterday after qualifying, where I think we did a pretty good job, it got dark again today. We don't really know yet what happened with both of the cars. One had a brake failure and the other, obviously, lost a wheel. We'll have to see what exactly failed with the brakes on Romain's car. We lost a wheel on Esteban's car, but we're not sure yet why. The pit stop seemed to be ok and he got going. We need to see if a mechanical part failed or if it wasn't tight, but we don't know yet. Obviously, we're moving on to Japan. We'll try to put ourselves in a better position again there."