Malaysian GP 2016
OCTOBER 3, 2016
Race Report - Between drinks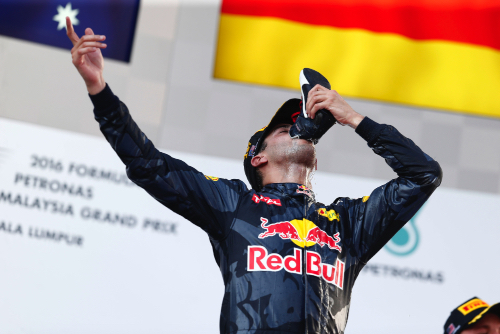 © Active Pictures
By Dan Knutson in Sepang
Daniel Ricciardo got to drink the bubbly from his racing boot after he won the Malaysian Grand Prix. The last time he tasted the winning wine, albeit from the bottle rather than his shoe, was after his victory in the 2014 Belgian Grand Prix.
"What a day, I'm feeling a bit emotional and overwhelmed!" he said. "It's been a long time between drinks! A couple of weeks ago I said we'd win a race this year, but to be honest I didn't expect a win to come at this circuit. This is probably the sweatiest race to win and do a 'shoey,' but for me it's not so bad, I felt a bit sorry for the others though having to drink from my shoe, but the crowd was encouraging me."
It had been a hot race.
The ambient temperature at the start of the race was 91 degrees Fahrenheit (33 degrees Centigrade) and the track temperature was 126 degrees Fahrenheit (52 degrees Centigrade.) There was a 20 percent chance of rain, and the humidity was 53 percent.
Lewis Hamilton was going to win the 56-lap affair, but his Mercedes engine went up in flames 40 laps into the event. That set up a duel to the finish between Ricciardo and his Red Bull teammate Max Verstappen.
"The battle with Daniel during the race was great and really good fun," Verstappen said after finishing second. "We have a lot of respect for each other so you can see we gave plenty of space but were still able to push hard. I got close to being in the DRS activation zone but my rubber was slightly older and overheating so I just couldn't get within range and attack."
It was a case of damage control for Nico Rosberg who wound up third in his Mercedes after dropping to 17th after getting tangled up in first lap accident.
"Today was a tough day - because after Turn 1 I thought it was finished," Rosberg said. "Of course I'm happy with the comeback; to get all the way back on the podium, I definitely didn't think that was going to be possible. For Lewis (Hamilton), I've been in his position, I know how terrible it is in that moment, so I'm sure he's totally gutted."
Going back to the beginning, Felipe Massa's car stalled at the start of the formation lap. He had qualified tenth, but now the mechanics had to push his car into the pits. They got the car started and he headed for pit exit.
Pole sitter Hamilton got a good start to take the lead in the 56-lap race. Sebastian Vettel, who had qualified his Ferrari fifth, tried to go for it all in Turn 1.
"I braked late but I was still behind Nico (Rosberg) and then Sebastian (Vettel) just dived up the inside, just went really deep and there was definitely no space for that," Verstappen said. "He T-boned Nico, so I had to avoid all the debris and the two cars. I lost three or four positions because of that."
Vettel, last year's winner, parked his damaged car on the edge of the track Turn 3, and the Virtual Safety Car was deployed for three minutes.
"We had a good start," Vettel said, "and then I was going side by side with Max (Verstappen). We were both battling for position into turn one. Nico (Rosberg) in the front was turning in and he obviously decided to pick his line, which is absolutely fair and in his right. At that point with the speed I had I couldn't slow down anymore and I was also pushed by Max to the right.
"I did my best under braking but I couldn't avoid the impact. It was an unfortunate chain reaction which ruined my race and Nico's one. I can't do more than apologize to Nico, because the accident had nothing to do with him being in front."
The order at the end of lap 1 was: Hamilton, Ricciardo, Sergio Perez (Force India), Kimi Raikkonen (Ferrari), Verstappen, Jenson Button (McLaren), Nico Hulkenberg (Force India), Valtteri Bottas (Williams), Romain Grosjean (Haas) and Ocon. Rosberg was down in 17th.
Compare that to the qualifying order of: Hamilton, Rosberg, Verstappen, Ricciardo, Vettel, Perez, Hulkenberg, Button and Massa.
As the race restarted, Verstappen quickly overtook Perez who then fell behind Raikkonen as well.
By lap 5, Fernando Alonso, who had started last in his McLaren, was up to tenth. Rosberg was also on the move and was now 12th.
Grosjean slid off the track and out of tenth place at Turn 15 on lap 7. The Virtual Safety Car was deployed again.
Verstappen pitted at the end of lap 9 as did Perez, Button, Hulkenberg, Alonso, Rosberg and several others.
That jumbled the order which, at the end of lap 10, was: Hamilton, Ricciardo, Raikkonen, Verstappen, Bottas, Sainz, Ocon, Ericsson, Perez and Palmer.
Verstappen, on the soft tires, was lapping quicker than most of the opposition, and on lap 15 he was just 16.8 seconds behind Hamilton. Rosberg, on the hard compound Pirellis, was now eighth.
The top six at 19 laps were: Hamilton, Ricciardo, Raikkonen, Verstappen, Bottas and Rosberg. Only Verstappen and Rosberg already had a pit stop under their belts at this stage.
But Hamilton and Raikkonen came in at the end of lap 20, and both got the hard tires. Ricciardo led lap 21 and pitted for the same compound.
Verstappen, therefore, went into the lead on lap 22 ahead of Hamilton, Ricciardo, Raikkonen, Rosberg, Bottas (who was on the medium Pirellis and had yet to pit), Perez and Button.
"So we may be seeing some people trying a one-stopper here: stints will lengthen as fuel load goes down," Pirelli tweeted.
On lap 25 Verstappen said he was losing grip on the left side tires. Hamilton edged closer to leader Verstappen who pitted at the end of lap 27 for a set of the hard tires.
So Hamilton was back in front on lap 28, and ahead of Ricciardo, Verstappen, Raikkonen, Rosberg and Bottas. The latter finally made his first stop a lap later and the crew fitted a set of the hard Pirellis.
Rosberg pitted for the second time after 31 laps for another round of the Pirelli hards, and Raikkonen and Perez did the same a lap later. Back on the track, Rosberg hounded Raikkonen for fourth place.
Verstappen closed in on teammate Ricciardo, and the gap was down to 0.8 of a second on lap 37.
On lap 38, Rosberg bumped his way past Raikkonen, the right front wheel of the Mercedes clipping the left side of the Ferrari front wing. Officials gave Rosberg a 10 second penalty.
Verstappen passed Ricciardo on lap 38 but Ricciardo fought back to regain the spot. Their ferocious duel continued.
"We had a good battle with Max," Ricciardo said. "He is a hard racer and we have that in common. We fought hard and aggressive but I think we showed we can push to the limit but still keep it on the track. We had a fair and clean fight and I think we both enjoyed it."
Hamilton led lap 40 but moments later his engine went up in smoke and fire, and he parked at Turn 1.
"On the straight, I just lost power all of a sudden," Hamilton said. "You could hear something blew and I obviously had to stop. Honestly, you've got to understand it from my point of view. On one side, we've had the most incredible success these past two years, for which I'm so grateful. These guys work so hard and we're all feeling the pain right now.
"When you get out of the car - that feeling you have after leading the race and then your car fails - it's pretty hard to say positive things at the time. As I said in the TV interviews, Mercedes have built 43 engines or however many it might be with the extra three I've had, and I have happen to have most of, if not all of, the failures. So, that is definitely tough to take. But I have 100 percent confidence in these guys."
Out came the Virtual Safety Car, and Raikkonen pitted. Ricciardo was now first and Verstappen second, and both Red Bulls pitted at the end of lap 41 for the softs. Rosberg also stopped
As the Virtual Safety Car period ended, the order after 42 laps was now Ricciardo, Verstappen, Rosberg, Raikkonen, Bottas, Perez, Alonso, Button, Hulkenberg and Palmer. Rosberg, however, was given a 10 second penalty for causing the collision with Raikkonen.
On lap 44 Ricciardo was 2.0 seconds ahead of Verstappen. On lap 46, with 10 tours to go, the gap was 1.7 seconds, and on lap 49 it was 1.1.
Meanwhile, Ferrari told Raikkonen to keep the gap to Rosberg under 10 seconds and the podium would be his. That gap was 9.6 seconds on lap 49, and 11.98 on lap 51. Raikkonen's podium was slipping away.
Out in front, Ricciardo was just over a second ahead of Verstappen and therefore out of DRS range. Ricciardo then extended his lead to 2.8 seconds on lap 54.
"I got close to being in the DRS activation zone but my rubber was slightly older and overheating," Verstappen said, "so I just couldn't get within range and attack. The team told us we were free to race as long as we kept it clean, which we did. It is really nice to hear that from the radio. I think we had the race pace and speed to win today but we have to be very happy to settle for a perfect one-two for the team."
Raikkonen wound up fourth.
"Overall the car was not too bad and the handling was quite okay," he said, "but the pure lap time was not there. We were missing speed and we never had the chance to challenge the cars in front. When Rosberg passed me I suddenly had to turn right to avoid him: I knew he was going to hit me and we both would have probably been out: my rear floor was damaged because of that and Nico got penalized. After that I did my best to keep the ten seconds gap to him, but unfortunately it was not enough to get a better result."
Bottas and Perez rounded out the top six.
"The start was good," Bottas said. "We were able to make our planned strategy work, which was crucial today to be in front of Force India. We scored some good points. It's a shame that we lost points with Felipe's technical issues, but from my side I'm happy with the race. Let's try and repeat this in Japan."
Of course Ricciardo would like to do a repeat and have another drink on the top step podium after the Japanese Grand Prix. That would make it just one week between drinks rather than more than two years like it was this last time around.