Malaysian GP 2016
OCTOBER 2, 2016
Race Notes - Ricciardo leads Red Bull one-two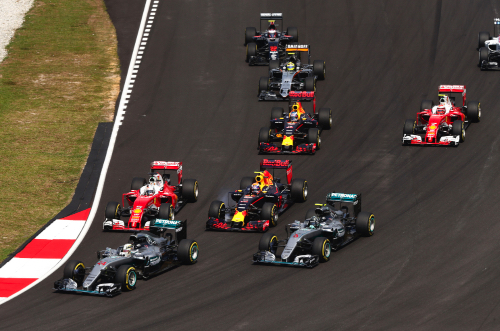 © Active Pictures
By Mark Karp
Daniel Ricciardo won the Malaysian GP ahead of his Red Bull-Tag Heuer team mate Max Verstappen in second. Nico Rosberg after making contact with Sebastian Vettel in the first corner drove back to finish third. Lewis Hamilton, after leading two-thirds of the race suffered an engine failure on lap 41.
The win is Red Bull's second win of the season after their win with Verstappen in Spain, and is Ricciardo's fourth win of his career.
Kimi Raikkonen (28.7s) in the sole Ferrari finished in fourth place, followed by Valtteri Bottas (1m01.5s) in the Williams-Mercedes was fifth, Sergio Perez (1m03.7s) in the Force India-Mercedes was sixth, Fernando Alonso (1m05.2s) in the McLaren-Honda was seventh, Nico Hulkenberg (1m14.0s) in the second Force India was eighth, Jenson Button (1m21.8s) in the second McLaren was ninth and Joylon Palmer (1m34.4s) in the Renault finished in the final points position in tenth place.
Before the start Hamilton sits on pole - with his 100th career front row start, second to only Michael Schumacher all-time.
His Mercedes team mate Rosberg starts second, followed by the two Red Bulls of Verstappen and Ricciardo on the second row, Ferrraris of Vettel and Raikkonen on the third row, Force Indias of Perez and Hulkenberg on the fourth row, Button in ninth and Massa in tenth.
Pirelli's offerings for today are yellow-sided soft, white-sided medium and orange-sided hard compound tyres. With the newly paved circuit, and very hot weather facing the drivers - the track temperature at 57 degrees, we have a lot of questions still to be answered this afternoon, but the preferred strategy looking for a three-stopper with three sets of soft tyres and the final stint on hard compound tyres. All the drivers starting on soft tyres except for Bottas, Magnussen and Nasr on medium tyres and Palmer on hard tyres.
Button sets a new mark starting his 300th Grand Prix race today.
At the appointed time, the drivers leave the grid and come around on the formation lap - Massa pushed off the grid with a throttle problem and will start from the pitlane. Palmer complains on the radio that he is losing power.
The lights go out and the race starts with Hamilton going to the lead, Vettel comes down the inside of Rosberg and the two tounch - Rosberg spins and Vettel's front left corner is damaged, the Ferrari is out.
At the end of lap one with the virtual safety car deployed, Hamilton leads Ricciardo, Perez, Raikkonen, Verstappen, Button, Hulkenberg, Bottas, Grosjean and Ocon in tenth. Rosberg runs 17th.
On lap 3 the race is back on, Verstappen passeing Perez for third - Raikkonen passes Perez as well at the first corner on the next lap..
Ricciardo sets fast lap at 1m40.462 and followed a second behind Hamilton.
On lap 4 Rosberg is up to 15th.
On lap 6 Alonso passes Grosjean for ninth.
On lap 7 Massa suffers a left-front puncture and pits to change it. Rosberg passes Ocon for 12th place.
On lap 9 Grosjean spins into the gravel trap at the final corner and is out. The virtual safety car is deployed again. Verstappen, Perez, Button, Hulkenberg all pit.
Rosberg complains that he thinks he ran over something, and pits fot hard tyres.
On lap 11 we are back under racing, Hamilton sets fast lap at 1m39.643s, and leads Ricciardo by 2.9s, Raikkonen (6.9s), Verstappen (17.4s), Bottas (22.1s), Sainz (23,2s), Ericsson (27.6s), Ocon (30.4s), Perez (32.3s) and Rosberg (35.1s) in 10th place.
On lap 13 Ocon pits for hard tyres. Verstappen sets fast lap at 1m39.217s.
Renault tells Magnussen that he has less downforce due to damage.
On lap 14 Button passes Palmer for tenth. Hulkenberg passes Palmer as well.
On lap 15 Rosberg passes Perez for eighth - 38 seconds behind the leader. Ocon is handed a 5-second penalty for speeding in the pits.
On lap 18 Rosberg passes Ericsson for seventh place. Magnussen pits his Renault and retires with damage to the car from contact at the start.
On lap 19 Rosberg passes Sainz for sixth, and is 39 seconds behind the leader.
At lap 20 Hamilton leads Ricciardo by 5.5 seconds, followed by Raikkonen (13.0s), Verstappen (13.9s), Bottas (36.9s), Rosberg (38.1s), Sainz (42.9s), Ericsson (38.9s), Perez in ninth.
On lap 21 Hamilton pits from the laed for hard tyres, Raikkonen for hard tyres as well.
Hamilton rejoins in third place.
Ricciardo pits from the lead the next lap and switches to hard tyres, Verstappen taking over the lead, after his early stop for soft tyres, over Hamilton by 8 seconds.
On lap 24 Hamilton sets fast lap at 1m39.186 seconds. Hamilton is slowly chipping away at Verstappen's lead. Verstappen reports that he is 'losing grip'Ï.
On lap 27 Verstappen pits and switches to hard tyres and comes out in third behind Ricciardo.
Alonso pits from 10th for medium tyres.
On lap 29 Hulkenberg pits for hard tyres. Hamilton sets another fast lap at 1m39.135 seconds. Bottas pits as well for hard tyres.
At lap 30 Hamilton leads Ricciardo by 12.8 seconds, followed by Verstappen (17.1s), Raikkonen (22.0s), Rosberg (25.2s), Perez (43.4s), Button (50.9s), Bottas (60.8s), Palmer (66.9s) and Sainz (68.2s) in tenth place.
On lap 32 Rosberg pits for another set of hard tyres and rejoins in sixth ahead of Button.
Raikkonen pits the next lap from fourth. Palmer finally pits and switches to soft tyres.
On lap 33 Alonso passes Sainz for ninth place.
Hulkenberg chases Ericsson and passes him for 11th place.
Hamilton says he is starting to lose grip.
On lap 37 Rosberg is closing on Raikkonen in fourth, while Verstappen is closing on Ricciardo in second place.
The next lap Rosberg dives down the inside of Raikkonen at turn 2 - the two touch but Rosberg takes fourth place.
Verstappen and Ricciardo battle side-by-side, but Ricciardo stays ahead.
On lap 41 keader Hamilton's engine lets go and he is out. Mercedes engineers have shocked looks in the pits.
The virtual safety car is out for possible oil in turn 1. Ricciardo and Verstappen both pit for soft tyres. Rosberg pits for soft tyres as well.
Gutierrez is out with his left front tyre off his car.
At lap 41, under virtual safety car, Ricciardo leads Verstappen, Rosberg, Raikkonen, Bottas, Perez, Alonso, Button, Hulkenberg and Palmer in 10th place.
On lap 42 Rosberg is handed a 10-seocnd penalty for contact earlier with Raikkonen.
The race resumes with Ricciardo in the lead.
On lap 44 Rosberg sets fast lap at 1m36.424 seconds. With Rosberg having a 6-second lead over Raikkonen before his penalty, the team wants him to stretch his lead ahead of the Ferrari.
On lap 45 Ricciardo leads Verstappen by 1.7 seconds, followed by Rosberg, 18.9s further back.
At lap 50 Ricciardo leads Verstappen by 1.2 seconds, followed by Rosberg (18.8s), Raikkonen (29.7s), Bottas (54.5s), Perez (56.5s), Alonso (64.3s), Hulkenberg (71.0s), Button (78.0s) and Palmer (78.0s) in tenth place.
On lap 53 Kvyat complains about his brakes having problems.
The order remains the same to the line and Ricciardo wins ahead of his team mate Verstappen.
Ricciardo continued his tradition and drank champagne out of his drivers shoe on the podium.