Malaysian GP 2016
OCTOBER 1, 2016
Practice 3 Report - Staying in place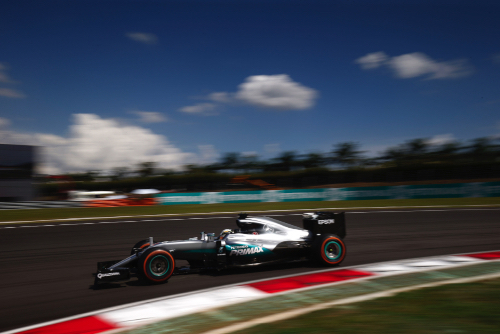 © Active Pictures
By Dan Knutson in Sepang
Lewis Hamilton was the quickest driver during Friday's practice for the Malaysian Grand Prix, and he stayed in first place during Saturday's practice.
The ambient temperature at the start of the 60-minute session was 88 degrees Fahrenheit (31 degrees Centigrade) and the track temperature was 124 degrees Fahrenheit (51 degrees Centigrade). The humidity was 55 percent.
"Track temperature cooler than yesterday but with more cloud cover it actually feels a bit more windless and hotter: tough for drivers," Pirelli tweeted.
The line-up for the weekend was: Mercedes - Lewis Hamilton and Nico Rosberg. Ferrari - Sebastian Vettel and Kimi Raikkonen. Williams Mercedes - Felipe Massa and Valtteri Bottas. Red Bull TAG Heuer - Daniel Ricciardo and Max Verstappen. Force India Mercedes - Nico Hulkenberg and Sergio Perez. Renault - Kevin Magnussen and Jolyon Palmer. Toro Rosso Ferrari - Daniil Kvyat and Carlos Sainz. Sauber Ferrari - Marcus Ericsson and Felipe Nasr. McLaren Honda - Fernando Alonso and Jenson Button. Manor Mercedes - Pascal Wehrlein and Esteban Ocon. Haas Ferrari - Romain Grosjean and Esteban Gutierrez.
As stated, Hamilton was quickest on Friday after posting a time of 1:34.944.
"There's a lot of data to analyze tonight to make sure we have a good understanding of the tires and of our position relative to the others," he said on Friday. "Overall a good building block for tomorrow and the rest of the weekend."
Rosberg said the new track surface was really enjoyable to drive.
"Challenging, but with good grip," he said. "It's tough to get the setup right with such an unknown element as new tarmac, but we're on the right track. Turn 15 is interesting, as you can now try several different lines if you're attacking the guy in front, so that will be good for overtaking."
Gutierrez and Alonso were the first out on track. Ricciardo, on Pirelli's medium compound tires, set the early benchmark with a time of 1:36.875. He then lowered that to a 1:36.483.
Hulkenberg used the soft tires to take second place with a 1:36.515.
A number of drivers, including the Ferrari, McLaren, Williams and Mercedes teammates, did not even bother to go out early in the session to do flying laps. Only seven did so in the first dozen minutes.
The track conditions were not very representative compared how they would be in qualifying late in the afternoon.
Twenty minutes into the session, Rosberg, on the medium tires, tried to do a fast lap only to find Gutierrez spun off at Turn 15. Meanwhile, Perez was the new leader with a time of 1:36.435. Then Hamilton, on the medium tires, set a 1:36.474.
Rosberg's next attempt proved to be more fruitful as he went fastest with a 1:36.361.
Twenty-five minutes into the session, Vettel spun at Turn 15 which, with its new camber, was proving to be tricky for the drivers.
A couple of minutes later, Ricciardo headed out on the soft Pirellis. He set a time of 1:35.461. Hamilton had now clocked a 1:35.612 on the medium compound tires.
Verstappen had been in the garage with a steering problem, but he now went out on the medium tires and claimed third place with a 1:36.109.
Just past the midpoint of FP3, the top six were: Ricciardo, Hamilton, Verstappen, Rosberg, Perez and Hulkenberg.
With 20 minutes remaining, Rosberg did a run on the softs and got a lap in at 1:35.293, good enough for first place. Then Hamilton tried the soft compound Pirellis, and grabbed a 1:34.434. Rosberg improved to a 1:35.053.
With 10 minutes to go, the top six were now Hamilton, Rosberg, Ricciardo, Verstappen, Hulkenberg and Massa.
The Ferraris had been out of the picture at top of the times until, with eight minutes remaining, Vettel used a new set of the softs to go third with a 1:35.291.
Then Verstappen took over second and Raikkonen fourth - both used the soft Pirellis.
And so, at the end of FP3, the top 10 were: Hamilton, Verstappen, Rosberg, Raikkonen, Vettel, Ricciardo, Hulkenberg, Bottas, Sainz and Massa.