Malaysian GP 2016
SEPTEMBER 30, 2016
Practice 2 Report - Edged out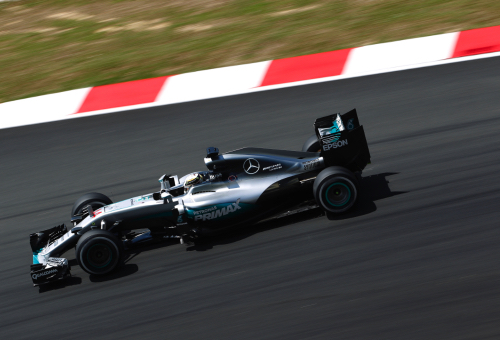 © Active Pictures
By Dan Knutson in Sepang
Lewis Hamilton edged out Mercedes teammate Nico Rosberg by 0.233 of a second to claim the top spot in Free Practice 2 for the Malaysian Grand Prix. Ferrari drivers Sebastian Vettel and Kimi Raikkonen ended up third and fourth.
The ambient temperature at the start of the 90-minute session was 93 degrees Fahrenheit (34 degrees Centigrade) and the track temperature was 136 degrees Fahrenheit (58 degrees Centigrade.) The humidity was 48 percent.
The line-up for the weekend was: Mercedes - Lewis Hamilton and Nico Rosberg. Ferrari - Sebastian Vettel and Kimi Raikkonen. Williams Mercedes - Felipe Massa and Valtteri Bottas. Red Bull TAG Heuer - Daniel Ricciardo and Max Verstappen. Force India Mercedes - Nico Hulkenberg and Sergio Perez. Renault - Kevin Magnussen and Jolyon Palmer. Toro Rosso Ferrari - Daniil Kvyat and Carlos Sainz. Sauber Ferrari - Marcus Ericsson and Felipe Nasr. McLaren Honda - Fernando Alonso and Jenson Button. Manor Mercedes - Pascal Wehrlein and Esteban Ocon. Haas Ferrari - Romain Grosjean and Esteban Gutierrez.
There was drama in FP1 when Magnussen's Renault caught fire.
"We had a fuel leak from a breather," Renault's Technical Director Nick Chester told Sky TV during the break between FP1 and FP2. "We were running the tank full and running some experimental parts for Mexico, so a different set-up to the other car. We're looking at what happened. It looks like the tank has pressurised. We're investigating now.
"Everyone looks OK, which is the main thing, and we'll try and get the car out for FP2. There was quite a bit of dust around but everyone seems to be fine. There's a bit of loom damage, obviously a lot to clean up, but hopefully we'll get it out for FP2."
The Haas teammates were the first out on track, and it didn't take long for Rosberg to be first again, just as he had been in FP1. He turned a 1:36.543 on the medium compound Pirelli. Hamilton was 0.079 of a second slower on the hard compound slicks.
Hamilton used the same tires to improve to a 1:36.144.
So now, 20 minutes into the session, the order was: Hamilton, Rosberg, Verstappen, Ricciardo, Vettel and Hulkenberg. Magnussen had yet to leave the garage.
Six minutes later Vettel used the soft Pirelli compound to clock a 1:35.605. "I was reasonably happy with the lap," he radioed as he set off on another lap.
Rosberg ventured out on the softs one-third of the way into FP2 and set a 1:35.177. Ricciardo, also on the softs, did a 1:36.337 which put him fourth.
Others were doing their soft runs now and Perez popped up to fourth and Alonso to fifth, which pushed Ricciardo down to sixth.
Next, Hamilton and Verstappen started their flying laps on the softs. Hamilton's 1:34.944 put him on top of the times, while Verstappen claimed fourth with his 1:36.037.
Meanwhile, Raikkonen was down in 21st. "We have to check the car, something is not correct," he said.
Forty-one minutes into the session Magnussen headed out in his refurbished Renault. He stayed out to a flying lap, but botched the final turn and cut across the grass to the pits.
Just past the midpoint of FP2 the top 10 were: Hamilton, Rosberg, Vettel, Verstappen, Perez, Alonso, Ricciardo, Hulkenberg, Sainz and Palmer.
Magnussen was soon back in action, and this time he stayed out and did a flying lap followed by more. Raikkonen, his car fixed, was on the go as well as he moved up to seventh place. He then turned a 1:35.842 to go into fourth.
Having used up their new tires, most of the rest of the drivers were now doing long runs. But Button had a new set of the softs which he used to claim tenth place.
With 20 minutes remaining, only Raikkonen was in the pits. And the track remained busy for the rest of FP2 as the drivers discovered the left front tires were getting extra wear.
The top 10 at the end of the session were: Hamilton, Rosberg, Vettel, Raikkonen, Verstappen, Perez, Alonso, Ricciardo, Hulkenberg and Button.