Malaysian GP 2015
MARCH 30, 2015
Race Report - Seeing Red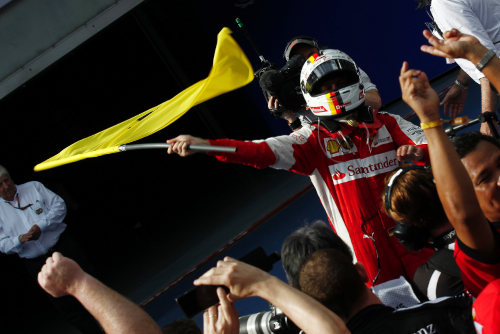 © Active Pictures
BY DAN KNUTSON IN SEPANG
Sebastian Vettel saw a lot of red Ferrari flags in Australia and Malaysia. They had been there in past years, of course, but he had never really paid much attention to them. That changed when he became a Ferrari Formula 1 driver, and it has really changed now that he has won his first race for the famous Scuderia.
"I'm speechless," said Vettel (who never is) after winning the Malaysian Grand Prix and defeating the mighty Mercedes team. "Last year was not a good year for me. I think we had a great car but I was just struggling to extract the performance. This year's car seems to suit me very well."
This was the first victory for Ferrari since Fernando Alonso won the Spanish Grand Prix back in May of 2013. Vettel's last win was also in 2013 - the season finale in Brazil - driving for Red Bull.
"Obviously it's a big change," he said of the switch to Ferrari, "but the team has been phenomenal, welcoming me the first day. I remember when the gate opened in Maranello it was like a dream coming true. I remember the last time I was there was as a young kid watching Michael (Schumacher) over the fence driving around in the Ferrari, and now I'm driving that very red car.
"It's incredible. The day today, the race, really spot on, the whole team was there, great strategy, great pace, we beat them (Mercedes) fair and square, so thanks to the team, thanks to all the team in Maranello."
Ferrari had shown good pace on long runs in practice, but could it really match the mighty Mercs in the race? The answer was yes. Vettel could use a two-stop strategy because his Ferrari was gentler on its tires in the hot conditions compared to the Mercedes cars. Lewis Hamilton and Nico Rosberg had to pit three times, and their cars did not quite have the pace to catch Vettel in the closing stages of the race.
Hamilton qualified his Mercedes on pole while Vettel lined up in second place. The next row of the grid consisted of Rosberg and Daniel Ricciardo in the Red Bull.
Hamilton took the lead at the start while Vettel fended off Rosberg. On lap three Marcus Ericson spun his Sauber in Turn 1, and the Safety Car came out to pace the field. Hamilton, Rosberg and a number of other drivers made early pit stops for tires, but Vettel stayed out to take the lead.
The Mercedes drivers switched from Pirelli's medium compound slicks to the hard compound tires.
"It was the plan from before the race," Rosberg revealed. "If there's a Safety Car on that lap, then we box. I think we didn't expect so many people to stay out, probably, and also I didn't expect, of course, to lose that much time in the pit stop waiting for people to go by. Because the pit lane was so wide, we thought we could go alongside. So, those were the problems, and then just getting through the pack afterwards was very difficult and cost a lot of tire degradation also."
Vettel led laps four to 17 and then made his first stop to trade his medium compound tires for another set of the same.
Hamilton was out in front from laps 18 to 23 and then made his second stop, this time for the medium tires. Vettel ran in first from laps 24 to 37 before making his second and final pit stop. Hamilton led one lap and then pitted.
Vettel had a 14 second advantage over Hamilton. The latter got that down to about 10 seconds but that was as close as he got to winning the race.
"I was not expecting them to be as quick as they were," Hamilton admitted. "I don't really know if I'd stayed out with him (when the Safety Car came out), whether that would have made much of a difference. They were probably just as good if not a little bit better perhaps on tire deg. So I think it would have still been very, very close. But naturally after that first stop I had so much ground to catch up it was pretty much impossible."
Hamilton struggled to find a good balance on the car.
"A lot of understeer in the low (speed corners) which inevitably snaps into oversteer everywhere," he said, "so I couldn't really look after my tires. I was doing everything with my controls but I couldn't really find a good balance.
"When I went to the option (medium compound) tire, the car was good or better so I was able to be a little bit more consistent and then closed down the gap. I hadn't been told but I thought we would be going onto that tire again at the end but we went onto the other (hard compound) one which wasn't good for me as I'd experienced before, but I did the best job I could with it."
Rosberg also rued that early pit stop.
"That really put me on the back foot," he said. "I tried to fight back as much as possible but couldn't quite get back to Lewis. Although I lost a lot from that pit stop phase, I'm happy that I got very close to Lewis, but not enough to attack or anything."
Kimi Raikkonen had an eventful race. He started 11th but dropped to second last place after getting a flat tire on the first lap. He fought his way up to fourth place.
"I had a good speed but in qualify it didn't go well," he said, "and then, after a poor start where I had too much wheel spin right off the line, I found myself fighting with all the other drivers and I had a puncture on the rear left tire while battling (Felipe) Nasr at the last corner, which means I had to go one full lap before coming back to pits with no tire. At that point my floor had got a little bit damaged, I had to do a full lap with no tire and then, even if the Safety Car helped us, I had to start from way back behind."
The Williams cars could not match the pace of the Mercedes and Ferrari machines, so Valtteri Bottas and Felipe Massa had their own private battle for fifth and sixth place. The team let them race, and Bottas came out ahead, but Massa would have been two seconds ahead if the team had not given him a slow pit stop.
"I was always in the wrong place at the start and lost a lot of time and positions," Bottas said. "I made the most of the performance of the car and it was great to be able to race Felipe at the end. We know we have some work to do, we need to learn from our mistakes and keep progressing."
The juniors beat the seniors for the next four places as rookies Max Verstappen and Carlos Sainz driving the Toro Rosso's finished ahead of senior team Red Bull and drivers Daniil Kvyat and Ricciardo.
"The first few laps were a bit tricky for me as I was struggling a lot on the medium tires," Verstappen said, "so we boxed early for the hard ones and that worked perfectly, the car felt great. We had a few good fights with other competitors."
Sainz has scored points in both races this season.
"Starting from P15 and making it to P8 is amazing!" he said. "There was a lot happening around me throughout the whole race, so it was very easy to lock-up, make mistakes or lose positions, but I kept calm and in the end it paid off."
The Red Bull drivers definitely were not happy with their race pace.
"A really frustrating race," Ricciardo said. "I was ready for a fight going into the race and hoping for something special, but it wasn't to be! I had a bit of contact on the first lap, which hurt us and then we had a few issues throughout the race, which we had to manage. It took a long time to pass cars as we didn't have the pace and we had some problems with the brakes, which didn't make our afternoon easy."
By contrast, rookie Roberto Merhi had a fabulous afternoon as he finished in what was Marussia's first race since it went into insolvency last November.
"We've had to overcome some massive hurdles in a very short space of time," Team Principal John Booth said, "so everyone is pretty emotional this afternoon because this result is just reward for an incredible amount of hard work and determination from a fantastic team of people."
There was plenty of emotional celebrating going on at Ferrari as well. But can Ferrari win again in the upcoming Chinese Grand Prix?
"They (Mercedes) probably struggled a little bit more with the heat today than they expected," Vettel said. "Equally, I think we didn't struggle with the heat as much as we probably expected, so both things put together made us very competitive today and able to beat them.
"For the next race - a completely different type of track - China is a unique track is many ways, it's supposed to be a lot cooler. I think Mercedes were struggling with the hot conditions at this stage of the season, so we expect them to be very, very strong, and they are the ones that usually set the pace.
"Today we could capitalize on their weakness a little bit and for the next race, we just try to race as hard as we can and see where it takes us."
One thing that Vettel can be sure he will see in the grandstands in Shanghai is plenty of red Ferrari flags.