Malaysian GP 2015
MARCH 29, 2015
Race Notes - Vettel wins Malaysian GP for Ferrari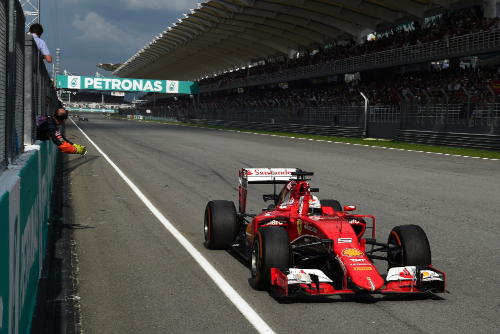 © Active Pictures
Sebastian Vettel won the Malaysian Grand Prix at Sepang for Ferrari today, his first win for the famous Italian brand, 8.5 seconds ahead of Lewis Hamilton in the Mercedes GP in second place and 12.3 seconds ahead of his team mate Nico Rosberg in third place.
The win is Vettels fourth at the Malaysian GP, and 40th career win.
Kimi Raikkonen (53.8s) finished fourth in the second Ferrari, followed by Valteri Bottas (70.4s) in the Williams-Mercedes in fifth place, his team mate Felipe Massa (73.5s) in sixth, Max Verstappen (97.7s) in the Toro Rosso-Renault in seventh place, his team mate Carlos Sainz (1 Lap) in eighth, Daniil Kvyat (1 Lap) in the Red Bull-Renault in ninth and his team mate Daniel Ricciardo in tenth place.
For the second round of the championship Hamilton starts on pole, but is joined on the front row by Vettel in the Ferrari. Rosberg and Ricciardo fill the second row, Kvyat and Verstappen on the third row, Massa and Bottas on the fourth row and Ericsson and Grosjean round out the top ten on the grid.
Pirelli is supplying the white sidewalled medium compound tyre and the orange sidewalled hard compound tyre, and of course there is always the possibility of rain during the Malaysian race.
The ambient temperature has reached 32 degrees celsius before the start, it will be a physically demanding race for the drivers.
Hamilton leads the field around to the grid and the lights go out and the race begins. Hamilton takes the lead into turn one, Vettel takes second, Rosberg third, Ricciardo, Massa, Kvyat, Hulkenberg, Ericsson, Verstappen and Grosjean are the top top runners.
Maldonado pulls in with a puncture. On the first lap Nasr and Raikkonen touch and at the end of the first lap Raikkonen slows with a puncture and needs to limp around back to the pits.
On lap 3 Nasr pits and changes tyres and his front wing.
Hulkenberg is up to seventh place after starting 13th on the grid.
On lap 4 Hulkenberg and Ericsson touch in the first corner - Ericsson ends up in the gravel and the safety car is deployed.
Most drivers dive to the pits and switch to hard compound tyres.
Vettel does not pit and takes over the lead behind the safety car. He is followed by Hulkenberg, Grosjean, Sainz and Perez, all of whom did not pit. Hamilton is back in sixth place with fresh tyres, followed by Ricciardo, Massa, Rosberg, Kvyat, Merhi, Verstappen, Bottas, Alonso, Button, Nasr, Raikkonen and Maldonado.
At the end of lap 6 the safety car pulls in and the race resumes with Vettel leading Hulkenberg and Grosjean. Rosberg tries to pass Massa into the first corner, but the Brazilian keeps the place. Massa is complaining of power issues.
Hamilton passes Perez in turn 9 - Ricciardo follows him through.
On lap 10 Hamilton pushes his way past Carlos Sainz for fourth place - setiing fast lap on the way. Rosberg passes Massa for seventh place.
Hamilton makes quick work of Grosjean and Hulkenberg and is up to second place - 9.9 seconds behind Vettel.
On lap 11 Bottas passes Verstappen for ninth place.
On lap 12 Ricciardo locks his brakes into the first corner - Rosberg gets past him and Sainz.
On lap 14 Rosberg passes Hulkenberg into the first corner to take third place, while Massa gets past Ricciardo for seventh.
Raikkonen pits for a second stop.
At lap 15 Vettel leads Hamilton by 9.2 seconds, followed by Rosberg (17.8s), Massa (25.9s), Bottas (27.1s), Ricciardo (29.3s), Verstappen (29.8s), Kvyat (30.7s), Alonso (36.8s) and Button (39.8s) in tenth place.
On lap 16 Raikkonen on fresh tyres sets fastest lap. Hulkenberf pit for medium tyres.
On lap 18 Vettel pits from the lead staying on medium tyres, coming out in third behind Hamilton and Rosberg and ahead of the Williamses.
Ricciardo pits for a second stop. Raikkonen passes Button and takes over tenth place.
Vettel closes to 1.2 seconds behind Rosberg in seconds place. Verstappen pits for his second stop.
Mercedes tells Rosberg that Vettel will be making one less stop than Rosberg and Hamilton.
The next lap Vettel passes Rosberg for second place.
Vettel pulls away from Rosberg and is 4.1 seconds behind Hamilton in the lead, flying on medium compound tyres.
McLaren tells Alonso to pit, and he retires the car. Button pits for new tyres.
Hamilton tells the team that his rear tyres are losing grip.
On lap 24 Verstappen passes Ricciardo for tenth place.
Vettel passes Hamilton for the lead - Hamilton pits and switches back to medium tyres and rejoins in third place.
On lap 26 Kvyat and Hulkenberg touch and the Russian spins and then continues. Rosberg pits from second place and takes on another set of hard compound tyres.
Hulkenberg complains of lack of grip.
Rosberg rejoins in fourth behind Raikkonen. Hamilton sets fast lap, but runs 21 seconds behind Vettel.
Ricciardo passes Hulkenberg in the first corner to take ninth place.
On lap 29 Rosberg is closing in on Raikkonen in third place.
Hamilton closes the gap on Vettel to 19 seconds behind.
At lap 30 Vettel leads Hamilton by 19.3 seconds, followed by Rosberg (32.9s), Raikkonen (38.5s), Massa (53.8s), Verstappen (57.4s), Bottas (58.7s), Sainz (60.2s), Ricciardo (71.3s) and Kvyat (74.7s) in tenth place.
On lap 31 Grosjean tries to pass Perez on the outside of turn 12 - the two touch and Grosjean spins and then continues.
The incident is under investigation by the stewards.
On lap 33 Sainz pits.
Vettel and Hamilton still need to make one further stop - Vettel for hard compound tyres and Hamilton for medium tyrees.
Perez is handed a 10 second penalty for his incident with Grosjean - Hulkenberg is given a 10 second penalty for his earlier incident.
On lap 35 Raikkonen pits for a third time from fourth place, switching to hard tyres and rejoins in seventh place.
On lap 37 Perez and Button both pit. Perez serves his penalty, and Button gets ahead.
On lap 38 Vettel pits for his second stop and switches to hard tyres for a run to the finish and comes out just ahead of Rosberg.
Hamilton complains that his tyres are not feeling very good.
Hamilton pits the next lap and takes on hard compound tyres. Massa pits for a slow stop.
Vettel sets fast lap.
Hamilton radios the team and says ºthis is the wrong tyre man.¹ The team tells him that they are using the best option of tyres they had available.
Hamilton responds and sets fast lap. He runs 14.2 seconds behind Vettel.
On lap 41 Rosberg pits from second place, taking another set of medium compound tyres, rejoining in third place.
On lap 42 Button is slowing on the track and pulls into the pitlane to retire.
Rosberg sets the fastest lap.
At lap 45 Vettel leads Hamilton by 11.4 seconds, followed by Rosberg (22.4s), Raikkonen (45.1s), Massa (60.7s), Bottas (63.8s), Sainz (83.4s), Verstappen (86.7s), Ricciardo (90.5s) and Kvyat (96.2s) in tenth place.
Sainz and Verstappen are battling for seventh place.
Bottas is closing on his team mate Massa in fifth place.
On lap 49 Verstappen passes Sainz at turn 4 for seventh place.
Maldonado retires in the pits.
On lap 50 Vettel leads Hamilton by 10.2 seconds.
On lap 53 Kvyat passes Ricciardo for ninth place, then both Red Bull drivers let Vettel past to lap them.
Bottas closes up behind his team mate.
On lap 56 Bottas passes Massa on the outside to take fifth place.
Vettel holds on and takes the win in his Ferrari ahead of the two Mercedes.