Malaysian GP 2008
MARCH 21, 2008
Practice 1 Report - Apres le deluge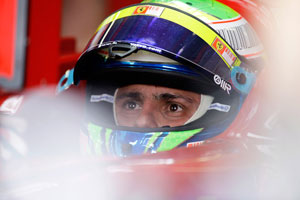 © The Cahier Archive
Ferrari started the practice for the Malaysian Grand Prix with a strong showing, but the Friday morning session at Sepang was not without problems, as Kimi Raikkonen's car came to a halt out on the circuit in the middle of session, with mechanical troubles. The qualifying was red flagged as a result. It was a session with much drama as David Coulthard's Red Bull broke its suspension over a kerb and Mark Webber's similar car caught fire. There were a number of spins and offs, notably for Kazuki Nakajima, Sebastian Vettel and for Nick Heidfeld. Adrian Sutil also stopped on the circuit in his Force India.
By the end of the session Felipe Massa was fastest with a best lap of 1m35.392s, more than a second ahead of Raikkonen's best. Heikki Kovalainen's McLaren was third, just a hint ahead of Nico Rosberg's Williams and Lewis Hamilton's McLaren, while the two Renaults were a further four-tenths behind with Fernando Alonso just faster than Nelson Piquet, who needs a good result to make up for a very poor showing in Australia.
Robert Kubica was eighth fastest, ahead of Jenson Button and Jarno Trulli.
Whether any of this is truly significant remains to be seen, but there will be further clues later today.