Las Vegas GP 2023
NOVEMBER 20, 2023
Race Analysis - Verstappen wins dramatic Las Vegas GP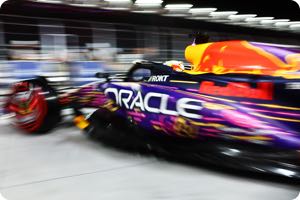 By Peter Habicht
Max Verstappen took a record setting 18th win and Red Bull's 19th for 2023 on Formula 1's inaugural visit to the Las Vegas Strip, finishing ahead of Ferraris Charles Leclerc whose last minute gamble behind Sergio Perez paid off in a dramatic last lap overtake for second to split the pair of Red Bull drivers on the podium.
Verstappen would start the race from the dirtier side of the grid behind Leclerc, but took advantage of a good launch and took the inside line into turn 1, pushing Leclerc into the runoff through a double apex left hander and taking the race lead while farther back, cars struggled with grip on the cool track surface.
Fernando Alonso's Aston Martin spun at the first corner, forcing Ferrari's Carlos Sainz and Perez to take evasive action. Perez' front wing hit the Alfa Romeo of Valtteri Bottas, forcing the Mexican driver into the pits for new nose while taking on hard tires.
A Virtual Safety Car was activated to clear debris at the first corner followed by the physical Safety Car when Lando Norris hit the barriers at turn 12 when his McLaren bottomed out while flat out over a bump through turn 11. A routine examination found Norris was unhurt after the incident.
Verstappen continued his lead from the restart just over 2 seconds ahead as stewards handed down a five second penalty for forcing Leclerc off track. Meanwhile, Perez was making his way up the field after rejoining in 18th to wind up 13th overtaking Astons Lance Stroll and the AlphaTauris of Yuki Tsnuoda and Daniel Ricciardo.
Opting to stay out, Verstappen was struggling to build a gap to Leclerc who was continuing to manage his tires well, and made his move on lap 12 on the inside at turn 14 at the end of the strip.
The Dutchman pitted for hard tires and a time penalty, heading back out in ninth with nearly two thirds of the race distance left to run.
Several drivers pitted for fresh rubber as Perez continued his climb up to second behind Leclerc, now 14 seconds ahead. The Mexican would be the third different race leader as the Ferrari driver stopped and rejoined in third place behind Aston Martin's Lance Stroll and ahead of teammate Carlos Sainz.
Farther back, Verstappen was about to trade up from seventh behind the Mercedes of George Russell and Aston's Fernando Alonso.
By lap 24 Russell rose to take fourth from Sainz, as Alonso fell back to seventh, and by lap 25, Verstappen made his move on Russell who turned in as the Dutchman tucked the nose of his car up the inside of turn 12, damaging both cars and bringing out the Safety Car to clear the debris.
Both Red Bulls pitted for new tires the next lap with Verstappen getting an all clear to continue, and rejoined as Leclerc stayed out and Alpine's Pierre Gasly conceded third to McLaren's Oscar Piastri.
Perez took back the lead again on lap 32, overtaking Leclerc at turn 14 as Verstappen made his way past Piastri by the next lap running 1.6s behind Leclerc and 2.4s behind Perez. Leclerc, running on older tires, made a late move on Perez again at turn 14, but by now Verstappen had the fastest lap and made his move past both in quick succession, outpacing the Ferrari for the lead on lap 37.
As Verstappen extended his lead the battle was now on for second, and Perez kept the pressure up as Leclerc braked late under pressure at turn 12, allowing Perez by on lap 43. With just seven laps left in the race, Red Bull kept on course for a 1-2 finish under the lights.
Leclerc was now 1.7s behind Perez as Verstappen took fast lap, and was within a second of the Mexican by lap 45, keeping within DRS range lap after lap. Local yellows were briefly shown at this stage as Nico Hulkenberg's Haas and Yuki Tsunoda's AlphaTauri retired in runoff areas, but Leclerc continued to stay under a second behind Perez.
On the penultimate lap, Leclerc was now the one putting the pressure on Perez for second place, under half a second behind at various stages around the circuit. The call came over team radio at Red Bull for Verstappen to back off his pace and reduce the 3.5s gap to his teammate to allow for a slipstream, but it apparently didn't register and a late braking Leclerc dove down the inside of Perez at turn 14 on the last lap to take the second step on the podium.
Leclerc, who felt he and the team were headed for a win this weekend, shared his thoughts following the race,
"Mixed emotions. On one hand, I'm extremely happy with today's performance. I think we didn't leave anything on the table and until the very last lap of the last corner, I gave it my all and managed to get that second place … On the other hand, disappointed because I really believe that without the Safety Car, the win was ours. We had a really good first stint on the medium and we had five laps' newer hards than Max."
"I had a good four or five laps in order to bring them into temperature and we had done a really good job on that, so I was really confident that the win was ours… Then there was unfortunately the Safety Car. Max and Checo stopped, I stayed on my five-lap used hard tires. It's not too much, five laps, but the problem is that when you cool them down during the Safety Car to restart, to restart a used tyre is incredibly difficult with those temperatures… Then we lost the race. But, I think the last part of the race was extremely fun and that gave me a lot of adrenaline inside the car and I really enjoyed it."
Alpine's Esteban Ocon took fourth place ahead of Stroll and Sainz, while Lewis Hamilton and Russell finished seventh and eighth for Mercedes. Fernando Alonso took ninth ahead of Piastri. Gasly finished 11th, followed by Williams' Alex Albon, Haas' Kevin Magnussen, AlphaTauri's Daniel Ricciardo, Alfa Romeo's Guanyu Zhou, Williams' Logan Sargeant and Alfa's Valtteri Bottas.
Perez' third place finish earned him second place in the World Drivers' Championship, and also shared some mixed feelings on his race, "…if you just look at the full picture, I think it's quite tough… looking fully back on my race, you know, with so much damage in lap one, basically, front wing damage. Everyone stopped on the outside, there was no grip on that initial lap. And unfortunately, the first target for me was just not to get any damage, because I knew how low grip conditions was going to be. And I ended up having that damage, unfortunately. And for me, at that point on, it was all about recovering, trying to get Lewis first because he was the target to seal second in the Championship today."
After some initial criticism, Verstappen shared his highlights on the racing the new circuit had to offer and some reasons why, "I think low deg on the Hard tyre. A lot of slipstreaming, of course, with the long straights. And probably a bit of a headwind maybe on the straight as well. So yeah, I think, you know, the low-speed corners, I think when you're following you don't really lose that much time, because they are that slow, the corners. And then there's a lot of draft around the track, you know, after Turn 4 to 5, from Turn 9 to 12 and then, yeah, of course, all the way from 12 to 14 and then from 16 to Turn 1 is again, a draft-fest. So that made the racing much better."
Next year's Las Vegas Grand Prix will take place November 21-23, and the 2023 season finale will take place November 26th in Abu Dhabi at 5p.