Las Vegas GP 2023
NOVEMBER 17, 2023
Practice 1 Report - Opening Practice Red Flagged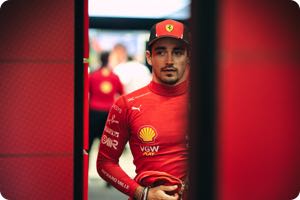 By Peter Habicht
Only eight and a half minutes into the weekend's opening practice session in Las Vegas, Formula 1 was off to a difficult start after part of the racing surface worked its way loose underneath the Ferrari of Carlos Sainz. While traveling at nearly 200 mph, his car passed over a manhole cover, lifting it out with some embedded framing from the paved surface, striking and damaging the monocoque survival cell, engine, battery and control electronics. The session was red flagged as the car stopped on track, and afterwards all cars were checked for damage. Esteban Ocon's Alpine was revealed to also have suffered damage to the monocoque.
While not unheard of on new circuits that haven't sustained the high suction generated from a Formula 1 car's ground effect, damage to the cockpit area responsible for protecting the driver is always cause for grave concern.
As of midnight, the start of free practice two has been delayed. It is unclear if city officials would be willing to extend the circuits operating window before resuming normal traffic flow on the strip at this time.