Korean GP 2013
OCTOBER 5, 2013
Saturday Team Quotes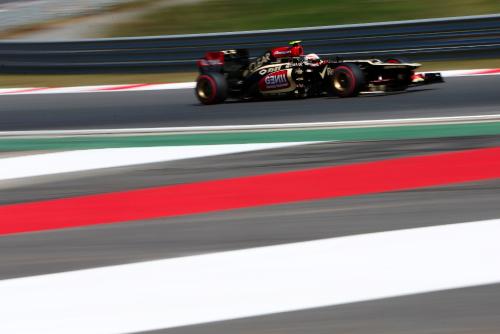 © The Cahier Archive
Red Bull-Renault
Sebastian Vettel (1st, 1:37.202): "It was close today. I had a very good lap in Q3 on my first attempt and thought I would find it hard to do better. On my second attempt I caught Kimi on the warm up lap and didn't have time to drop back, but fortunately the first lap was good enough. Mercedes were strong and seem to be comfortable in the middle sector. We're good in Sector one this year which a surprise as that's mostly straights. We improved the car from yesterday as I wasn't entirely happy with it after the second practice. In terms of conditions, we should be okay if it's dry or wet tomorrow; it's not clear if we get some rain from the typhoon, but let's see what happens."
Mark Webber (3rd, 1:37.464): "We had to take a bit of pace out of the car for qualifying, not much, but it was about how we would compromise between qualifying and the race tomorrow. I'm pretty happy, I could be two positions further up but that would mean, with the penalty, I would be 11th rather than 13th. It was a pretty tight qualifying with the two Mercedes, Seb and myself. Tomorrow's race will be interesting, I will be out of position, but we'll fight and come back through. I think we improved the car in some areas from yesterday."
Christian Horner, Sporting Director: "An exciting qualifying today and a great first run in Q3 for Sebastian, which proved to be the lap that achieved the pole position. It was a very strong performance from Mark and it's a shame that he now has to take a ten-place penalty, but we've set the car up with that in mind and hopefully he can make good progress tomorrow. Congratulations to Renault on achieving their 208th pole position, which matches the all-time record of Ferrari."
Thierry Salvi, Renault: "The car has been working very well all weekend and in the end all it took was one great lap by Sebastian in the start of the session to secure his third consecutive pole. Mark pushed hard and this position limits the damage his ten-place penalty will inflict tomorrow. We know our rivals will try to reset the pole advantage in the race so we need to stay on top to get the maximum from the car, which is again the quickest package of the paddock. On another note the pole is a great feeling for Renault as it takes our tally of pole positions in F1 to 208, equaling Ferrari's record. We're very proud to have achieved this with Red Bull Racing."
Ferrari
Fernando Alonso (6th, 1:38.038): "I am not surprised at the outcome of this qualifying session, because in terms of pure performance, Saturday is always difficult for us and will continue to be so until the end of the season. Usually, on Sunday, things go better and our aim is always to get to the podium, as has happened in recent races. This weekend seems harder than usual, because while up until now we have always had a good race pace, both yesterday and today we suffered on the long runs and that means we must absolutely improve for tomorrow. We have a few problems with the tyres which we are unable to manage as well as the others: there's a lot of graining and if you push very hard in the first sector you almost risk being unable to finish the lap. We will have to find the right compromise to get them to survive the number of laps proposed by our engineers, because the ideal strategy is still a two stop. Given how we look in the dry, the rain could mix things up and in fact we have nothing to lose and even if there will be little time to adapt to it, we must be ready for this eventuality."
Felipe Massa (7th, 1:38.223): "I can't be happy with the result of qualifying, as I expected to be closer to our rivals than in Singapore. But that wasn't the case, because here too, both Red Bull and Mercedes had a much faster pace and we didn't manage to get everything out of our car. Tomorrow I hope to be more competitive, even if it won't be an easy race. The degradation on the Supersofts on our car is rather high, while other cars are suffering less, and based on how the first stint goes, we will decide if we should switch to the Mediums, which at the moment seems like the best choice. Apart from Red Bull, Mercedes and one Lotus ahead of us, we will have to be very careful about other cars that are also very close and it will be important to get a very good start, trying to push to the maximum to bring home a reasonable points haul. It would definitely require a lot of luck to make it to the podium."
Pat Fry: "Today's result reflects more or less what we had expected from before, even if we can't claim to be happy about being unable to fight for the front rows. We are aware of what is our potential but again today, we tried to extract the maximum from the package we have available, trying to adapt the car to the track characteristics and as a function of the performance of the two types of tyre. In the first sector, we have always been competitive, but from halfway through the second one to the end of the third we have suffered, especially on the Supersoft. It wasn't easy finding the right balance which would allow us to push to the maximum without accentuating the tyre wear, which is inevitable when you don't have a high level of aerodynamic downforce. For tomorrow, we will have to try and manage the tyre degradation as well as possible over a long distance, especially in the first stint. Reliability and the uncertainty over the weather will be two key factors."
McLaren-Mercedes
Sergio Perez (11th, 1:38.362): "My fastest lap wasn't too bad ''  ® I had a small lock-up at Turn 15, but I don't think it cost me too much laptime. So, what we have is pretty much everything that we could have achieved today. We've developed a useful set-up for tomorrow afternoon, and we've also fitted a seventh gear that's long enough to hopefully enable us to do some overtaking. That means I'm looking forward to an exciting race. We really need to score some points tomorrow, and I think we're in a good position to do so."
Jenson Button (12th, 1:38.365): "On my fastest lap, I lost a tenth and a half behind Kimi [Raikkonen] in Turns 11 and 12. It's quite frustrating: they're pretty quick corners, and, when you're that close to the car in front, it damages your lap. It's difficult ''  ® because most of those corners are blind ''  ® but we've all got radios, so we should all know where other drivers are. It's a pity: without that delay, I'm pretty sure I would've qualified inside the top 10. Still, there are positives for tomorrow ''  ® we've got new tyres for the race; Turns One, Three and Four are always very interesting on the first lap; and we've got interesting straightline-speed compared to our rivals ''  ® both in terms of ratios and downforce levels ''  ® so the first couple of laps should be really interesting for us. Hopefully, we can go forwards tomorrow."
Martin Whitmarsh, Team Principal: "That was a disappointing qualifying session for both drivers, particularly for Jenson, who encountered traffic on his quick lap that almost certainly cost him the opportunity to graduate through into Q3. Still, we've proven repeatedly throughout this season that we have greater strength and versatility in the race itself. For tomorrow, we've got total flexibility over our strategy, and two strong racers, so we'll see what we can do."
Lotus-Renault
Romain Grosjean (4th, 1:37.531): "Our aim was to be up there fighting with the Mercedes today and that's exactly where we were. The Red Bulls were always going to be quick, so to be reasonably close to them in terms of the times is not too bad. Gaining a place on the grid just because another driver has been penalised is not how you want to move forwards, but I've had to cope with it before myself and it's part of the sport. Of course, it will be an advantage for us as it means we'll start on the clean side of the track. Tomorrow will be interesting in terms of what effect the tyre degradation has, but our race pace looked strong yesterday so we're aiming for a good result."
Kimi Raikkonen (10th, 1:38.822): "I made a mistake on my only set of new tyres in the final qualifying session so my lap wasn't fast enough for a better position, which eventually meant I ended up tenth and will start from ninth position tomorrow. We've had a bit of understeer in the car so I've struggled a little all weekend. If you look at the long run pace yesterday we should have a stronger race, but obviously we have to see how the weather turns out. We hope to do better tomorrow."
Alan Permane, Chief Race Engineer: "We're very happy with Romain's qualifying position after a textbook performance through all three sessions with everything going absolutely to plan. He soaked up the extra pressure to get through the first session using only the medium compound tyre and the benefit of doing that was having two sets of the super soft in the final session. Kimi didn't have the luxury of two runs in the final session, and unfortunately his crucial lap didn't quite come off as planned. As ever, he will be a formidable force in the race so we've got good expectations for tomorrow. It's a circuit where you can overtake with DRS; not the easiest, but certainly not the hardest. That said, tomorrow's race will be about tyres ''  ® in particular the front right which has a very hard time ''  ® so managing the wear and performance will be an important consideration. The threat of storms has certainly abated somewhat since the beginning of the week, however I think we can still expect to catch the outskirts of the bad weather meaning we could see some rain overnight and early tomorrow morning if not for the race itself. Of course, this is something we're monitoring closely."
Mercedes GP
Lewis Hamilton (2nd, 1:37.420): "I'm really happy with second position today as it felt like I got everything out of the car today. The guys have done a great job to get the package as it is here: we came into the weekend knowing that Red Bull had an advantage, so to be as close as I am in terms of performance is a real positive. Hopefully we have closed the gap a little bit. Our long-run pace yesterday looked good and pretty close to theirs but there will be threats all around us in tomorrow's race. A couple of years ago, I was on pole and Seb got past me at the start, so I'd like to repay him on that one! I need to make sure we get a good start, position the car as well as possible and when there's a gap, I'll be going for it. We know that the weather will change a bit for tomorrow and I don't mind how it turns out. I'd prefer dry conditions but we'll see what the day brings and roll with it."
Nico Rosberg (5th, 1:37.679): "I haven't found the right car balance all weekend so far and that's the reason why I'm a bit disappointed with today's result - even if my actual starting position of fourth place is pretty good. The first sector of the track is good for overtaking, so hopefully that will give us some opportunities in the opening laps, but Red Bull still seems to have the edge here overall. If I get a good start like I managed in Singapore, then a podium finish is possible based on the performance we were able to show in the long runs on Friday."
Ross Brawn, Team Principal: "It was a workmanlike performance from the team this afternoon and we can be happy to have both cars starting on the front two rows tomorrow, which is a fair reflection of our basic competitiveness at this circuit. Lewis was happy with the balance in qualifying and got pretty much everything out of the car today while Nico wasn't quite as comfortable, which was reflected in his ultimate lap time. Our high-fuel performance in Friday practice looked pretty strong and I am sure we can have a reasonable race on that basis. The weather forecast is currently predicting showers in the morning and cooler temperatures, but dry conditions, for the afternoon. We will see how that turns out and take any opportunity that comes our way."
Sauber-Ferrari
Nico Hulkenberg (8th, 1:38.237): "Today went really well. Q1 and Q2 were like clockwork and my lap in Q3 was good too, but somehow it was more difficult, I was four tenths down on my Q2 time and the grip was not the same as in the previous session. To start P7 tomorrow is very positive and we can look forward to the race. The car felt good during the long runs yesterday, and I feel confident we are able to hold our position tomorrow. It is so much fun driving here, however, we mustn't forget the cars in front of us are strong and also we have the McLarens behind us."
Esteban Gutierrez (9th, 1:38.405): "The communication was very good today, a big thank you to the entire team. I've improved my qualifying and once you have both cars working on a similar level you can push yourself a lot more. This is the first time I have driven here, so it is great to achieve a result like that. It is now the second time in a row I have been able to put in a good qualifying performance and that is a good feeling, because I have worked a lot to improve. The race will be interesting. The track temperature changed in Q3 and I had a bit of an issue with the balance of the car, and the front grip. Tomorrow will be similar to today, so we need to consider that in order to have a consistent race."
Monisha Kaltenborn, Team Principal: "This was our best qualifying result this year, and so we are very happy about that. It confirms our strength and our performance shows we have improved the technical side of the car. I am all the more happy about the fact this time both drivers were able to use the car's potential. A big thank you to the entire team for all the hard work it has been doing. Now we just need to keep that up and bring home some points tomorrow."
Tom McCullough, Head of Track Engineering: "Making it into FP3 with both cars is a fantastic result for the team, and we can see clearly the car is improving. It was obvious after FP3 it was going to be very tight, but we knew Q3 was possible and great laps by both drivers got us there. In Q3 itself both drivers felt there was a little bit more in the car, but as we shall be starting seventh and eighth on the grid and the long run pace of the car in P2 was strong, our target for points is realistic and this is what matters as getting into Q3 was part one of our plans. This was a true team effort, as the latest updates we brought here were scheduled for India, but a big push by the production department brought that target forward so we have these final ones for these last six races."
Force India-Mercedes
Adrian Sutil (14th, 1:38.431): "In the end I was very close to making Q3 ''  ® just one a half tenths away, so that shows how close things were today. We have been working very hard on the set-up all weekend and I was quite happy with the balance, but my lap was right on the limit. P14 still gives us the possibility to score points tomorrow, just as we did in Singapore. A lot of cars seem to have similar pace so maybe we need to try and do something different with the strategy to try and open us some options in the race."
Paul di Resta (15th, 1:38.718): "The last few races have shown that our low-fuel running is where we are struggling at the moment. We were not fully optimised for qualifying because we've been focussing more on our race pace ''  ® as we did in Singapore. Hopefully that will pay off for us tomorrow because our long run performance and tyre wear yesterday appeared to be very good. So I think we've got a good race car, possibly better than some of the cars around us, and points will be the target. I will be starting on the cleaner side of the grid too, which always makes a big difference here, so if we can get a good launch we can hopefully be in a good position to make the strategy work."
Robert Fernley, Deputy Team Principal: "We've put a lot of effort into trying to improve our one-lap speed so it's disappointing not to have made the top ten this weekend. Adrian's effort in Q2 was not too far away, but the midfield fight is so competitive at the moment and we had to settle for the seventh row of the grid. Even so, we remain positive for the race because the work we did yesterday suggests we have a car that is competitive over long runs. Hopefully we can demonstrate that pace tomorrow to try and get both cars in contention for points."
Williams-Renault
Valtteri Bottas (17th, 1:39.470): "I drove a good lap but unfortunately we just didn't have the pace in the car to get us through to Q2, with the car lacking overall grip when I was pushing hard on my final run. Of course the team are disappointed with this result but I am fully focused to work hard with them to improve the car's performance ahead of the race tomorrow so that we can make up a good number of places."
Pastor Maldonado (18th, 1:39.987): "I struggled with traffic in my last sector which cost me some time on my final run, but we just didn't have the speed to get through to Q2 today and I was having trouble getting grip from the tyres. Our long run pace has looked better this weekend so that is a positive we can focus on ahead of the race, and I will be fighting hard tomorrow to improve our position."
Xevi Pujolar, Chief Race Engineer: "In FP3 we tried a couple of different things across the cars but both drivers ended the session happier with the balance. Pastor did an especially good lap on the option tyres and whilst Valtteri wasn't able to get a clean lap in, we were more optimistic for qualifying. However we did not get the same sort of grip levels from the tyres in Q1 as we saw in FP3, which we need to look at to understand before tomorrow. The laptimes were tight and so we didn't manage to get into Q2. Everyone is so close this weekend so now we need to look forward to the race to see if we can recover some positions and get close to the top ten. There is still chance for light rain in the race which could also give more opportunities for strategy to come into play."
Toro Rosso-Ferrari
Daniel Ricciardo (13th, 1:38.417): "I'm definitely not happy with my position and when the gap to the top ten is so small, you have to also be disappointed. I would have liked to have been in the car for the full hour. However, compared to where we were yesterday, we have managed to improve the car, but we have not been able to make enough progress to be more competitive than this. Now we have to look towards the race and maybe the only bright side of not getting into Q3 is that we have one more fresh set of the Supersoft tyres. Hopefully we can make good use of it and then we will see if we have enough pace to go looking for points."
Jean-Eric Vergne (16th, 1:38.781): "Since yesterday, we have struggled to set up the car the way we wanted, but hard work from the team meant that, this afternoon, at least the car was the best it has been so far this weekend. However, as the other teams also make progress, the improvement on our car for this afternoon was not enough to move us up the order. As for the race, we should be able to start each stint on new tyres and that could make some difference. I am usually optimistic, but I think points will be a difficult target tomorrow. I will give it my best shot and see if I can claw my way back up towards the top ten."
James Key, Technical Director: "Naturally, we are disappointed not to have got into Q3 as that is always our target and nine hundredths of a second would have done it for us. The time sheet was incredibly tight today. However, we have not had the consistency of balance nor the outright pace all weekend that we should have had. However, with Daniel in thirteenth place on the grid, it's not unreasonable for us to aspire to points in the race. We now have a new set of Options and that will be important tomorrow, as the tyres will not last that long and we will be hoping to maximise our stint length."
Caterham-Renault
Charles Pic (19th, 1:40.864): "We made some changes to the car overnight and the balance was better in FP3. At the start the car felt quite similar to FP1 ''  ® it was very much on the nose and it felt like we'd gone a bit too far forward on the aero balance, particularly in the medium and high speed corners so we changed the front wing flap angle for run two but it didn't really improve too much. The change increased understeer but didn't improve the car's stability so we made another mechanical change for the performance run and it immediately felt like the balance was better, particularly in the medium speed corners. We still had a bit of work to do before qualifying on improving the rear stability so we did that over lunch and started quali with a car that felt pretty well balanced. In quali we went for two runs on the supersofts, going out quite late into the session. The first run was ok but there was definitely time to be found which I managed to do on the second run, finishing up 19th and again clear of our nearest competitors. I did have a bit of traffic on the fast lap but even with that we wouldn't have been able to push the cars ahead too much so we start tomorrow about where we expected and with the car now feeling much better than Friday I'm looking forward to the race."
Giedo van der Garde (20th, 1:40.871): "Friday had gone pretty well for us and the car felt similar on Saturday. We'd made a few changes overnight and had maybe introduced a bit too much oversteer at the start of FP3, particularly in sector two, but overall it felt ok. We didn't make any big changes for run two as I was pretty happy with the car and then went onto the supersofts for the normal performance run at the end of the session and it was still ok. I made a bit of a mistake with the DRS in sector three on my fastest lap but I went into quali feeling positive. Quali was really close! The first run in Q1 was ok but we clearly had some time to make up ''  ® not enough to fight the Williams but definitely enough to put us back ahead of Bianchi and Chilton. In the end sector one wasn't as clean as we'd hoped for but the other two sectors were good and it was a very tight fight with my teammate. This time he just came out on top so we'll start the race behind the Williams cars ''  ® the aim is obviously to repeat what we did in Singapore and fight them as much as we can. We've shown recently that we have the race pace to do that so let's see what happens tomorrow."
Marussia-Cosworth
Jules Bianchi (21st, 1:41.169): "We seem to be doing a better job of sticking with the Caterhams now and although the gap was closer in this morning's Free Practice session, I hope we can have a better fight with them tomorrow, despite the setback of the grid penalty. We've done a good job of improving the car balance and we didn't get enough of an opportunity to really show that in qualifying, but I do feel more confident for the race now."
Max Chilton (22nd, 1:41.322): "I'm really pleased with the progress we've made with the car this weekend. I'm also really encouraged by my pace compared to Jules, which this afternoon was just over a tenth away. We obviously can't be sure yet what the weather will bring but based on the work we've done so far I'm quite happy and looking forward to 51 laps of the Korea International Circuit tomorrow in my first race here."
John Booth, Team Principal: "This weekend we have found the car balance quite tricky to get right. Both drivers have had differing balances on the two types of tyre at various points in the weekend which inevitably creates a bit of a challenge in terms of ensuring we could get the best out of the cars in qualifying. Overnight and in FP3, both drivers worked hard with their engineering crews to improve the balance of the cars and by the time we got into Qualifying we seemed to have arrived at a good place. The first runs were really encouraging and good traffic and clear out laps helped to put the drivers right with the Caterhams. Unfortunately the traffic at the end of the Q1 session was quite difficult to manage and we didn't get the best of it and therefore didn't quite gain what we had hoped on our second runs. Overall, it's clear to see that we have made good steps since Budapest to be back in contention with the our nearest competitors and our promising race pace on Friday means that we should be able to race them tomorrow. All weekend we've been working with the threat of rain for the race in mind. While that does seems to be less likely now we won't be sure until the morning. Either way I'm sure we all feel very motivated to build on a positive weekend so far."