Korean GP 2012
OCTOBER 14, 2012
Sunday Team Quotes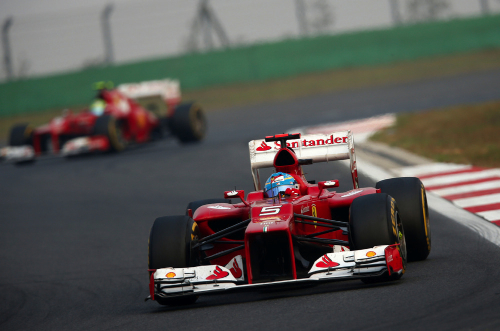 © Active Pictures
Red Bull-Renault
Sebastian Vettel (1st): "I think it was a perfect day for me and the team. It was important to get a good start. I was able to out-accelerate Mark and get side by side, I had the inside for Turn 3 and a good exit, which meant I could stay ahead for Turn 4. I was in the lead, but we have seen before that it doesn't always stick. My one mistake today was a lock-up going in to Turn 3, but with the tyres it was marginal for everyone. You couldn't push so much and my front right didn't look too happy from the inside many times. We were able to pull away in the first and second stint and hold it for the third. We will have to do our best to remain where we are now. We have to just keep it simple and do our job."
Mark Webber (2nd): "I had a bit too much clutch off the line, which was disappointing. I put up a fight on the back straight with Sebastian, as it wasn't all over. I tried to make a move, but once I pulled out of his slipstream, both of us were on the same speed. After that I was going quite well in the first part of the race. I couldn't use DRS, due to the yellow flags and after that it became a tyre battle. The second stint wasn't so good, as I went a bit slower to conserve the tyres, but that made the degradation a bit worse. The last stint was the strongest, but it was too late by then. Congratulations to Sebastian on the win and it's great for the team that we got a one two, especially for the Constructors', but I have mixed emotions. It was a good result, but of course, I wanted to get the top result today."
Christian Horner, Sporting Director: "A phenomenal team result. It was our first one two of the season and a great performance. Both drivers executed excellent races. Sebastian made the better start and he and Mark ran side by side all the way down the straight to Turn 3, but gave each other just enough room. Thereafter it was a case of tyre management and executing a good strategic race, which we did with both cars to seal our first one two of 2012. It's been a very positive ten days and it's important we continue to build on the momentum going into the final four races."
Cyril Dumont, Renault: "A fantastic result today. We started first and second and finished in the same positions, but with the drivers the other way around. Seb took the lead in the Drivers' Championship which is very good result from this race. We have had a good feeling from the last two races and I just really hope we keep this momentum going for remaining four."
McLaren-Mercedes
Lewis Hamilton (10th): "I'm exhausted. I was told after the race that my car had suffered a rear anti-roll bar failure a few laps into the second stint. It was safe to drive - and I was trying my best with it, pushing all the way - but it was extremely hard to maintain a good pace. The balance was switching from corner to corner, the car was moving around along the straights, and it was eating up the tyres, which meant we lost further ground by being forced onto a three-stop strategy. To make things even more difficult, I then picked up some stray run-off Astroturf, which tangled itself around my sideboard winglet for the final few laps. It stalled the diffuser - so I had no rear downforce at the end, which made it even trickier to hang on to 10th place. In terms of winning the world championship, logic suggests that that's probably it for me. Having said that, there are a lot of points still up for grabs, so I'll keep pushing. Stranger things have happened, and I'll never give up. It doesn't feel great to experience days like these, but every cloud has a silver lining. Put it this way: it's good to see what's in your heart when you keep fighting. Days like these show the true spirit within."
Jenson Button (DNF, Accident): "I got a really good start and was able to get past both Mercedes. Into the first corner, there was a slight incident in front of me [when Sergio Perez braked late and tapped the car in front], so I was forced to run wide and push Nico [Rosberg] off the circuit. Nico and I then had a good drag-race down the back straight on lap one. I braked really late for Turn Three, then suddenly Kamui's [Kobayashi] car was climbing all over my car's right-hand side. It's extremely disappointing. This is a long race, with so much opportunity for everyone. It's a great circuit for overtaking, so it's surprising to see people behaving like that on the first lap. I no longer have a realistic chance to win the world championship, so I'll be enjoying myself over the final four races. Scoring points for the team in the constructors' world championship will be the most important priority, so I'll be focusing on picking up as many as I possibly can."
Martin Whitmarsh, Team Principal: "Lewis may have scored only a single world championship point this afternoon, but I'm happy to be quoted as saying that it was probably the hardest won and most heroically fought world championship point in McLaren's long history. His car suffered a rear anti-roll bar failure early on - and that destroyed his car's handling balance and made it impossible for him to look after his tyres. The fact that he nonetheless hung on in there, through thick and thin, battling wheel to wheel with drivers whose cars were undamaged, was truly mighty. Then, finally, to add insult to injury, he picked up a strip of stray run-off Astroturf, and that further compromised his car's performance - yet, even so, despite not being able to shake it off as it flapped about in the air-stream, he still clung on to 10th place. Believe me, it was an epic, stirring, majestic drive. As for Jenson, well, what can I say? He made a very good start and would, I'm sure, have driven a great race this afternoon. But he wasn't given the chance to show what he could have done because he was taken out, hit from behind, through no fault of his own. So today wasn't a good day at the office, obviously. But motor racing is like that sometimes. And we'll fight on. That's what Vodafone McLaren Mercedes' incredible team spirit is all about. That's why McLaren has won one in four of all the grands prix that have been staged since our team first entered world championship grand prix racing 46 long years ago. And that's why we'll be moving heaven and earth to win the four grands prix that still remain this year. It won't be easy, but I promise you we'll all be giving it our very best shot."
Ferrari
Fernando Alonso (3rd): "It was a difficult race and, come the end of the weekend, I am happy with the way things went. I was starting from the dirty side of the track, we had doubts over tyre life and what would be the race pace of our rivals. With all these concerns, managing to get to the podium meant I could breathe a big sigh of relief. It's true that Red Bull was quickest all weekend, but our aim was to be right behind them and we achieved that. It's also true that I am no longer leading the championship, but being six points down does not mean much, just as it did not mean much being four points up going into this race. It is also very significant that we are back in second place in the Constructors', as it means the team is on the case and that will be our strong point from now until the end of the season. Being in this position having pretty much skipped two races out of the last four says a lot. There are a hundred points up for grabs and everything will depend on how much we can improve over the coming races. Here we were much closer to the lead than we were in Singapore and nearer than in Suzuka, so we must continue in this direction. Vettel's three wins in a row? Well, he and Red Bull have had three perfect weekends so congratulations for that, but when everything goes smoothly for so long, inevitably sooner or later something has to happen. We are right in the fight for the title with a car that has never been the fastest. It seems we are capable of doing something good too, don't you think."
Felipe Massa (4th): "After Suzuka, this was another fantastic race for me. I managed to run at a great pace from start to finish. I expected that to a certain extent, because on Friday, I'd seen that over a long run, the car behaved very well. It's true that you can never be certain about how things will go in the race, but everything went smoothly. I always managed to get a hundred percent out of the car and I am very pleased about that. It was important to pass Kimi and then Hamilton, because from then on, I was able to run at my pace. Towards the end, I closed on Fernando but attacking him was never even up for discussion: I know how important every single point is in the title fight. The whole team is doing its utmost to help Fernando and I am there for him, just as the team is and as it has been for me when I found myself in the same situation. In this second part of the season, I have probably understood the best way to drive this car on these tyres: now I'm enjoying myself and it's a pleasure to make the most of everything I've got when sitting in the cockpit. Maybe there was also some pressure regarding my future coming into play: but at a certain point I told myself I should not think about it too much anymore and probably this approach helped. Now I feel stronger and when you enjoy what you are doing, it's the best. In between here and India there's a lot of work to do to improve the car, especially for qualifying. Let's hope the updates will give us a little something extra, which could be decisive when it comes to the fight for the title."
Stefano Domenicali, Team Principal: "This afternoon's result was a great team effort and anyone who thinks that losing the lead in the Drivers' championship might leave us discouraged is making a big mistake. We were well aware it would be a difficult weekend from every point of view. We were able to work very well, trying to make the most of the package we had, while avoiding making the slightest mistake. Fernando drove a great race at a particularly delicate point of the season, in which the stakes are very high: today's third place is very important for the rest of the championship. He was gritty and at the same time judicious on the opening lap, which we all know is very important in deciding the final race result. Felipe followed up his great race in Suzuka with another one here, also on the attack right from the opening lap and then again at other key moments, like when he overtook Hamilton. His future? As my friend Laura Pausini (Italian pop singer) would say, "Wait and see..."Clearly, at the moment Red Bull might seem unbeatable in everyone's eyes, but I can remember the same thing being said about McLaren on Sunday afternoon in Singapore: the wheel turns quickly this year...It is equally clear that we must make a step forward in performance to respond to the one made by Red Bull. We are well aware of that and we are working day and night to succeed. There are four races to go at the end of a fantastic and very uncertain season: we will not let up, not even for a second, you can be sure of that!"
Pat Fry: "This Korean weekend saw us make the most of what we have right now. That can be seen as a positive in one sense, because it means we did a good job, without any mistakes in any area, from the strategy to the pit stops, from the optimisation of the car to the performance of the drivers. The downside is that doing our best was not enough to be the best, at least this time. That means we have to improve our performance level, especially in qualifying: clearly if you can start further forward you have a better chance of putting other cars under pressure, even if they are faster than us in terms of outright speed. That has to be our main objective over the next few days. Today the way we managed the race lived up to our expectations, with strategy based on tyre degradation. Fernando and Felipe both pitted twice, with Option-Prime-Prime the tyre sequence. We did our best but it was not enough to beat those who started on the front row, while our race pace was clearly superior to the rest of the field. We will have to do our utmost to be as well prepared as possible for the remaining four races in order to give our drivers a car with which they can always be in the fight for the top places. We have lost the lead in the Drivers' classification but we have moved up one in the Constructors'. There is still everything to play for in this very open and fascinating championship. The hierarchy among the teams changes quickly, first one way then another this year and there is no reason why that cannot happen again now."
Mercedes GP
Michael Schumacher (13th): "There are some races where nothing comes together and which you simply have to move on from straight away. This was one of them. We didn't manage to get the tyres working properly over the race distance, which made for inconsistent lap times, and accounted for our step back in performance. So we will write this one off, look forward and hope that we will be able to get back on the front foot again in the upcoming races."
Nico Rosberg (DNF, Accident): "Unfortunately this has been the second poor weekend in a row for me, and it's very frustrating to be taken out twice in the first corners of the race. Kobayashi hit me from behind today and that was my race over. The one small positive to be taken from the weekend is our qualifying performance which was a small step forward. Now I'll look forward to India and hope for a bit more luck there."
Ross Brawn, Team Principal: "It was a difficult race for us today. Nico was hit by Kobayashi on the first lap for the second race in succession, and to lose him again through the error of another driver was extremely disappointing. Michael did all that he could today but we struggled to keep the tyres up to temperature. There were parts of the race where the tyres were working properly and we were more competitive, but too many periods where we struggled. We need to look at how we can improve that situation, and we will keep working hard to make progress at the final four races."
Norbert Haug, Mercedes Motorsport Director: "Nico was once again the victim of a crash on lap one when a competitor drove into his car. This damaged the radiator which put an end to his race and, as in Japan, it was through no fault of his own. At no stage did Michael's car produce the grip we had anticipated. We need to quickly put this race behind us but not before a thorough analysis, with an understanding of why we got it wrong today."
Lotus-Renault
Kimi Raikkonen (5th): "I think this was about where we should have been today. The yellow flags at the start didn't help when we were fighting with Felipe [Massa] but even so we didn't quite have the speed to match the Red Bulls and Ferraris. We also lost quite a bit of time behind Lewis [Hamilton] - mainly because the new exhaust system means you lose a little bit of power so it was hard to get past - but with a few more practice sessions I'm sure we'll learn a lot more to be able to improve it. I was pretty much on my own at the end but we had to keep pushing to maintain position and it wasn't so easy. The gap to Sebastian [Vettel] in the Championship is quite big now so it will be very difficult to catch him, but we'll keep pushing all the way."
Romain Grosjean (7th): "For sure I was a bit nervous starting the race today, but we did a lot of work this week trying to understand a few things and it's certainly helped. It wasn't the easiest start; there was contact behind me at turn three and I took evasive action but after that it was quite straight forward. I struggled on the last set of tyres as I had graining straight away meaning the performance was not great during the final stint. Maybe we could have achieved one place better - I think I now know every detail of Force India's car after spending so much time battling with Nico [Hulkenberg] - but I'm happy to make it to the chequered flag after a good, clean race."
Eric Boullier, Team Principal: "We knew we would not be fighting for the win here, and fifth for Kimi was the maximum we could have achieved today. We scored a good tally of points in the Constructors' Championship and although third position is slowly edging away from us with just four races left now we're not ready to give up. It was good to see Romain drive very sensibly despite all the pressure that is on his shoulders; I think he is learning from this experience and it will only make him a stronger driver. Kimi's racecraft was impressive as usual; his battle with Lewis [Hamilton] showed real class and he was maybe unlucky not to have been closer to the leading pack after being held up for so long. We will have the Coand œ‰   exhausts on both cars in India which should help us in our fight."
James Allison, Technical Director: "We've finished in our starting positions which is solid if ultimately unspectacular. In the first stint Kimi was able to live with the pace of the front runners and had it not been for a costly period spent tucked up behind Lewis [Hamilton] I think he could probably have stayed in touch with the leading group. We were also pleased with Romain's performance; he achieved what we had asked of him by keeping his nose clean and bringing the car home to score valuable points for the team. We didn't exactly set the world on fire today, but we can take some comfort from the fact we were more on the pace here than we have been since Hungary."
Riccardo Penteado, Engine Support Leader: "A good double points finish today to keep the momentum in the championship. We used the Suzuka engines on both cars this weekend and worked with the chassis team to optimise the Coand œ‰   exhaust system on Kimi's car. We have made solid progress in this area and with two weeks between now and the next event we will be able to further optimise the engine torque maps to be closer to the podium in India."
Force India-Mercedes
Nico Hulkenberg (6th): "That race was a lot of fun and it's great to get such a mega result. It wasn't easy though, and for most of the race I had the Lotus of Romain [Grosjean] pushing me and some great battles. Even the first pit-stop was very close with Romain, but the team did a great stop because it was important to stay ahead at that stage. I think the best moment of the race was the fight with Lewis [Hamilton] and Romain in the final stint when I got ahead of both of them in turn four. They both went to the inside so I just saw the opportunity to use the outside line and made the move work. That certainly put a big smile on my face. So a very positive day, an amazing job by the whole team and lots of positives to take as we head to India for our home race."
Paul di Resta (12th): "A tough race in many ways and it's fair to say that the result in qualifying hampered us quite badly. We expected the supersoft to be a better race tyre and so we saved it for the second stint. As it happened, the soft tyres did not last long enough at the start of the race and when I switched to the supersofts they started graining straight away. So we were not on the ideal strategy and that impacted the whole race, and after that I was always struggling with traffic and couldn't make any progress. On the positive side the car seemed competitive here with the points for Nico, but it's just a bit frustrating that we couldn't maximise it."
Robert Fernley, Deputy Team Principal: "Another very strong day for us with Nico battling hard and showing the race pace we knew was possible. The race-long battle with Grosjean meant Nico was always under pressure, but he kept his nerve and came out on top. I think Nico's move on Hamilton and Grosjean was outstanding and definitely the highlight of the race. With Paul we took a strategic decision to cover both Williams and Sauber potentially trying a one-stop race, but it soon became clear that two-stopping was the way to go. As a result Paul's strategy was compromised and it was difficult for him to move up into the points. However, he battled hard with Perez in the closing stages to prevent Sauber picking up the final point. We leave Korea with eight important points; we're closer to Sauber (27 points behind) and have good momentum heading into our home race in two weeks' time."
Sauber-Ferrari
Sergio Perez (11th): "It is a big shame that we didn't score points today. My first stint was really good, despite a little understeer which came from the incident after the start when I damaged the front of the car. But our plan was good and the strategy seemed to work out. Then unfortunately we had a problem at the pit stop and could not recover from it. This was when we lost the race because I dropped behind a group of cars. Nevertheless towards the end it again looked like there was a chance of scoring a point. My car was quick, I overtook Paul (di Resta) and Lewis (Hamilton) had a problem. But in the end I just didn't manage to catch him. Today, I think sixth would have been what we could have done in perfect circumstance."
Kamui Kobayashi (DNF, Damage): "This is a race to forget. Initially I had a good start but then we were four cars side by side approaching turn three. I had Nico (Rosberg) to the right and Jenson (Button) and Sergio on my left hand side. Someone hit my rear tyre and then it was impossible to control the car, but I had to brake at some point. I didn't manage to avoid the accident, and I feel very sorry for ruining someone else's race, and certainly this was not my intention. It was just a very difficult moment and I had nowhere to go but I think it was my mistake. I pitted for repairs but my car had too much damage to finish the race so we had to give up after 17 laps."
Monisha Kaltenborn, Team Principal: "This was a disappointing race for us, after we had been able to improve constantly during the weekend. Kamui's race was ruined after just a few corners, and Sergio was unlucky at his first pit stop when he lost time due to a malfunction of the pit system. It's a real shame because he drove a great race and finally only missed the last point by a few tenths of a second."
Giampaolo Dall'Ara, Head of Track Engineering: "After the start both our cars were damaged. Sergio made contact with a car and damaged the nose cone. Kamui's car was damaged at the front and the rear where the punctured tyre destroyed the floor. We were not sure if the car was still safe to drive, therefore we decided to bring him in. Sergio was well under way in his first stint. He was able to open the gap to Michael (Schumacher). Then we timed his call so that he would have been out in front of a group of four cars. But then we had a problem with the pit system with the green light not going on, which is something we have to look into. Because of this he lost four seconds, was therefore behind this group, and was stuck there because he couldn't overtake. Without this I think eighth would have been easily possible."
Toro Rosso-Ferrari
Jean-Eric Vergne (8th): "I am really really happy, as this was definitely my best race of the year and the car worked well with very little tyre degradation on both the Prime and the Option. I did not take too many risks at the start and I had a nice fight with Perez in the early stages and then with Di Resta and also Hamilton. Dan and I were on different strategies and both seemed to be effective. Towards the end, I was told that my team-mate had a problem, but overall for the team, to get eighth and ninth with Daniel also driving a great race is a fantastic result. Everyone in the team worked very hard on improving the car throughout the weekend. In general, we seem to be making progress and this track seemed to suit us well, which I think we can also expect to be the case in India. The best part of the race? Seeing the chequered flag in the points!"
Daniel Ricciardo (9th): "I got a good start and made up a couple of positions on the opening lap. After that, I got into a really good rhythm and was able to pick off cars ahead of me one by one. Jev was in front and as he got past a car, I was able to follow him through. The second stint also saw us jump a few cars, getting ahead of Schumacher and Force India. Then my last stint on the Prime was my best until, with about ten laps to go, I found myself going straight on at Turn 3 and at first I thought it must have been a suspension failure because the car suddenly shot to the left and I could not stop it. However, I realised I could keep going, even if every time I braked the car pulled to the left and I was locking the front a lot. Unfortunately, that cost me eighth place, but at least I was able to give it up to my team-mate. I'm still grateful to be in the points with such a problem, although it's a case of mixed emotions, as it would have been my best result of the season. But for the team overall, it's been a very good day."
Franz Tost, Team Principal: "This matches our previous best performance of the season in Belgium, when we also finished eighth and ninth with Jean-Eric and Daniel in that order. We are definitely improving in this second half of the season and it is the third time in the last four races that we have finished in the points. I would rate this as our strongest performance of the year. We improved the car from Friday onwards, eventually adopting a very effective set-up on both cars, that saw us perform well in Q1 on Saturday, before running into difficulties in Q2. However, this afternoon, both drivers were able to show the true performance level of the car, combined with a good strategy - both drivers on a two stop, with Daniel starting on the Option and Jean-Eric on the Prime. Towards the end of the race, Daniel, who had come up to eighth place from 21st on the grid because of his gearbox penalty, reported over the radio that his car was pulling to the left, which meant Jean-Eric was able to get past him in the closing stages. We were helped in fighting off Hamilton by the fact his car was slowed when it picked up some of the artificial turf from the side of the track. It was a very strong performance from the whole team, as can be seen from the fact that our drivers passed no fewer than six cars, more than any other team did this afternoon. Now we can look forward to continuing this positive trend in India in a fortnight."
Williams-Renault
Pastor Maldonado (14th): "At the beginning of the race, we were too hard on the front tyres which meant that we couldn't go as fast as we would have liked. After the pitstop things were better and we were able to do 30 laps on that set of tyres. Overall, we were not fast enough this weekend, so we need to work out why and try to improve for the next race."
Bruno Senna (15th): "It was a frustrating race for me because I didn't make many mistakes this weekend which makes it all the more disappointing to finish where we did. We need to work hard on the issues we've been having because the grid is very close. We will keep pushing and if we have a weekend where we get everything together, we can be in the points again. Hopefully next weekend will be one of those."
Mark Gillan, Chief Operations Engineer: "We split strategies today with both cars having clean races, but ultimately our pace was simply not strong enough and we ended up with Pastor in 14th and Bruno right behind in 15th. We now need to regroup and sort out a few performance inconsistency issues on the car ahead of the next race in India."
Laurent Debout, Renault: "It is a disappointing result to finish out of the points, but it was hard to make up ground from our starting position with the marbles and debris off the racing line. With two weeks between now and the next race we can work with Williams to come back stronger in India."
Caterham-Renault
Vitaly Petrov (16th): "For me that was a good afternoon, probably the best result I could have had today. The car was working well throughout the race and I had a good battle with Heikki right from the flag. Today was really all about managing the gap to the Marussias, getting through the first corner without any problems and from there making sure I looked after the tyres. In the first stint that was pretty hard as the options I started on were graining quite early on, but both sets of primes I used in the second and third stints worked well and I was able to take it to the flag without any problems."
Heikki Kovalainen (17th): "That was a pretty straightforward race that for us was really all about making sure both cars finished clear of the teams behind us without any problems. I had another good start and was ahead of my teammate through turn one after starting on the supersofts. They started to go off relatively quickly, particularly the right front, which we knew would probably be likely in the race so for both stops we opted for the softs and they held up well for most of the afternoon. To be honest it was a pretty quiet race for me. We were easily able to stay ahead of the teams behind, we didn't have any problems with the car and we probably got as much as we could out of the car today."
HRT-Cosworth
Narain Karthikeyan (20th): "We opted to get the race underway on supersoft tyres and the start was good as I got past a few cars. But perhaps it wasn't the best option because we had quite a bit of graining in the front tyres from the start which made me struggle with some understeer. But when we changed to soft tyres the balance of the car was pretty good. I think a one-stop strategy was too much for the front tyres but we had to take the risk. It's been a tough weekend but I'll keep the positives which is to have finished the race after two races not doing so and the Indian Grand Prix which is on the horizon."
Pedro de la Rosa (DNF, Throttle): "We were anticipating a tough race but the start was good. Unfortunately, we had a problem with the throttle pedal since the fifth lap. At the start it would get slightly jammed but as the laps went by it got worse so the team decided to pull me out. I think they made the right decision because, not only was the car very difficult to handle and we were going slower and slower, but it was also dangerous. After this tough weekend we must now leave this behind, look ahead and think about the next race."
Luis Perez-Sala, Team Principal: "We knew it wouldn't be an easy race but we went for it. Narain, after his bad luck in qualifying yesterday, completed an impeccable race today whereas Pedro was the downside of the day. But there was no alternative because of safety reasons. After the Japanese Grand Prix where we took a step forward, this weekend we were unable to fight with our direct rivals. It's been tough but in two weeks we will have another opportunity to continue with the progress we'd shown up to now."
Marussia-Cosworth
Timo Glock (18th): "I was very excited at the start of the race as I could see that we could really challenge the Caterhams. I had a big chance in the middle stint and managed to close the gap like in Suzuka. Then we took the risk to go on to the Supersoft option tyre and I was just waiting for Heikki to make a mistake. Unfortunately there was no opportunity and on the long straight he had the KERS, so I couldn't attack him. I was the first car with the blue flags which dropped me back in the final phase of the race. Also our last stint was quite long and the front right tyre really started to go away. I had a lot of front wheel locking and in the last eight laps I just decided to focus on bringing the car home; I took it very easy and gentle. Our strategy was a good one and it was great to be racing and really threatening the Caterhams again. It was very motivating and my lap times were very consistent, so I'm really happy with the progress. Well done also to the pit crew, who did a solid job again. I hope there are tracks coming where the KERS effect may be slightly less and we can continue to keep fighting hard like this."
Charles Pic (19th): "The first part of the race was tough for me because of having to start at the back of the grid due to our engine change. I was stuck behind the HRT cars for a while and I lost quite a lot of time. Because of this, it wasn't long before I was already too far out of touch with the Caterhams ahead and it was difficult to try to come back from this. Looking at the weekend overall though, I was very pleased with my qualifying and also our pace in the race was good, particularly in the last part of the stint. I look forward to being able to discover another new track for me in India."
John Booth, Team Principal: "We enjoyed a great 'race' today - in the true sense of the word. As we said yesterday, we had taken a conscious decision to slightly compromise our qualifying lap time in order to give ourselves the best chance today of fighting with the Caterham cars. Timo drove to his own exceptionally high performance standards and we were particularly - and pleasantly - surprised at his pace in the first stint; we had expected to be slightly further away than we were. We knew that our best opportunity was to save our second set of Supersoft tyres for the final stint, however the second stint was also pleasantly surprising. In effect, we effectively held pace with both the cars in front and a perfectly timed pitstop onto the Supersoft tyre forced Caterham into a pitstop which ultimately resulted left us able to race Kovalainen hard for several laps whilst attempting to pass in the DRS zone. It was always going to be a tough race for Charles starting from the back with the engine penalty and once again we are sorry for him that this had to happen, particularly given his strong performance in qualifying yesterday. Ultimately, being stuck behind the HRTs and unable to get the tyre temperature, compounded by the low track temperature we saw in the race, cost him dearly. That said, amongst the traffic of the final stint, he did manage to demonstrate very good pace. It has been said many times already, but today really was a demonstration of how much our lack of KERS has compromised us. Having said that, we are still happy in our overall development strategy, which was to concentrate on improving the aerodynamics this year. Given our performance in the second and third sectors, this has proved to be a very sensible route for us."