Korean GP 2012
OCTOBER 13, 2012
Saturday Team Quotes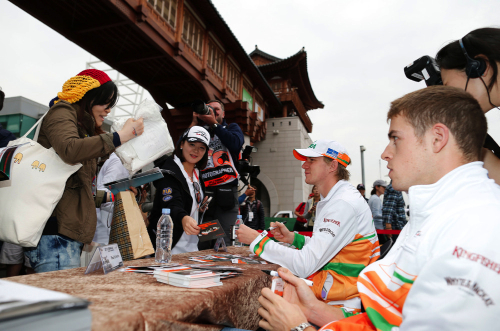 © Active Pictures
Red Bull-Renault
Mark Webber (1st, 1:37.242): "It was a tight session for all of us. I think as the session unfolded, people were having different balance issues on different tyre compounds. I was happy with my lap there, it was solid and it's good to get pole. It's a great place to start the race from. I'm looking to get off the first corner very well, that's important as there are two long straights after that."
Sebastian Vettel (2nd, 1:37.316): "Overall we can be very happy with the result. We were quite quick in the first and second qualifying sessions and had a good start to Q3. On the last run, I had to back off starting the lap as Massa was there, it wasn't his fault, but I had to back off. Nevertheless, the second lap in Q3 wasn't good enough. I lost time in the middle sector, which seemed to be okay all weekend, but when the circuit ramped I wasn't able to go with it, so I lost a bit, but second is a good position so start from. There are long straights near the start, so it could be interesting tomorrow."
Christian Horner, Sporting Director: "For the second time in a week, it's fantastic to have locked out the front row. Mark drove a fantastic final lap to secure the pole position by half a tenth from Sebastian, who had dominated until that point. It's Renault's 200th pole position, which we are delighted to have achieved with them. It's important that we now convert this strong qualifying into plenty of points tomorrow."
Cyril Dumont, Renault: "Today is an important day. Not only have we got the front row of the grid again, but we have also scored our 200th pole position with the Renault engine. We started with Jean-Pierre Jabouille in 1979 and 500 races later we have achieved more than 40 percent of pole positions from all our Formula One qualifying sessions. That's a very strong score for Renault. Among these 200 pole positions, more than 40 were achieved with Red Bull Racing and our two drivers, Mark and Sebastian. So, I would like to thank everyone at Red Bull, both drivers and everyone working at our factory at Renault."
McLaren-Mercedes
Lewis Hamilton (3rd, 1:37.469): "It's been quite a tough weekend in terms of getting a fast lap-time out of the car, so third on the grid is very satisfying. In Q3 I'll happily admit that I ragged the life out of the car and got everything from it, yet Mark [Webber] and Seb [Vettel] both claim they had a little bit left over. We'll see. Anyway, Jenson showed yesterday that our long-run pace is promising, so I'm really looking forward to the race tomorrow. Beating the Red Bulls will be about making a good getaway, making all the right strategy calls, and not making any mistakes. There'll be good opportunity for slipstreaming into the first few corners at the start too. I'll be going all-out for the win tomorrow."
Jenson Button (11th, 1:38.441): "I locked up in the final sector on my first Q2 lap, ran wide and had to go down to first gear - losing quite a lot of time in the process - so I reckon there was easily a couple of tenths that I could have had there. Then, on my final Q2 run, I lost time because of the yellow flags. I knew I could have gained a couple of extra tenths in that final sector, but as things panned out I couldn't improve because of the yellows. It's just one of those things, but I'll go forward from here tomorrow."
Martin Whitmarsh, Team Principal: "Lewis drove a strong lap in Q3 to qualify third, immediately behind the two Red Bulls, and will start tomorrow's Korean Grand Prix from an advantageous position on the clean side of the grid as a result. Our long-run pace was pretty good yesterday, so we hope that he'll be able to bag a hatful of points in tomorrow's race. By contrast, today was a rather more disappointing day for Jenson, since his best Q2 lap was ruined by yellow flags triggered by Daniel's [Ricciardo] 'off', leaving him 11th on the grid for tomorrow's race. But for that, he'd have sailed through Q2 into Q3 and would doubtless have qualified much closer to the sharp end of the grid. Having said that, he'll now have an extra quantity of new tyres available to him for tomorrow's race, so we'll now work on a strategy that should optimise the efficacy of that unexpected development. Jenson showed good long-run pace yesterday, so he'll be aiming to make significant forward progress from the outset tomorrow."
Ferrari
Fernando Alonso (4th, 1:37.534): "I'd say we've made a step forward compared to Japan, just a week ago, both in terms of grid position and also the gap to the front. You can see that our car is better suited to this track, given that it is basically the same one we raced in Japan. We must improve it and I expect to see some updates coming, right from the next race in India. It's no surprise to see the two Red Bulls on the front row: indeed it's not by chance they were fastest in Q1 and Q2 also. My second run in Q1? I was being very careful not to wear out the tyres too much because I knew I'd be using them later in Q2. I think tomorrow we can have a good race: maybe I might lose a few places immediately after the start, as I'm on the dirty side of the track, but we have shown we have a good pace over a long run and so we should be able to stay with the lead group. Our aim tomorrow? It's very simple: to finish ahead of Vettel. From now on, how many points one has overall will not count for much, it will be scoring one more than my closest rival that matters. It could happen that I lose the lead in the championship and maybe arrive at the last race 24 points down, but what matters is to be first in the classification at the end of the Brazilian Grand Prix. What edge does the Red Bull have? A quicker car, but we have the better team."
Felipe Massa (6th, 1:37.884): "It was a reasonably good qualifying, even if it was not perfect. I made a few small mistakes that maybe cost me one or two places, but all in all, sixth place is definitely not a disaster. The most important thing today is that we made the cut through from Q2: it means that, from this point of view, we have made a significant step forward. Over a long run, we have seen in the past that we are more competitive than on a single flying lap and we hope that history will repeat itself tomorrow, so that we can fight with those who start ahead of us. In qualifying there are at least two cars quicker than us, but then in the race the situation is different. We have to come up with a good strategy, trying to get the best out of the tyres that don't appear to wear out much here. The first corner is very tight here and we hope we can get a normal start. Grosjean starting near me? I think he understands how he must behave so I'm not particularly concerned."
Stefano Domenicali, Team Principal: "We have proved we can fight for the very front rows, which is a positive sign, especially if we look at the gaps to pole position. Compared to the two previous races, the distance is reduced, but clearly, our aim is to give our drivers the best car. It was a very intense hour of qualifying, not easy to manage, because the relative performance of the teams was very close. A car on the second row and the other on the third is a good outcome and puts us in a position to be in the running in tomorrow afternoon's race. Usually, we have seen that the F2012 is more competitive on Sunday than on Saturday: let's hope that's the case this time too! We will have to do everything to perfection: strategy, the work in the garage and reliability. Then, at the end of tomorrow afternoon, we can see where we stand."
Pat Fry: "We were competitive throughout qualifying, but maybe we did not extract the full 100% of our potential. Clearly, when you get to Q3 with just one set of new Options, you have to pay the price, which even if it's a small one, can have a big effect, especially when the grid is so tight. With hindsight, it seems easy to say that we should have done this or that differently, but when you need to make decisions in a matter of seconds, you need to consider all eventualities, because the risk of making mistakes by jumping to conclusions is always lying in wait. Having said that, we have seen that on this track, the F2012 has turned out to be more competitive than it was in qualifying at Suzuka: it means that, given we did not introduce any major technical changes, we have been able to put together a good car for our drivers. Tomorrow, we should see a very interesting race, in which tyre behaviour will play an important role. From what we saw yesterday, our race pace seems reasonably good, but we will have to wait and see what it's like tomorrow. As usual, reliability will be the number one priority."
Mercedes GP
Nico Rosberg (9th, 1:38.361): "Ninth place was the maximum that we could have achieved today. We set up the car well but we're lacking the performance to challenge any further towards the front. We're working hard to improve the situation, and hopefully our race pace will be better and we can score some decent points here in Korea. The track layout here and the cooler temperatures should suit to us more than in the recent races, so I'm looking forward to the race tomorrow."
Michael Schumacher (10th, 1:38.513): "The positive aspect about today's performance was that we made a step forward relative to last weekend and got into Q3. But overall, it was an average kind of day. We were expecting to end up somewhere between positions eight and ten, but things didn't go quite right in the final sector of my quick lap. Looking ahead to tomorrow, I think we can hope to look quite respectable: our long runs were quite good, as were the tyres. Let's see how the race unfolds."
Ross Brawn, Team Principal: "Qualifying progressed as we had expected this afternoon and the drivers did a good job to deliver decent laps at the right times. We were looking for that little bit of extra performance in Q3 but didn't manage to extract it from the car. The challenge was finding a good balance over a whole lap and, while we were particularly competitive in the first part of the circuit, we were losing time with understeer in the next two sectors. Tomorrow will be a very tactical race, with a lot going on throughout the field, and we still have a lot to achieve this weekend."
Norbert Haug, Mercedes Motorsport Director: "The first two qualifying sessions saw a very tight group behind the quickest cars. In Q1, P4 and the crucial P17 were separated by a little over half a second, while P5 to P14 were covered by less than three-tenths. In Q2, Nico in eighth place was separated by less than two-tenths from P4. Our target was to get into the top ten and Q3 with both drivers, which we just achieved with Nico starting from ninth and Michael from tenth position on the grid tomorrow. There will be strong competitors not only in front of us, but also behind."
Lotus-Renault
Kimi Raikkonen (5th, 1:37.625): "Qualifying was okay and I think we did the best we could have done. We tried some different things on the car over the weekend and qualified in a reasonably good position, but of course you always want to go faster. The new exhaust system feels good; you do lose a little horsepower from it but it's better on the aero side and you can't get something for nothing. The gap to the cars at the front is not too much so we'll try to do what we can tomorrow."
Romain Grosjean (7th, 1:37.934): "It was a bit of a strange qualifying session for me to be honest; In Q1 the car felt nowhere, in Q2 it was good, then in Q3 it wasn't fantastic either so we need to spend some time analysing what happened. The track changed a little and the tyres felt slightly different so we need to understand that. For sure there will be a lot of attention on my start tomorrow; I know my objectives and I think we're capable of a good result."
Alan Permane, Chief Race Engineer: "It looks like our new package is working as it should. We're reasonably happy with today's performance and it looks like our new package is working as it should. We've clearly taken a step forward and getting both cars solidly into Q3 is satisfying. We have made clear performance gains and there's still further improvement to come from it once we have optimised the set-up. Kimi had great pace in Q1 to go through with a single run on the soft tyre whereas Romain needed a set of the super softs to be sure of getting into Q2, but from then on we were confident of getting both cars into Q3. The advantage from the new Coand­ exhaust system on Kimi's car confirms that we will run it on both for the next race. After some difficulties with front tyre graining yesterday we now have both the soft and super soft compounds working well. We've seen track improvement and have also found a better set-up to make improvements in this area. Pirelli say one stop is possible, which is something we'll have a good close look at."
Force India-Mercedes
Nico Hulkenberg (8th, 1:38.266): "It was not an easy qualifying session, but in the end everything went to plan. I did struggle in Q1 and Q2, and I've been fighting some understeer in the car all weekend, especially through the first sector. We never really managed to dial it out of the car, but it didn't hurt us too much because I was able to pull together two good laps and that was enough to get me up to eighth. The times were very close and I think it will be the same tomorrow, but our long-run performance looks competitive so I think we can definitely race the people around us and come away with points."
Paul di Resta (14th, 1:38.648): "The car was capable of Q3 today but once again my lap in Q2 was compromised by traffic. There were some cars backing off in the last three corners and that cost me those crucial tenths I needed to make Q3. So I'm a little bit disappointed because I didn't get the most from the session. We are out of position on the grid, but there's still all to play for in the race because the car was very strong yesterday during the long runs and we can be confident going into the race."
Robert Fernley, Deputy Team Principal: "It was a wonderful effort by Nico to pull out some excellent laps and qualify in eighth, just edging ahead of the Mercedes pair. After practice we were still not sure where we stood, but we knew that we were in with a shout of making the top ten. Today's result means that we have had at least one car in Q3 for the last ten races, which is a credit to the team's hard work this year. On the other side of the garage it's frustrating that Paul hit traffic at the crucial moment of qualifying. He had been up on Nico's time in sectors one and two, and was just unlucky in the final part of the lap. As for the race tomorrow we are confident that we can deliver strong race pace and our target is to get both cars in the points."
Sauber-Ferrari
Sergio Perez (12th, 1:38.460): "It is a shame, as we were so close to getting into Q3 but, of course, I had to back off because of the yellow flags in the last sector. Well, the positive side is that we have saved a set of fresh tyres for the race. In any case it will be an interesting one because I could not do long runs in free practice to the extent I wanted to."
Kamui Kobayashi (13th, 1:38.594): "I would have been easily five tenths faster but I had to back off when the yellow flags came out. I am quite disappointed, especially as we had improved the car for Q2. In Q1 initially I had problems with oversteer, but our set up changes worked out nicely. However, here we have a track which allows overtaking and the race is always a different story."
Monisha Kaltenborn, Team Principal: "We showed a strong performance today, which was not rewarded because both our drivers had to slow down due to the yellow flags in the last corner. They both delivered a strong qualifying and, based on the long runs we did yesterday, I'm confident we can have a strong race tomorrow."
Giampaolo Dall'Ara, Head of Track Engineering: "There's no doubt we were unfortunate today with the yellow flags, but we have to take the positive from the day. After having some troubles yesterday, we managed to improve the set-up significantly over night and both our drivers were very strong. However, I believe the performance of the car is stronger than the results suggest, so we have every reason to be positive for the race."
Toro Rosso-Ferrari
Daniel Ricciardo (16th, 1:39.084): "In Q2, we were only doing two runs of one flying lap each and on my last one, I simply lost drive coming out of Turn 12, feeling as if the car was in neutral and I couldn't find any gears. I could not bring the car back to the pits and had to abort the run at the side of the track. A shame, because Q1 went very well and I was able to post a competitive time. I don't know if I could have eventually got into Q3, but whatever the result, this has been a missed opportunity, although that's part of the game in motor racing. Hopefully we can bounce back tomorrow."
Jean-Eric Vergne (17th, 1:39.340): "The performance looked very good and competitive this afternoon, but unfortunately I tried to take the final corner flat on my very last run, but I got it wrong and ruined my lap, nearly losing the car, so I am angry with myself for that. The step up in performance compared to yesterday came partly from improving the car overnight and again since FP3 and partly from myself, in the way I was driving. Of course I will be trying to get a good start tomorrow and hope that I can then work my way into a points scoring position by the end of the race."
Laurent Mekies, Chief Engineer: "This was a disappointing qualifying for us, as we had picked up quite a bit of pace compared to yesterday, which could be seen from our lap times in Q1. It reflected a good improvement from everyone, especially the two drivers, who both posted good lap times in Q1. So, it was looking quite promising, but unfortunately in Q2, Daniel had to park at the side of the track, reporting over the radio that he had no drive. Our priority for this afternoon will be to investigate and fix the problem. As for Jean-Eric, right at the end of his final quick lap, he pushed a little too hard and made a mistake. Looking to tomorrow, even if we did not get the grid positions we might have hoped for, the pace we showed in Q1 is still in the car, therefore we can expect to have a good race and aspire to fight through into the points as we have done in recent races."
Williams-Renault
Pastor Maldonado (15th, 1:38.725): "We've found it hard to improve from our practice sessions this weekend. I drove a clean lap in Q2 and got everything I could out of the car, but we just didn't have the pace today. We'll have to work very hard to be in a position to fight for points in tomorrow's race from where we are, as it is difficult to overtake at this track."
Bruno Senna (18th, 1:39.443): "I'm naturally disappointed with today. We had a few problems during practice with different elements of the car and this meant we couldn't pull it all together for qualifying. We'll just have to recover from this moment and try to have a good race tomorrow."
Mark Gillan, Chief Operations Engineer: "We had a pretty tough day today with both drivers struggling with the balance of the car and the ultimate pace of the car was not there today. We understand where the car is struggling and aim to address these issues as soon as possible. We believe our long run pace to be better and even from 15th and 18th we will be aiming to get some points."
Caterham-Renault
Vitaly Petrov (19th, 1:40.207): "I'm really happy with the performance today. I've had a couple of problems on the car that has cost me track time this weekend but the team have worked really hard to keep us moving so thanks to them for helping me get the most out of it in all three practice sessions and in quali today. My last lap was really good, probably as quick as we could go around here. We timed it right so traffic wasn't an issue and to finish over a second clear of the cars behind is good for the whole team. We haven't stopped pushing and the aim now is to have a clean start tomorrow and try and carry over this sort of performance into Sunday's race."
Heikki Kovalainen (20th, 1:40.333): "I've struggled all weekend to find a setup I'm happy with and that continued today in qualifying. We went for three runs, one on the softs and two one lap runs on the supersofts to help try and find a balance but it just wasn't there today. On my last lap in Q1 I still had understeer in the last four corners - perhaps without that I'd have been able to find a bit more time, but it just wasn't there. Tyre strategy tomorrow will be key. We saw last weekend in Japan that we can fight in the early stages of the race so let's see if we can turn this weekend around in the race."
HRT-Cosworth
Pedro de la Rosa (23rd, 1:42.881): "We did a more than acceptable qualifying session; especially the second lap which was pretty good. But we had a lot of understeer and as a result were unable to post a perfect lap. The difference to our rivals isn't what we expected, but it seems that at this circuit their car is working better than ours. In any case, I'm satisfied with qualifying and more so with our pace with the soft tyres. Tomorrow, as always, we will go out giving it our all but we must continue working to get closer to our rivals."
Narain Karthikeyan (24th, No Time): "We were in quite a good position after the third free practice sessions as I'd adapted very well to the circuit and the car was performing great. But once again I was unlucky this season and we had a mechanical issue on the first lap of qualifying. Now we must analyze the problem to fix it and avoid it from springing up again. Tomorrow we will try to recover those positive vibes."
Luis Perez-Sala, Team Principal: "Today wasn't one of our best days. In the morning's practice sessions we witnessed an improvement in the performance of the cars and the drivers finished with better sensations than yesterday. But in qualifying things didn't go so well. Narain, on his first lap, suffered a broken brake disc and was unable to go out. Luckily both him and the car are well and now were investigating why this happened. And Pedro completed a good lap but our rivals were much better. Tomorrow will be a long race and the tyres and pitstops will play a key role so we will try to do the best job possible to make the most of an opportunity tha may arise."
Marussia-Cosworth
Charles Pic (21st, 1:41.317): "It was a great qualifying for me. On the first run, with the Soft tyre, there was a little bit of traffic and I lost temperature in the tyres. Then for the second run we used the Supersoft tyre. We lost 0.2s in Sector 1 at the braking point, but then the middle sector was very good and overall it was a positive qualifying. We have saved two sets of options for the race and now we will work to see how we can continue to improve tomorrow. I feel very comfortable with the track now and I'm enjoying it a lot - the second sector is really great! Due to the engine change we will start further back, but I think we can recover that quite quickly in the early part of the race so we can focus on keeping with our competitors."
Timo Glock (22nd, 1:41.371): "It has been quite a difficult weekend for us so far. We've struggled with the car balance all the way up until qualifying. Things looked slightly better this afternoon and the car was certainly easier to drive. My run on the prime Soft tyre was okay but then when we switched to the Supersoft I made a mistake out of turn 10, went a little wide and lost traction. A bit of a shame as I lost a couple of tenths there, but at least the car is slightly better and I think we can have a better race tomorrow."
John Booth, Team Principal: "Overnight the drivers and engineers spent a significant amount of time analysing the balance problems in the car from FP2 and this morning the objective of the programmes for both cars was to evaluate some of the overnight set-up changes to see if they could solve the rather specific problems we were having. In the end, Timo didn't have the best session and settled for a slight compromise, which was a little bit of an unknown going into qualifying. Charles was much happier with his steering in FP3, which had caused him significant issues yesterday, and his improved confidence was clear in qualifying. We decided on a departure from the more traditional two Supersoft runs, for the simple reason that we felt we couldn't compete sufficiently with the cars ahead today, however, as we have so often seen, we fare much better in the race. This track is a challenge for us because of the long straights in sector 1, which leave us at a disadvantage as we don't have KERS. It is a long lap though, so we will aim to make up the deficit in sectors 2 and 3 and by saving two new prime and two new option tyre sets, we can definitely optimise the strategy tomorrow."