Korean GP 2011
OCTOBER 16, 2011
Sunday Press Conference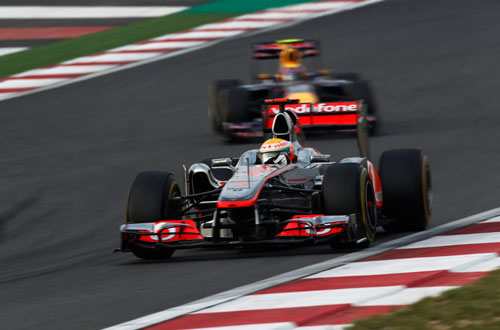 © Active Pictures
16 OCTOBER 2011
DRIVERS
1 - Sebastian VETTEL (Red Bull)
2 - Lewis HAMILTON (McLaren)
3 - Mark WEBBER (Red Bull)
TV UNILATERALS
Q: Sebastian, a 10th win of the season and any thoughts that after last week's celebrations you'd start taking things easy now quickly dispersed?
Sebastian VETTEL: Well, I think it is good to see that the whole team keeps on pushing. In terms of preparation it wasn't ideal, as I think most of us were a bit tipsy after the last race after the Sunday night. But we clearly deserved that. Now to come here and after a tough Friday and tough Saturday morning to come back in qualifying and then in the race, the car was fantastic. It was so much fun to drive. The car was getting quicker and quicker. When the safety car came I didn't really need that to be honest. Lewis came closer again and I was struggling a little bit with the tyres but then the car seemed to stabilise and come back and I was able to open a gap just before we had the second pit-stop and then to the end it was just fantastic. On the prime I could push when I had to and got a little bit of a gap as those guys were fighting. But it is fantastic. After last weekend the Drivers' Championship, this weekend the Constructors' Championship for the team is fantastic. Also I want to say, especially and in particular at this place, a lot of thanks to Renault. They have been pushing so hard. I think we showed as a team a lot of morale after last year when we had the engine failure here to come back and still win the championship last year. Faultless from the Renault side. The engine is working fantastically well. We are very competitive on those circuits with long straights like Monza or here again so all in all the package is fantastic. The guys are enjoying it and I think we do as well so thank you very much and I am very, very happy today.
Q: Lewis, it was fun for Sebastian but how much fun was it for you and how much did you spend looking ahead given all the pressure that was coming your way from behind?
Lewis HAMILTON: It was okay, wasn't too bad. Mark drove really well throughout the race and congratulations to Sebastian. They were massively quick throughout the weekend and particularly in the race it was impossible to really be able to catch Sebastian and overtake. Then later on in the race just really struggled. I had pretty much full lock on everywhere and was struggling with a lot of understeer but, nonetheless, it is a good weekend for me compared to what I have had in the past so I am happy.
Q: Mark, your thoughts on the battle with Lewis, which seemed to go on and on and on and somehow you couldn't quite find a place to get ahead and stay ahead.
Mark WEBBER: Yeah, well, it is the team's day today. The Constructors' is a massive thing, back-to-back. Very, very impressive from the guys and the girls. As Seb touched on, Renault as well. Reliability is faultless this year from the car, 100 per cent reliability from everyone there, with the exception of my non-finish in Monza, so it has been a phenomenal year. Disappointed not to get second today. We did a good job in the first stop and then got ourselves in good position. Obviously, the safety car was not a big deal for everyone I don't think. It obviously just brought everyone back together. But I think at the second stop we did the worst thing. We didn't stop before or stop after [Hamilton], we stopped on the same lap. That was disappointing as clearly we had some good pace to pull away from Lewis, but in the end it was a good battle all the way through. I had a good battle on the first lap as well. That's the way it was today so look forward to the next one.
Q: Sebastian, given what Mark was just staying, how difficult was it to get strategy right today? You gambled and saved a set of the harder tyres in qualifying, but then decided not to use all your harder tyres in the race.
Vettel: Yeah, we ended up stopping way less than we thought. The first couple of laps the car felt good and the balance was alright. I think for all the cars it was a little bit the same thing. We expected much more degradation, but it didn't come, and then eventually it came but much later, so you delayed the first stop, the second stop and by the time you found out you realise that you don't have to stop three times within 10 laps. It was a very good race from that side. Tyres and tyre management wasn't easy. I think we were on top of it for most of the race, especially towards the end of the stints on the soft tyre I was able to gain on Lewis. In the beginning he put quite a lot of pressure and I always wanted to stay clear of the DRS. We had quite some headwind down the long straight from turn two to turn three, where the DRS zone is as well, and I knew at the moment he would start to come into the DRS he would be very close. I was pushing hard which the tyres didn't thank me in the second stint. But, fortunately, they came back and I was able to pull away at the end which was crucial to then to have a gap for the final stint and control the gap from there.
Q: Lewis, you mention a good weekend overall for yourself. The championship might not be there for you now, but how much is the rest of the season about restoring your belief in yourself that you can go out and fight for wins on a regular basis?
Hamilton: Well I would never question my belief in myself, so that's not really something that needs doing. I have got the trust and the confidence from the team so it is really just about trying to stay out of trouble, stay out of the stewards' office and just keep my head down and hope for better results.
Q: Mark, back on the podium once again. What are your aims, your goals, for the rest of the season?
Wrbber: Well, I think pulling off clean, perfect weekends. That's what we have got to try and achieve. Lot of positives again for me today. We know how sensitive it is around the stops and to get everything right to win. Seb had a good first lap. Looks like he got past Lewis straight away. My first lap was also pretty good, up to third, so things like that, keep boxing. Overall, a lot of positives for me. The initial reaction is a bit of disappointment, but that's normal as a competitor and I am sure I will be happy tomorrow when I wake up and look forward to the next event.
PRESS CONFERENCE
Q: Sebastian, how difficult was the strategy today as you mentioned degradation later in the race. How often does that happen?
Vettel: Well I think it was a little bit go out and find out. Difficult to know what to expect as we had zero experience on Friday. Saturday morning looked pretty confident. We were then trying something different in qualifying, why not, which we didn't really use today. As it turned out the options were fine for the first two stints and carried us a long way through the race. Much more than I think we all expected so we ended up fitting options again and then going for the prime and going to the end. Going into the weekend I think we were thinking about a lot of stops, but it turned out to not really be the case. Tyres were fine and simply lasted longer than expected and then you end up pitting less.
Q: Tell us about the start and the first lap?
Vettel: My start was not perfect. I think Lewis got away off the line a little bit better than I did. I had a very good launch for the formation lap, but it doesn't really help. Race start was about the same, but I think, as I said, lost out a little bit to the McLarens. Then, as I touched on before the race, a very long straight after that. A big headwind and I was able to close the gap to Lewis and focused then on the straight from turn three or four. Very late decided for the gap. Lewis was very fair going into turn four. I was right on the edge, nearly went straight. It was crucial and then I was a little bit afraid as I had really pushed hard. I knew that with the headwinds down the straight from the second to the third corner it would be very easy for the cars behind to close the gap as I would be the first one facing the wind. Once I got away in the first stint I think I was able to pull away a little bit more every lap. In the second stint I struggled a bit in the beginning and Lewis caught up and it got reasonably close. I was always afraid for him running into the DRS or being close enough to open his rear wing. I didn't want that. Fortunately then, after a little bit of a wobble and the tyres starting to go off, the car seemed to stabilise and I was able to get quicker again and pull away just before we came in for the second stop.
Q: You said recently that you always wanted to go for fastest lap right at the end of the race; now you're allowed to, are you?
Vettel: I think they will kill me now. On the radio, they said 'you didn't get the fastest lap' which obviously isn't true, and then they came on the radio and said 'idiot, you got it.' It's really stupid. I think in other races, it doesn't really make sense but on the last lap I had a good feeling and yeah, I was pushing a bit harder to get the fastest lap. It's a small thing; it's probably more to do with the ego because there are no points so it's really stupid from my side but now I've got one, I'm happy.
Q: Lewis, how did you feel about the start, how did you feel that first lap went?
Hamilton: Well, it wasn't too good for me. The start was good, lost a position to Sebastian and that was really the end of the opportunity of winning. It was probably my fault, I left a bit of a gap but I'd already moved once and I thought that moving again, I would probably be in trouble. I left a gap and it was impossible really to catch him again, to get close enough to overtake him.
Q: As Sebastian said, after the safety car, you really did seem able to hold on to him. That seemed to be your best opportunity.
Hamilton: Yeah, but again, when it got to the last sector, he just had... he was probably flat through the last corner and I was having a big lift, struggling with a lot of front end, and it got worse and worse through the race, so eventually I just started losing him.
Q: How hard was Mark pushing, because he did get past you once?
Hamilton: Mark was pushing... we were both pushing massively quick, as hard as we could. For some reason the car got worse and worse, in terms of... on the front end of the car. The rear of the car was fine but I was having more and more lock throughout the race and I had all the front wing I could possibly have on the car, which is unusual. Nonetheless, we managed to stay ahead of him, but it was a serious battle.
Q: We could imagine the choice Australian words of frustration in your car Mark...
Wrbber: Well, first of all, it's the team's day today, a great job from them, the Constructors, second year in a row, it's a sensational effort from everyone: in Milton Keynes, Viry, Fuschl, everyone at Red Bull in Austria. My race was good, but we know how key it is to get everything right to get released and get the race pace that you really have. In the end, we did a good job. I think that the McLaren was very strong off the corners, it had very good bottom end and midrange and this made it a little bit more difficult to pull the move off. In the end, I tried to mix it up a little bit by passing him into turn one and then tried to get a bit more of a tow on the straight and then create some more pressure later in the lap. But in the end, I think the second... or the last pit stop was really what snookered us, I suppose. I was informing the team that my tyres were still good, but we still pitted. Yeah, that was a bit disappointing to do the same thing as Lewis because we should have done something different. In the end, I think it was a good battle for both of us, that's what Formula One racing should be about, it was on the edge, and... well, it wasn't on the edge really but it was just a good race and we pushed each other hard so that was it.
Q: And a good start when you got Jenson as well?
Wrbber: Yeah, very good start. When did I get him? Not off the line, actually. Yeah, I got him in turn... Felipe tried a pretty big move into turn three on the first lap. He got me and JB (Jenson Button) and then out of there I was under pressure from Fernando into turn four and I managed to get JB and Felipe in the tight section. Very rewarding, that's an important part of the race so it went well for me.
QUESTIONS FROM THE FLOOR
Q: (Sarah Holt - BBC Sport) Hello. Sebastian, you seemed really happy to get your tenth victory when you came on the radio at the end of the race. Is that something that was particularly important to you; you sounded even more excited than last weekend. Are you trying to match a record?
Vettel: Not really, but I was very happy with how the race went today. I had the feeling that we got everything out of the car. You know last week was a very, very special day but it took some time to really sink in and we finished third. I had the feeling that it was very close and maybe we could have done a little bit better. It doesn't meant that I'm not satisfied with third place; obviously I was extremely happy to win the Championship but if you know that your race wasn't the best from your side and there was a little bit left at the end there, then of course it's difficult, as I said after the race, to switch into a different mode, whereas here, I think we got everything out today, it was a brilliant race from start to finish. We were very clever with the tyres, able to read the tyres and pull the gaps at the end of the stints when it was important, where we were struggling in particular last week, so in that regard we came back much stronger and had a much better race and it was just fantastic. It was a great day for the team, as Mark touched on, securing the Constructors'. I knew that if we finished on equal points or a little bit ahead of McLaren as a team today we could secure the Constructors' and ten is a nice number so yeah, it was a nice day.
Q: (Frederic Ferret - L'Equipe) Mark and Sebastian, everybody talks about the title for Drivers. Can you explain to us what the Constructors' title means, that no one speaks about outside the paddock? How is it important for a driver?
Vettel: You need to understand that we have so many people off the track, especially in Milton Keynes, in the factory, working day-in, day-out, every day of the week, every month of the year, really trying to make or to build two very competitive race cars. It's not just one person or one area where things need to come together, it's everything. Even the staff of the kitchen matters and everything needs to come together. Obviously for us, the drivers, the most important championship is the Drivers' championship but for the team, it's the other way round, it's the Constructors', to know where they match with the other teams and it's very good to see that we had another very strong year after the strong season last year. As Mark touched on, to win back-to-back is outstanding and the guys are surely very happy and I think there will be a little bit of a bonus for them, so they will be happy.
Q: (Dan Knutson - National Speedsport News) Lewis, from the outside, you've seemed a bit downcast this weekend to us who have been watching you. You didn't win but you had a very solid result. Do you leave, maybe, feeling a bit happier than when you came here?
Hamilton: Not really. I think I came here in a decent mood, a good weekend, but I didn't win, I went backwards so I wouldn't say that I'm happy about that. But nonetheless, I was able to keep the car on the track and not get into trouble. I didn't have any penalties, so that's a positive on one side.
Q: (Michael Schmidt - Auto, Motor und Sport) Mark, you mentioned that your set of tyres was still good. Could you have taken the risk to do a one-stop race?
Wrbber: I don't know if that was possible but yeah, earlier in the stint we spoke about going longer but I just stayed with Lewis to keep using the DRS and I was expecting to go quite a bit longer but we didn't get to do it in the end. I felt much more comfortable on the prime than in the first stint. I had extremely poor balance but I was very comfortable in the car on the harder tyre but I couldn't do much with it.
Q: (Joris Fioriti - Agence France Presse) Lewis, you say happy, which I can't really see, looking at you. Is the fact that you were not able to catch the Red Bull and were thinking of victory; could that explain that you are a little bit down?
Hamilton: I'm not, I'm fine. I've got a flight to catch so I would much rather be on that flight than sitting here. I just don't want to miss the flight. I think me and Mark have the same flight together. Oh, I don't know what else you want me to say. I'm not ecstatic, I didn't win but I finished second and that's a strong finish, compared to where I finished in the last five or six races, whatever. I am positive, but there's no need to celebrate, there's nothing to celebrate.
Q: (Julien Febreau - L'Equipe) Could you talk a bit more about your fight, Mark? What did you think about Lewis's attitude during your fight, and the same question for Lewis about Mark?
Wrbber: It was absolutely fine on track. Lewis knew where his car was strong, he knew where my car was strong. We had a fight before the pit stop, we had a fight after the pit stop. Obviously I think the fight after the pit stop was haymakers, full-on into each other. It was a good battle. So I think overall I'm satisfied how the battle turned out. It was nothing extreme, just a good car race.
Hamilton: Yeah, Mark drove fantastically well. He was very, very fair and as he said, the only way I could stay ahead of him was just using the strength of my... the power that we had at the exit of turn one and two. Otherwise, he was massively quick throughout the rest of the circuit and it was very, very fortunate that I was able to keep him behind me, but it was a long, long battle and to be honest, I wasn't very sure whether I would be able to keep him behind that whole time, especially when they said you have 15 laps and then eight laps and still (seemed) forever. But nonetheless, it was a good fight.