Japanese GP 2018
OCTOBER 7, 2018
Race Notes - Hamilton dominates Japanese GP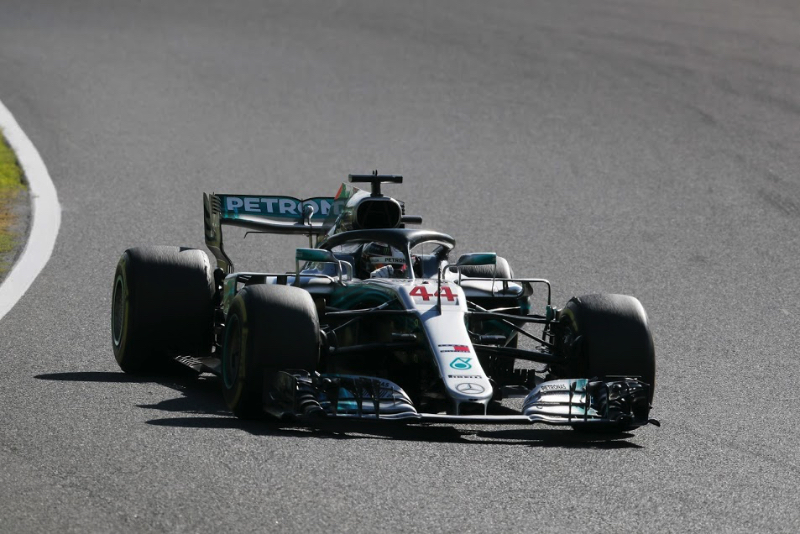 © RV Press
By Mark Karp
Lewis Hamilton, after taking pole, won the Japanese GP at Suzuka in his Mercedes GP, leading from start to finish.
Mercedes scored a one-two finish with Bottas finishing in second place, 12.9 seconds behind, Max Verstappen finished third in his Red Bull-Renault, 14.2 seconds behind the winner.
The win is Hamilton's 71st career victory. wWith four races left in the season Hamilton extends his lead to 67 points over Vettel in the drivers championship. Hamilton is now in a position to clinch the championship if he can finish eight points clear of Vettel in the next round in Austin.
Daniel Ricciardo (19.4s) in the second Red Bull finished in fourth place, followed by the Ferrari of Kimi Raikkonen (50.9s) in fifth, his team mate Sebastian Vettel (69.8s), with a troubled race, was sixth, Sergio Perez (79.3s) in the Force India-Mercedes was seventh, Romain Grosjean (87.1s) in the Haas-Ferrari was eighth, Esteban Ocon (88.0s) in the second Force India was ninth, and Carlos Sainz (1 lap) in the Renault finished in the final points position in tenth place.
Before the start, Hamilton sits on pole with team mate Bottas alongside on the front row, Verstappen in the Red Bull and Raikkonen in the Ferrari on row two, Grosjean and Hartley on row three, Gasly and Ocon on row four, and Vettel and Perez rounding out the top ten.
At the appointed time, the field comes around on the formation lap, the lights go out and the race begins with Hamilton leading Bottas and Verstappen. On the first lap Vettel gets by several cars and passes Grosjean for fifth.
At the end of the first lap Verstappen protecting his position into the final chicane locks up and cuts the corner, Raikkonen goes side-by-side, but then at the end of the chicane Verstappen pushes Raikkonen wide and the Ferrari runs off track and loses the position to Vettel.
Down the main straight Magnussen in jinking back and forth and Leclerc runs into the back of the Haas. Magnussen's rear tyre is punctured, and he limps back to the pits.
Ricciardo is up to 11th after the first lap.
On lap 3 Ricciardo passes Hartley for tenth place.
On lap 4 with debris on the track from Magnussen's tyre, the safety car is deployed.
Leclerc pits and changes his front wing.
On lap 5 Verstappen was handed a 5-second stop-go penalty for running wide and not returning back safely.
The order was Hamilton followed bt Bottas, Verstappen, Raikkonen, Grosjean, Gasly, Perez, Ocon and Ricciardo in tenth place.
At the end of lap 7 the safety car come in and Hamilton continues in the lead.
On lap 8 Vettel tries to go outside of Vettel and the two make contact. Vettel spits and runs in 18th.
At lap 10 Hamilton leads Bottas by 2.7 seconds, followed by Verstappen (5,6s), Raikkonen (8.0s), Grosjean (12.3s), Gasly (13.8s), Perez (14.7s), Ricciardo (14.8s), Ocon (16.7s) and Saint (18.6s) in tenth place.
On lap 12 Vettel passes Ericsson, then quickly past Sirotkin.
Rixxiardo passes Gasly for sixth place.
Hamilton complains to the team of hesitation from his engine.
Vettel overtakes Stroll for 15th place.
On lap 14 Ricciardo passes Grosjean for fifth place.
Vettek passes Leclerc for 14th place.
Hamilton leads Bottas by 3.4 seconds,
On lap 16 Vettel passes Magnussen into the final chicane for 13th place.
On lap 18 Raikkonen pits from fourth place and switches to medium types and rejoins in tenth place. Ricciardo runs in fourth.
On lap 19th, Vettel passes Alonso into the first corner for 12th. Raikkonen passes Sainz, and then quickly passes Ocon for eighth place.
At lap 20 Hamilton leads Bottas by 4.3 seconds, followed by Verstappen (9.0s), Ricciardo (16.5s), Grosjean (32.2s). Gasly (34.3s), Perez (34.9s), Raikkonen (35.1s), Ocon (37.5s) and Sainz (40.3s) in tenth place.
On lap 21 Raikkonen passes Perez for seventh and the next lap passes Gasey for sixth.
Verstappen pits from third place, switching to soft tyres, and rejoins in fifth and then quickly gets past Grosjean for fourth.
On lap 23 Bottas pits from second and Ricciardo from third. both for medium types.
On lap 25 Hamilton pits from the lead, switches to medium tires and rejoins still in the lead.
On lap 26 Bottas sets fast lap at 1m33.519s.
Hamilton is still complains of drivability problems with his Mercedes, but continues to lead.by 4.7 seconds.
On lap 27 Vettel pits from tenth place for soft tyres and rejoins in 16th place.
Gasly and Grosjean pit.
On lap 29 Leclerc passes Hulkenberg into the chincane for ninth. Ocon follows through to take the spot from Hulkenberg.
On lap 31 Vettel passes Ocon, and the quickly dispatches Leclerc for ninth.
Ocon passes Leclerc for ninth, Vettel passes Perez for seventh place.
On lap 34 Vettel sets fast lap at 1m33.243, and then passes Grosjean for sixth place.
Gasly passes Leclerc for tenth.
Leclerc is running out of tyre, and pits for soft tires and rejoins 19th.
On lap 38 Alonso pushes his way past Stroll for 15th and then past Sirotkin the next lap for 14th.
Verstappen closes to within a second of Bottas in second place.
On lap 40 Leclerc pulls off the track complaining that something has broken on his Sauber.
The virtual safety car is deployed, and positions stay fixed to clear Leclerc, and the track goes back green quickly.
At lap 40 Hamilton leads Bottas by 9.0 seconds, followed by Verstappen (9.9s), Ricciardo (16.3s), Raikkonen (23.0s), Vettel (72.7s), Grosjean (78.8s), Perez (81.2s), Ocon (81.8s) and Gasly (86.7s) in tenth place.
On lap 42 Ricciardo sets fast lap at 1m33.236s.
In the hairpin Bottas locks up, and Verstappen runs close behind him, but pulls out to 1.3 seconds ahead again.
On lap 44 Hamilton sets fast lap at 1m33.118s, and then again at 1m32.989s the next lap.
On lap 47 Bottas locks up again, this time at the final chicane and Verstappen closes the gap again.
Sainz closes on Gasly in tenth place.
On lap 50 Hamilton leads Bottas by 10.9 seconds, followed by Verstappen (12.9s), Ricciardo (18.5s), Raikkonen (38.7s), Vettel (70.3s), Perez (76.0s), Grosjean (81.1s), Ocon (82.9s) and Sainz (1 lap) in tenth place.
On lap 51 into the first corner Sainz passes Gasly for tenth place.
On lap 51 Hamilton sets fast lap at 1m32.785.
At the chequred flag Hamilton wins over Bottas and Verstappen.
On the final lap Vettel sets fast lap at 1m32.318s, taking away the grand slam from Hamilton.