Japanese GP 2017
OCTOBER 8, 2017
Race Notes - Hamilton wins again at Suzuka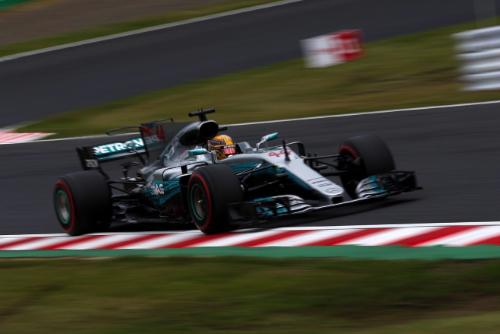 © RV Press
By Mark Karp
Lewis Hamilton won the Japanese GP in Suzuka in his Mercedes GP, holding off the hard-charging Max Verstappen 1.2 seconds behind in the Red Bull, and his team mate Daniel Ricciardo, 9.6 seconds behind the winner in third place.
Hamilton has won the Japanese GP for his fourth time, and it is his 61st career win, and his eighth of the 2017 season.
With Sebastian Vettel falling out of the race on the fifth lap Hamilton now extends his lead to 59 points over Vettel, and makes a strong stamp on the drivers world championship.
Valtteri Bottas (10.5s) in the second Mercedes was fourth, followed by Kimi Raikkonen (32.6s) in the Ferrari in fifth, Esteban Ocon (67.7s) in the Force India-Mercedes was sixth, his team mate Sergio Perez (71.4s) was seventh, Kevin Magnussen (88.9s) in the Haas-Ferrari was eighth, his team mate Romain Grosjean (89.8s) was ninth and Felipe Massa (1 lap) in the Williams-Mercedes finished in the final points position in tenth place.
Before the race, a warmer day than leading up to the race, Hamilton on pole for the first time in Suzuka, Vettel on the outside of row one, Ricciardo and Verstappen on row two, Ocon and Bottas (with a five-spot grid penalty) on row three.
Ferrari have Vettel's engine cover off before the start, and replace the spark plugs.
Bottas, Raikkonen, Nico Hulkenberg and a few others at the back started with soft tyres, the others up front on super soft tyres.
At 2pm local time the cars took to their formation lap, took to the grid, the lights went off and the race began with Hamilton taking the lead in front of Vettel, Verstappen, Ocon, Ricciardo and Bottas.
In the Esses Sainz goes off. Into the hairpin Verstappen passes Vettel for second place.
On the front straight at the end of lap 1 Ocon, Ricciardo and Bottas all pass Vettel, the Ferrari reported to be down on power. The safety car comes out as Sainz is in a unmovable position.
On lap 2 under safety car, Hamilton leads Verstappen, Ocon, Ricciardo, Bottas, Perez, Massa, Hulkenberg and Magnussen in tenth place.
Vettel tells Ferrari, "I still have the same issue."
On lap 4 the race resumes, at the end of the lap Vettel pits to retire the Ferrari, while his title rival Hamilton leads.
Stroll pits for tyres but contiunues. Raikkonen passes Grosjean and Magnussen and is up to ninth.
On lap 7 Hamilton sets fast lap at 1m34.917s.
On lap 8 Marcus Ericsson is off into the barriers at Degner corner, and the yellow is out in this area. Raikkonen and Hulkenberg battle, Raikkonen taking eighth place.
On lap 9 Stoffel Vandoorne pits to switch to soft tyres. Ericsson's Sauber is cleared away.
On lap 11 Ricciardo passes Ocon into the first corner and takes third place.
Verstappen complains of a light on his dash, the team tells him to ignore it.
On lap 12 Bottas passes Ocon to take fourth place.
Raikkonen closes on Massa and passes the Brazilian into the first corner for seventh place.
Vettel reports blistering on his front left tyre.
At lap 15 Hamilton leads Verstappen by 4.2 seconds, followed by Ricciardo (11.7s), Bottas (14.8s), Ocon (18.6s), Perez (20.6s), Raikkonen (22.8s), Massa (27.3s), Hulkenberg (28.2s) and Magnussen (31.5s) in tenth place.
On lap 18 Massa pits from eighth place for soft tyres, and rejoins in 14th.
Raikkonen closes on Perez and passes the mexican driver for sixth place into the first corner.
Mercedes tells Hamilton, "we are still on plan A".
On lap 21 Ocon pits from fifth place, switching to soft tyres, and rejoins in 12th place, then passes Fernando Alonso for tenth.
Verstappen and Perez pit for soft tyres, Verstappen rejoining in fourth.
On lap 22 Hamilton pits from the lead for soft tyres and rejoins in third. Ricciardo and Bottas lead.
On lap 23 Verstappen sets fast lap at 1m33.813s and closes to 1.5 seconds behind Hamilton.
Perez is chasing Jolyon Palmer for eighth place. Grosjean pits from seventh for soft tyres, and rejoins in 13th.
Vandoorne complains to McLaren of feeling a vibration from the car.
Red Bull tells Verstappen that they think Hamilton will try to make it to the finish on this set of tyres.
Ricciardo pits from the lead for soft tyres and rejoins in fifth. Alonso pits as well.
At lap 25 Bottas leads Hamilton by 1.2 seconds, followed by Verstappen (2.9s), Raikkonen (13.1s), Ricciardo (16.7s), Hulkenberg (27.1s), Ocon (34.7s), Perez (36.5s), Palmer (42.4s) and Massa (44.8s) in tenth place.
Hamiton complains that he is getting slowed down by Bottas in the lead.
On lap 29 Hamilton gets past Bottas and retakes the lead. Raikkonen pits for super soft tyres and rejoins in sixth place.
Verstappen closes on Bottas, yet to pit.
On lap 31 Bottas pits for super soft tyres and rejoins in fourth place, all runners on soft tyres, except Bottas and Raikkonen on super softs.
On lap 32 Bottas sets fast lap at 1m33.689s.
On lap 33 Raikkonen passes Hulkenberg for fifth place at the first corner.
Hamilton reporting that he is struggling with his rear tyres.
Alonso is chasing Lance Stroll for 14th place.
At lap 35 Hamilton leads Verstappen by 2.4 seconds, followed by Ricciardo (11.6s), Bottas (21.6s), Raikkonen (36.4s), Hulkenberg (43.3s), Ocon (46.5s), Perez (47.5s), Palmer (60.7s) and Massa (62.9s) in tenth place.
Magnussen chases Massa for tenth. Hulkenberg and Palmer still yet to make a pit stop.
On lap 39 Hulkenber pits and switches to super soft tyres, rejoining in 13th.
Hulkenberg passes Gasly for 12th place.
Gasly tells the team, "I have a flat spot, and need to pit."
Hulkenberg of fresh tyres next passes Alonso for 11th.
Hulkenberg's DRS flap is stuck open, and he pits - his rear wing is broken. Renault retires the car.
On lap 42 Bottas sets fast lap at 1m33.424s.
Magnussen passes Massa for eighth place, the two nealy touching in the first corner. Grosjean gets by Massa as well for ninth.
At lap 45 Hamilton leads Verstappen by 2.4 seconds, followed by Ricciardo (14.1s), Bottas (17.5s), Raikkonen (36.2s), Ocon (61.0s), Perez (62.9s), Mahnussen (83.8s), Grosjean (84.8s) and Massa (89.5s) in tenth place.
Alonso closes to within a second of Massa. Bottas is running off fast laps and is closing on Ricciardo in third place.
Something fails on Stroll's Williams and he pulls off the track and retires. Stroll says, "something is wrong with the car." The virtual safety car is deployed.
At the start of lap 50 the race is resumed with Hamilton leadsing by 2.4 seconds.
On lap 50 Bottas sets fast lap at 1m33.144s and closes to 1.1 seconds behind Ricciardo.
Hamilton complains of vibrations as Verstappen closes to under a second beind.
Verstappen closes on Hamilton tails on the last lap. Hamilton clears Massa, but Verstappen loses some ground.
Hamilton takes the win over Verstappen and Ricciardo.
The team asks Hamilton whether the vibration was from the tyres, and Hamilton tells them no, it was from the power unit.
On the podium, Hamilton tries on interviewer Takuma Sato's Indy 500 winning ring, saying "can I try this ring, can I just see if it is worth me going and doing it one day - it looks pretty good."
About his championship lead with four races remaining, Hamilton adds, "I could only dream of having this gap - Ferrari have been great all year. I just have to put it down to my team, they are so meticulous."