Japanese GP 2017
OCTOBER 9, 2017
Race Analysis - Not easy but massive: How Hamilton won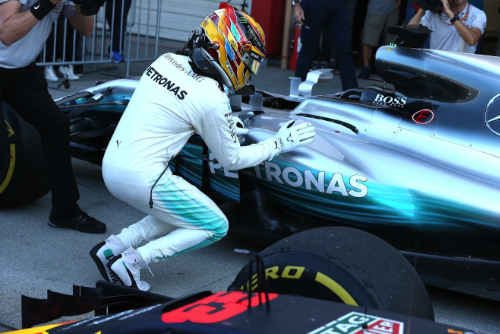 © RV Press
By Dan Knutson in Suzuka
Lewis Hamilton led most of the way in the Japanese Grand Prix in his Mercedes, but he could not relax towards the end of the race because Max Verstappen (Red Bull) came charging in. Hamilton held on to win. Sebastian Vettel retired early with on his Ferrari, and that combined with Hamilton's victory gave Hamilton a massive points gain on his championship rival.
"It wasn't an easy one for us at all," Hamilton said. "Today the Red Bull's just seemed to be rapid in race trim. Still, I was able to hold him behind. It definitely got close a couple of times."
Here's how Hamilton won.
YET ANOTHER
Yet another pole position for Hamilton. He's got 71 now.
NOT SPECTACULAR
The pole might not have been converted into the lead, however, because Hamilton had a poor start. Fortunately for him, so did the others near to him.
"The start was okay," Hamilton said. "It didn't feel initially the greatest but I think the initial getaway was not spectacular, there was a bit of wheelspin. But from then on, I had a good start. I guess everyone around me, or at least Sebastian (Vettel), had the same kind of thing. So, he slotted in behind me."
NOT FOR LONG
Vettel's second place didn't last long as Verstappen came carving past.
"Once I got past Seb in the hairpin I quickly realized that he had an issue, so that was good for me," Verstappen said.
BOX SEBASTIAN BOX
"Box, Sebastian, box; we have to retire the car," came the radio message from Ferrari on lap 4. Vettel's race was over.
NO SPARK
"Once again, despite our car clearly having great potential, things did not go to plan," said Ferrari team boss Maurizio Arrivabene. "The problem that stopped Seb was down to a broken spark plug. We spotted that something was not right on the lap to the grid and we tried our best to fix the problem. Seb got a great start, but shortly afterwards we had to call him back to the garage prior to retiring the car."
RAPID RED BULLS
As usual, the Red Bulls had a rapid race pace that was closer to Mercedes than in qualifying mode.
BUT A TWO-HORSE RACE
Daniel Ricciardo started ahead of his Red Bull teammate Verstappen, but had a poor start and dropped to fourth behind Esteban Ocon's Force India. Ricciardo got back to third on lap 11, but was now 9 seconds behind Verstappen. He was too far back to make any impact, so it turned into a two-horse race between Hamilton and Verstappen.
"Daniel out-qualified Max by hundredths of a second and then had a worse start than Max," said Red Bull boss Christian Horner. "You could see their race pace is near identical. The only difference between the two of them today was the start."
MANAGEMENT MODE
Out front, Hamilton went into management mode.
"I was just trying to manage the pace, manage the tires," he said. "It was a long way to go, the hottest the track had been all weekend - so it was really crucial, knowing that particularly the Ferraris and also the Red Bulls are very, very quick in the race, it was important in those moments that I looked after the tires the best."
CLOSE CALL
Something broke on the right front of Lance Stroll's Williams, sending the car off the track and then briefly back on where he nearly collected Ricciardo who was speeding past. Ricciardo had no chance at winning, but could have lost his podium finish as well.
HOLD UP
Verstappen's chase after Hamilton was held up by Valtteri Bottas in the other Mercedes who was on a different pit stop strategy. Bottas let Hamilton go by but made things difficult for Verstappen.
BLISTER
Verstappen's left front tire had a blister that kept growing, and he had to manage his pace to take care of the tire so there would not be a blow out.
IN THE WAY
Fernando Alonso and Felipe Massa, battling for tenth place, got in Verstappen's way as chased after Hamilton.
"That didn't help - but for me the last lap was more with Massa," Verstappen said, "but at the end of the day I think I wouldn't have passed Lewis anyway because it's really hard once he's in free air. It was more like when Lewis was getting held up then I could close up and then maybe you can do something."
VERY CLOSE
"I was able to just hold him behind," Hamilton said of Verstappen. "But it definitely got very close a couple of times, particularly at the end with the VSC (Virtual Safety Car), and then when we restarted the tires were cold, I had a bit of traffic, so he caught right up, so it was very, very close."
CRUMBLING
Vettel's championship hopes are crumbling. With his 59-point lead and just four races to go, Hamilton can wrap up title number four at the next grand prix.
"Of course, now the championship is more difficult and not finishing the race doesn't help," Vettel said. "I also said to the guys to get back home and have some rest because it's been a tough week with a lot of changes. Then we'll come back with a better package to do well for the last four races and then we'll see."
IT AIN'T OVER
"It ain't over til it's over," baseball legend Yogi Berra said back in 1973. Hamilton feels the same in 2017. He is not counting his fourth championship just yet.
"Anything can happen," Hamilton said.