Japanese GP 2016
OCTOBER 8, 2016
Qualifying Report - Clean sweep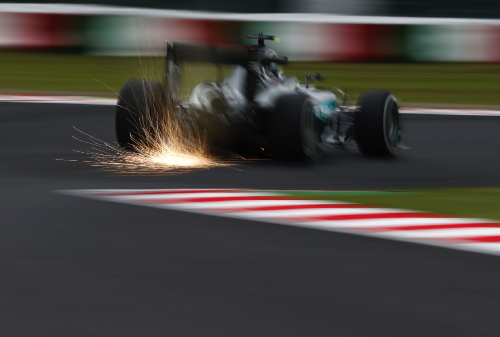 © Active Pictures
By Dan Knutson in Suzuka
Nico Rosberg made a clean sweep of things as he went fastest in all three free practice sessions and then again in all three qualifying sessions for the Japanese Grand Prix. He just edged out his Mercedes teammate Lewis Hamilton by 0.013 of second to claim pole position.
The ambient temperature at the start of qualifying was 73 degrees Fahrenheit (23 degrees Centigrade) and the track temperature was 79 degrees Fahrenheit (26 degrees Centigrade.)
The line-up for the weekend was: Mercedes - Lewis Hamilton and Nico Rosberg. Ferrari - Sebastian Vettel and Kimi Raikkonen. Williams Mercedes - Felipe Massa and Valtteri Bottas. Red Bull TAG Heuer - Daniel Ricciardo and Max Verstappen . Force India Mercedes - Nico Hulkenberg and Sergio Perez. Renault - Kevin Magnussen and Jolyon Palmer. Toro Rosso Ferrari - Daniil Kvyat and Carlos Sainz. Sauber Ferrari - Marcus Ericsson and Felipe Nasr. McLaren Honda - Fernando Alonso and Jenson Button. Manor Mercedes - Pascal Wehrlein and Esteban Ocon. Haas Ferrari - Romain Grosjean and Esteban Gutierrez.
QUALIFYING 1
Rosberg and Hamilton, both on the medium compound Pirellis, went out early in the 18-minute session and set times of 1:31.858 and 1:32.218 respectively. Verstappen and Ricciardo, also on the medium slicks, slotted into third and fourth.
The Ferrari drivers did not go out until halfway through Q1, and then Raikkonen used the soft tires to take first place with a 1:31.659. Vettel beat that with a 1:31.659.
Down at the cut line, Nasr was 15th, Magnussen 16th and Sainz 17th after the all the drivers had set a time.
With less than four minutes remaining all the drivers were in the pits. Then they started out for a final lap, but the top five stayed put.
After those final laps, the six drivers who were eliminated at the end of FP1 were: Button, Magnussen, Ericsson, Nasr, Ocon and Wehrlein.
The fastest 16 drivers who moved on to Q2 were: Vettel, Raikkonen, Rosberg, Hamilton, Bottas, Hulkenberg, Grosjean, Verstappen, Ricciardo, Massa, Gutierrez, Kvyat, Perez, Sainz, Palmer and Alonso.
QUALIFYING 2
The Mercedes lads were the first out in the 15-minute Q2, and both were on the soft tires. Rosberg crossed the line first with a time of 1:30.714, and then Hamilton, who ran wide at Degner, did a 1:31.129.
Raikkonen grabbed third with a 1:31.406 while Verstappen went into fourth with a 1:31.489. Vettel beat both of them with a 1:31.227.
Bottas and Massa did not do an initial run. After the rest of the drivers did their laps, the cutline drivers were Gutierrez in ninth, Hulkenberg in 10th and Sainz in 11th. Everybody was on the soft tires.
With five minutes remaining, Bottas and Massa took to the track while the other drivers remained in the garages. Other drivers then headed out, but Rosberg, Hamilton, Vettel, Raikkonen, Verstappen and Ricciardo stayed home.
The six drivers who were eliminated at the end of FP2 were: Bottas, Massa, Kvyat, Sainz, Alonso and Palmer.
The fastest 10 drivers who moved on to Q3 were: Rosberg, Hamilton, Vettel, Raikkonen, Verstappen, Ricciardo, Gutierrez, Grosjean, Hulkenberg and Perez.
QUALIFYING 3
Q3 lasted 12 minutes and all the drivers used the soft tires. Ricciardo was out first.
Hamilton finally beat out Rosberg, clocking a 1:30.758 to his teammate's 1:30.953. Raikkonen took third with a 1:31.184 ahead of Vettel, Verstappen and Ricciardo. The other five drivers did not go out for the first run.
Three minutes and 20 seconds remained in Q3 when the drivers started out on their final fast lap of the day.
Rosberg turned a 1:30.647. Hamilton was 0.013 of second slower with a 1:30.660. Raikkonen retained third ahead of Vettel. And Verstappen remained ahead of Ricciardo. Perez, Grosjean, Hulkenberg and Gutierrez rounded out the top 10.
Vettel, however, will have to take a three-place grid penalty, his punishment for causing a collision with Rosberg during the Malaysian Grand Prix.