Japanese GP 2016
OCTOBER 8, 2016
Practice 3 Report - Slick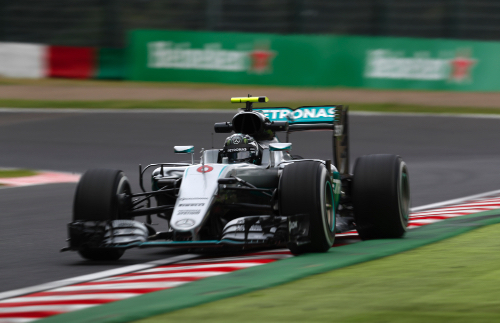 © Active Pictures
By Dan Knutson in Suzuka
The challenging Suzuka track was still slick from rain earlier in the day when Free Practice 3 began, but as the track began to dry the drivers were able to head out on Pirelli's slick tires. By the end of the session Nico Rosberg was the slickest and fastest of all 22 drivers.
The line-up for the weekend was: Mercedes - Lewis Hamilton and Nico Rosberg. Ferrari - Sebastian Vettel and Kimi Raikkonen. Williams Mercedes - Felipe Massa and Valtteri Bottas. Red Bull TAG Heuer - Daniel Ricciardo and Max Verstappen. Force India Mercedes - Nico Hulkenberg and Sergio Perez. Renault - Kevin Magnussen and Jolyon Palmer. Toro Rosso Ferrari - Daniil Kvyat and Carlos Sainz. Sauber Ferrari - Marcus Ericsson and Felipe Nasr. McLaren Honda - Fernando Alonso and Jenson Button. Manor Mercedes - Pascal Wehrlein and Esteban Ocon. Haas Ferrari - Romain Grosjean and Esteban Gutierrez.
Rosberg set the fastest time on Friday - a 1:32.250 - using Pirelli's soft compound tires.
"It's been a case of finding my way today," he said after FP3. "It began with quite a lot of understeer and we had to work through the setup in order to find a better balance on the car. In the afternoon, the medium tire didn't seem as strong as the hard as we saw in Malaysia. However, on the soft tire we showed strong one-lap pace, the balance felt good and the track was really exciting to drive.
"It looks like we're ahead of the Ferraris but it remains to be seen as to where we are compared to the Red Bulls."
Palmer and Grosjean were the first out on a track that was still damp in places from a rain shower earlier. The drivers, therefore, were using Pirelli's intermediate wet weather tires. The teams and drivers were all that keen to go out, and only about half the field did an installation lap.
Twelve minutes into the session Button went out on slicks but did just one lap and came back into the pits.
A few minutes later it was Alonso who ventured out on slicks. He stayed out and did a flying lap in 1:35.935. He then pitted and Gutierrez replaced him on the track and clocked a 1:43.949 after sliding off at Turn 13. On the next lap he slid off at Turn 5.
Rosberg was the next slick runner and he posted a 1:33.230 on the medium compound Pirellis. Hamilton used the same tires to clock a 1:33.284.
The session was nearly half over and only four drivers had done flying laps. But a few more drivers were now in action including Raikkonen who slotted into third place with a lap in 1:33.90.
With just over 20 minutes remaining in FP3, the top 10 were: Rosberg, Hamilton, Raikkonen, Ricciardo, Verstappen, Vettel, Hulkenberg, Magnussen, Perez and Grosjean. The track was drying because many drivers were doing laps.
Most of the drivers were in the pits with eight minutes to go and preparing for their qualifying simulations on the soft compound tires. Rosberg was one of the first to make a run, and he did the lap in 1:32.092.
Vettel moved into second with a time of 1:32.731, only to be displaced by Ricciardo who turned a 1:32.394. Hamilton's fast lap didn't go well, and he dropped to seventh place.
The session ended with Rosberg on top ahead of Ricciardo, Vettel, Verstappen, Raikkonen, Massa, Hamilton, Palmer, Magnussen and Hulkenberg.