Japanese GP 2013
OCTOBER 14, 2013
Race Report - A Formality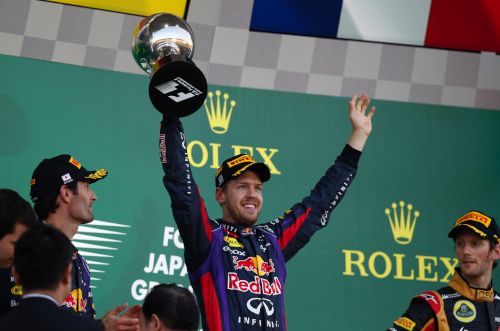 © Active Pictures
Sebastian Vettel did all he could do to clinch world championship number four by winning the Japanese Grand Prix. But Fernando Alonso did his part, too, and by finishing fourth in his Ferrari denied Vettel and the Red Bull team the chance to have their championship winning party in Japan. It is just a formality, but Vettel will have to wait until the Indian Grand Prix to win the crown. If Vettel finishes fifth or higher in India he will become the 2013 world champion.
While Vettel won his fifth race in a row and his ninth of the season, it was not a runaway. He had to out race teammate Mark Webber and Lotus driver Romain Grosjean who ended up second and third. But win he did, and for the fourth time at Suzuka.
"I love this track," Vettel said, "and I've been very, very fortunate to have a great car in the past and against this year, being able to finish on the podium and win four times now. Incredible. When we leave the hotel in the morning I think it's the same for all of us. It makes it so special.
"The people are crazy about Formula One. They really, yeah, admire us, which is very nice. They love what we do and appreciate the fact we go around. You have the people on the grandstand yesterday, I ran the circuit and there were I think 5,000 people on the grandstand just watching. They are amazed by Formula One and I think that makes it so special and taste so sweet."
Webber had qualified on pole while Vettel, who had KERS problems on Saturday, lined up second. Lewis Hamilton put his Mercedes third on the grid and Grosjean qualified fourth.
When the red lights went out to start the 53 lap race, Grosjean shot into the lead as both Red Bull drivers made slow getaways.
"When I dropped the clutch I said 'whoah, whoah, that's a good one, come on, come on go for it'. Amazing," he said afterwards.
Webber hung on to second and Vettel third. Hamilton got into the thick of it and Vettel's front wing sliced the right rear tire on the Mercedes.
"I got a fantastic start this afternoon," Hamilton said, "better than both Red Bulls for probably the first time this year. Mark moved right, so I had to move as well, which sandwiched Sebastian between me and Romain. Seb's front wing clipped my right rear, cut the tire and that was that. It wasn't his fault at all, just one of those things that wasn't meant to be this afternoon."
Grosjean, Webber and Vettel pulled away from Nico Rosberg, Ferrari drivers Alonso and Massa, and Nico Hulkenberg (Sauber.)
Webber was the first of the leading trio to pit, coming in at the end of lap 11 to switch from Pirelli's medium compound to the hard compound tire. Grosjean came in a lap later to do the same. Vettel lead laps 13 and 14 and then pitted.
Vettel and the Red Bull engineers had now decided to go for a two stop strategy.
"I think the decision was made in the first stint because we stayed out longer to take into account that we lapped slower than the others to save tires and push them later in the race," he said. "We had a similar race in 2011 when I always pitted first and was under enormous pressure towards the end of the race and got passed by two cars. This time we did it the other way round and had enough pace in the car to look after the tires and control the race.
"It was not easy to make the two-stop work, especially in the middle stint, but I think the first stint was crucial to make the decision to stay out for a two stop, which turned out to be the right move."
Grosjean, who would also stop twice, led laps 15 to 29 and pitted. Webber had made his second stop on lap 25 as the team switched him to a three-stop strategy.
"We were obviously looking to get in the lead to put some pressure on Romain," Webber said. "I don't think the option (medium) was easy to handle for any of us. I wanted to put some pressure on Romain towards the end of that stint. We were more or less in the window for a two stop. As soon as I pitted after the prime, the guys said 'yeah, we're on a two stop, it's no problem. Look after the tires and we'll stay on two.' And then I was on two and then we switched to three so I think they just saw that it was just a quicker way for me to do three stops. That's what they thought, that was the reason they did it."
Vettel led laps 30 to 37 and then pitted after a long 23 lap stint on his set of tires. That put Webber out in front for laps 38 to 42 when he made his third stop. The team fitted the medium compound tires for his 10 lap sprint to the finish. The plan was to quickly get by Grosjean who was second and hunt down leader Vettel. It did not work.
First of all, when Vettel had come back on track from his stop he was behind Grosjean. Had Vettel lost time there then Webber would have made up valuable ground. But Vettel quickly dispatched the Lotus. But when Webber came up behind Grosjean he got held up for eight laps.
But that is not where Webber lost the opportunity to beat Vettel.
"I don't think the battle was going to be with Sebastian at the end to be honest," Webber said. "I think that it was pretty much done when we didn't do enough damage on the three-stop against Seb's pace on the two. I think we tried to race Romain at the start and then in the end we switched to the three. So I was the meat in the sandwich, trying to beat Romain on a two and then all of a sudden we decided to do a three. I was a little bit surprised. I asked was it the right thing to do because I felt we could get to the lap we were looking to get to."
Vettel led laps 43 to 53 and crossed the line 7.129 seconds ahead of Webber.
Webber's battle with Grosjean ended when he took second place with two laps to go as they came up on lapped drivers having their own battle.
"It would have been nice with Mark until the end of the race," Grosjean said, "but we caught some slower cars, lapped cars, and they really blocked me a lot. I lost the position against Mark. I don't know if I could have held him until the end but, yeah, it cost me, I think, quite a lot.
"Never mind, we were the only car to be able to follow them (the Red Bulls.) We did not even think about racing them before the race and the strategy says that our target was Lewis, so, so far it was a pretty good race and for sure being ahead in the first corner helps quite a lot but we did a very good job to come back from a disaster Friday to have a very good Saturday and Sunday."
After qualifying eighth, Alonso had a good Sunday as well. He passed Massa who refused to obey team orders and let him by, and fought his way to fourth.
"Fourth place was the most I could do today," Alonso said, "as the three ahead of me were really out of reach and so, given our starting position and how practice went in general, I am happy. It was an action packed race and even if we suffered with traffic, degradation was more normal than in Korea and we were back to having a good pace. Certainly, we need to find something extra if we want to finish on the podium in the next four races."
Kimi Raikkonen went from ninth to fifth in his Lotus.
"I had a very poor start," he said. "I left the line with wheel spin and lost a few places which wasn't ideal, but I managed to gain places back later on in the race. After the final pit stop the car was working much better. It ran well in the last half of the race and I was very happy with it. It was a pretty normal race I would say. It's difficult to overtake here so it's good that we got some points."
Sauber had another good race with Hulkenberg sixth and Esteban Gutierrez seventh.
"We did everything we could today," Hulkenberg said. "I was already surprised by the pace of the car going to the grid as it felt really good. Again I managed to keep both Ferraris behind me for a long time, even if it wasn't enough as my treys just gave up a little bit at the end of the race.
"We were fighting throughout the race today. Just after my second pit stop I was surprised I was able to pull away a bit from Fernando (Alonso), but he was probably saving his tires."
These were the first F1 points for rookie Gutierrez.
"Finally I can feel great satisfaction after the race," he said. "It has been a lot of work to get up to this point and, while it has not been an easy path, I think it has been a very solid one. Over the past few races we have been improving a lot and, as I said yesterday, we have to keep optimistic and this is the result of that.
"Knowing we can achieve something like this, you really go forward and do your best and push. Even though the last few laps were very difficult with Nico Rosberg behind me, it was overall a great race. I want to thank the team as is has done a great job today. Also many happy returns to Peter Sauber on his 70th birthday."
As for the race winner, Vettel will clinch the championship in India or one of the three races after that. It is just a formality. In the meantime he is savoring every moment.
"I love racing," he said. "When I was small, I was dreaming about Formula One and honestly never thought that one day I would be able to test one of these cars. First time I tested the car, Mark (Webber) drove in the morning, I drove in the afternoon. I shit myself the first couple of laps and I thought, alright, that's for real men, not for me. Then I got used to it and obviously wanted to do more.
"A couple of years later, obviously I had the chance to get a drive, Red Bull gave me the chance at Toro Rosso to get some races. It's incredible what's happened over the last couple of years but nothing has changed in the way that I still love racing, I love the challenge, I'm still nervous when I wake up on Sunday, still excited when I walk on the grid and tense, looking forward to the race.
"Enjoying - not the numbers but enjoying the fact that I'm racing and a great crowd today, a fantastic day. It would be a shame if you were too tense and if you tried to force things too much. You have to allow yourself to enjoy it because this is not normal, it doesn't happen to everyone. I'm very fortunate that I'm one of these 22/24 guys in Formula One. As I said, we leave the hotel, great respect from the fans, they're cheering, they're shouting our names and it's just great. That's what I'm looking forward to most, obviously try to do it again. I love trophies so I don't mind collecting a few either!"