Italian GP 2022
SEPTEMBER 11, 2022
Sunday Team Quotes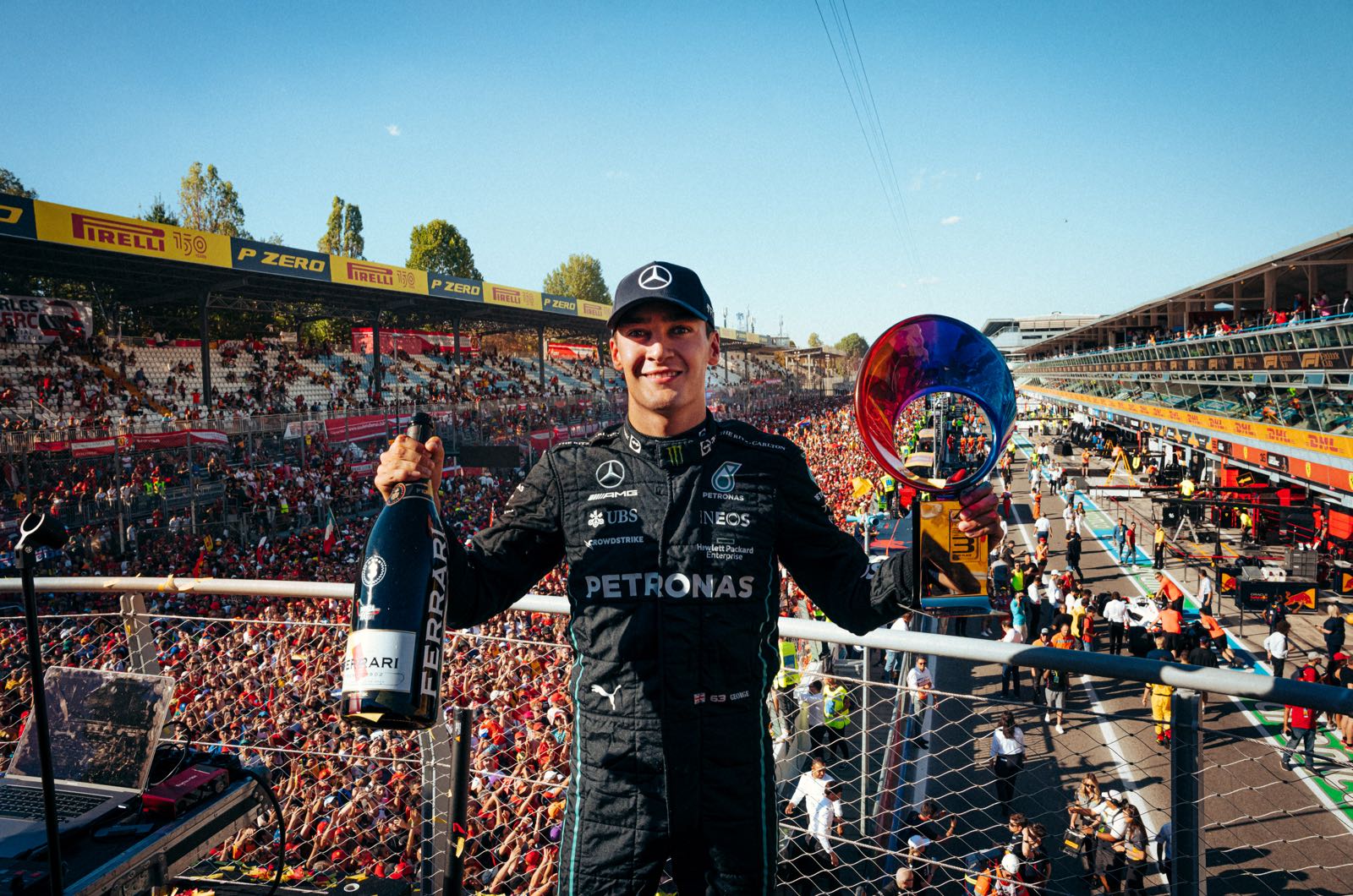 © Mercedes-Benz Grand Prix Ltd.
Mercedes-AMG Petronas F1 Team
George Russell (3rd): "Unfortunately, this weekend we were not where we wanted to be as a team - but like I said on the radio, it doesn't matter if we are fast or slow, we keep getting these podium finishes. Over this triple header, two of the three weekends have been very difficult, and I've still come away with two podiums and a P4, so we've got to be satisfied with that. Looking at today's race, we had to do something different if we wanted to fight with Max and Charles, so we went for the Hard tyre at the stop, but they were just too quick. That's all we could do in our position. Now we have some weeks to recharge, regroup as a team and prepare for the final part of this season, so we can take every opportunity that comes our way."
Lewis Hamilton (5th): "This morning, the team said anywhere between sixth and fourth was possible. That always feel like a stretch when you're looking ahead at the race - but I had a lot of fun working my way to P5. The beginning was a struggle, with a heavy fuel load and the tyres overheating in traffic, but then we started to make progress as the race unfolded - and I had some fun after the stops working through the traffic. At the end, we stayed out to keep the position on track and it might have been a tough battle if the race restarted, so I'm glad it finished the way it did! Overall, we knew this was going to be a tough weekend with the engine penalty, so I'm pleased to come away with a P5 finish and to have pulled everything out of the car. This wasn't our best track but we did everything we could as a team, and I hope we have some stronger weekends ahead before the end of the season."
Toto Wolff, Team Principal: "We were clearly the third fastest team today, so third and fifth positions was probably the maximum we could expect. Although the gaps were not as big as in Spa, this was clearly a track that didn't suit us, so it was a question of maximising our result and doing damage limitation with Lewis. It was enjoyable to watch him fight through the pack - he looked a little bit stuck at the beginning, then once the tyres came together, he was very quick. As for George, he did everything we asked of him, and it was another faultless drive. Looking at the championship, we are 35 points behind with six races to go and we just need to do our best every single week and see where we land after Abu Dhabi. But we also know that our ultimate target was 30 seconds up the road today, and that is the real gap we need to catch up. Finally, a word for Nyck: he did the absolute maximum today, jumping into a car he had barely driven in FP3, then scoring two points. It showed exactly what he is capable of."
Andrew Shovlin: "Looking at Spa and Monza, the car clearly struggles at the lower downforce levels so to come away with and podium for George and fifth for Lewis having started on the back row is a solid result. The weekend has been tough, we've lacked corner entry stability at the rear end which had meant the car was a bit of a handful on the single lap. The gaps in the race were a bit better but it was still impossible to do anything on strategy that would have put George better than third. With hindsight fitting the hard on his car at the first stop was a mistake but he did a good job with it and would have kept Carlos at arm's length had the race finished without the safety car. Lewis had a tough start to the race getting bogged down in a train of midfield cars but kept attacking and once he got into clear air, was able to put in some good laps and clear the lot. Towards the end of the race, we weren't pulling in Sergio fast enough to catch but once they stopped it gave us a bonus position and it looked like we'd hold onto it but once the safety car came out that was guaranteed. Triple headers are never easy for the team and this one has been particularly tough, but we hope to perform better in the closing races. The battle with Ferrari for second place gives us a good goal to work towards in the final part of the season, so we'll be using the next two weeks to prepare as it's going to be a tough finish with six races in eight weeks."
Oracle Red Bull Racing
Max Verstappen (1st): "The first lap I had to be careful but we had a good start and were clean through the first chicane and for me that was the most important thing, to stay out of trouble. Then we were very quickly back up to P3 and even into P2, then I could set my sights on Charles and I could see we had better tyre degradation. Overall if you look at the pace of our car this weekend, especially today, I think we were strong. The pace was good on every tyre and we were comfortably the quickest on the track. You have to try and be as perfect as you can be and on most occasions this season, we have been pretty good."
Sergio Perez (6th): "My race got compromised fairly early when my front right brake disk got super-hot and was basically on fire, so we had to make the decision to pitstop. The first laps on the hard I couldn't get any temperature into the tyres because I had to lift and coast, I was losing a lot of lap time and my first stint was compromised. That affected my whole race and I had to massively manage my breaks, it was critical at that point because I could have lost them and had to retire the car. In the end we boxed thinking we could get Lewis back on the softs but unfortunately the safety car meant we didn't get the chance. I had better tyres than Lewis so it would have been good to get the restart but unfortunately that wasn't the case. For me it wasn't a good weekend and we have plenty to do, I am back on the simulator tomorrow and trying to get back into a good rhythm straight away."
Christian Horner, Sporting Director: "We would have liked to have seen the race play out today, we certainly didn't want to win under a safety car. We believe there was enough time to get the race going but the safety car picked up George Russell which delayed proceedings. Despite that, we believe we had enough pace in hand on the one stop strategy. Checo had to pit early because there was a flat spot, a lot of vibration, then a bit of debris got into the ducts which caused a small fire, but his recovery from there was great. Fastest lap for Checo too so important points for him and the team. Max was yet again so impressive, even if they had the fastest car, I'm not sure if anyone could stop Max today. The whole team has been performing at such a high level all season and our performance all weekend has been brilliant. We know we compromised quali slightly yesterday but it paid off. More challenges lie ahead with Singapore and beyond so we look forward to that. Ultimately it was a somber race for obvious reasons but we are happy we could bring home the win with Her Majesty's insignia on the nose of the car and we dedicate the victory to the life and memory of HRH, Queen Elizabeth II."
Scuderia Ferrari
Charles Leclerc (2nd): "Monza is always incredible. Starting from pole, I did want to take the win. However, that's not how it went today. Seeing our tifosi under the podium made it a lot better. Our pace was good and we have to keep in mind that our expectations for this track were not very high. We worked a lot throughout the practice sessions to secure pole, which was a nice surprise. We have made some positive progress and were more competitive this weekend, so I am looking forward to be back racing in Singapore."
Carlos Sainz (4th): "A good race! I felt comfortable right from the start, overtaking cars nearly every lap and climbing to P4 very early on. After pitting for the Soft tyre I was closing the gap to Russell quickly and I would have had a chance to battle with him for P3 at the end. Even when the Safety Car came out, I would have had a great opportunity at the restart with my new set of Softs, but unfortunately the race finished as it did and neither scenario happened. I'm happy with the performance and the comeback, but looking at our pace I was hoping to be on the podium in front of all the tifosi. Thanks to everyone for such great support today. We will continue to push until the end of the year!"
Mattia Binotto, Team Principal: "I believe our performance this weekend was better than that reflected in the final outcome. After a great qualifying in front of all our tifosi, in the race we tried to make the most of every opportunity, opting to be aggressive with both drivers. Overall, finishing second and fourth is a good result, although there is naturally a sense of regret at not bringing home the win after starting from pole. However, today, Max (Verstappen) was simply quicker than us. Regarding our performance, there is the awareness that we have made progress compared to the last few races. However, it's not enough, as there is still work to do when it comes to our performance on Sunday and tyre degradation. There was a significant moment just before the race, when the President of the Republic visited our garage. Sergio Mattarella represents all Italians and Italy and it was nice to see the mechanics welcome him with a round of applause, as a mark of thanks for all his efforts and dedication towards our country."
McLaren F1 Team
Lando Norris (7th): "A good day. Very happy with the result in the end. The pace was very strong today. We should have finished P5 or P6 but we lost several positions with an issue at the start, which compromised our race. Tough, especially on a day when we could have scored some really good points. However, there's a lot of positives coming out of this weekend. Some strong things to try to carry on to next time. So, we'll keep working hard and try to maintain this momentum for the next few races."
Daniel Ricciardo (DNF, Engine): "It was nice to start at the front and get a decent start. Lando looked like he had a poor start so I got ahead of him and it was nice to be in third there, but I saw quickly Max (Verstappen) was right behind me and he was obviously on another level. I was just trying to set a rhythm in fourth, but we weren't quick enough. I felt like I was doing a good job to hold off Gasly but didn't have much more to show than that. It was a busy race, trying to hold on, do what I could and then yeah, felt like we got a little bit of a rhythm on the Hards with 10-15 laps to go but then the engine just switched off out of Turn Six. I had to pull over straight away because it was stuck in gear and so I couldn't roll to a safe place. It would have been nice to get some points but it wasn't meant to be today."
Andreas Seidl, Team Principal: "Mixed feelings today in Monza. The positive side is that the pace we had this weekend and throughout the race was very encouraging, particularly given warm weather and a low-downforce configuration haven't favoured us in the past. On the other hand, a retirement for Daniel is disappointing, costing us valuable points in the Constructors' Championship after he had a very strong weekend, both yesterday in qualifying and also today in the race. P7 for Lando, however, confirms us as the fourth-fastest team this weekend. That comes from hard work from the entire team, here and back at home, together with our colleagues at Mercedes HPP. A break now of two weekends before we head to Singapore. While work on next year's car continues at pace, in parallel we'll use this time to analyse all the data we've collected over the triple-header and see how we can take further steps with the car as we head into the final six races of the season. We go again."
BWT Alpine F1 Team
Esteban Ocon (11th): "It was a tricky race today and obviously it's disappointing to finish just one position away from the points in the end. The car was performing well, and we had good race pace, which we weren't able to show with traffic ahead. We'll refocus and maximise everything for the remaining races from Singapore and onwards. I'm looking forward to a little break to recover from the triple header and fully prepare for the flyaway races where we'll look to get both cars back into the points in our fight for fourth in the Constructors' Championship."
Fernando Alonso (DNF. Water Pressure): "It was a challenging race today and we seemed to be finding it difficult to keep up with the cars ahead of us on the straights. We then had to retire the car with a suspected water pressure issue, but we still need to investigate why this happened. We were fighting inside the top ten and I was hoping we could see the chequered flag inside the points, but it wasn't the case today. It's been a long three weeks; the team has worked very hard and deserves a short break. The good news is that we are still ahead in the fight with McLaren for fourth, so we go to Singapore with the aim to be in the top ten again."
Otmar Szafnauer, Chief Operating Officer: "We're certainly disappointed not to have scored points at today's Italian Grand Prix with Esteban narrowly missing out in eleventh and Fernando retiring from the race while in a competitive position. It looks like we lost water pressure on his car, which meant he had to stop, and we'll do our normal investigations to find out the cause and the solution for the future. On Esteban's side, he put himself into a strong position during his second stint – lapping one-second a lap quicker than those ahead - and would have been in contention for points before the final Safety Car at the end. It's a pity the race did not end under a green flag, and I'm sure we can find better ways to improve the spectacle of racing in these kinds of scenarios. As a team, we should reflect on the positives and, if we look across the triple header, we've come away with 26 points, which is a good effort and very valuable for the championship. We'll come back stronger for Singapore at the end of the month where we have further upgrades coming to the car."
Scuderia AlphaTauri
Pierre Gasly (8th): "Looking at the result, finishing behind the top three teams is the best we could have done, and I am very happy to be collecting points again. It was a slightly frustrating race, I think I'll have nightmares about Ricciardo's rear wing for the next few nights, we tried a few different things to try and pass him and our overall performance was competitive, but we just didn't have the pace to get past the Mclarens today. We'll now prepare for Singapore, we know what we need to work on, how to improve, and we'll aim to continue finishing in the points."
Yuki Tsunoda (14th): "Starting last on the grid was always going to be difficult today, but I think the start of the race was good for me and I was able to make some overtakes. I struggled with the pace on the Hards, so we need to go away and look at our long-run pace and try and improve this for the upcoming races."
Franz Tost, Team Principal: "The fans, and the celebrations for the 100th anniversary of this historic track, didn't deserve the race to finish the way it did today, as it would've been fantastic to see a fight on the last few laps, but unfortunately, as Ricciardo stopped so late, in accordance with the regulations we had to finish the race behind the Safety Car. As for us, our race was reasonably good. Pierre started from fifth position and finished eighth, he struggled a little bit with understeer on the Hards, but generally speaking – and also considering the performance of the cars in front of us - this was the best possible finishing position we could achieve today. Yuki started from the back of the grid, therefore it was not so easy to overtake cars, nevertheless he managed to do this well. We called him in during the Safety Car for the Softs, as we thought he would have a good chance with the new tyres, if the race was restarted, but unfortunately this was not the case. He could only finish in P14, but in general, Yuki had a good race weekend. Overall, we scored four points here, which is positive as we have closed the gap to Haas in the Championship, so we now need to keep this momentum, from Singapore in a few weeks, until the end of the season."
Jody Egginton, Technical Director: "It's good to come away with points today, with Pierre driving a solid race. At the same time, it's frustrating that with Yuki we could not turn the strong performance he has shown here into a representative grid position and a better fight for points, due to penalties. Regarding Pierre's race, the fight with the McLarens was good, but with two against one and Ricciardo proving tricky to pass, the McLaren strategy created some breathing space for Norris, which we could not recover, meaning we came home in P8 with Pierre. In summary, it's good to be scoring points again, but we need to be getting both cars up there in order to improve our Constructors' position, so obviously this is one of the key areas to be focused on."
Aston Martin Aramco Cognizant F1 Team
Lance Stroll (DNF, Brakes): "We had some issues with the car, so we decided to retire to look after the engine. It is a shame that we were not able to be more in the mix this weekend, but that is sometimes how it is in F1. We have to look at why it was so tricky for us on this track, and see what we can learn from that. I think we will be more competitive in Singapore, which is a completely different circuit to here, in a couple of weekends."
Sebastian Vettel (DNF, Energy Recovery System): "Unfortunately, we had an issue with the ERS and we had to stop the car. I noticed a drop in power beforehand, and then I was told to pull off the circuit. Overall, this was just a tough weekend for us. I was hopeful for a decent race, but we struggled for pace and then had the problem that forced our retirement. The atmosphere was fantastic, however, so a huge thank you to the fans for their support this weekend."
Mike Krack, Chief Operating Officer: "Lance battled hard in the early laps, running as high as tenth, but we did not quite have the pace on this track layout and, as the race progressed, it became clear that points were out of reach. With 14 laps to go, we retired Lance's car as a precaution to save engine mileage. Sebastian's race was relatively short when he was forced to retire on lap 11 with a suspected ERS issue. He was losing power before smoke appeared and we asked him to stop the car. The focus now moves to Singapore at the end of this month – a circuit where we expect a more completive showing."
Williams Racing
Nyck de Vries (9th): "I'm feeling really good about today and think it was crucial to get the start right and a clean run into lap one. I got into a DRS train which helped to stick with the pack, however I think the pace was really good and we made a good call on strategy and tyre management. Driver of the day makes me so happy and I'm very pleased and thankful that I got given the opportunity and I grabbed it with both hands. It was a great day for the team and whilst grid penalties played in our favour, ultimately, we did a great race so I'm very happy for everyone in the team and for myself. Hopefully I will get a shot next year, but this is definitely a dream come true and I'm very impressed with what we've done in short notice, so I'll go enjoy it now."
Nicholas Latifi (15th): "A very tough race. I was compromised at the start being sandwiched between a few cars and trying to avoid damage. A lot of cars cut the first corner without any penalties. Unfortunately, we had a slow pit-stop which left us with very little to play for in the race. The aim was to maintain the position we started in and we had a fighting chance, but it wasn't meant to be. We were fast in a straight line, but we struggled with braking and carrying speed through the corners. We'll look to bounce back in Singapore in a few weeks."
Dave Robson, Senior Race Engineer: "Nyck drove an excellent race today and was able to defend when required as well as keeping constant pressure on the cars ahead. We gave him an ambitious strategy which would push his Soft and Medium tyres to the limit. The late safety car offered some protection in the final laps and also helped him manage a hot front brake disc. However, he got himself into that position by driving extremely well, managing the start and the pit stop expertly and by fighting hard using a car and setup that he had only driven for 34 laps yesterday. He did no high fuel running prior to the laps to the grid and had never driven a full stint on these tyres in racing conditions. The work that he and his team put in overnight was excellent and he deserved this result. Nicholas had a tricky start to the race, losing out at the first chicane before mounting a good recovery showing decent pace on the Hard tyre to get back into the fight with Stroll and Tsunoda, Schumacher and Bottas. Unfortunately, he couldn't recover all the loss from the opening laps and finished in 15th. It was good to complete this triple header with another points finish and we can now enjoy some rest before we head to Singapore for the first of the flyaway races that will end the 2022 season."
Alfa Romeo F1 Team ORLEN
Guanyu Zhou (10th): "I am really happy with today's result and with the work that has been done in the past few weeks; it's been a tough journey since Montreal, because we were very strong at the beginning of the season and then our performances had a dip; but being back in the points today is an amazing feeling, a great result both for the team and for Alfa Romeo. We knew we had a chance today, our pace was good and it allowed us to be in the fight with the other teams. We have a couple of weeks off now, which will give us time to rest after the triple-header and, above all, to analyze what worked this weekend and what went wrong in the previous races, to come prepared and motivated ahead of the next ones. I am looking forward to the Asian double-header, as the races will be closer to home and there will be several fans coming to support me."
Valtteri Bottas (13th): "We had good pace today, so it's disappointing not to be in the points: in the end, my race was compromised at turn one when I was hit from behind and I hit the car ahead. I had damage to the front wing, having lost the endplate, and then the car went into antistall: before I could get back going, I had lost a lot of ground and I was last. The car was clearly good, as I was able to make a decent recovery, but the damage still made it quite tricky: at least, the team got a point with Zhou so we have something to show for today. I'm looking forward to the mini-break ahead of us now, before we go full push for the end of the season. We know we can score points and I really want to finish the year in a stronger place than we are now."
Frédéric Vasseur, Team Principal: "We had a positive weekend as a team, and the point we brought home with Zhou is a good reward. We had pace from Friday onwards, including in Q1 where Zhou was in P6, but we still had to get the job done today. We fought well in the midfield, even though overtaking was hard, and didn't really do mistakes with Zhou so we could maximise our returns from the race. Unfortunately, Valtteri's day was compromised by the damage he suffered at the start, but the key takeaway here is our performance: if we carry it over to the next rounds, we can aim to bring home more points to our name."
Haas F1 Team
Mick Schumacher (12th): "Considering I haven't really driven much this weekend and had a difficult qualifying, to then actually be close to the points – I think mentally already being in the points – it was a strong recovery. The Williams was super quick on the straights, even pulling away in the DRS so I had to get the move done somehow, and it was a decent one. Overall, we're really happy about the performance we've shown, and we really were on a good course as everybody else was struggling on their tires and we were on a very good tire."
Kevin Magnussen (16th): "I had contact at the beginning of the race in Turn 1 – I got hit from behind and the diffuser got damaged – and then from there we were slow. The damage was too much, and I don't know exactly the impact it would've had, but nonetheless it wasn't a great day. You always hope that the next race is going to be better. Singapore looks more suitable for our car so I'm looking forward to it."
Guenther Steiner, Team Principal: "The thing about this race is basically we got done by the officials. Kevin had an incident at the start where he got shoved off and his diffuser was damaged. He got a penalty because he couldn't stay on the racing line but with the rear wheels up it's difficult to stay on the racing line – I don't think the penalty is appropriate. I don't think I need to discuss the end of the race because what happened, happened and it wasn't handled how it should've been. Elsewhere, Mick did a fantastic job to get P12 considering his lack of time on track this weekend and our expected pace at this circuit."