Italian GP 2022
SEPTEMBER 10, 2022
Saturday Team Quotes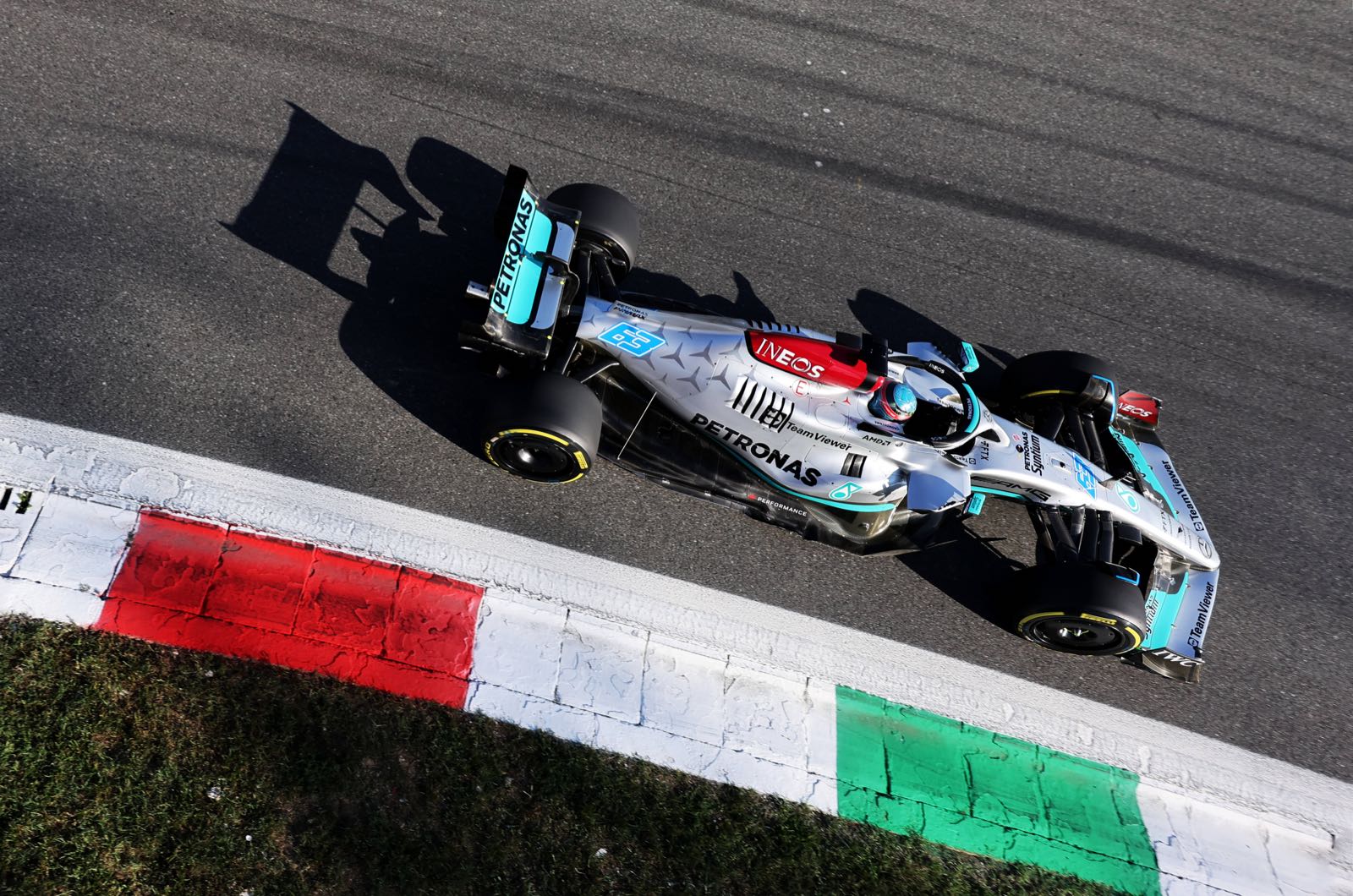 © Mercedes-Benz Grand Prix Ltd.
Mercedes-AMG Petronas F1 Team
Lewis Hamilton (5th, 1:21.524): "It was an okay session from my side but not my best. Today, we are off the pace of the frontrunners so there wasn't much more I could do - it's at these low downforce levels that we seem to be less competitive, and to lose pace relative to the teams around us. It's going to be tough for us tomorrow starting from the back because the DRS effect is not big, and I expect a lot of cars will be running in DRS trains. So, it could be a frustrating day for us - but I will try to keep positive and give it everything I've got."
George Russell (6th, 1:21.542): "Q1 started off well, just a few tenths behind Ferrari, and I hoped that was where we were going to be - then the session just ran away from us to be honest, and I ended up 1.4 seconds away. We took a risk on the final run to save a set of new Soft tyres for tomorrow, and I'm pleased that neither Lando nor Fernando jumped us, as that was ultimately the fight for P2 on the grid tomorrow. Looking to the race, we need to focus on ourselves - it will be hard to keep Max behind, Charles is starting in front, then we have Sergio, Carlos and Lewis coming from the back. We need to run our own race, focus on staying in the podium positions and put up a good fight."
Toto Wolff, Team Principal: "Overall, that session was probably a little worse than we had hoped for - not in terms of our final positions, which were probably our maximum today, but with respect to the gap to the front of the grid. We started the weekend well and haven't been able to continue that momentum through the weekend - and on the flip side, Ferrari did an awesome job here in qualifying. I guess the positive point is that George will start from P2 - even though he was complaining of poor grip from the tyres on his timed laps. Lewis obviously goes to the back row with his engine penalty, so we will need a strong recovery tomorrow if we hope to get to the points. We knew coming into this weekend that this wouldn't be a great track for us, but I hope that we can continue our trend of better race pace than single lap and maximise our opportunities in the race."
Andrew Shovlin: "Considering all the penalties across the grid we've ended up in the best position we realistically could with George on the front row. We took a bit of a risk by saving a set of his new tyres on the final run in qualifying, we didn't realise it would be quite that tight when we made the call but luckily his first run was good enough for P6 which means he inherits P2 for tomorrow and we still have a new set of softs available. The car has been a bit of a handful this weekend, more reminiscent of Spa than of Zandvoort, but our long runs this morning were stronger than in FP2 and we have a bit better handle on where to position the balance for the race. It's difficult to know what to expect tomorrow; so many cars are out of position, and this is a race that rarely passes without incidents. Hopefully with George we've got the pace to stay up front and with Lewis it is a recovery race which will depend on how easily we can overtake the slower cars and how well we can manage the tyres compared to our competitors."
Oracle Red Bull Racing
Max Verstappen (2nd, 1:20.306): "I think qualifying went well. The Ferraris have looked strong all weekend, so we knew it would be close today. We set up the car for the race, opting for a little bit more downforce; over one qualifying lap it wasn't the best, but I think tomorrow it will be strong. Regardless, we were still quite close so that's a positive. It will be an interesting battle tomorrow; I'll try and stay out of trouble and just make my way forward. We won't be taking any crazy risks though, I know that we don't need to win every race from now until the end of the season but if I clear all the cars in front of me, then I will of course go for the win."
Sergio Perez (4th, 1:21.206): "It is still a good result today and we can fight for it tomorrow. With the race pace we have, we can close up the gap, so I am looking forward to it. It wasn't a great lap for me, but it didn't feel bad either, now we need to maximise for tomorrow and focus. We knew the Ferraris were going to be very fast around here so their result wasn't much of a surprise. I think in the race they will also be strong. We are lacking a bit of pace at the moment so there are a few things to review from today before the race - we have to make the most of what I have. The DRS straights can be very painful around here, you can sit for a couple of laps and that can impact your race a lot. It will be difficult to pass, you must have a good strategy and use your pace properly, that will be very important to progress."
Christian Horner, Sporting Director: "We knew in qualifying Ferrari would be particularly strong and that proved to be the case. We had to compromise qualifying slightly to give the drivers a better race car tomorrow, so we'll see if that trade pays off. I think it's still tricky to overtake here, Spa for sure is the easiest to overtake, but theoretically we should be able to get into an overtaking position although it's certainly not going to be straight forward. We've strategically taken the penalties at the best race we can considering where we are in the season as we didn't want to do it at Singapore or Japan given the difficulty in overtaking. We have a strong race car though, so hopefully we can make some good progress tomorrow. A mixed up grid could mean a very exciting race tomorrow, we've taken two sets of new softs – so have Ferrari and it will be fascinating to see how that plays out."
Scuderia Ferrari
Charles Leclerc (1st, 1:20.161): "I'm very happy. Monza is always a special one and to secure pole position here in front of our tifosi, is an incredible feeling. Even more so after we struggled in Spa, another high-speed track with similar demands. We worked hard to make improvements and it looks like we have become more competitive again. I felt confident in the car from the first practice session on and our race pace was strong, so hopefully we can convert this pole into a victory tomorrow. I will give it everything."
Carlos Sainz (3rd, 1:20.429): "It was a good qualifying session from the beginning, with strong laps in Q1 and Q2. Then on the final attempts we also did very good laps, although on the last run, my track position was not the best behind Pierre (Gasly), as he was doing very fast out laps and we couldn't get any tow. Still, it's great for Ferrari to start on pole here at Monza so congrats to Charles and the entire team. We can be happy with the performance we have shown today and I think it's a good testimony of the hard work that has been carried out in Maranello. I hope we can stage a good recovery tomorrow and for sure I'm going to push flat out to make up as many positions as possible. The support from the tifosi in the grandstands has been absolutely incredible all weekend and we'll do our best to gift them with an exciting race."
Laurent Mekies, Sporting Director: "Taking pole position in Monza, in front of a full crowd for the first time in two years, is a really special feeling. We dedicate this achievement to all our tifosi who never waver in their support for us. Charles did a very good job, because once again he put together the perfect lap. Carlos also went very well, putting in similar times to his team-mate and playing the slipstream game. We had already done the same in France and Belgium and getting it right requires great understanding between the drivers. Since the last few races, we have worked hard in Maranello to get back to the highest performance level and, thanks to everyone's efforts, today's result is a first step in the right direction. Of course, it's only Saturday and the points are given out tomorrow. We know it won't be easy to keep the lead and bring home the win, because we have seen that Max (Verstappen) is capable of winning starting from the back and so far, Mercedes has always been quicker in the race than in qualifying. Now, we are concentrating on preparing for the race, with the aim of producing the same pace as we have shown in qualifying."
McLaren F1 Team
Lando Norris (7th, 1:21.584): "Very happy with today. Very happy. I think it was the best we could have achieved. We were so close to being ahead of the Mercedes but to not be far behind is also a very good achievement. A few people have grid penalties tomorrow, so that gives us a better position. Hopefully we can take advantage of that, have a clean race and get some good points."
Daniel Ricciardo (8th, 1:21.925): "I'm happy with Q3, happy to be up the pointy end again. It's been a while, so I'm pleased with that. The Q3 lap was certainly a bit of a handful, just trying to get those last few tenths out of it. It still is tricky for me to feel the car on the limit and know what's going to be around the corner – but I was happy with Q1 and Q2, I think I put in some good laps. We gain some spots on the starting grid due to penalties tomorrow. We've ended qualifying in a better place than where we've been this weekend, so I'm happy to put it together. I think we made some good changes, so hopefully we have a fast race car."
Andreas Seidl, Team Principal: "An excellent job by the whole team, Daniel and Lando delivering P7 and P8 in qualifying at Monza today. With support from home, the team at the track worked hard together with both drivers to continuously improve the car over the course of the three practice sessions here, delivering a competitive package in qualifying. They put the cars in the right places on track, giving Lando and Daniel the opportunity to maximise their laps when it mattered. When all the penalties are applied, we will start the Italian Grand Prix towards the front of the grid. This is a good starting position and, while we are aware of the challenges over a race distance, we feel well prepared and ready for a great Italian Grand Prix in front of a magnificent crowd."
BWT Alpine F1 Team
Fernando Alonso (10th, No Time): "It's a little disappointing to finish tenth in Q3 today. My last lap time was also deleted for track limits, which I'm told was good enough for eighth position before the penalties were applied to others. On the whole, we seemed to be lacking a little performance in Qualifying compared to the rest of the weekend. The car has felt good and seems strong on race pace, but we have to be mindful of several fast cars starting behind us. We've scored points in ten races in a row, so let's make it eleven tomorrow."
Esteban Ocon (11th, 1:22.130): "It wasn't a perfect qualifying session for us today. In the end we just missed out on Q3, after a sub-optimal Q2. We lost the rear of the car a couple of times and any small mistake at Monza costs time. The various engine penalties have really shaken up the grid for tomorrow, so let's see what happens. It will be an exciting race tomorrow with potential to get in the top ten and we will be pushing hard to finish the weekend strongly and to score points."
Otmar Szafnauer, Chief Operating Officer: "We've missed a good opportunity in Qualifying today and so we are a little disappointed in our performance. Esteban will take a new ICE in his power unit and will have a five-place grid penalty, which, in the grand scheme of things and with others doing the same, has worked out quite well as he will start in a competitive position. Fernando has looked strong all weekend and he will be frustrated not to have converted that pace into Qualifying to start higher up on the grid. That said, he will start well inside the top ten and he will have every chance to come away with strong points in the race. Tomorrow is race day and, over the past couple of Grands Prix, we've shown that our race car is competitive, so the aim is to return with both cars inside the points."
Scuderia AlphaTauri
Pierre Gasly (9th, 1:22.648): "Overall, I am very pleased to make it into Q3. There was still some sliding in the high-speed corners, so I couldn't fully commit, but the track is amazing to drive. We made some changes after yesterday and they seem to have paid off, but there is still more to get out of the car for tomorrow. There are some faster cars starting behind us tomorrow, due to a number of drivers having penalties, but we've seen that it might be more difficult to overtake in the race compared to past years, because the slipstream effect is less with the new cars. Our aim is to stay in the points and, as we've seen in the past, anything can happen here."
Yuki Tsunoda (15th, No Time): "Of course, we have the penalties this weekend, so our focus has been on our race pace rather than Qualifying, but I'm happy with the short-run pace we've had this weekend, I've felt quite comfortable in the car and we looked strong in Q1. I stayed in the car for Q2 in case I needed to help out my teammate – as tows can sometimes be useful around this track – but we decided that this wasn't necessary for Pierre in the end, so we didn't run. I will now focus on tomorrow's race, it's going to be difficult but it's possible to overtake here in Monza and there's a lot of people out of place tomorrow, so you never know what will happen."
Jody Egginton, Technical Director: "We gathered a good amount of tyre and aero data from Friday on both sides of the garage, so we had a good view on which way we needed to go to improve the car and the set-ups converged overnight. FP3 went smoothly today, with further data being gathered on all three tyre compounds and both sides of the garage heading into Qualifying in reasonable shape. Both cars navigated Q1 fairly easily, but given Yuki's penalties, once he was safely into Q2, there was no major incentive for him to make further runs. So, the focus shifted to maximising Pierre's opportunities. Following his first run, the expectation was that making the cut to Q3 was possible with a clean second run. However, as it turned out the cut-off was closer than anticipated, with some gravel on track at Turn 5 costing some lap time, but fortunately he made the cut for Q3. It'a shame that on his push Q3 lap track limits were exceeded at T6, meaning Pierre's best lap time was deleted and a position was lost to Ricciardo. However, with numerous PU penalties to be applied across the grid, we currently expect to be starting 6th tomorrow. We go into tomorrow's race with both cars looking reasonably competitive in the midfield, Pierre is well placed to fight for points and Yuki, although further back, has shown strong pace here so far this weekend and should move forward if we can find some clean air for him."
Aston Martin Aramco Cognizant F1 Team
Sebastian Vettel (17th, 1:22.636): "I was happy with the lap that I did today, which was a reasonable effort from my side. I only had one attempt in the end because of the bodywork coming loose during the first run, which meant that I was unable to get into a rhythm. Generally, this weekend has not been easy for us. At this track, for some reason, we are just not particularly competitive. But it is a new day tomorrow and we will push hard to make progress. We will gain some grid positions from others taking penalties, so we should start in the middle of the grid. We are usually more competitive on Sundays so let us see what we can achieve tomorrow."
Lance Stroll (18th, 1:22.748): "We always knew that this would not be our strongest track and I think that showed with today's result. Monza is a very different circuit to the tracks we have visited recently, so hopefully this is a bit of an outlier. We seem to have a bit too much drag on the car for this high-speed circuit. I am sure we will have stronger performances later on in the season. We will gain grid positions through other drivers taking penalties, so things could work out better for us tomorrow. We will try and do what we can to race for points."
Mike Krack, Chief Operating Officer: "Sebastian's qualifying session was complicated by a loose blanking panel, which cost him some track time when we took the precaution to box him and remedy the issue. He made it out for a final run and ended up just seven hundredths off making Q2. Lance had a clean and tidy session, sticking to the run plan, but the circuit characteristics of Monza are not especially suited to our car and it was always going to be a challenging qualifying session. I am more optimistic for our race performance tomorrow and we expect to gain a handful of grid positions when other drivers take grid drops due to penalties."
Williams Racing
Nyck de Vries (13th, 1:22.471): "First, I just want to say I feel bad for Alex and hope that his health and recovery will be quick. Nevertheless, it was a great opportunity for myself, however it's challenging to just jump in like that. Overall, I'm happy with how it went but definitely feel there was more in it. Unfortunately, I picked up a lot of rear locking in my lap, but generally it was a positive session. With the grid penalties, it's positive to be starting further up the grid - I have some homework to do tonight but it's great to get the call up."
Nicholas Latifi (16th, 1:22.587): "Firstly, I'm wishing Alex a quick recovery and hope to see him back soon. I locked up into the first corner and didn't get a lap on my second set of tyres. It's frustrating but I'm where I expected to be as a result. It's one of the trickiest corners for our car. Looking ahead to tomorrow, we're quick in a straight line but we'll lose time gained in the corners, so it's going to be about how that balances out. We'll be starting further forward due to a few penalties, so we'll see what happens."
Dave Robson, Senior Race Engineer: "Firstly, we send our best wishes to Alex and wish him a quick recovery. Secondly, we welcome Nyck to the team for his Formula One race debut. The team reacted very well to the news this morning that Nyck would drive for the rest of the weekend. We were able to prepare the car for him quickly and adapt the FP3 run programme to give him some productive track time. He reacted to the challenge expertly, helped by his running on Friday and his experience of the FW44 in Barcelona. He inherited Alex's setup and was immediately happy, requiring only a change to the front wing flap angle to adapt the car to his style. Qualifying in Monza is usually tricky as drivers look to balance tyre preparation and track position. Today was no exception but we got both drivers into reasonable positions in Q1. However, both struggled a little bit with braking in a tow. Nicky had to abandon his final effort in Q1 and Nyck lost some time in Sector 1 but was able to recover and set a good laptime. Although this laptime was deleted for leaving the track, his earlier lap was good enough to progress to Q2. Nyck did an excellent job today and although he was frustrated not to put the final lap in Q2 together, he still starts inside the top 10 tomorrow. We have a lot to review with him to prepare him for tomorrow but we're confident that both he and Nicky can have strong races tomorrow."
Alfa Romeo F1 Team ORLEN
Valtteri Bottas (12th, 1:22.235): "I am pretty happy with today's performance: I think we got everything we could out of this session. Our objective was to be ahead of Magnussen and Schumacher, as they had the same amount of penalties as us and we were fighting for position – and we did it. We knew we had a big penalty today, so we focused completely on setting the car up for the race – and still got very close to a spot in Q3. I feel we have made a good improvement compared to the last couple of rounds and we should be in a position to fight for points, even with the penalty. Our race pace is good, and hopefully we can have some nice battles tomorrow."
Guanyu Zhou (14th, 1:22.577): "I think we came away with a good result, even though we were under some pressure as we only had two sets of new tyres. We were strong in Q1, while Q2 has been quite difficult for me: we struggled a bit more to get the balance right, and a flat spot on my tyre did not help. It was unfortunate as I think we were looking good and there was much more to get out from the car. Nevertheless, due to all the penalties to other drivers, we should be starting in the top ten, and it's always nicer to be a little further up on this track. I am looking forward to tomorrow, as hopefully we will have more opportunities throughout the race."
Frédéric Vasseur, Team Principal: "Today's performance was a step forward compared to the last couple of rounds. The circuit seems to suit us better and we can be satisfied with the work we have done since Friday. P12 with Valtteri and P14 with Zhou is a decent result, and we can take heart by knowing we went quite close to a spot in Q3. We head into tomorrow confident we can fight for points: Zhou will be ninth on the grid and Valtteri, despite his penalty, will lose only three places and race a car that has been set up with Sunday in mind. We have seen how chaotic races in Monza can be, so making the most of any chance will be good: if we have a good start and do our job properly, we can fight for the points with both cars."
Haas F1 Team
Kevin Magnussen (19th, 1:22.908): "It's been as hard as we expected. I think we were close to getting into Q2, and if that had happened – if my lap time hadn't been deleted, we would've been very surprised to get through. For tomorrow, it's always interesting when there are lots of cars out of position."
Mick Schumacher (20th, 1:23.005): "We've done very few laps and I think that's the main reason why the weekend has been compromised. These things happen, it's nobody's fault and at the end of the day we win and we lose together. Now it's a matter of who we decide to fight with, but there might be a few cars ahead of us that could be in our window. I haven't done any race runs yet so it will be a race with some improvisation."
Guenther Steiner, Team Principal: "It wasn't a fantastic day today. We simply have to regroup and hope we have a better day tomorrow – there's really not much more to say."