Italian GP 2022
SEPTEMBER 9, 2022
Friday Team Quotes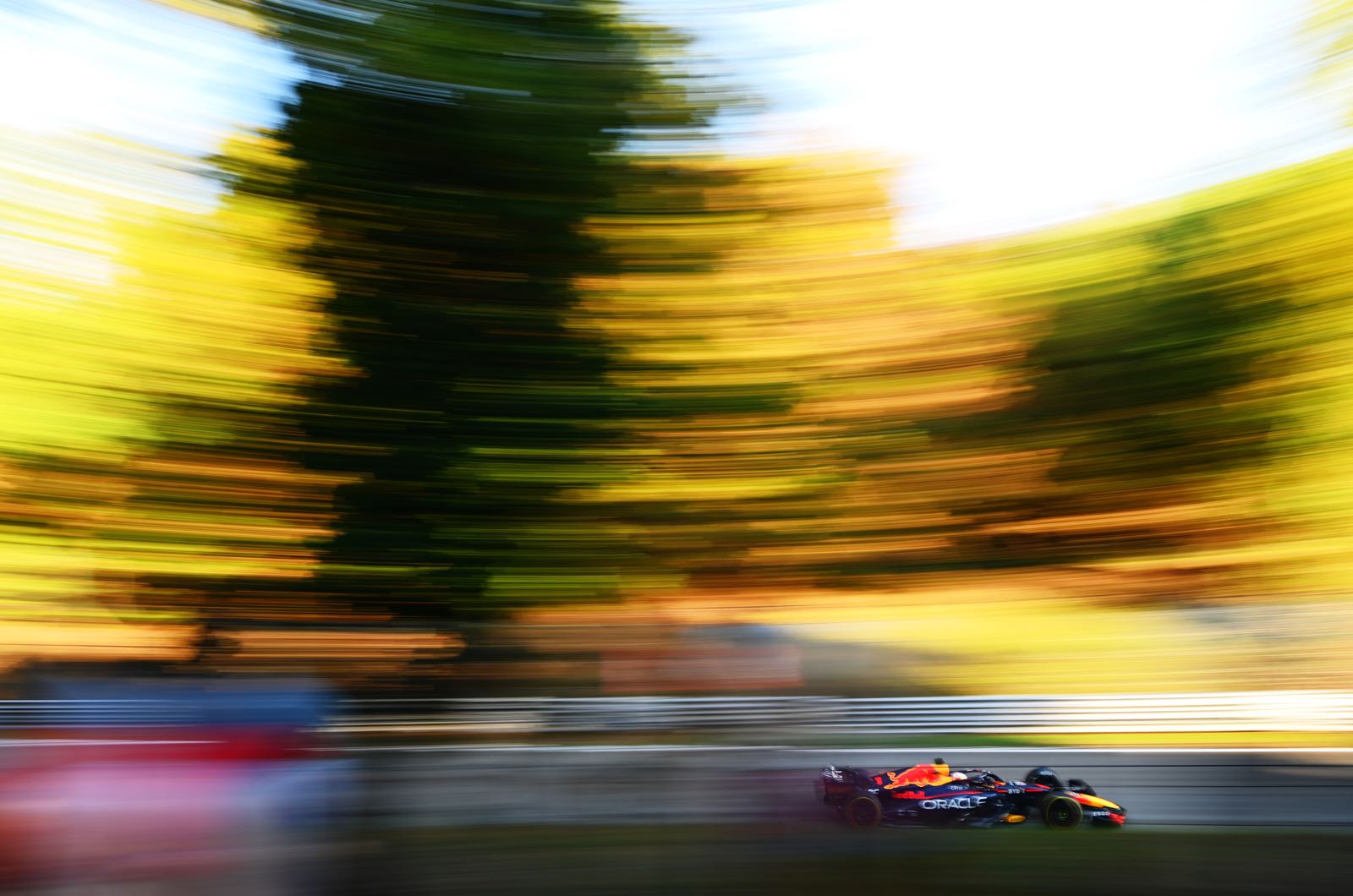 © Red Bull
Mercedes-AMG Petronas F1 Team
George Russell (5th, 1:22.386): "Bit of a strange day, FP1 was looking pretty strong but then Ferrari and Red Bull seemed to take a step forward in FP2 and we went a little backwards so we have work to do tonight to understand that. Generally speaking, we're lacking a little electrical deployment here, we're similar to Red Bull but Ferrari seem to have the upper hand on deployment which might be tricky in a race scenario. If you nail the tow around here in qualifying, it will definitely make a difference but it's high-risk-high-reward so not something we're putting a lot of emphasis on. Qualifying sessions are where you learn the most about the car and the tyres, and they've been the sessions we've struggled most with this year, so I think we'll both be going out tomorrow like any other quali day and trying to nail the basics."
Lewis Hamilton (7th, 1:22.503): "We made some setup changes in between FP1 and FP2 and went a lot slower, or the other guys went a lot quicker - we just didn't feel as fast in the later session. I know George had some deployment issues here but my car didn't seem to be affected. It's George's turn to choose who goes first or second tomorrow so I assume I'll go first and naturally I'll provide him with a bit of a tow."
Andrew Shovlin: "The first session went well and we seemed to have the car in a good place for both single lap and long run balance. The second session was more difficult with both drivers suffering from a lack of rear grip. In terms of pace, it looks like our competitors found more between the sessions than we did so we need to look through that in detail to understand where we have lost out. We'd expected this weekend to be tough as the car is very similar to the one that we had in Spa and with Lewis's power unit penalty, we've got a lot of ground to make up in the race before we can get him into the points. However, the goal remains to score well with both drivers and the fact that we had the car in a good place in the first session gives us some encouragement that we can get it back in that window."
Oracle Red Bull Racing
Max Verstappen (2nd, 1:21.807): "I think the car was pretty good today, we've been trying a few different things from FP1 to FP2. Some things worked and some didn't, if you look at the long runs we look good and of course that's most important for the race. We did more long run practice knowing that we have the five place grid penalty on Sunday, everything seemed to work out quite well. There are still a few things that we can do better, but I think we should stand a good chance. The Ferraris look good, I'm not worried about them but we still have a few things to finalise."
Sergio Perez (6th, 1:22.394): "We have been playing around with the set-up, exploring different directions, so I think all in all we have pretty good information going forward. We have used different downforce levels as well, so we have plenty of data for us to review tonight which is quite promising. We managed to complete a very solid programme today and we are fairly comparable to Max's car, there are just a couple of differences. I think the main thing will be the race pace and how the tyres last around this track will also be key for the race. I am looking forward to tomorrow but mainly Sunday, overtaking will be hard but I think the degradation looks promising."
Scuderia Ferrari
Carlos Sainz (1st, 1:21.664): "Overall it has been a positive day. We still need to check all the data, but I felt quite comfortable in the car and the package this weekend seems to be working well. There is still work to do to try and improve the pace on the long runs, so we'll look into every detail tonight and try to improve for tomorrow but especially for the race."
Charles Leclerc (3rd, 1:21.857): "The feeling in the car was good. We still haven't found the sweet spot in terms of balance, but we tried many different things throughout the day and know which direction we want to go in. Our race pace looked stronger than our qualifying pace, so if we put it all together there is quite good potential to have a solid weekend."
McLaren F1 Team
Lando Norris (4th, 1:22.338): "Before I talk about the on-track activity today, I was very saddened to hear of the passing of Her Majesty The Queen yesterday. She was an inspirational figure, and my thoughts are with the Royal Family. Reasonable day. We made good progress through today, so I'm happy with the progress that we've made. We're still not where we need to be. I don't think we're competitive enough yet to really fight confidently for, say, Q3 at the minute. We'll keep working very hard. I think we've understood some things better today, after learning from the past few weeks, but like I said, still not quite where we need to be. So, a few adjustments tonight and a bit of homework and set-up tweaks and hopefully we can take a small step forward, and that gives us confidence to be in a good position tomorrow."
Daniel Ricciardo (11th, 1:22.911): "Firstly, I want to pass on my condolences to the Royal Family following the sad news of the passing of Her Majesty The Queen yesterday, my thoughts are with them and the people of the Commonwealth at this time. This track is so unique that you come with such a different set-up, so you don't know what to expect. I think the morning went relatively well. We made a few changes for the afternoon and across cars we tried a few different things. Lando's afternoon looked really good, so that's encouraging, so we will try to learn some things from that set-up. I think my afternoon was average – but I'm encouraged by his pace and looking forward to tomorrow."
Andrea Stella, Racing Director: "On behalf of the entire team at McLaren, I want to pay tribute to Her Majesty Queen Elizabeth II. We are all deeply saddened to hear of her passing and send our deepest condolences to The Royal Family at this difficult time. This was a productive day. Both cars ran through their programmes at Monza without issue and we learned a lot across both low-fuel and high-fuel runs, making progress with set-up and defining our level of drag. Aided by analysis back at the McLaren Technology Centre, we were able to make some changes for FP2 and improve the performance of the car. We'll take another look at the information this evening, to make sure we're as prepared as possible for qualifying and the race."
BWT Alpine F1 Team
Esteban Ocon (8th, 1:22.728): "It's always a pleasure to drive in Italy and at Monza. It was a good Friday overall for us with two productive sessions and both cars in the top ten. We'll be focusing on ourselves and how we can keep extracting further performance ahead of tomorrow. We'll be looking at our data and also analysing possible scenarios for the race with so many penalties and different cars trying different things today. We are fully focused on tomorrow and to have a good Qualifying."
Fernando Alonso (9th, 1:22.752): "It was another good Friday for us today in Monza. We tested everything we wanted to test, and we have taken a lot of useful data regarding the tyres for this weekend. The 'porpoising' of the car seems increased here than it has in previous weekends, but other than that, it's been a trouble free and well executed Friday Practice for the team."
Alan Permane, Sporting Director: "It's been a very normal Friday Practice for the team today at Monza where we've comfortably been inside the top ten on the leaderboard with both cars. We ran a standard programme, we didn't encounter any surprises, and everything is set for us to have a competitive event. Of course, we race here in sad circumstances following the news of the passing of Her Majesty the Queen yesterday. As an Anglo-French team we aim to honour her service and legacy this weekend."
Scuderia AlphaTauri
Pierre Gasly (14th, 1:23.135): "There is still some work to do, but tomorrow we have an opportunity to make a step in the right direction. We know what we are struggling with and that was noticed again today in both FP1 and FP2, there was especially a lot of sliding in the medium to high-speed corners. Though there was the Red Flag, it didn't change the overall performance much, because we were still able to gather all the necessary data about our weaknesses. We will need to analyse everything tonight to allow us to deliver a strong top 10 in Qualifying tomorrow."
Yuki Tsunoda (15th, 1:23.217): "We've mainly focused on race pace today, as we'll be taking the penalties for Sunday. We did some short runs on the Medium that were quite strong, but unfortunately I wasn't able to get a competitive lap in on the Softs. We need to go away and look at the long-run data tonight, as I didn't feel quite as comfortable in the car as I wanted to – this will allow us to prepare as much as possible for the race. It's going to be a difficult weekend, but a few cars have already announced they'll be starting from the back of the grid too, so there are some opportunities there if we can find a good long-run set-up and some additional pace."
Jonathan Eddolls, Chief Race Engineer: "We had a busy FP1 session with a series of mechanical and aero test items distributed across the two cars, with a view of addressing the expected limitations at this track. The session ran smoothly, and we were able to capture all of the required data. Turn 1 braking was a limitation, as it often is here, with the bumpy braking zone and low downforce level we run. We made a number of changes to the cars for FP2, and the performance took a step in the right direction, although neither driver was able to get a clean lap on their Softs. Yuki had a snap whilst on his run and the Red Flag disrupted Pierre, so our final short-run ranking is not fully representative. Pierre was also struggling more with the rear-end of the car than expected, so there is more to do to give him the support he needs. The long runs were quite competitive, which is encouraging for Sunday. As always there is plenty of work for us tonight but from today's running, we have a good basis to work from."
Aston Martin Aramco Cognizant F1 Team
Sebastian Vettel (17th, 1:23.731): "I shared the car with Nyck [de Vries] today and he did a good job with useful feedback. It was an interesting experience being in that role of watching in the garage and listening to what he had to say on the radio. When I got in the car this afternoon, it was not the easiest session. I think these 2022 cars feel quite stiff here in Monza, particularly in the corners. The new tarmac in the chicanes also feels quite different compared to previous years. So we still have some homework to do tonight, but I think we already know where we can find some gains and improve the car ahead of tomorrow."
Lance Stroll (18th, 1:23.785): "It was quite a challenging day trying to dial the car into the sweet spot around this low-downforce set-up. A busy job list and plenty of laps have given us a lot of data to go through tonight, so we will see where we can improve before qualifying. It seems quite a few drivers are facing grid penalties, so that could mix up the grid and open up more opportunities. Interestingly, the tow does not appear to be as strong with this generation of cars compared to last year, so that may change the dynamic of qualifying quite a bit."
Nyck De Vries: "Firstly, it was a real privilege to drive the AMR22 around Monza today. This is a very different circuit compared to the other venues where I have driven 2022 cars, so it was all very valuable information for me. It was extremely challenging because of the low-downforce set-up that we run here, which makes it difficult to compare to my previous FP1 sessions. We spent the first half of the session gathering aerodynamic data, before switching to the Soft tyres later on. The priority is to help the team prepare for the weekend and I think we made good progress with the work we completed."
Williams Racing
Alexander Albon (10th, 1:22.835): "It wasn't a bad today and I feel like we're in the mix. It's definitely close out there, so we need to make sure we maximise everything for tomorrow. Ultimately, we know what direction we need to go in and with the long run pace, we need to make sure we get on top of the tyres, but I'm happy with how today went."
Nicholas Latifi (19th, 1:23.982): "A tricky start to the weekend so far. It does feel quite different when comparing to Zandvoort with everyone bringing their lowest downforce configurations. There's still some time to find from my side. We made a good step in FP2 but there's still more to come tomorrow, so we'll do our homework tonight."
Dave Robson, Senior Race Engineer: "It has been a fairly typical Monza Friday with the drivers getting themselves accustomed to low downforce and the new areas of tarmac. At the same time, we have been experimenting with rear wing options and tyre management. On the whole, we have been making reasonable progress throughout the day and whilst there is a lot to go through tonight, both drivers have a good baseline on which to build their performance tomorrow. We know that there are several grid penalties to be applied after qualifying and we need to understand the implications of this to the rest of our weekend. Fortunately, the weather looks set fair for the next two days and so we can concentrate our efforts elsewhere and build on we learnt today."
Alfa Romeo F1 Team ORLEN
Guanyu Zhou (12th, 1:22.938): "We seemed to be quite competitive straight away from off, which was good to see, and I can say that the car felt much better compared to last week in Zandvoort. I'm quite happy with the progress we're making but we know we need to keep working hard. Overall, it was super close once again today, and on a track like Monza it means two tenths could make the difference between Q2 and Q3. Qualifying tomorrow will be intense, and we still need to work hard overnight to put ourselves in the best for tomorrow."
Valtteri Bottas (13th, 1:22.993): "It felt good to be out there, it is a nice track to be driving and it's even nicer when the car feels good like it did today. Pace-wise, we seem to be doing better than in the last couple of events, so that is promising looking ahead to Sunday. There is still some fine-tuning to do, but I feel we're not too much far off where we want to be, and we will be looking for any small gains we can get tonight. Our pace seems better than the position we are going to be starting from, because of the penalties, and I reckon here we can overtake and move up places. Hopefully, we can end our dry spell in terms of points and get back into the top ten."
Haas F1 Team
Kevin Magnussen (16th, 1:23.557): "We've approached this weekend like any other one. We know that we're lacking straight-line speed with the aero package that we've got, but we'll deal with it the best we can. I think we're a little stronger in race pace than we are in qualifying, so that's good. Maybe we can try and get into a good position in the race and fight it out from there. For sure qualifying's going to be difficult, that's what it is, but lots of people are taking penalties so we'll see where we end up."
Mick Schumacher (20th, 1:24.586): "Unfortunately, we had an ECU issue which wasn't great but these things happen and we just have to do a bit more work tomorrow. I got three fast laps in which isn't much, so we'll definitely have to try to get some more in tomorrow. We'll get onto it quickly because I know this track pretty well so hopefully we'll have a good starting set-up for tomorrow and try our best."
Antonio Giovinazzi: "It was a great experience to be back in a Formula 1 car and for me the first time in this new car. I think the session went well, we did all the laps we had planned, and I got the feeling of the car, the brakes and the tires so I'm really happy with the job. The next time will be in Austin, which will be another type of track as here in Monza it's a low downforce track and Austin will be high downforce with a lot of high speeds. It was a good first time with the car and the team – thanks to Haas and Ferrari for this opportunity and now I'm looking forward to the next one."
Guenther Steiner, Team Principal: "We knew coming here it's not our best circuit but it wasn't as bad as we anticipated. We had a good session with Kevin, making solid progress over the two sessions. Antonio did a good job in FP1 considering he hasn't been in a Formula 1 car for almost a year. He got straight into it and had a good session – did all the testing work we wanted him to do so we're very happy with what he did. Mick got in, obviously missing one session is never fantastic but having FP2 shortened doesn't make it any better – but we've got one more session for him. It's not ideal but he'll catch-up tomorrow."