Italian GP 2021
SEPTEMBER 12, 2021
Race Notes - Ricciardo wins Italian GP in McLaren 1-2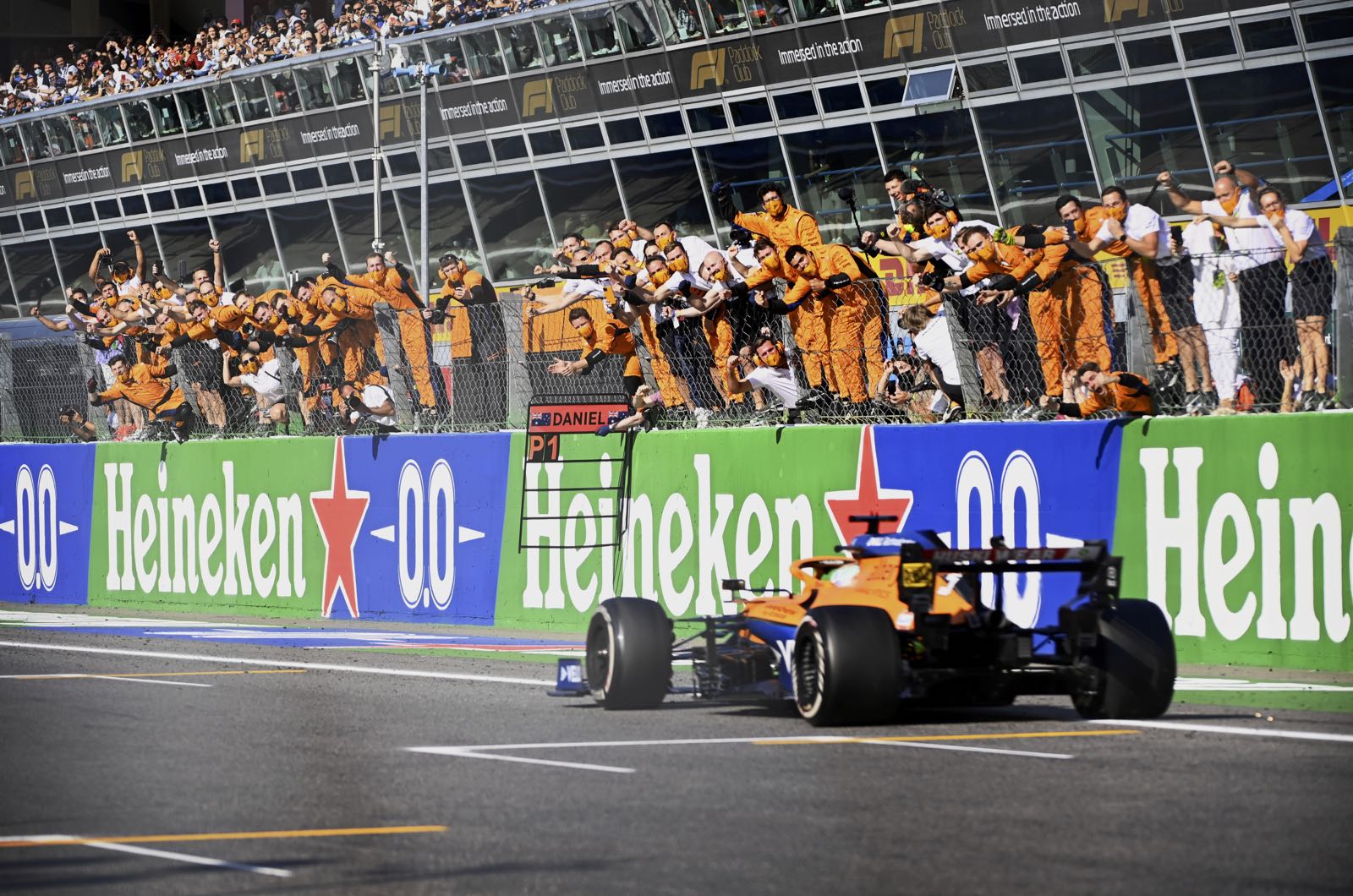 © McLaren
By Mark Karp
Daniel Ricciardo won the Italian Grand Prix at Monza in his McLaren-Mercedes, ahead of his team mate Lando Norris in second, 1.747 seconds behind, and Valtteri Bottas in the Mercedes GP in third, 4.921 seconds behind the winner.
It is Ricciardo's first win since Monaco 2018, and his 8th career victory.
It is the first win for McLaren since the Brazilian GP in 2012, 170 races ago, and first McLaren 1-2 since the Canadian GP in 2010.
Charles Leclerc (7.309s) in the Ferrari finished fourth, followed by Sergio Perez (8.723s) in the Red Bull-Honda, with a 5-second penalty finished fifth, Carlos Sainz (10.535s) in the second Ferrari was sixth, Lance Stroll (15.804s) in the Aston Martin-Mercedes was seventh, Fernando Alonso (17.201s) in the Alpine-Renault Wass eighth, George Russell (19.742s) in the Williams-Mercedes was ninth and Esteban Ocon (20.868s) in the second Alpine finished in the final point position in tenth.
Before the start Bottas starts 19th after taking a new Power Unit on Friday. With a few minutes left Tsunoda is pushed off to the pit lane with brake problems.
Most drivers starting on medium tyres, Lewis Hamilton starting on hard tyres.
Max Verstappen and Ricciardo starting on row 1, Norris and Hamilton on row 2, Leclerc and Sainz on row 3, Antonio Giovinazzi and Perez on row 4 and Stroll and Alonso rounding out the top 10.
At the appointed time the field came round, the lights went off and the race began with Verstappen getting off slightly slow, Ricciardo taking the lead over Verstappen, Hamilton in third.
Hamilton and Verstappen battle the two lightly touch and Hamilton is pushed to the inside, cutting the chicane - Norris gets past into third. Giovinazzi is clipped by Leclerc and spins.
The virtual safety car is out for half a lap, then the race continues.
Ricciardo leads Verstappen, Norris, Hamilton, Leclerc, Sainz, Perez, Stroll, Alonso and Ocon in tenth - Bottas in 14th.
Pierre Gasly retires on lap 5.
Verstappen trails Ricciardo by 0.7s.
On lap 6 Bottas passes Russell for 13th.
Verstappen tells his team, "it is really hard to get close".
On lap 9 Perez gets past Sainz for sixth.
At lap 10 Ricciardo leads Verstappen by 0.7 seconds, followedd by Norris (3.5s), Hamilton (4.4s), Leclerc (7.7s), Perez (13.2s), Sainz (16.5s), Stroll (19.1s), Alonso (22.5s) and Nicolas Latifi (24.4s) in tenth - Bottas (25.2s) in 11th.
On lap 12 Hamilton battles with Norris through the first chicane, but can't make the move stick.
On lap 13 Bottas passes Latifi for tenth and gets into the points.
Norris tells McLaren the he is using a lot of tyre.
On lap 15 Ocon and Sebastian Vettel touch, but continue.
On lap 17 Bottas passes Alonso into the first chicane for ninth place.
The top two runners are complaining that their tyres are sliding around.
At lap 20 Ricciardo leads Verstappen by 0.7 seconds, followed by Norris (5.4s), Hamilton (6.5s), Leclerc (10.1s), Perez (13.2s), Sainz (20.9s), Stroll (26.8s), Bottas (27.6s) and Alonso (30.9s) in tenth.
On lap 21 Verstappen locks up into the first chicane and runs over the inside of the corner and looses half a second.
Bottas passes Stroll for eighth.
On lap 22 Ricciardo pits from the lead for hard tyres and rejoins in seventh.
On lap 24 Verstappen pits from the lead with a slow 11s stop for hard tyres and rejoins in tenth place.
Hamilton gets past Norris and now takes the lead. Norris pits the next lap for hard tyres and rejoins in eighth.
On lap 25 Hamilton pits from the lead or medium tyres and rejoins just ahead of Verstappen - the two rivals go into the first corner, Verstappen jumps inside the kern and come together and Verstappen flying in the air, landing on Hamilton's Mercedes, and the two end up off the track in the gravel trap, out of the race.
The safety car comes out and many pit.
Ricciardo leads Leclerc, Norris, Perez, Sainz, Bottas, Stroll, Alonso, Russell and Latifi in tenth.
It is the first retirement for Hamilton in 63 races, since Austria 2018.
At lap 30, still under safety car, Ricciardo leads Leclerc, Norris, Perez, Sainz, Bottas, Stroll, Alonso, Russell, Latifi in tenth, Ocon, Robert Kubica, Vettel, Mick Schumacher, Giovinazzi and Mazepin in 16th.
On lap 31 the race resumes with Ricciardo leads, Norris passes Leclerc for second.
On lap 32 Bottas passes Sainz for fifth. Perez passes Leclerc for third.
On lap 33 Leclerc and Bottas battle for fourth.
On lap 34 Bottas passes Leclerc into the first chicane.
Bottas sets fast lap at 1m24.827s and closes on Perez in third, the top four all within two seconds.
The stewards give Perez a 5-second penalty for running off the track in his overtake of Leclerc.
At lap 40 Ricciardo leads Norris by 1.1 seconds, followed by Perez (2.1s), Bottas (3.1s), Leclerc (4.2s), Sainz (5.1s), Stroll (8.1s), Alonso (9.6s), Russell (11.1s) and Ocon (12.4s) in tenth place.
Mazepin is handed a 5-second penalty for causing a collision.
McLaren tells Norris that it is best for the team if the drivers stay in line to the finish, and not battle.
On lap 43 Mazepin is stationary on the side of the track, the Virtual safety car is out.
On lap 44 the race resumes.
Ricciardo and Norris start to edge away from Perez - who will still need to take a 5-second penalty after the race.
At lap 50 Ricciardo leads Norris by 1.4 seconds, followed by Perez (3.1s), with a 5-second penalty, Bottas (4.6s), Leclerc (6.2s), Sainz (9.1s), Stroll (13.9s), Alonso (16.3s), Russell (18.2s) and Ocon (19.4s) in tenth place.
To the flag Ricciardo takes the win ahead of Norris and Perez - Bottas taking third place. Ricciardo takes the fastest lap on the last lap at 1m24.812s.
On the podium Ricciardo said, "Can I swear? I want to swear. No? It went well for me yesterday and even if we got the start, was never a guarantee we'd hold the whole race. To lead literally from start to finish, I don't think anyone expected that. There was something in me on Friday, I knew something good was to come."